Who doesn't love grilled food? Steaks, burgers, fish, vegetables, you name it, it's all good coming off a hot grill. But different grills yield different results. Gas grills give you more control for cooking more evenly, while charcoal grills add that smoky flavor we love in the summer. So, choosing the best gas or charcoal grill is difficult sometimes.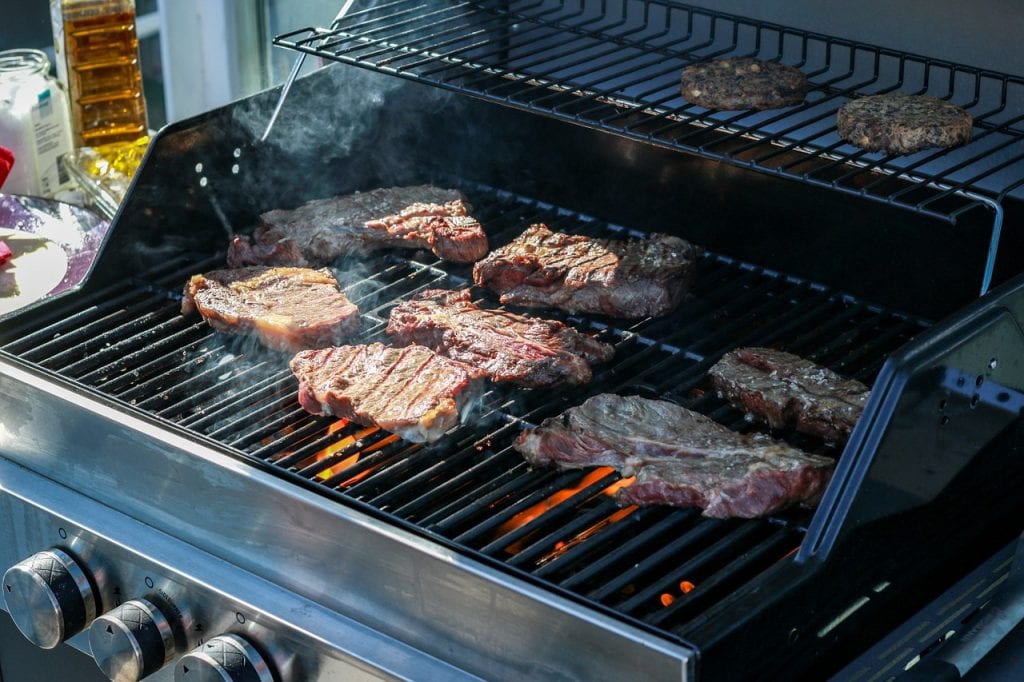 The best BBQ grill to buy caters to the needs of the cook. Look for a grill to match the way you're going to use it. Choose the fuel type you want to cook with. Next, think about the size you'll need. Some extra features that make things more convenient and easier should be considered, as well.
Whether it's gas grills or charcoal grills you're looking for, this article will help you find the ideal BBQ grill for your needs. Read on to find out what the most important considerations are and see some BBQ grills up for sale right now.
Should I Buy A Gas Or Charcoal Barbecue?
This choice is based on preference and style. Some grillers swear by charcoal grills. It takes more attention to cook on a charcoal grill, but the end result is worth it. Food gets a unique flavor from a charcoal grill. Most charcoal grills cost less than gas grills, also.
Gas grills have more bells and whistles to choose from and do everything faster. Preheating only takes up to 10 minutes and cooking is faster, too. You'll have your choice of different configurations, including burner placement and table space. You'll even have a choice of gas types—propane or natural gas.
Another option is the pellet grill. Pellet grills cook food by burning wood pellets that infuse the food with different flavors. These grills have side hoppers with easy access for adding pellets throughout the cooking process. They work similarly to a smoker.
Choose which fuel type is best for your grill by considering your budget, how you'll use the grill, and what foods you'll cook. The level of involvement with the cooking process is another important determinant.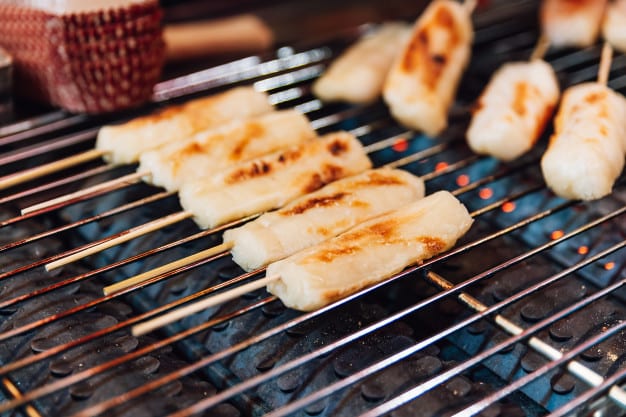 How Big Of  A Grill Should I Get?
Size matters when it comes to a charcoal or gas grill. If you get a grill that's too small, those you're cooking for will have to wait longer for food because you can't cook it all at the same time. 
Think about how many people you cook for in your immediate household. Also, consider what the maximum number of people is you'll likely cook for. Then, look at how often you'll have to cook for the maximum size group.
Another consideration for choosing the size grill you should get is portability. Would you like the grill to be portable? If you're looking for a grill to take camping or tailgating, then buying the largest, heaviest grill you can find isn't ideal. If you're going to position your grill in the backyard and never move it again, go as big as you want. Just remember, larger grills may take longer to heat up.
BBQ Grill Extras
Premium level grills are typically either gas grills or pellet grills. The gas grill especially is sometimes equipped with extra features that make it stand out from the crowd. Let's look at some of the features you could look for in a high-end gas grill.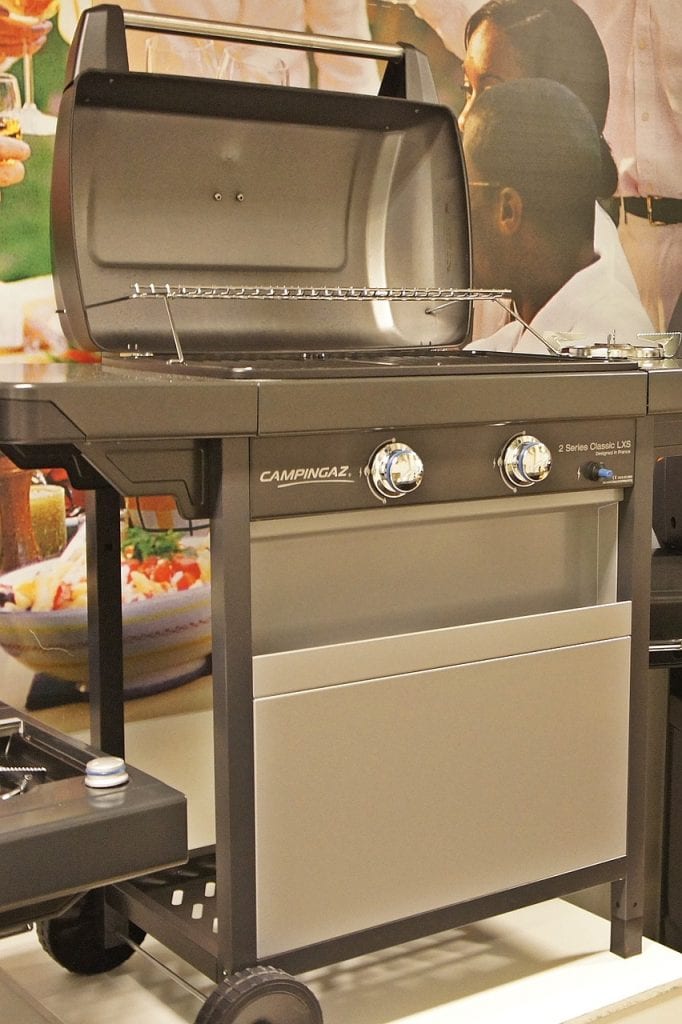 Side burner – A gas grill with a side burner makes it easy to warm a sauce or side dish without having to run back and forth to the kitchen. The burners come in different sizes and placements.
Wheels – Some people like to move their grill around the property to cook in various areas. If you intend to do this, buy a grill with four wheels so it's easy to move. Also, make sure the wheels have locks.
Smart technology – Even grills now come with smart technology built into them. You can use it to monitor the temperature of meat as it's cooking through an app on your phone. Some high-end models let you remotely change the temperature of your grill, as well as set timers.
Best BBQ Grill Options
Time to look at some grills. Amazon has a variety of grills to choose from. Here are a few of them.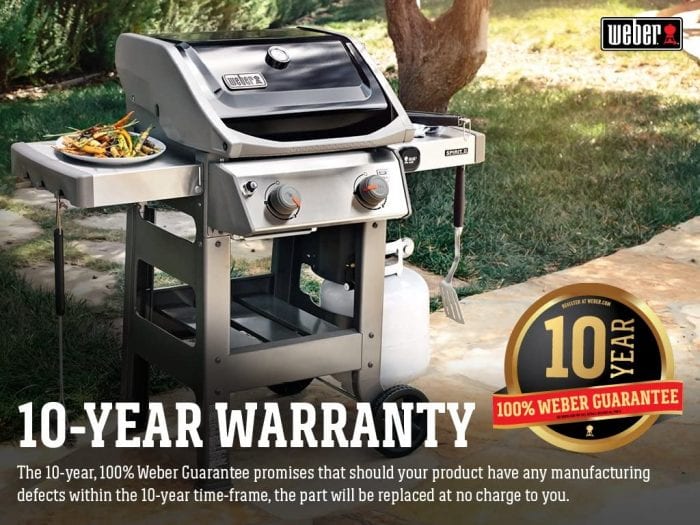 This is a compact gas grill that could be good for camping, tailgating, and more. It's made of stainless-steel and has cast-iron grates covered in porcelain enamel. It has two tabletop surfaces, one of which can be folded down. The grill is compatible with the iGrill 3 accessory. There's an open shelf on the bottom and two wheels on one side for easy movement.
Pros:
Compact and portable for use anywhere
Four color choices
Includes six integrated tool hooks
Compatible with smart technology
Lightweight
Cons:
Sticker removal is time consuming
Assembly is difficult
Pricey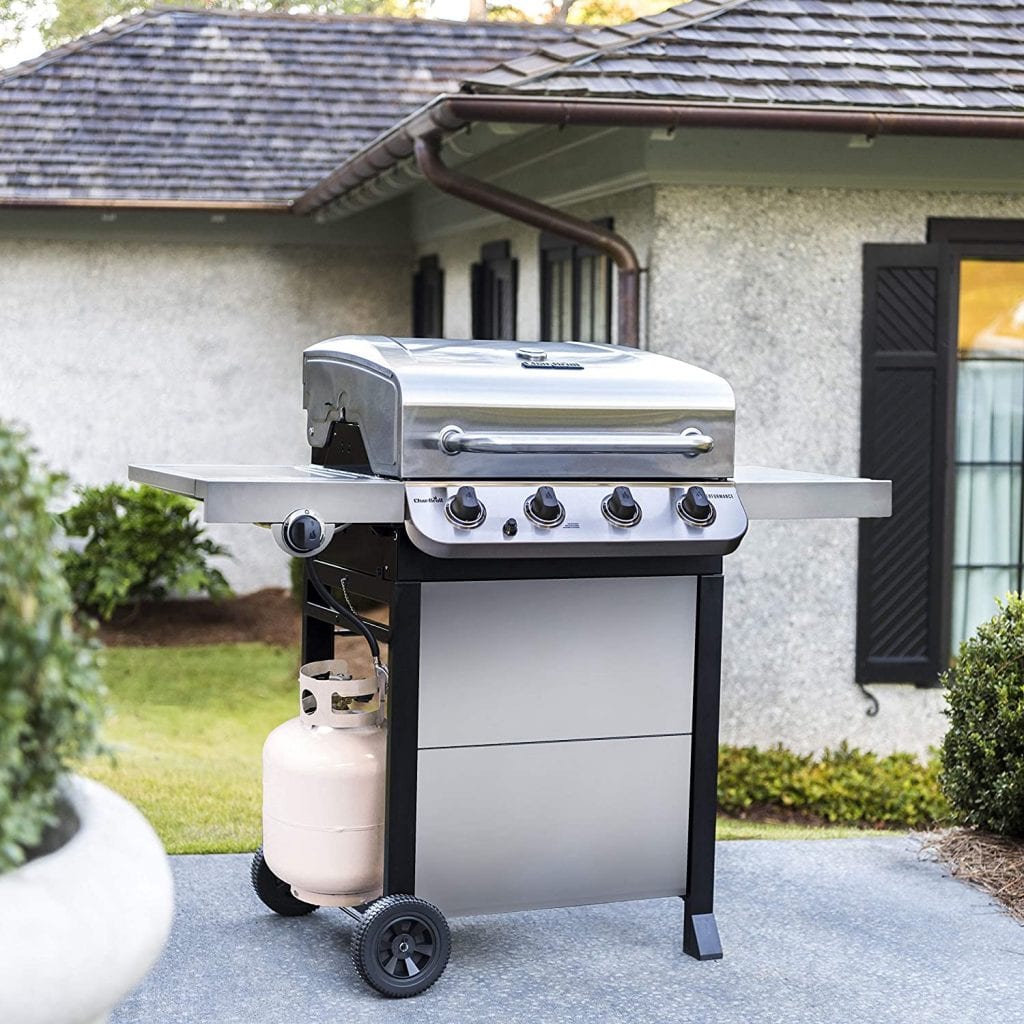 At nearly half the price of the grill listed above, the Char-Broil cart style grill has two more burners. This grill has two wheels that make it easy to move it around. It's heavy, though, at 85 lbs. The grill grates are cast-iron coated in porcelain. You'll light the burners with an electric ignition. There's also a side burner to use.
Pros:
Side burner has a lid for more workspace
Four burners give you more consistent heat
Large cooking space
Easy-to-clean removable grease tray
Affordably priced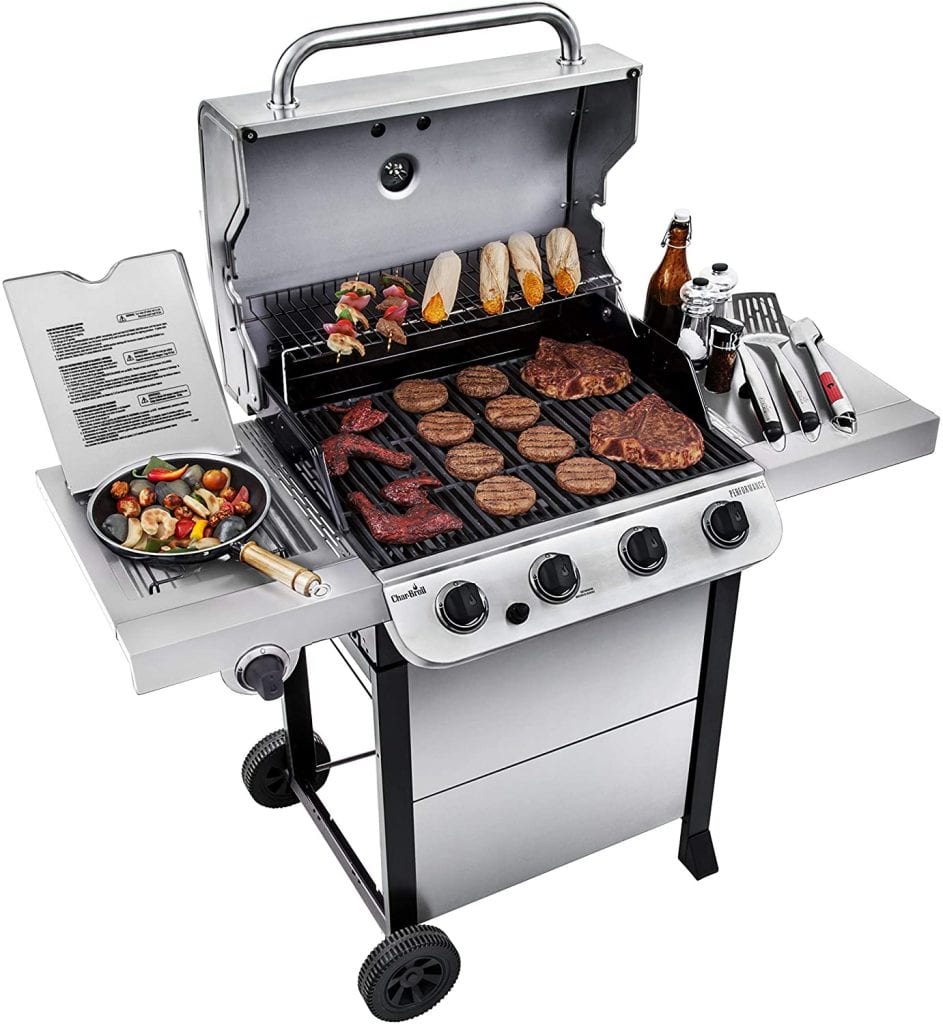 Cons:
Heavy
Grill grates don't fit tightly
No tool storage hooks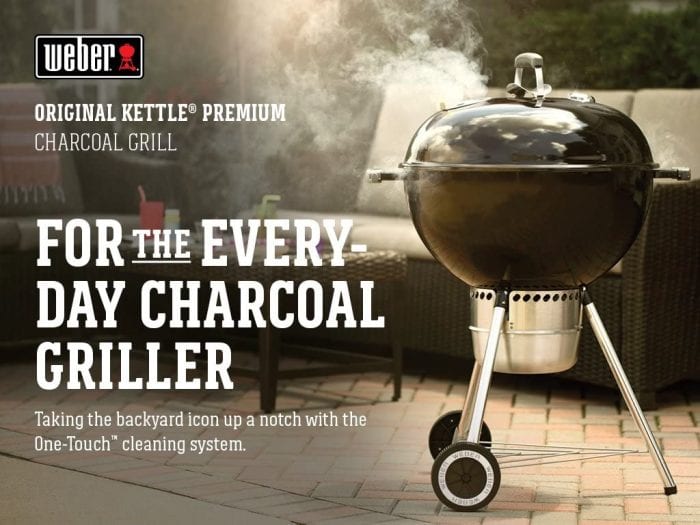 The Weber Original Kettle Premium is the gold standard of charcoal grills. You can cook up to 13 burgers on this grill all at once. There's a large and easy-to-empty ash catcher underneath the grill. The lid is hung on a hook when not in use instead of on the ground. The grill grate has a hinge so you can easily lift it up to add more charcoal. The grill and lid are coated with porcelain for better heat retention and no rusting.
Pros:
Large capacity
Highly affordable
Easy to clean ashes out
Easily adjustable dampers for heat control
Many bonus convenience features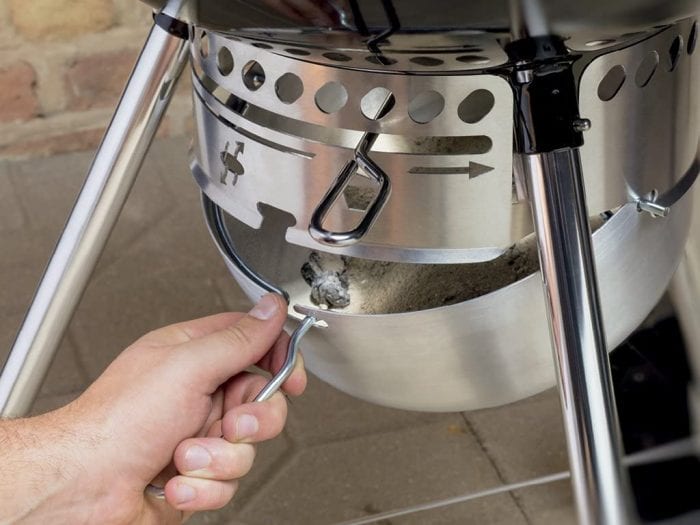 Cons:
No written assembly instructions
Bottom grate doesn't secure well
Legs aren't as sturdy as could be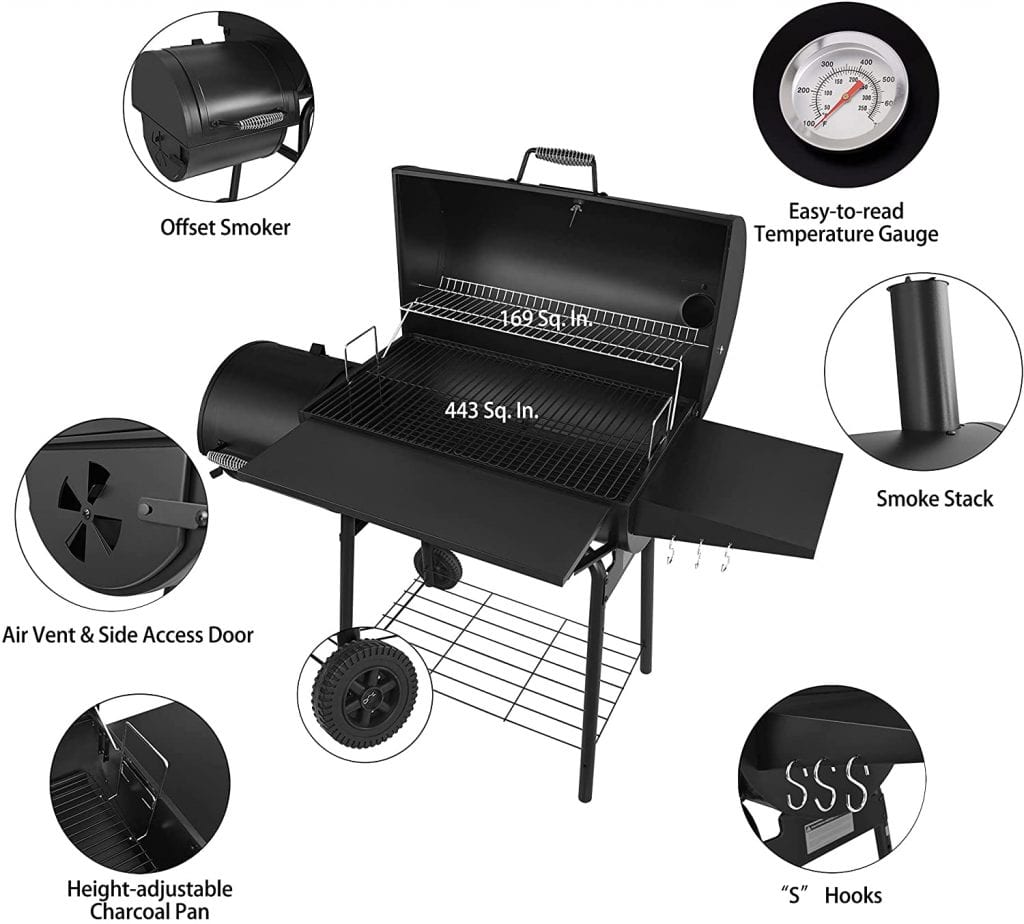 Some charcoal grills easily double as smokers, and this is one of them. The wood chips are easily accessible through the offset smoker door on the side of the grill. You'll have 800 square inches of cooking space. There are tool hooks and a small prep area. You'll also have a storage grate underneath. You can control the heat by changing the level of the charcoal pan. It's also easy to move around with two wheels.
Pros:
Double-duty grill
Easy access to charcoal and wood chips
Large capacity
Affordable
Good for beginners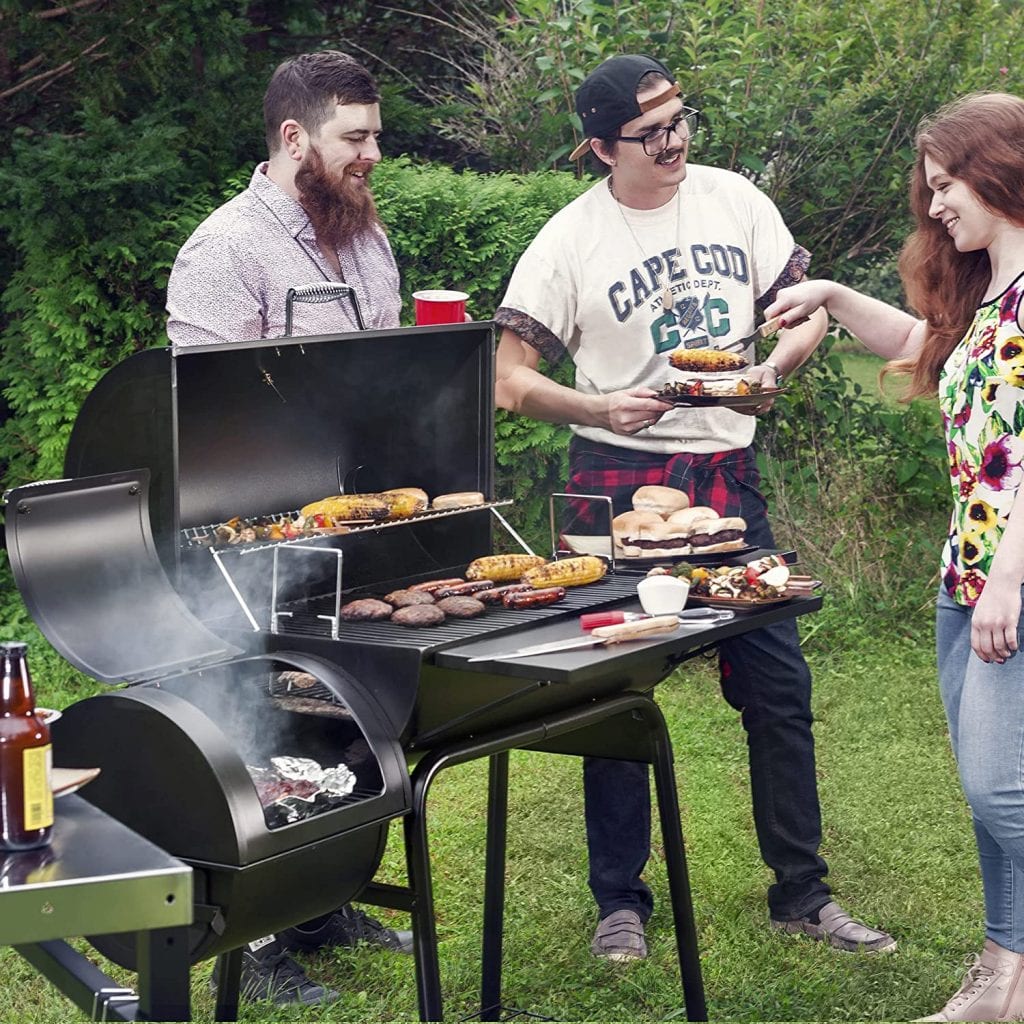 Cons:
Tricky assembly
Not very sturdy
Thin metal for charcoal tray
Conclusion
Buy the best BBQ grill for your style of cooking. Consider where you'll use it, what you'll cook on it, how many people you'll cook for, and what conveniences you want. There are pros and cons to using gas grills and charcoal grills, both. Weigh them out against what's most important to you. Make sure you set a budget for yourself before you start looking for the grill of your dreams. Be patient, do your research, and find the best deal on the best BBQ grill with the tips you learned here.
FAQs:
What is the best BBQ for 2020?
The best budget-friendly model for 2020 was the Char-Broil Classic 4-Burner grill.
What is better, Napoleon or Weber BBQ?
The Napoleon is usually cheaper. Weber is sturdier and more reliable. The Weber is also easier to use, making it more suitable for all people.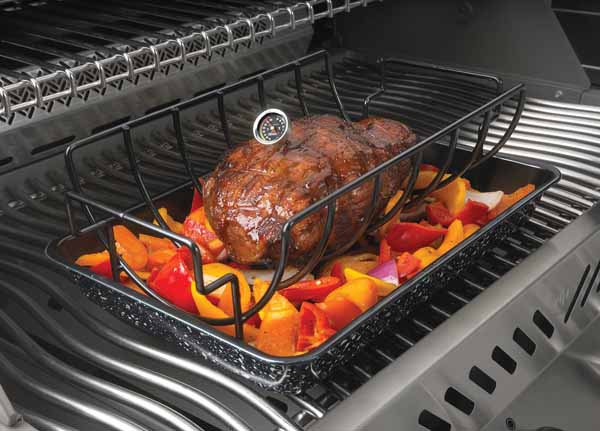 Is Weber still the best grill?
Generally, Weber still makes some of the best grills on the market. They're made of quality materials and are reliable. 
Is Weber BBQ worth the money?
Yes, it is. Weber has continuously improved their grills to keep them up-to-date, reliable, sturdy, and reasonably priced. The grills are easy to use and come in a variety of choices to suit most people.
How long should a BBQ last?
BBQ grills should last at least 5 years. Some will last for as long as 15 years.
What is the best Weber BBQ to buy?
The Weber Spirit II E-310 is the best gas grill currently.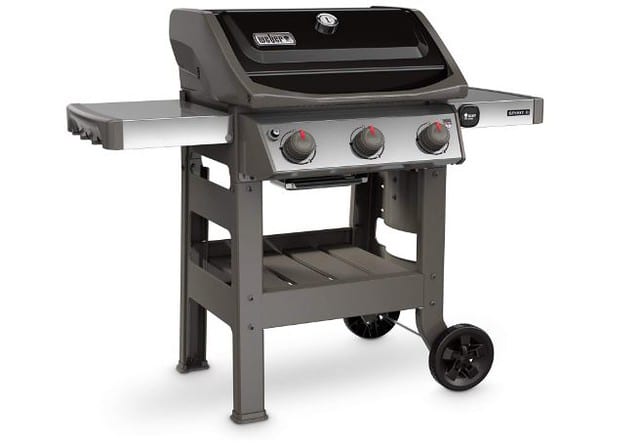 Who makes the best gas BBQ?
The best overall gas grill is currently made by Weber.
Why is Weber BBQ so good?
Weber makes grills that are easy for most people to use. They've been in the industry for a long time. You get a lot of value for your money with a Weber grill.
Disclaimer: FamilyHype.com (Family Hype & FamilyHype) is a participant in the Amazon Services LLC Associates Program, an affiliate advertising program designed to provide a means for sites to earn advertising fees by advertising and linking to Amazon.com.
Last Updated on July 15, 2021 by Marie Miguel
DISCLAIMER
(IMPORTANT)
: This information (including all text, images, audio, or other formats on FamilyHype.com) is not intended to be a substitute for informed professional advice, diagnosis, endorsement or treatment. You should not take any action or avoid taking action without consulting a qualified professional. Always seek the advice of your physician or other qualified health provider with any questions about medical conditions. Do not disregard professional medical advice or delay seeking advice or treatment because of something you have read here a FamilyHype.com.