Choosing a new flatware set is something we don't often think about. Want to know why? It's because on average, Americans only ever buy three flatware sets in their whole lives. That's according to one of the executives of Sherrill Manufacturing, a maker of flatware sets. But when the time comes to choose a new one, wouldn't you like to know the best way to do that?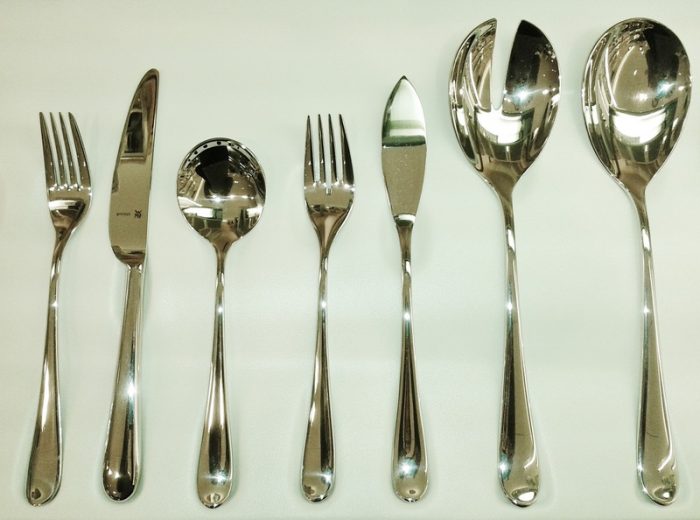 The best flatware set must fit your budget and serve the amount of people you need it to. You'll choose to buy open-stock, place settings, or box sets of flatware. Look for stainless steel flatware for daily use or something more expensive for specialty sets. Select the type of finish you prefer. The best flatware also needs to feel good in your hand. You'll find the best flatware sets to choose from by making these considerations.
Let's start by looking at some of the best flatware sets available on Amazon. Then we'll dive into the important factors you should consider to help you decide what kind of flatware set you'd like. Keep reading to learn all our tips for finding the best flatware sets for your drawer.
Best Flatware Set Options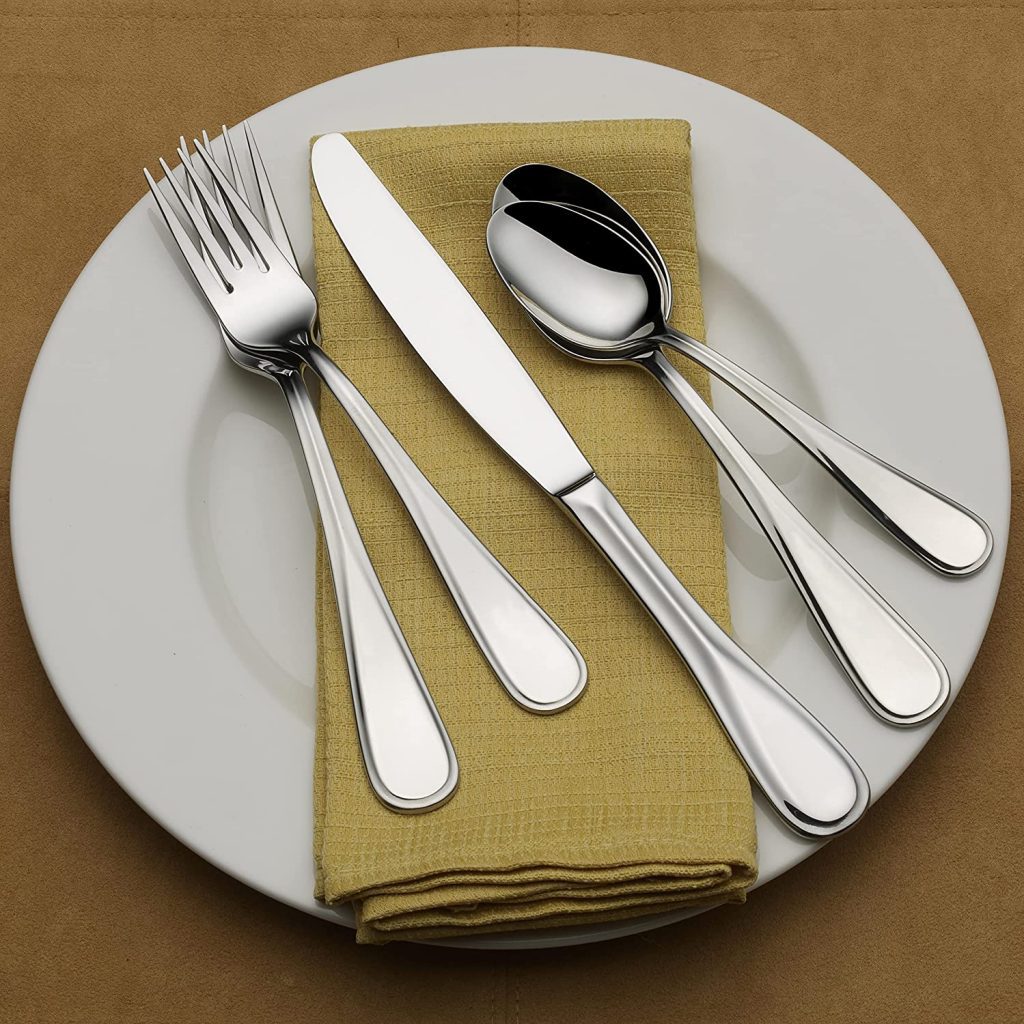 This is a large 65-piece flatware set with place settings for 12 people. It's durable and made from 18/10 stainless steel. The pieces have a contemporary design with teardrop shaped handles. The polished finish makes them look a bit elegant, as well. The set includes some serving pieces, such as a teaspoon, pierced tablespoon, butter knife, and cold meat fork. These flatware sets consist of pieces that are dishwasher safe, so cleaning and maintenance is easy.
Pros:
Budget-friendly price
Service for 12
Easy to clean
Timeless design
Made with higher quality 18/10 stainless steel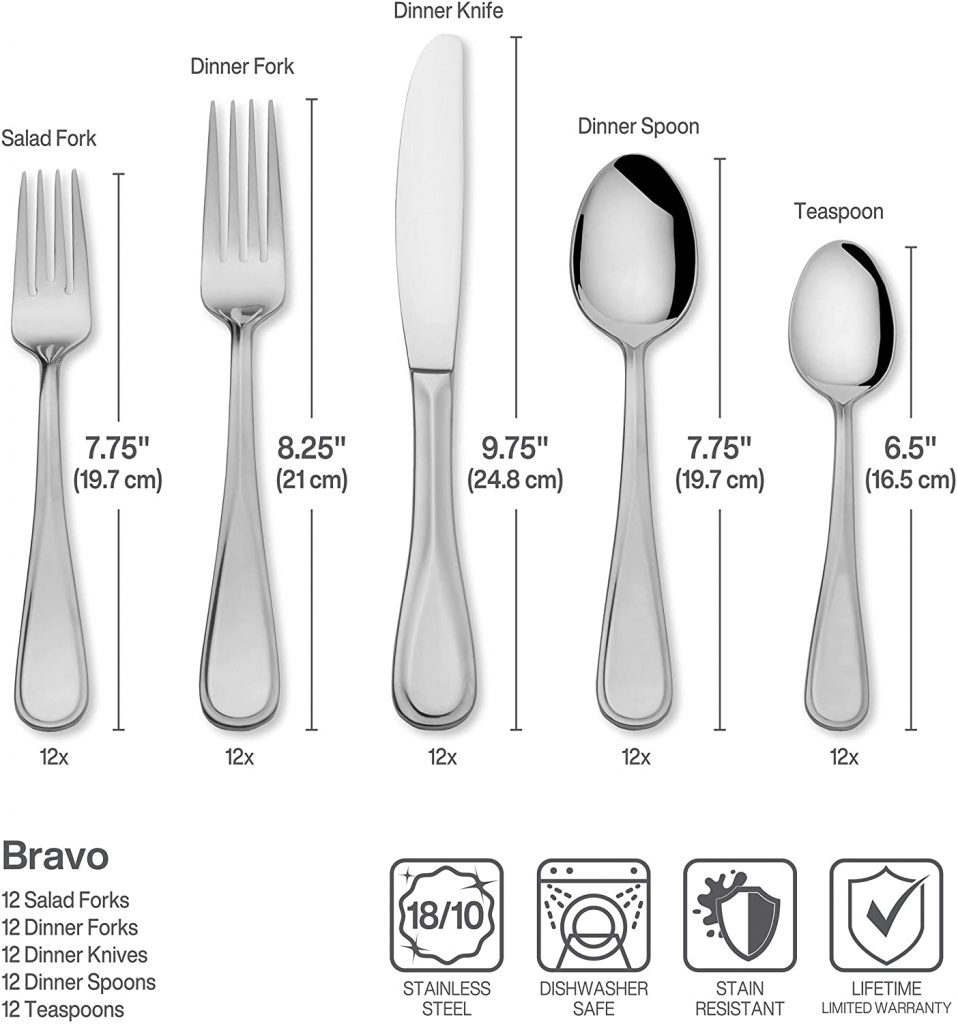 Cons:
Long and heavy for children
Pieces are oversized
Food sticks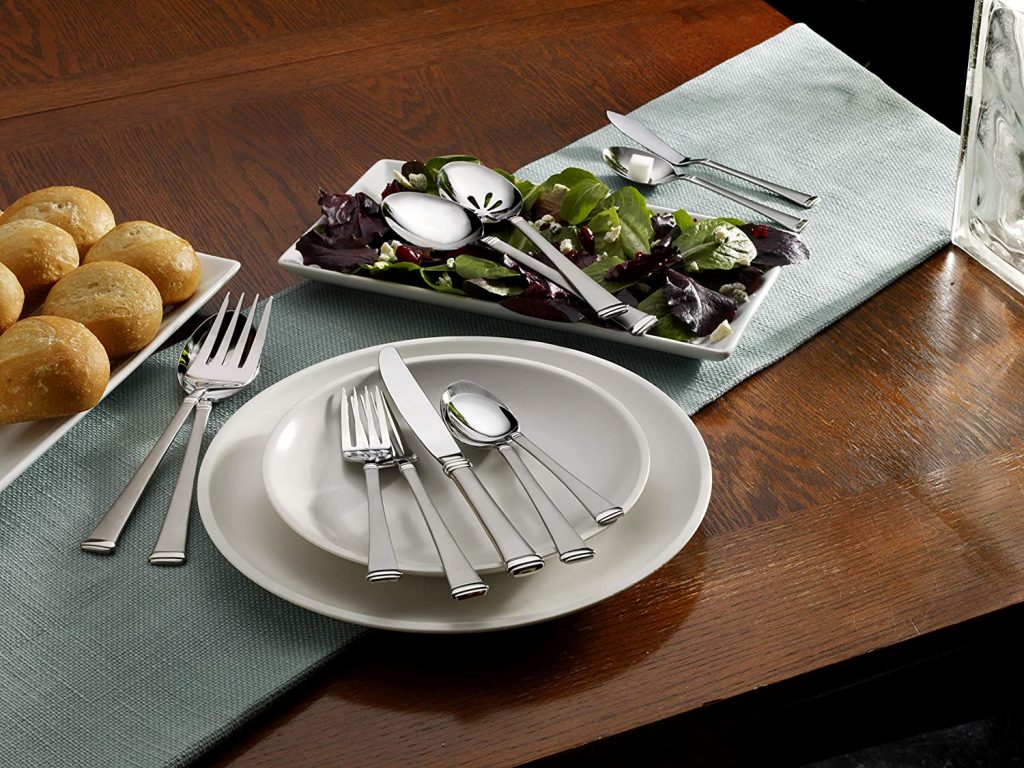 This is another 65-piece flatware set with service for 12 people. It's a good everyday set that's dishwasher safe and easy to care for. The design is simple and elegant but casual at the same time. The pieces are crafted from 18/10 stainless steel and polished to a shine. These flatware sets are durable. They're also tarnish resistant. The pieces are heavy and well-made.
Pros:
Affordable
Simple elegance
Serves up to 12 people
Serving utensils included
Timeless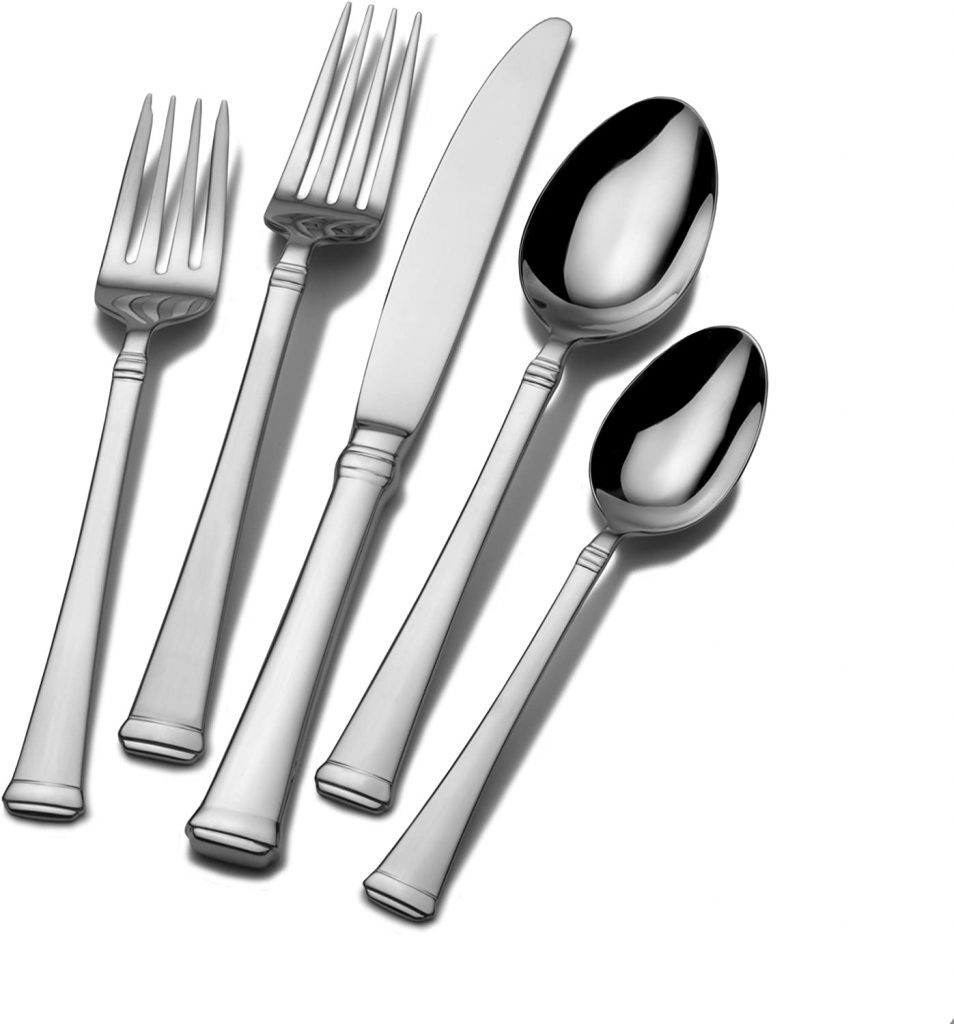 Cons:
Pieces may be too long for some users
Spots or discoloring may appear if not dried
May be heavy for some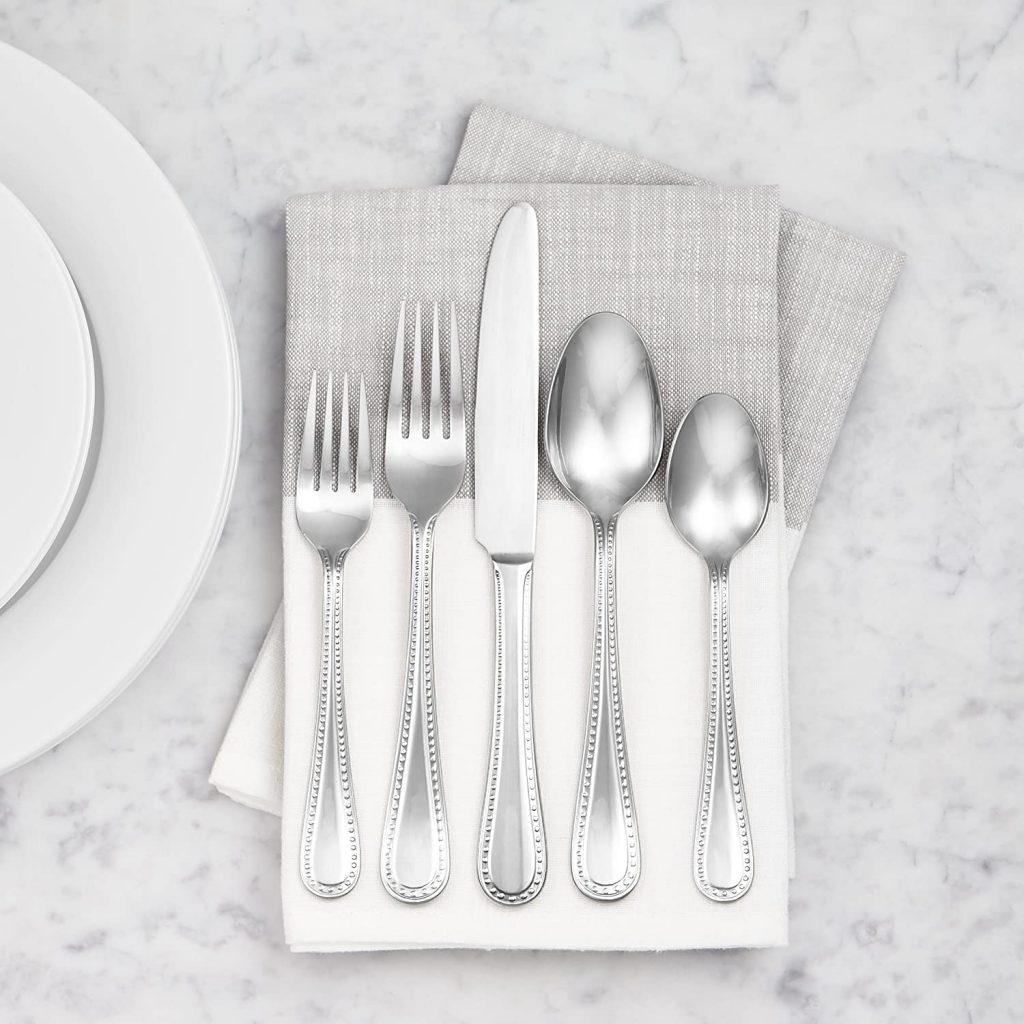 This 65-piece flatware set is budget-friendly and attractive. The pieces have a bit of weight to them. They're all dishwasher safe. The design adds a unique look to the flatware. There's pearled trim around the handle edges. The flatware is made with 18/0 stainless steel, so it's a little less durable than some of the more expensive sets. But you cannot beat the price.
Pros:
Highly affordable
Easy to clean
Look works for everyday or special occasions
Timeless design
Dishwasher safe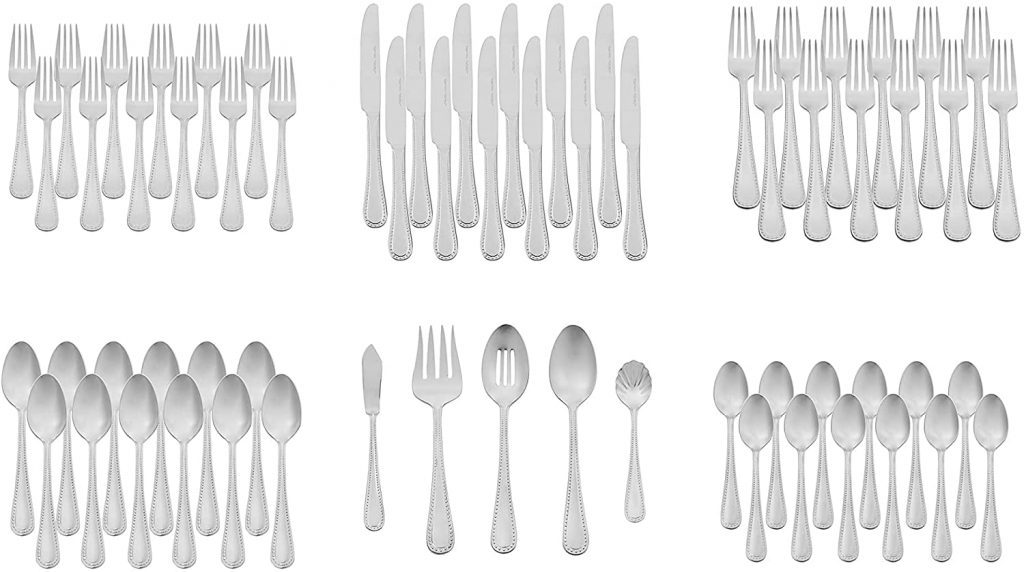 Cons:
18/0 stainless steel isn't as durable
Some rust reported
Too large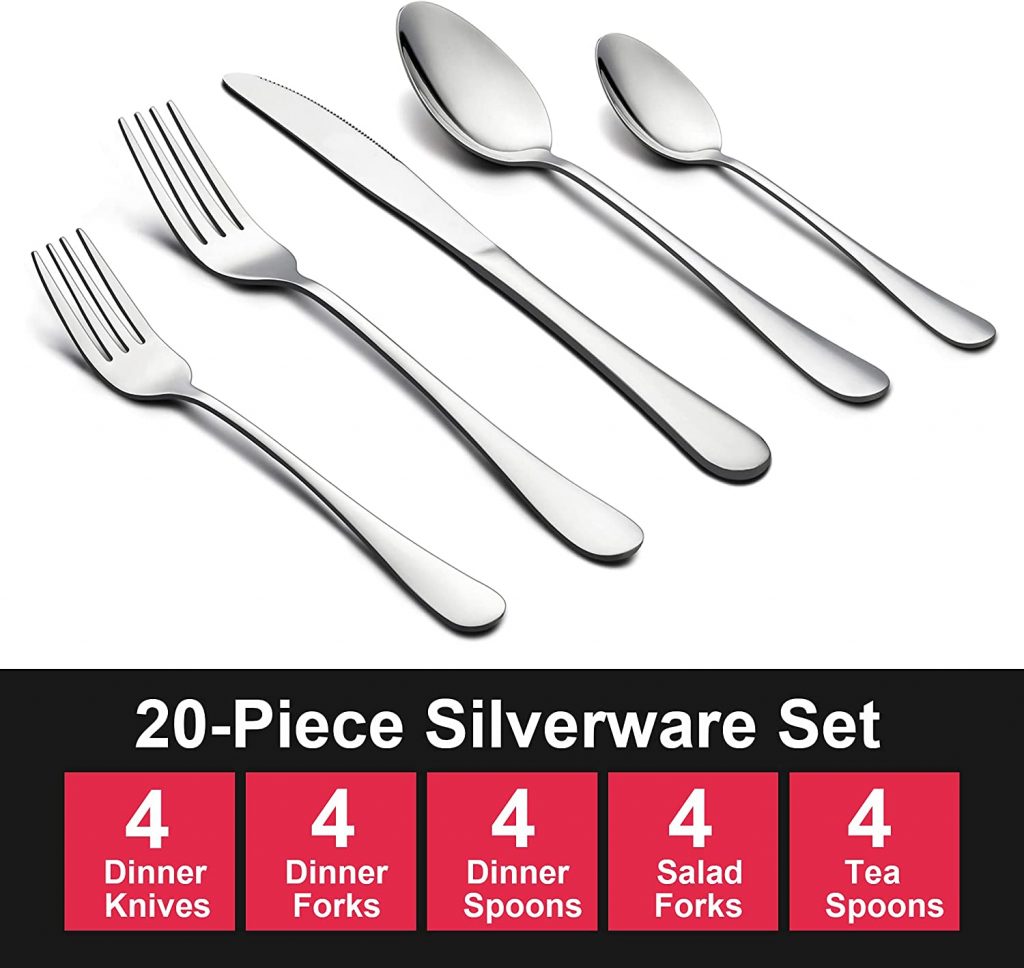 This is a smaller boxed set with 4 place settings. The 20-piece flatware set has a classic design that won't ever go out of style. You can easily wash these by hand or in the dishwasher. They're weighted to feel comfortable in your hand through your meals. The edges of the handles are smooth and there is a nice curve to the utensils. They're made of durable, rust resistant stainless steel.
Pros:
Highly affordable
Dishwasher safe
Smooth handles for comfort
Durable material
Classic and modern design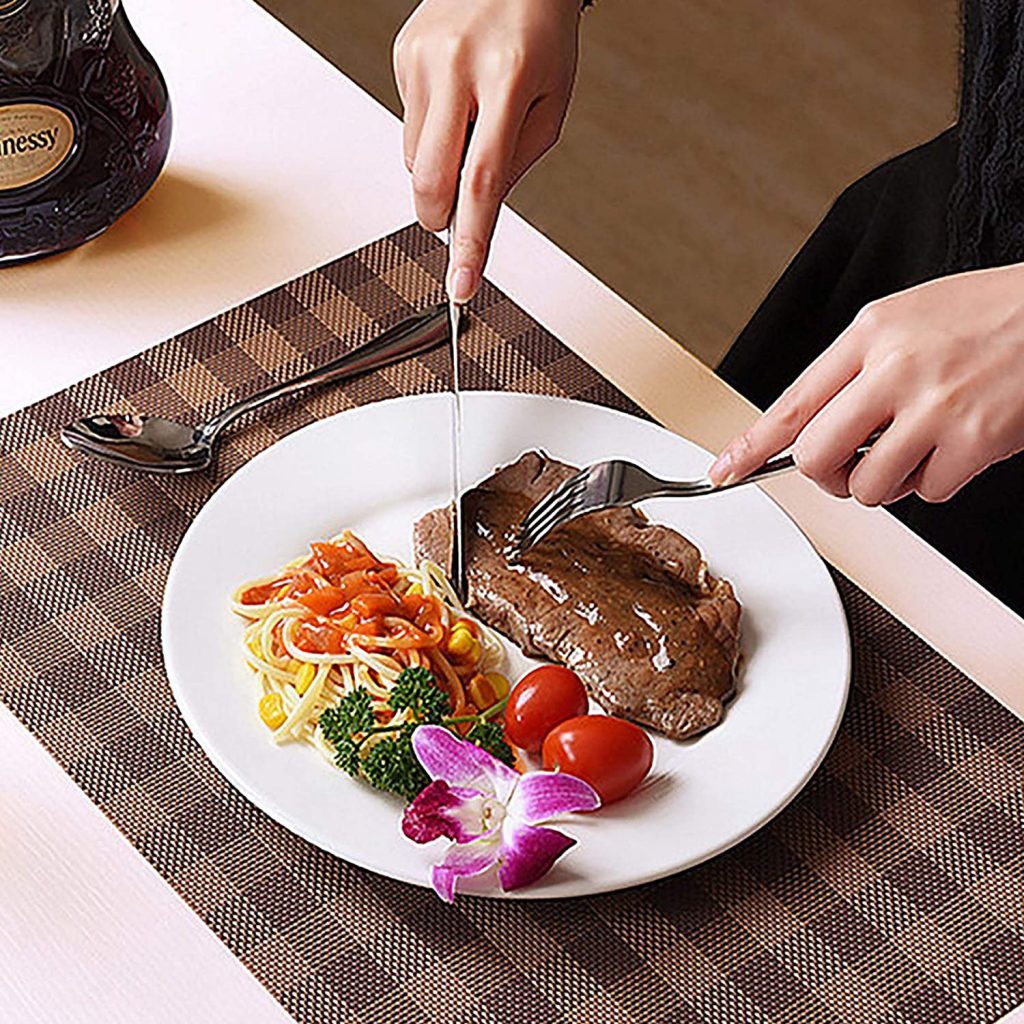 Cons:
Reports of rust
Spoons are shallow and too wide
Set A Budget
You should set a clear budget for your purchase before you go shopping. Think about how much money you can comfortably spend on a flatware set to allow for good value. 
Some of the factors that affect the price of flatware include:
Material quality
Build of pieces
Stamped or forged
Finishes
Brand name
Weight and balance
Also, the more place settings you need, the more money you'll have to spend. Generally, a 100-piece flatware set costs more than a 20-piece flatware set. Make sure you work that into your budget, as well.
How To Choose Your Flatware Set
Whether you want a 100-piece flatware set or something much smaller, you have three choices for how to go about getting it. You'll choose from open-stock flatware, place settings, or full boxed sets.
Open-stock – This means you'll choose each piece singularly to make up your 65-piece flatware set. Typically, open-stock selection is more expensive than the other options. It might be too much for your budget to do the whole set this way. However, some people like to purchase place settings or boxed sets and add some open-stock pieces to finish off the set.
Place settings – You can also purchase each place setting separately to make up a 65-piece flatware set. Each place setting usually comes with a knife, salad fork, dinner fork, tea spoon, and dinner spoon.
Boxed set – The boxed set comes with a designated number of place settings. Many of them also come with some serving utensils. The range of boxed set sizes spans from 20 pieces up to 100+ piece flatware sets.
Select The Material And Finish
The material should be durable enough to allow your flatware to last for a long time. Most everyday flatware is made of stainless steel. It's durable and rust resistant when cared for properly. 
Some flatware is made of more expensive materials like silver. These tend to be used for special occasions, though. Other materials to look out for on flatware are wood, resin, plastic, and rivets.
Choose a finish with the look you like. Some flatware sets are polished and shiny. Others are matte. You can even find flatware that looks distressed. 
Make Sure To Get The Right Feel
It might sound funny, but you should choose flatware that feels comfortable in your hand. The comfort depends on the weight and balance, the length, and the shape of the pieces. 
Flatware that's too light often feels cheap and difficult to use. If it's too heavy, it becomes cumbersome. There also needs to be a good balance between the front and the back of the utensil. If you're ordering flatware online, it's a good idea to go in-store somewhere to see how flatware feels in your hand, first.
Most people have a preference when it comes to the length and shape of flatware. It could come down to who else uses the pieces in your home or how you like them to look. Consider these factors when you're shopping for your flatware.
Wrap Up
The best flatware set may be harder to choose than you thought. But now you know what to look for to choose the set that works for your kitchen. You'll look at the materials and the finish. You'll choose a budget and the number of place settings you need. You should check out pieces in person to see how they feel if you can. Once you find the right set with the look and price you feel good about, you won't likely need to have this experience again for many years.
FAQs:
What is the best quality stainless flatware?
The highest quality stainless steel is 18/10. Some of the best brands include Lenox, Villeroy and Boch, and LIANYU.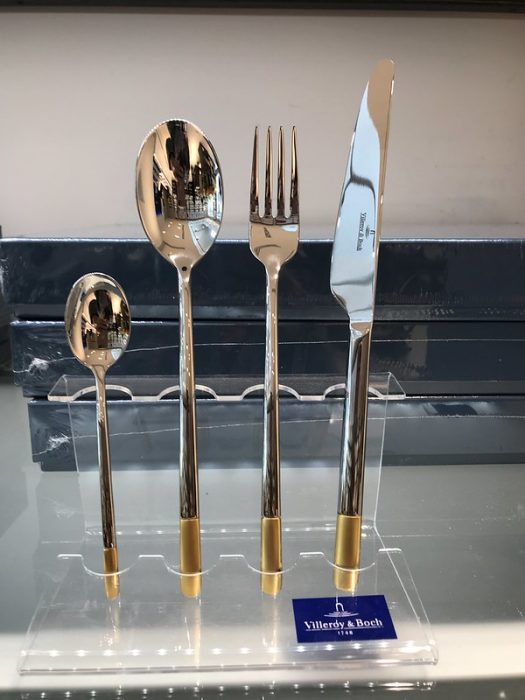 Is 18/10 stainless steel a good quality?
Yes, it's the highest quality. It consists of 18% chromium and 10% nickel. 
What is the difference between 18/10 and 18/0 stainless steel flatware?
18/0 has almost no nickel in it. That means it's more likely to rust.
What flatware does not rust?
18/10 stainless steel is rust-resistant. 
What is the difference between silverware and flatware?
Technically, there is no difference. Silverware is flatware made of silver.
Why is flatware so expensive?
It's because of the materials used, as well as the strength, craftsmanship, and durability of the pieces.
Is Oneida flatware made in China?
Some of its flatware is made in China. However, it's also made in Italy and Mexico.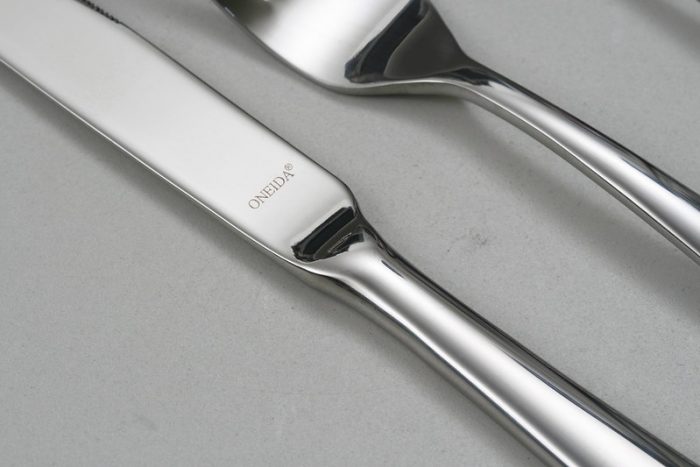 What is the strongest flatware?
With its thickness, forged flatware is the strongest type of flatware and stainless steel.

Is JA Henckels flatware a good brand?
No doubt! With its 18/10 stainless steel, it is worth the purchase despite not being as cheap as other brands. Its price is matching with its excellent quality being rust-resistant, and therefore could be of use for a long time without worrying about it rusting.
How many sets of silverware do I need?
If we're talking about eating a meal, it has to be three: a dinner fork, a table knife, and a spoon. For everyday use, 6 to 8 place settings should suffice.
Disclaimer: FamilyHype.com (Family Hype & FamilyHype) is a participant in the Amazon Services LLC Associates Program, an affiliate advertising program designed to provide a means for sites to earn advertising fees by advertising and linking to Amazon.com.
Last Updated on August 14, 2022 by De Guzman
DISCLAIMER
(IMPORTANT)
: This information (including all text, images, audio, or other formats on FamilyHype.com) is not intended to be a substitute for informed professional advice, diagnosis, endorsement or treatment. You should not take any action or avoid taking action without consulting a qualified professional. Always seek the advice of your physician or other qualified health provider with any questions about medical conditions. Do not disregard professional medical advice or delay seeking advice or treatment because of something you have read here a FamilyHype.com.