Whether you regularly crate your dog or not, you'll need a dog crate at some point when you own a dog. As is true with most consumer products, there are several types of dog crates to choose from. It makes knowing which dog crates are the best to buy more difficult than you may have thought.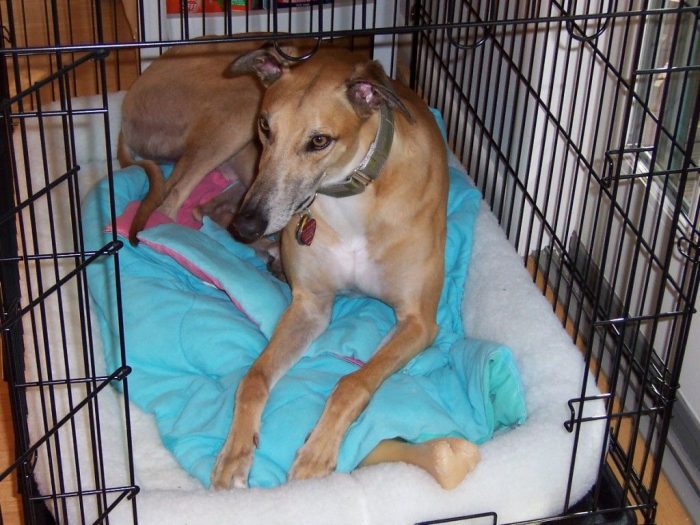 The best dog crates to buy are the right size for your dog, are made of appropriate materials, fit your budget, and suit the intended use. Dogs should have enough room to stand up, turn around, and sprawl out when they want to. The best dog crates are made of materials your dog won't be able to destroy easily. They should be affordable and appropriate for how you'll use them.
After reading this article, you'll know how to choose the best dog crate for your furry friend. We'll look at what the right size is for your dog, as well as different types of dog crates. Some good examples of dog crates available on Amazon are further down in this post, too. So, keep reading for help with finding the best dog crate to buy for your fur baby.
How Do I Choose A Dog Crate?
One of the most important factors for choosing the best dog crate is the size. Crates that are too small cause discomfort. They can also cause issues with joints and muscles. 
Be proactive and think ahead when you're buying a new dog crate. If you are choosing a crate for a young dog that's still growing, buy one large enough to accommodate him at full size. It's pricey and doesn't make much sense to purchase a small crate that your pup will grow out of in a few months. 
So, how much room does your dog need? First, make sure it's tall enough for your dog to completely stand up. Dogs that must hunch all the time may end up with back and hip issues. Make sure the crate is large enough for him to turn around in. He should also have enough space to lie down and stretch out.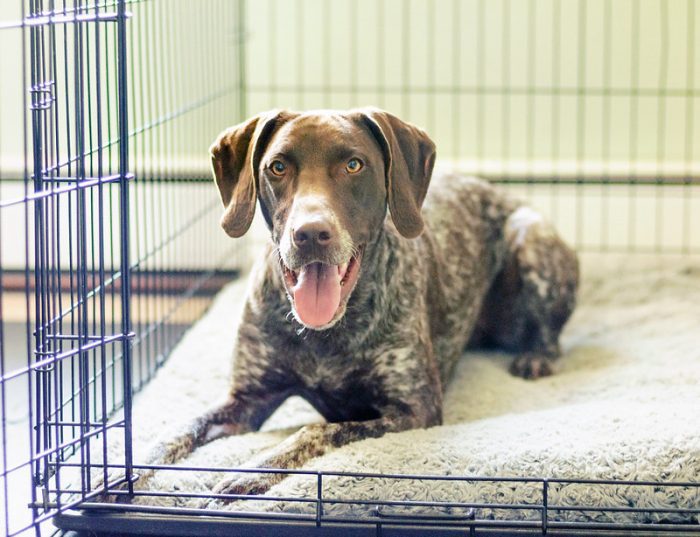 Can A Dog Crate Be Too Big?
A crate that's too big is better than one that's not big enough. However, younger dogs tend to like smaller spaces that make them feel more secure. Many metal dog crates come with dividers you can move as the puppy grows. 
One problem with a crate that's too big is that dogs end up with enough space to go to the bathroom on one side and sleep on the other. By nature, they don't like to use the bathroom where they sleep. If there's room for sleeping and relieving themselves, you may have an issue with your dog's potty training.
Types Of Dog Crates
Generally, there are four types of dog crates. They're not ideal for all kinds of dogs. Here's a look at the different kinds of crates available.
Plastic – These are usually sturdy. They come in various colors but aren't usually the most attractive to look at. Most of these crates have metal hinged doors that lock in place. These are the dog crates most animals travel in when they're in the cargo area of a plane. 
Wire – Wire crates are made of metal that's usually coated in something. These are the best options for dogs that chew a lot. They won't be able to chew through the material. Wire crates are more open to airflow. They're sturdy, easy to see into, and can be broken down and stored away when not in use.
Soft-sided – Soft-sided crates may have hard frames allowing them to stand up or may be designed like a backpack or duffle bag. These are the kind of crates you'll notice owners of small dogs bringing on planes. They're comfortable for dogs but are easily destroyed.
Wooden – Many wooden crates double as something else. For instance, you may have seen a dog crate that is also a wooden end table. Most of these aren't meant to be moved around and are made to look attractive.
Are Wire Or Plastic Dog Crates Better?
One isn't better than the other, overall. It comes down to the way you'll be using it. 
A wire dog crate can't be used for traveling by air. You could use it in a car, however. Wire dog crates are heavy and usually cost more than plastic crates.
Plastic dog crates are often approved for travel by plane. They're secure and durable. They usually don't cost as much as wire crates. You can move them around easily. 
Choose the most appropriate material for your dog crate by considering how you will use it.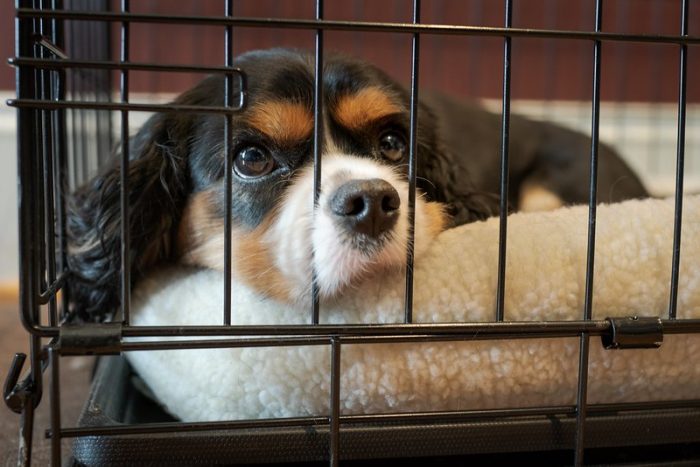 How Much Do Dog Crates Cost?
Dog crates have a broad range of prices. The cost is determined by the material it's made of, the size it is, and any bonus features.
Typically, a wooden or metal dog crate costs more than other types. Wooden crates that double as tables, cabinets, or other decorative pieces of furniture usually cost more because they're more attractive and more useful.
You'll find dog crates for as little as $25. Pricier options may cost upwards of $500. Do some comparison shopping to find the price that works best for your budget. But make sure you purchase a dog crate with a good quality level for your dog. If you're dog, Bruno the Rottweiler, is put in a soft-sided crate he can chew right through, that won't do you much good. Get a heavy-duty dog crate he won't destroy.
Best Dog Crate Options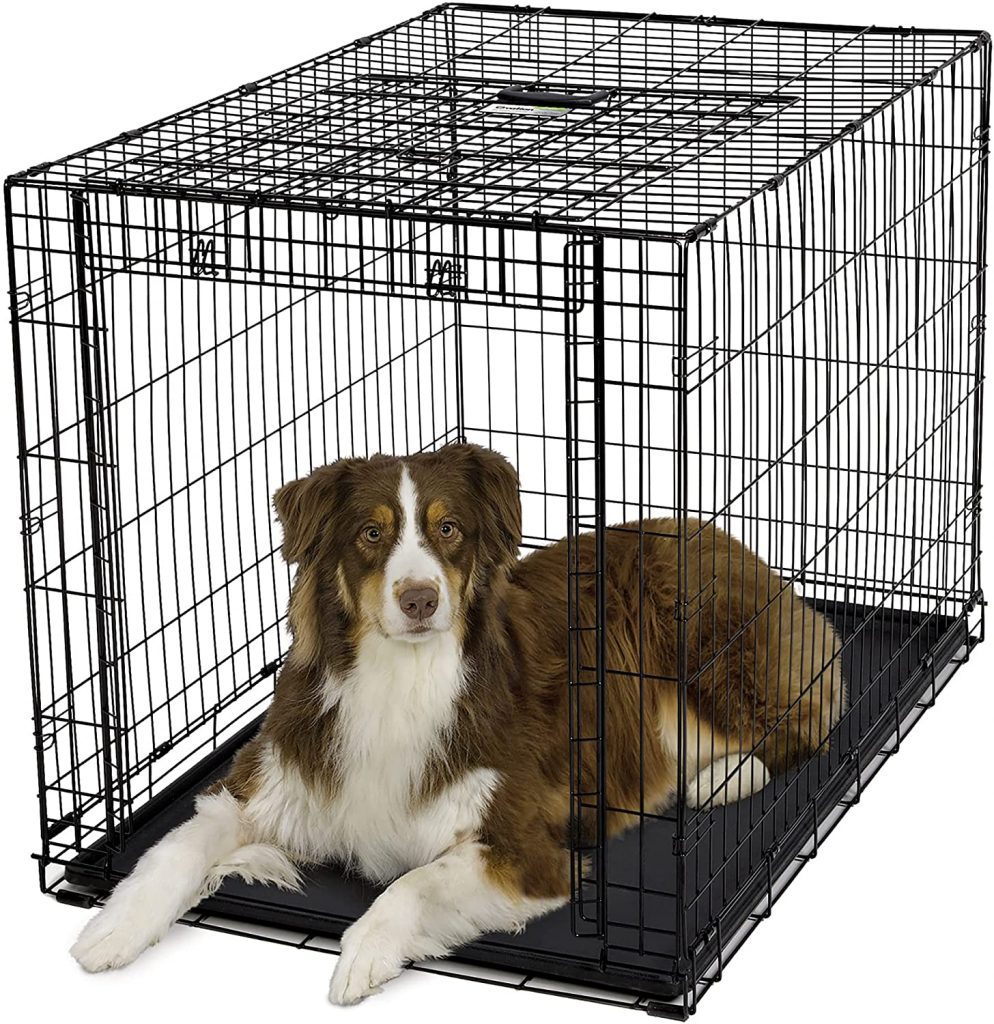 This crate saves on space because it has a garage-style overhead door rather than the traditional door that swings open. There's a replacement tray for the bottom, as well as a divider panel that allows your dog to grow with the crate. It also comes with rubber feet for the bottom that help protect your floors. There is a carrying handle to help you move the crate about. When you don't need the crate, you can fold it down flat and store it under a bed.
Pros:
Space-saving design
Easy to store away when not in use
Plastic tray is easy to clean
Grows with your dog
Includes a 1-year warranty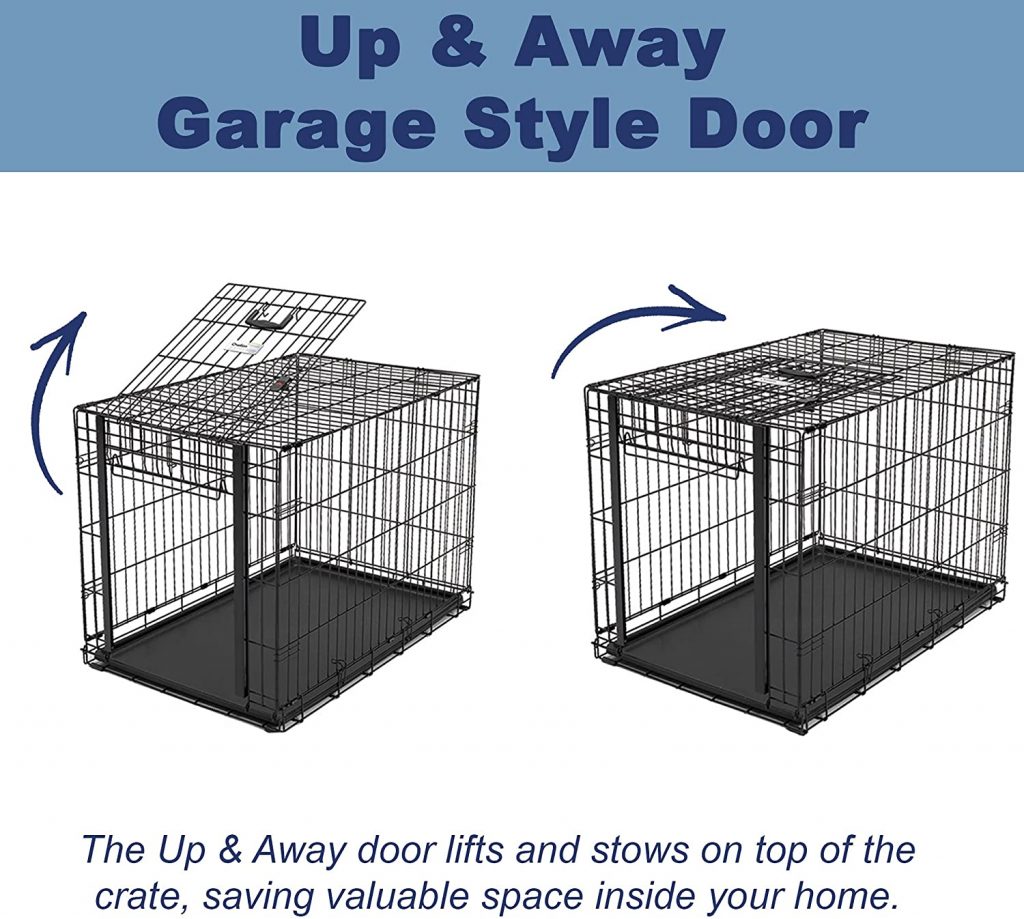 Cons:
Heavy
Clever dogs escape
Some raw metal edges stick out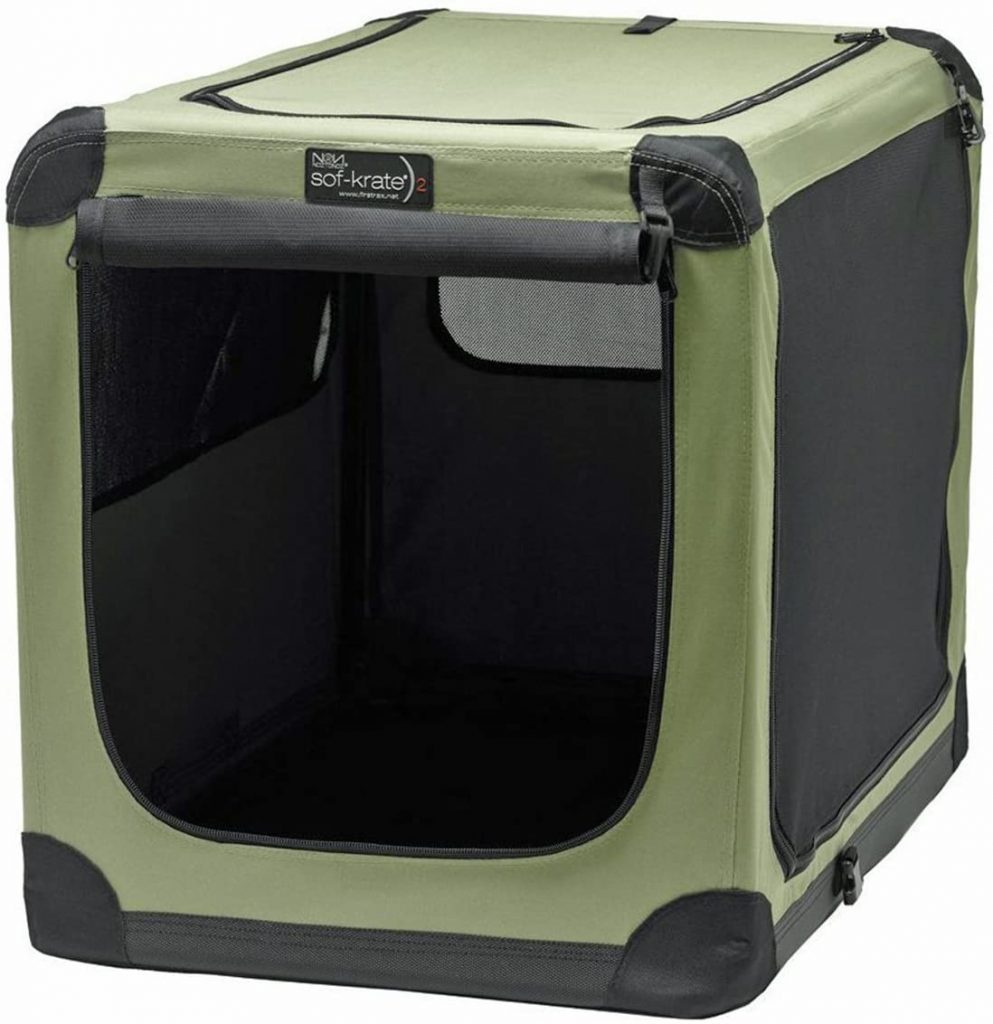 This is a soft-sided crate for medium sized dogs. It holds dogs up to 70 lbs. It's made of durable, heavy-duty vinyl material that's well-suited for indoor or outdoor use. The corners are rounded so it won't scratch anything up. The crate is easy to clean and easy to transport. These crates weigh less than 10 lbs. They're easy to assemble and to take down.
Pros:
Lightweight
Easy to clean
Comfortable for dogs
Well ventilated
Highly portable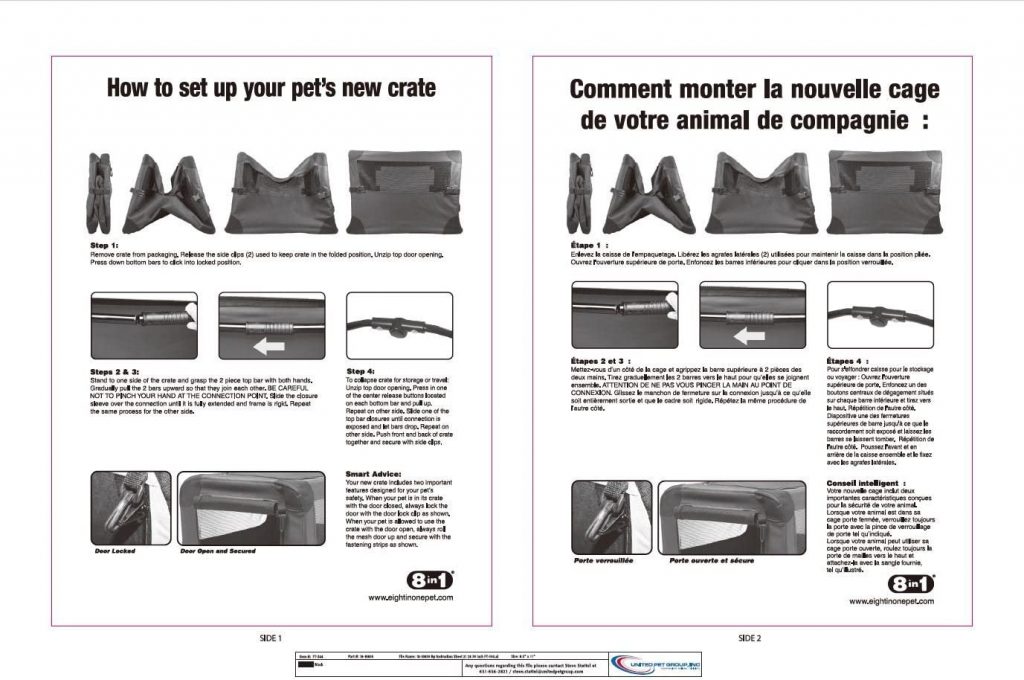 Cons:
Not chew-proof
Zippers are tough to work
Not good color choices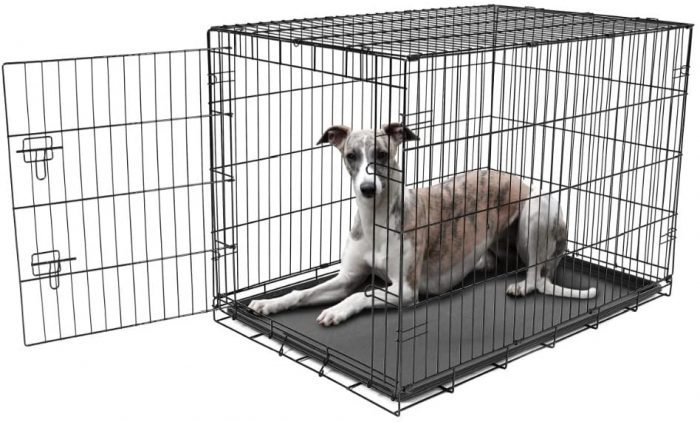 This Carlson Metal Dog Crate has one door that swings open. It has the plastic tray in the bottom that can be easily removed for cleaning. The whole crate is foldable so you can take it with you wherever you go. The locking system is secure. This crate is for large dogs weighing up to 95 lbs. You can choose other sizes, also. The crate weighs only 14 lbs.
Pros:
Affordably priced
Folds down for easy storage
Highly durable
Easy to clean
Good value for money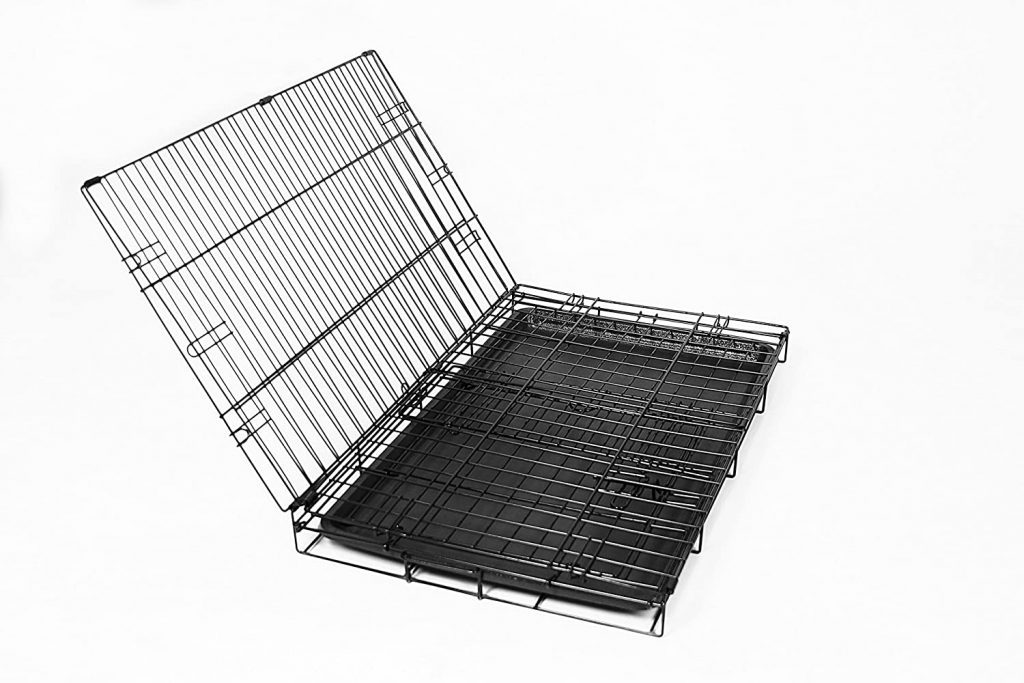 Cons:
Strong chewers can bend crate bars
Some locks don't quite line up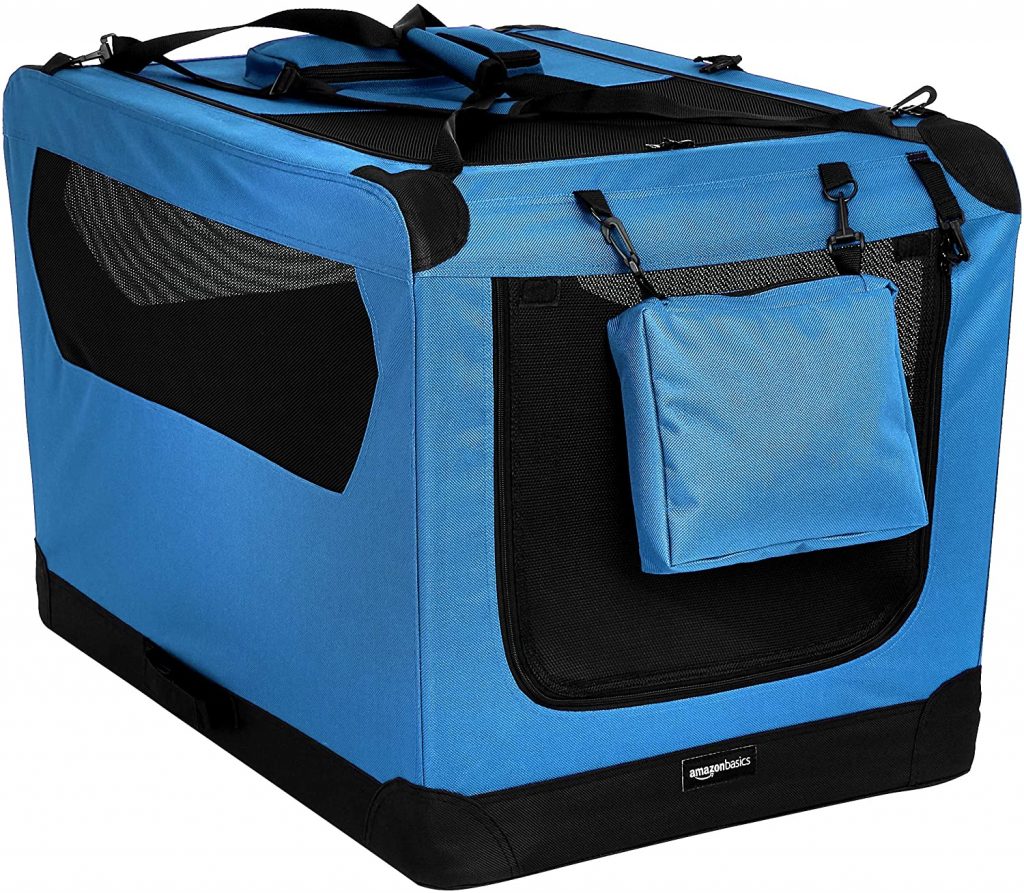 This is a soft-sided crate that's made of polyester and PVC. It's highly durable and is well-suited for travel. There is both a handle on top and a shoulder strap. It's an ideal size for a medium dog. The crate has convenient pockets on the sides and top for toting along treats and toys. Your purchase also includes a soft bed covered in fleece that fits perfectly inside. This dog crate comes in five different color choices.
Pros:
Lightweight
Value priced
Made of durable material
Pet bed included
Pockets allow you to store items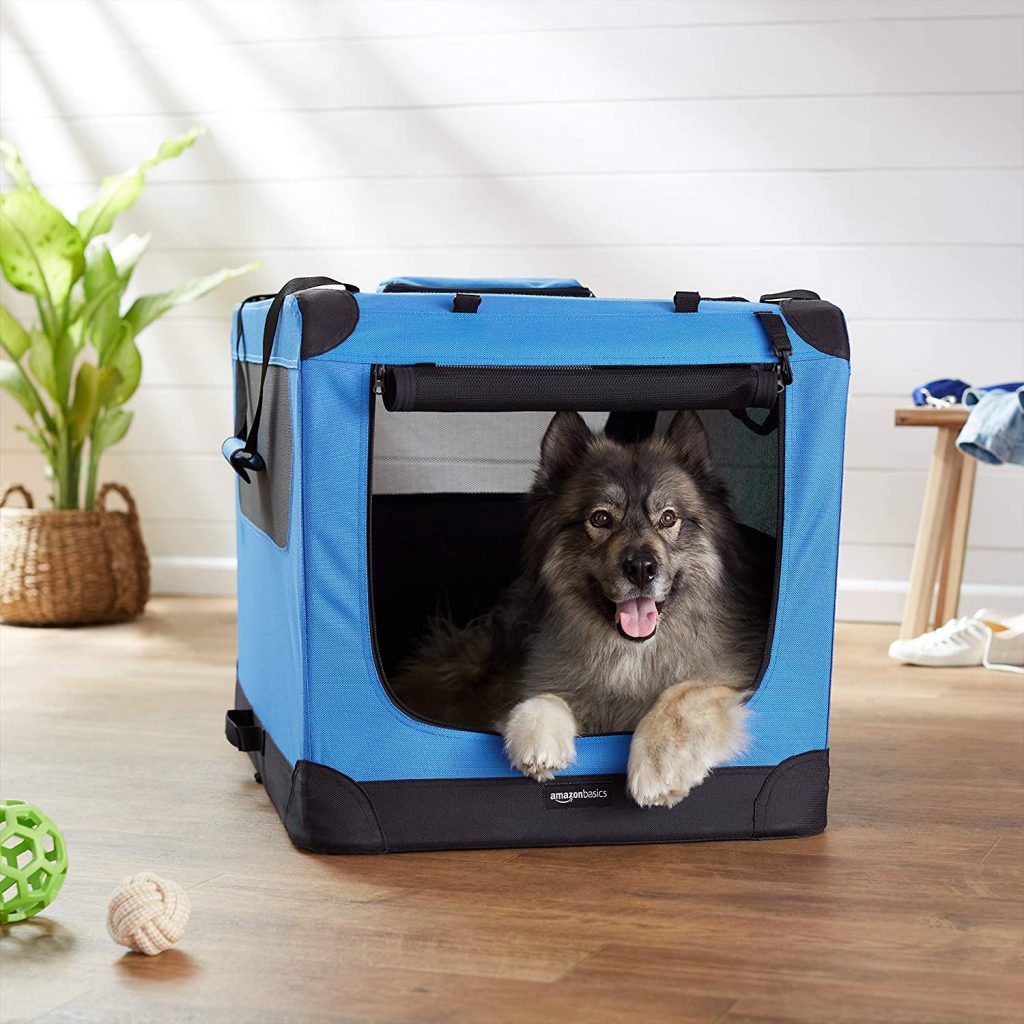 Cons:
Hard to see inside when closed up
Tricky to fold up
Material could be more rugged
Which Dog Crates Are Best?
Each type of dog crate is best for one reason or another. Wire crates work well in stationary situations where they're staying in one place. They're also good for puppy training as many of them come with a divider that can be moved.
Soft-sided crates are lightweight and comfortable for dogs. They're easy to transport to hotels and other places you may want your dog secured.
Plastic crates are durable and acceptable for air travel. They're budget-friendly, too. Most dogs can't break out of these crates. 
Wooden crates are often decorative and multi-functional. You can find one to match the décor of your home and serve more than one purpose.
Conclusion
Finding the best dog crate means you have the right size, the right type, and the right price. Dogs come in all sorts of heights, weights, and strengths. Some dog crates are better suited to specific breeds or personalities. Choose the crate that makes the most sense for your dog's needs and has the most appropriate price for your budget.
FAQs:
What is the best crate for a dog with separation anxiety?
Steel crates are best for dogs with a lot of anxiety. These dogs often chew to cope with their anxiety. Steel crates can withstand all the chewing.
Should I cover my dog's crate at night?
This comes down to the dog you have. Some dogs find comfort in having the crate covered at night. Others feel anxious in such a confined space. Do what's right for your dog.
What should I put in my dog's crate?
You can put a bed in the crate for your dog. But be mindful of what type. Puppies often chew plush beds and blankets. Put something that won't easily be shredded up and eaten. Also, put some tough chew toys in the crate.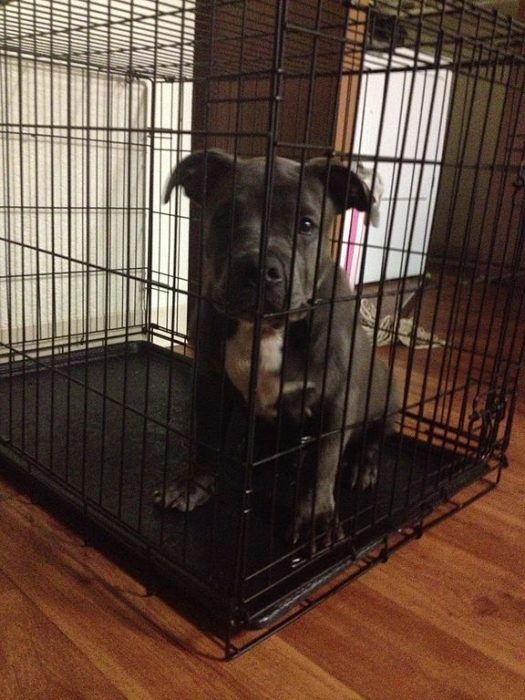 Why crate training is bad?
Crate training can slow down the potty-training process. If your puppy continuously goes to the bathroom in the crate, he will eventually lose his natural motivation to keep his environment cleared of bodily waste.
Do dogs like big crates?
Dogs often feel more secure in a smaller crate. Also, if there's enough space for your dog to soil one end and sleep in the other, he may start taking advantage of the room.
What should I put in my puppy's crate at night?
You should put a durable sleep mat in the crate for puppies that don't chew a lot. 
Should you crate a dog with separation anxiety?
It's a good idea to crate dogs with separation anxiety. It gives them a place to go where they feel secure. It also keeps them from chewing and destroying furniture or other things in the house as they try to cope with their anxiety.
Disclaimer: FamilyHype.com (Family Hype & FamilyHype) is a participant in the Amazon Services LLC Associates Program, an affiliate advertising program designed to provide a means for sites to earn advertising fees by advertising and linking to Amazon.com.
DISCLAIMER
(IMPORTANT)
: This information (including all text, images, audio, or other formats on FamilyHype.com) is not intended to be a substitute for informed professional advice, diagnosis, endorsement or treatment. You should not take any action or avoid taking action without consulting a qualified professional. Always seek the advice of your physician or other qualified health provider with any questions about medical conditions. Do not disregard professional medical advice or delay seeking advice or treatment because of something you have read here a FamilyHype.com.