There is no better pizza than one that comes out of a hot pizza oven. Whether you're looking for that wood-fired pizza taste or you just want the simplicity that pizza ovens provide, your own pizza oven is a good addition to your array of cooking appliances.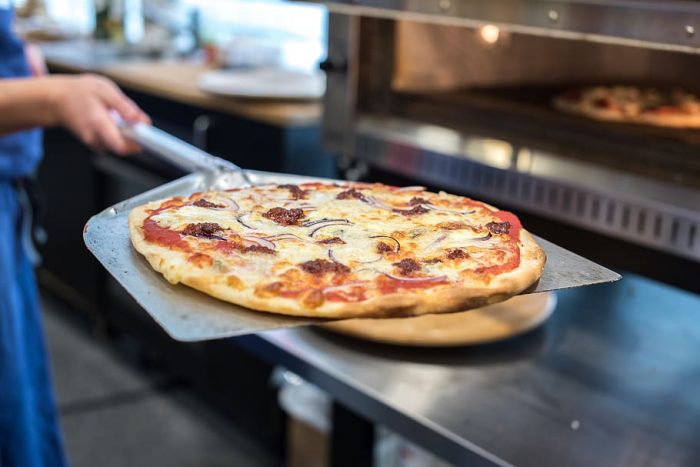 Pizza ovens come with a wide range of prices. Some of the best ones for home use are portable pizza ovens ranging from $300 to upwards of $1,000. Think about how often you'll use yours, whether you'd like it to cook fast or slow, how large you want it to be, and whether you want an indoor or outdoor pizza oven. You can also choose between wood-fired or gas-fired and you can also check the best toaster here.
Let's start with a look at the different features you should consider when choosing from pizza ovens. Then, we'll show you some good options for sale on Amazon before wrapping up this article. Keep reading for tips on how to choose the best pizza oven for home use.
How Often Will You Use Your Pizza Oven?
Think about how often you'll use your pizza oven when you set your price range. You don't want to spend a fortune on an appliance you'll use once a month or less. 
Also, if you're going to use your pizza oven frequently, you need it to be durable and convenient to use. It's ideal for it to be easy to clean, as well. 
Look at the instructions for use. Check out the assembly process, as well. Then, you can compare directions across all the ovens you're considering.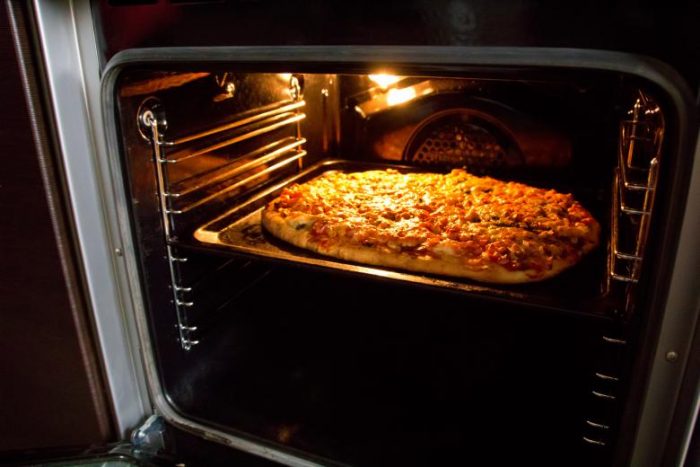 How Do You Want To Cook With It?
Pizza ovens may cook fast or slow. Some of this is determined by the material your oven is made of. Metal ovens heat up quickly. Brick ovens take a long time to heat up.
Metal ovens are great for cooking quickly. They aren't so good at maintaining a specific temperature, though. If you're going to use your oven to cook other foods that take longer than pizza, this can pose a problem.
Brick pizza ovens take an hour or more to heat up, but they hold a temperature for a long time. The heat gets absorbed by the bricks, thus anything requiring longer cook times does well in a brick pizza oven. They work well for slow cooking. 
How Much Space Do You Need Inside?
The space inside is important. It needs to be large enough to accommodate the size of pizzas you'll make. If you're going to use your oven to make other kinds of food, it also needs to have enough room for those foods. 
Think about how many people you'll typically be feeding, too. If you have a large family to cook for, you'll likely want a pizza oven large enough inside to cook at least two pizzas at the same time. 
Do You Need an Indoor or Outdoor Pizza Oven?
Would you like to cook inside, outside, or both? Indoor ovens must meet some specific requirements, so they're safe for use inside. 
Most pizza ovens that aren't built-in inside the house are suitable for use outside. You'll want to consider whether you should vent it, though, if you're cooking with it under a low cover. 
You also have the option of a portable pizza oven. These are generally made of materials that weigh less than others. Or they are set on top of a cart for easy moving around. Some even sit in your grill to convert it into a pizza oven.
Wood Fired vs. Gas Fired
Wood fired pizza ovens allow you to choose the wood taste you want. You get to customize the flavor. Wood fired ovens also allow you to add that taste to vegetables, meats, and other breads. 
When you cook in a wood fired oven, you continue to add wood until it gets as hot as you want. Choose from ovens where the fire is right in the same chamber with the food, or those with separate compartments. Pizza ovens with a separate compartment for the wood and fire are easier to clean.
Gas fired ovens are cleaner and make it easier for you to maintain a precise temperature. You won't get the wood fired flavor, but these are usually more acceptable for use inside a home and the small ones are easy to take with you wherever you want to use one.
Best Pizza Oven Options
Bertello Outdoor Pizza Oven Black + Pizza Peel Combo. Outdoor Wood Fired Pizza Oven and Portable Pizza Oven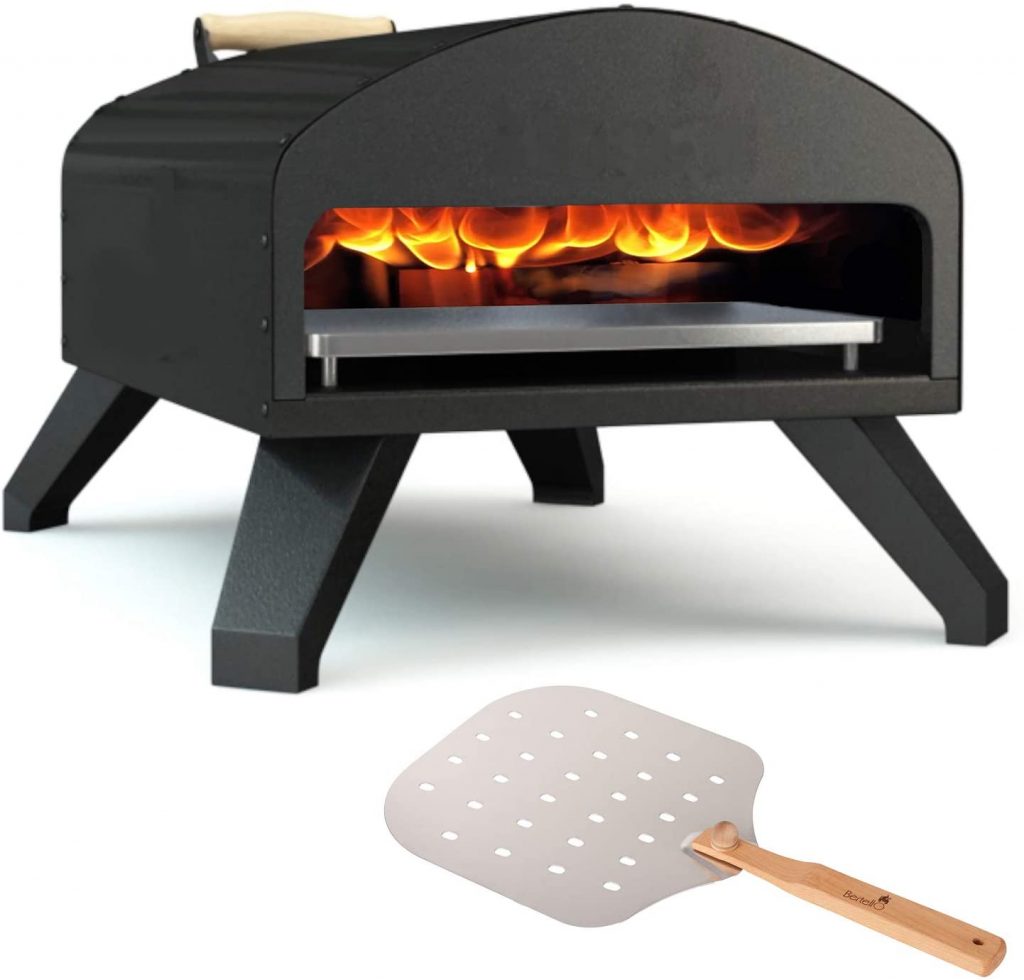 This portable outdoor pizza oven is suitable for use with charcoal, wood, and pellets. It can also be converted to a gas fired oven with the purchase of the required attachment. It measures 12.5 inches wide and 13.5 inches deep. This oven can cook at more than 900º F. It also comes with a pizza peel. It easily fits on top of a table or countertop. The wood tray is easy to pull out for cleaning. It includes a cordierite pizza stone for inside, as well.
Pros:
Small enough to take with
Roomy enough for large pizza
Pull-out wood tray is easy to clean
Easy to add wood
Converts to gas fired oven
Includes pizza peel and stone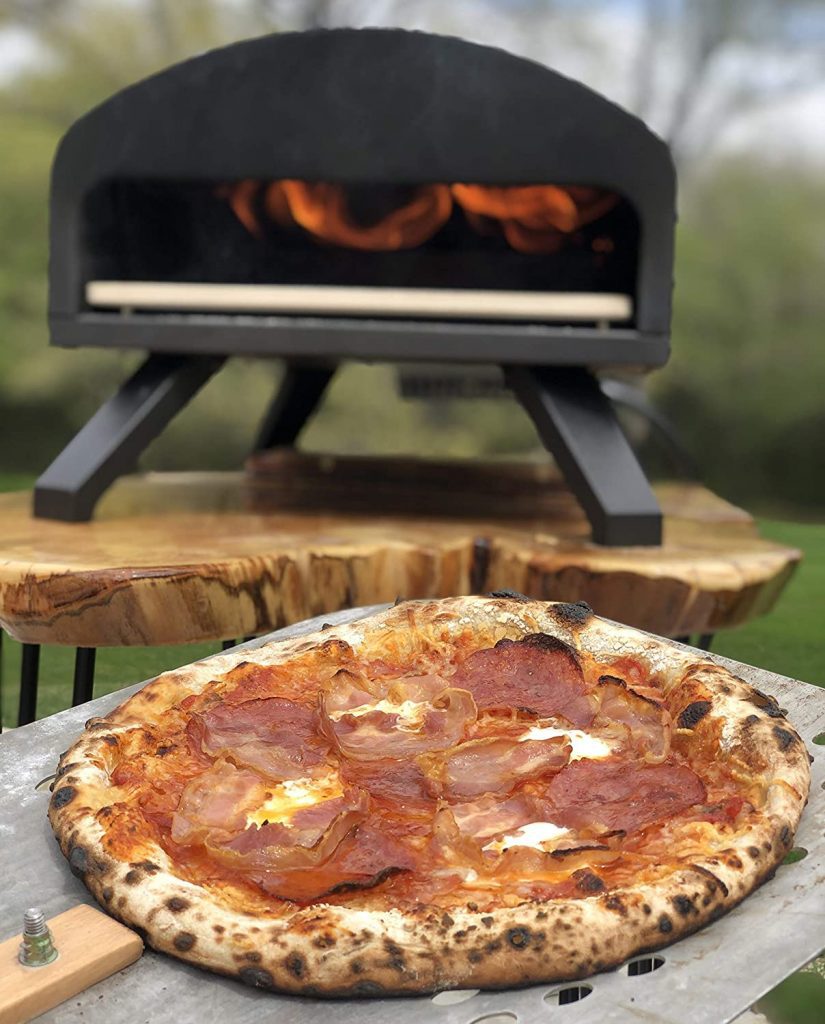 Cons:
Learning curve to get just right
No detailed instructions included
Slightly heavy
Stanbroil Wood Fired Pizza Oven for Pellet Grills, Compatible with Traeger, Pit Boss, Camp Chef, Green Mountain, Z Grills, Smokin Brothers Pellet Grills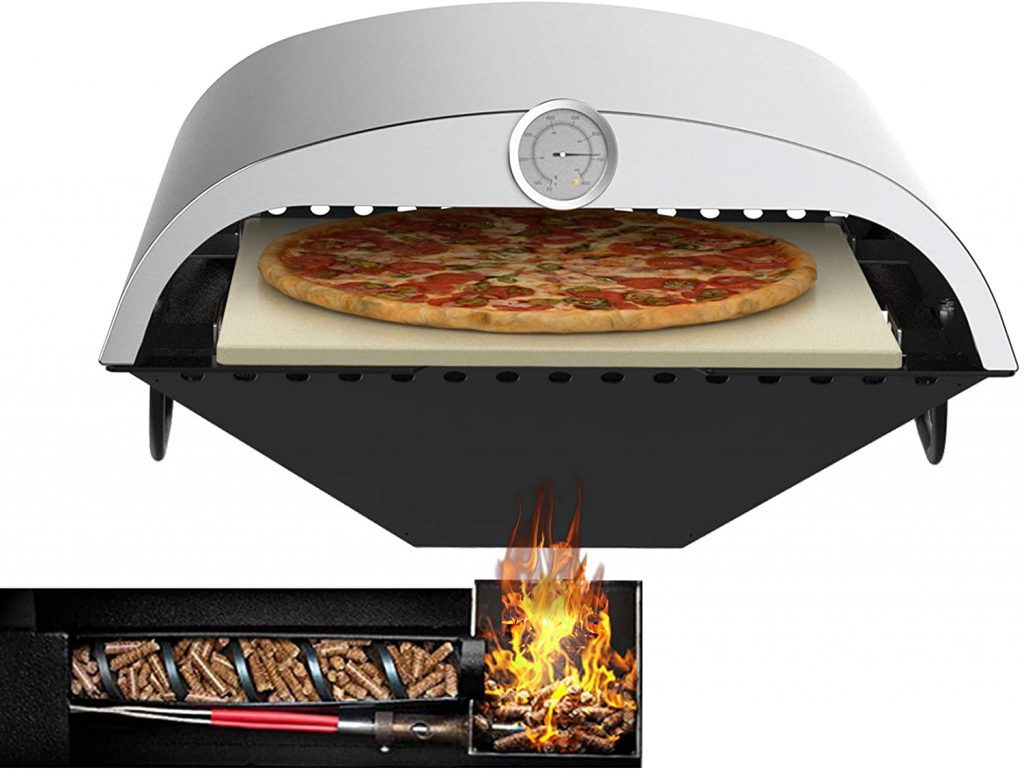 This stainless-steel unit sits on top of your grill and converts it to a pizza oven. It has a temperature gauge on the front and can cook at more than 800º F. All you do is move the grates, grease trap, and any heat shields off the grill, so you can place the portable oven on top. It's compatible with most popular grill brands. You should never close the grill lid when you're using the pizza oven. 
Pros:
Affordable option
Lightweight
Easy to use
Made of durable material
Performs well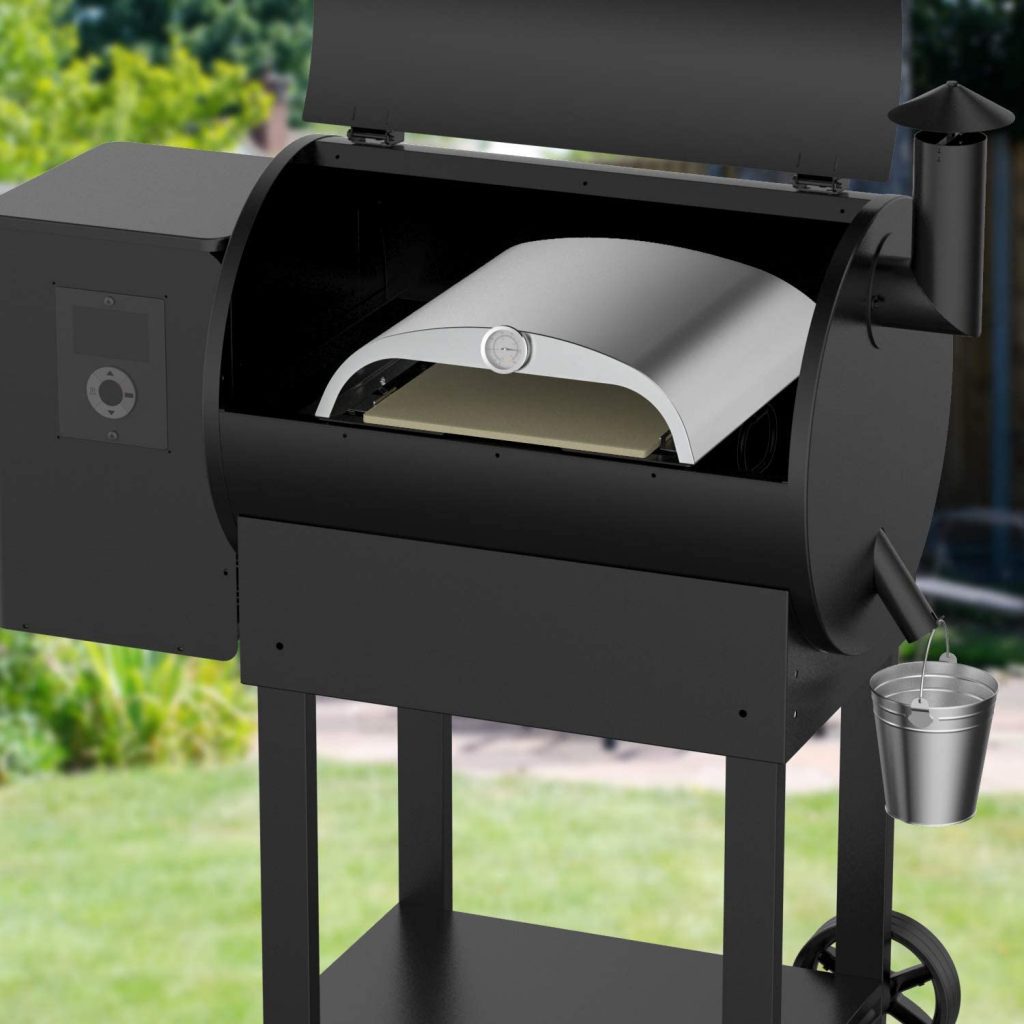 Cons:
Opening is narrow from top to bottom
No instructions included
Isn't compatible with every grill
B07DYJZV6D" title="BakerStone O-AJLXX-O-000 Portable Gas Pizza Oven, Black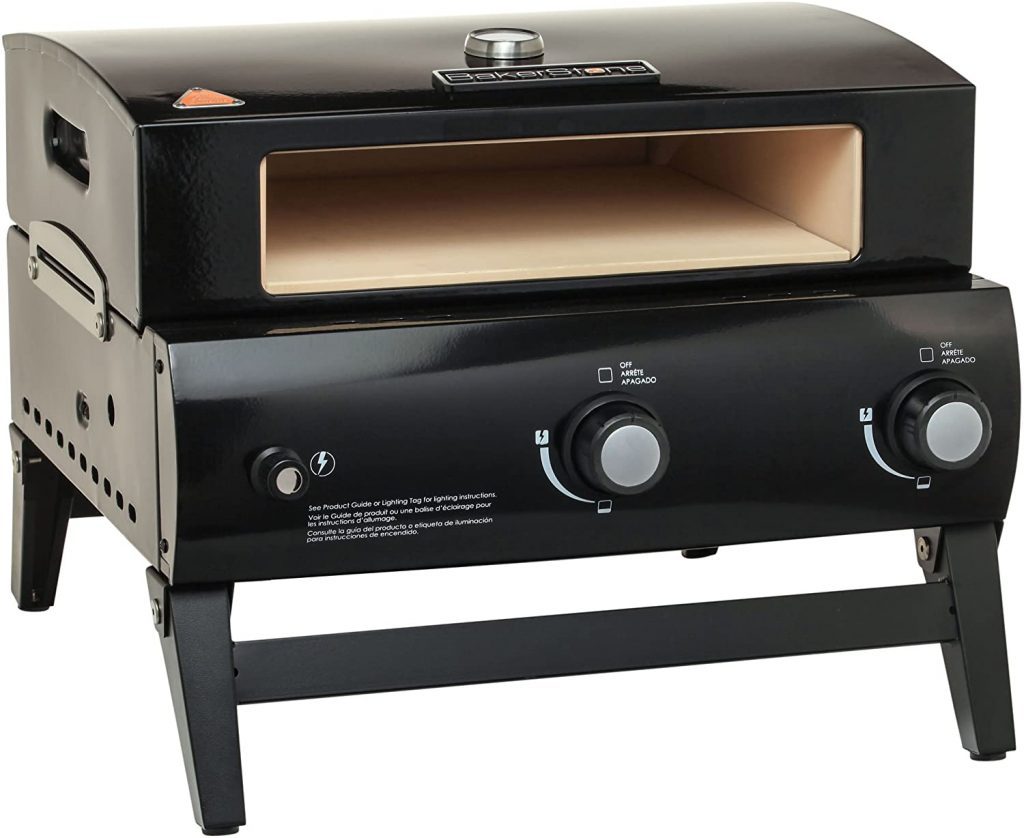 The BakerStone gas fired pizza oven is portable and easy to use. It cooks fast and efficiently. The oven is equipped with a 25,000 BTU burner system. You can opt to purchase some other useful accessories to cook various types of foods. You'll need a 20 lb. propane cylinder to fuel the oven. The legs are foldable for easy storage. You can also remove the pizza oven box for easy cleaning.
Pros:
Bakes pizza in 2 minutes
Easy to clean
Adapts to cook other foods
Easy-to-use dials on the front for temperature control
Legs fold down for easier storage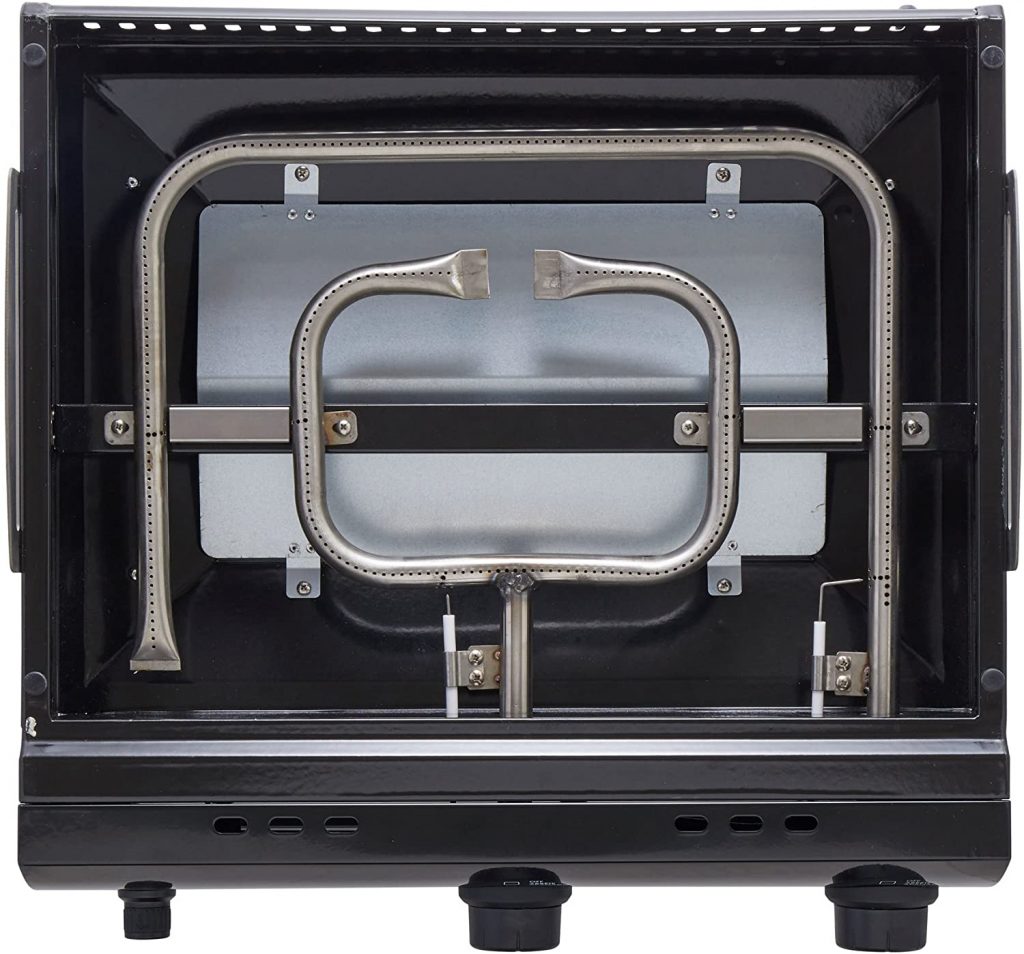 Cons:
Heavy
Small opening
Learning curve for great pizza
BakerStone O-ABDHX-O-000 Original Box Kit Pizza Oven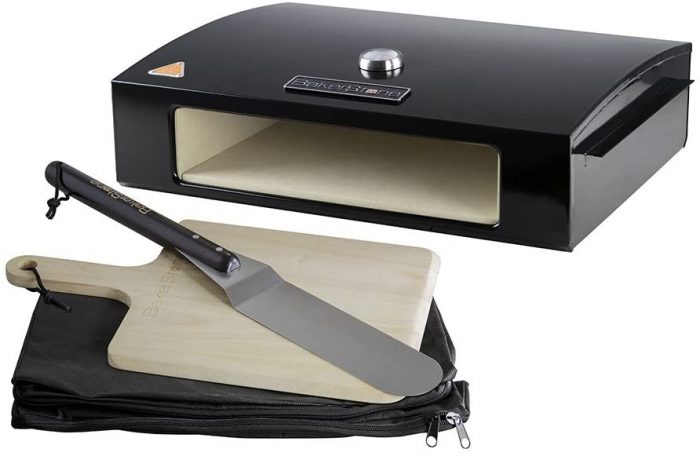 This is BakerStone's version of the convert-your-grill into a pizza oven kit. It's compatible with most grills. Your purchase includes the pizza oven box, a wooden pizza peel, and a metal pizza turner. You can bake a pizza in under four minutes with this kit. You can also use it to cook other foods, like vegetables, meats, breads, and even cookies. It accommodates a large pizza and is easy to use.
Pros:
Affordable option
Compatible with most grill types
Cooks food fast
Metal oven preheats quickly
Performs well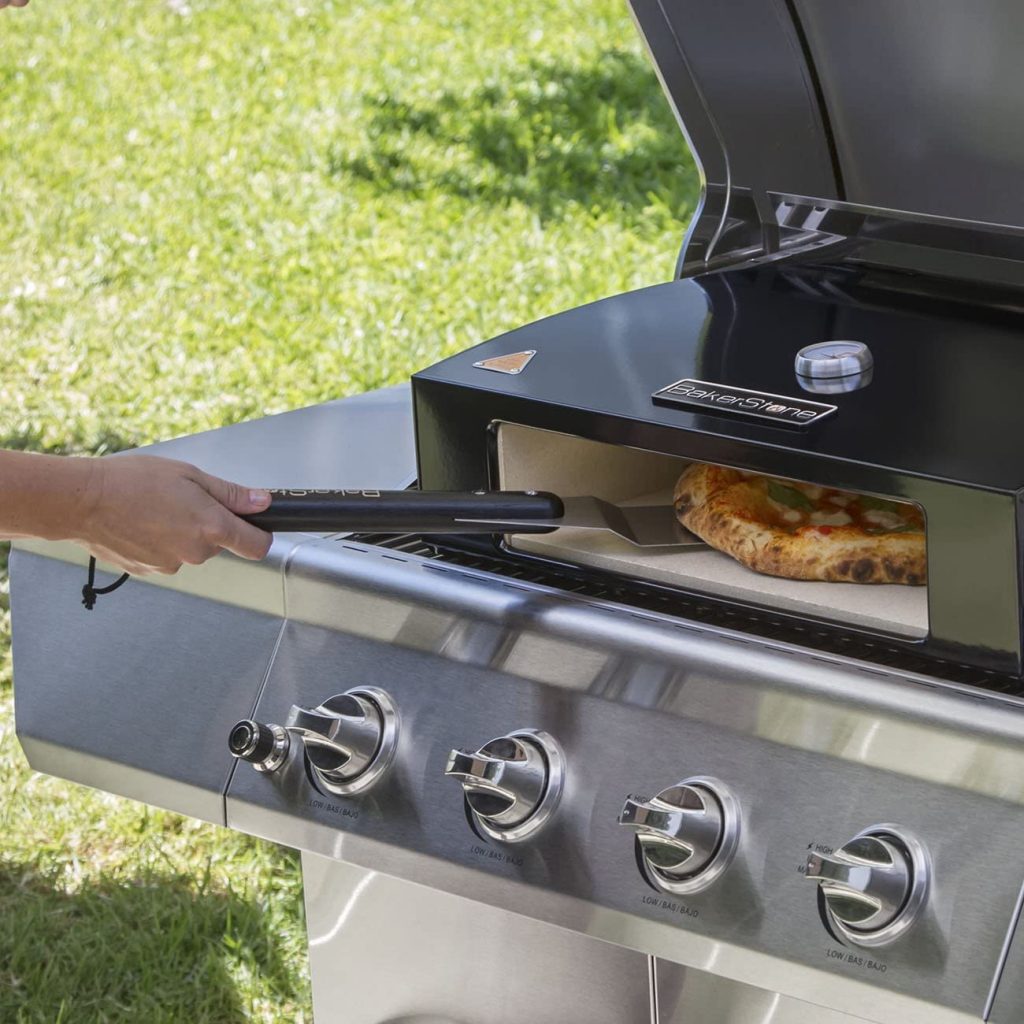 Cons:
Pizza stone breaks easily
May need thinner pizza peel
A little difficult to clean
How Long Do Pizza Ovens Last?
Pizza ovens can last for 25 years, in some cases. The useful life varies based on how often they're used, how they're maintained, and where they're kept. Generally, you shouldn't get less than 10 years of use out of your pizza oven.
Conclusion
Pizza ovens are great to have at home. You can choose from indoor, outdoor, or portable models. Users often report making the best tasting pizzas they ever have in pizza ovens at home. What's more is you can use them to cook other foods, too. Use the tips you learned here to choose the right one for your home and start enjoying the best homemade pizzas you can as soon as possible.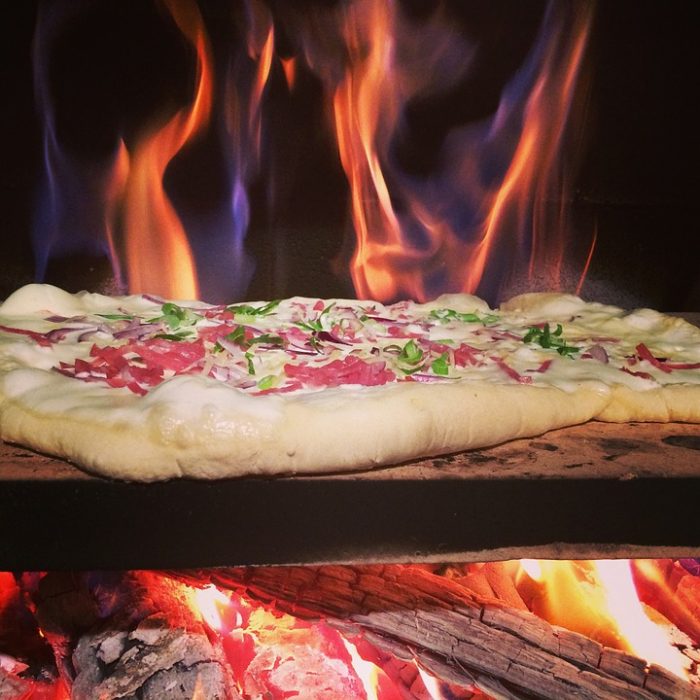 FAQs:
Are pizza ovens worth it?
Pizza ovens are worth it when you'll use them often enough. You could be eating the best pizza ever cooked right in your own kitchen or backyard. Don't overspend, though, as that devalues the purchase.
Are stainless-steel pizza ovens any good?
They are for some reasons. They're durable and heat up quickly. They're also lightweight and easy to move around. They may not be as good at cooking for long periods of time.
What is the best wood for pizza oven Australia?
The best wood for cooking in a pizza oven are any hardwoods. They burn longer and cleaner than softwoods.
Why are pizza ovens better?
These ovens are designed to cook pizza efficiently. Wood fired ovens give pizza that nice robust flavor, too. You get crisp crust and toppings cooked to perfection.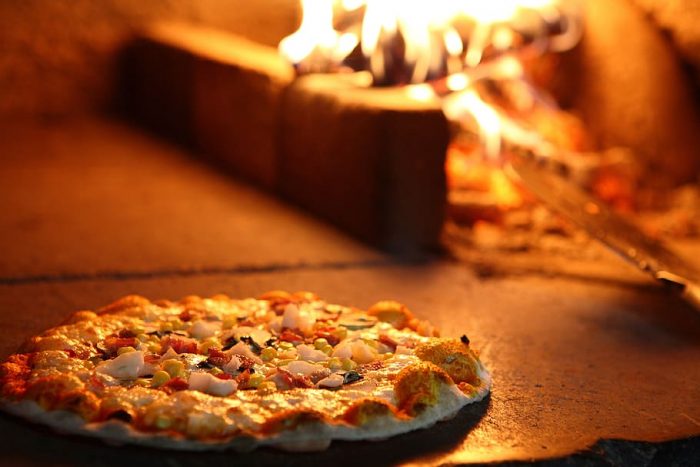 Is OONI pizza oven worth it?
OONI is a maker of premium pizza ovens. They're high-quality and perform well. They also last a long time. Some of their models are highly expensive. Don't go beyond your budget to buy one, but if you can afford one, they are worth it.
Why are pizza ovens so expensive?
Not all pizza ovens are expensive. Those that are will last a long time and are good at what they're made for.
What can you cook in a pizza oven besides pizza?
You can cook vegetables, breads, cookies, meats, fish, and more.
Why is wood fired pizza better?
The pizza gets a nice crisp texture along with the flavor of the wood.
What is the best size pizza oven?
How much does a good outdoor pizza oven cost?
Are propane pizza ovens worth it?
Are cast iron pizza ovens good?
How much does a commercial brick pizza oven cost?
What kind of pizza oven does Domino's use?
Is pizza stone or cast-iron better for pizza?
Can you use a BBQ as a pizza oven?
Can you bake a cake in a pizza oven?
How long does it take to heat up a wood fired pizza oven?
Disclaimer: FamilyHype.com (Family Hype & FamilyHype) is a participant in the Amazon Services LLC Associates Program, an affiliate advertising program designed to provide a means for sites to earn advertising fees by advertising and linking to Amazon.com.
Last Updated on July 6, 2022 by Marie Miguel
DISCLAIMER
(IMPORTANT)
: This information (including all text, images, audio, or other formats on FamilyHype.com) is not intended to be a substitute for informed professional advice, diagnosis, endorsement or treatment. You should not take any action or avoid taking action without consulting a qualified professional. Always seek the advice of your physician or other qualified health provider with any questions about medical conditions. Do not disregard professional medical advice or delay seeking advice or treatment because of something you have read here a FamilyHype.com.