We have a multitude of bedding types to choose from. One that has gained in popularity for a while is the airbed. These include the SoundAsleep Dream Series that has come a long way since they were first introduced. Where once they were thought to be only ideal for camping, now they're used as everyday beds in homes. It is a cost-effective alternative to more pricey bedding options.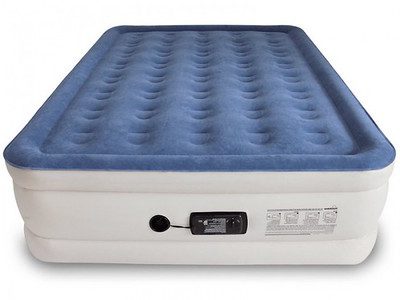 The best air mattress for everyday use must be durable. Choose one made of high-quality materials. It also must be comfortable. Make sure you look at the set-up instructions. You'll want one that's easy to set up and to take down. Choose one that inflates to the ideal height for your use. Also, investigate the warranty. The best air mattresses come with a good warranty.
The following section has some good options for the best air mattress found on Amazon. It'll give you an idea of what's available. You can read more about how to choose the best air mattress for everyday use after that.
Best Air Mattress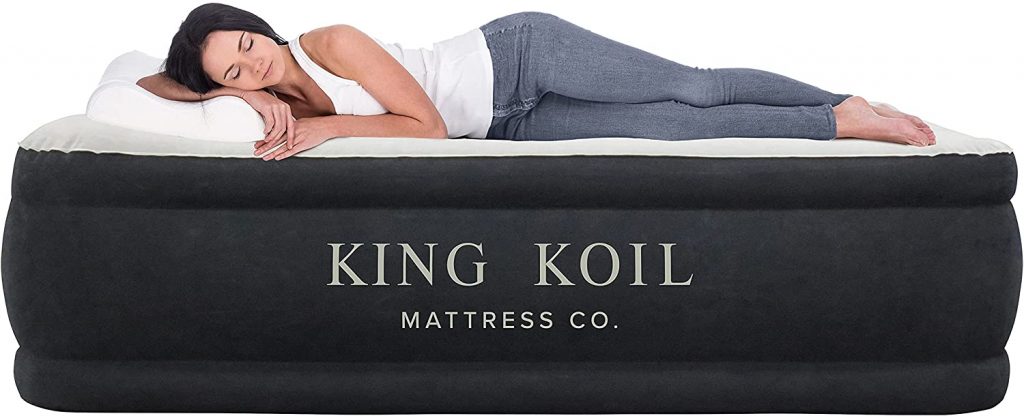 This mattress is elevated. It inflates to just under two feet. The mattress inflates and deflates itself with an integrated pump you can plug in. The bed is made of thick waterproof material that has a layer of suede on top. It also includes coil-beam construction that provides extra spinal support. There is a 1-year warranty included. The bed even has a built-in pillow.
Pros:
Flocked top adds to comfort
Built-in pump is easy to use
Elevated to feel more like a traditional mattress
Excellent customer service
Comfortable for sleeping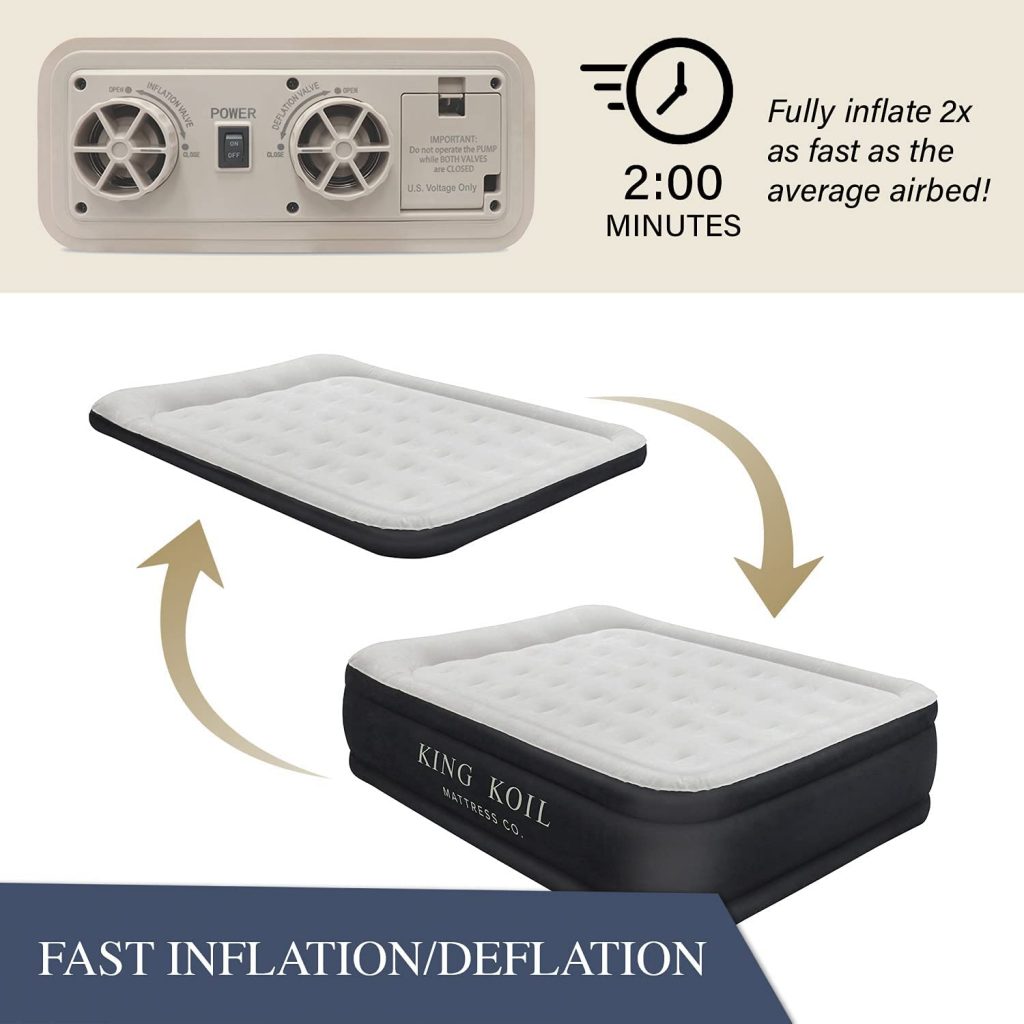 Cons:
Tough to get back in small tote bag
Loses air over time
No handles on ends for easy movement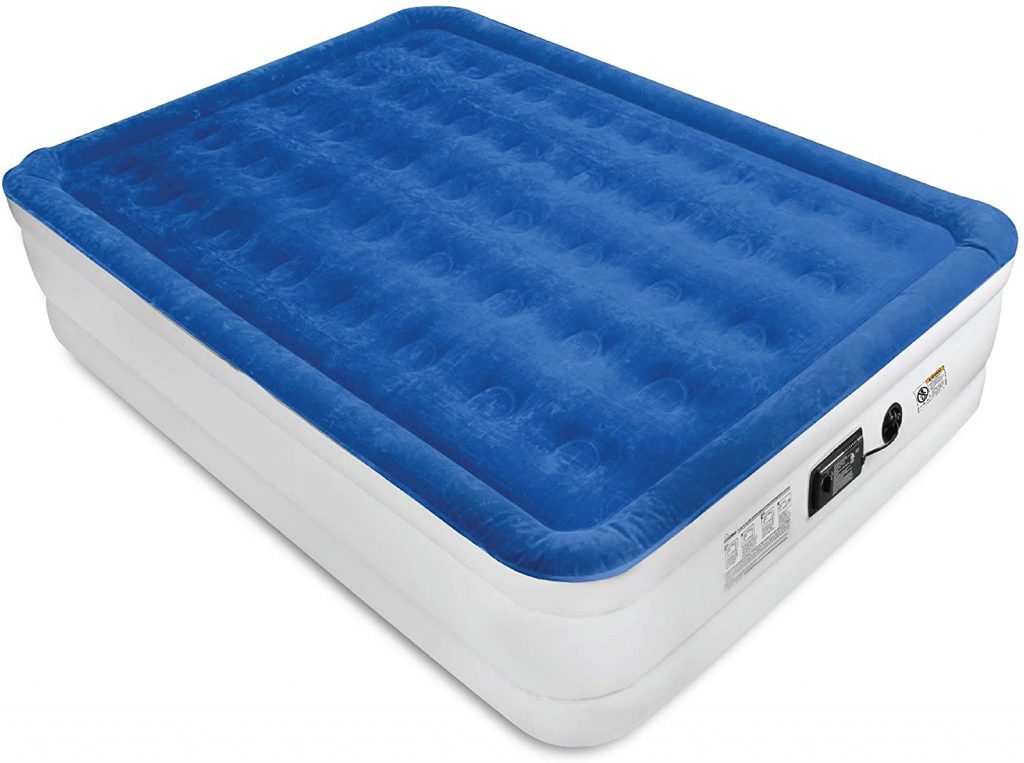 The SoundAsleep Dream Series has bonus features like the ComfortCoil technology and SureGrip layer on the bottom that make this one of the industry leaders. Inside, there are 40 air coils that give you more support. The SoundAsleep Dream Series has an internal pump, so there's no having to look for the missing pump. The SoundAsleep Dream Series Air Mattress is elevated to 19 inches thick. It's waterproof and has a flocked top.
Pros:
1-year warranty included
SoundAsleep Dream Series Air Mattress is elevated to 19 inches
Easy to inflate and deflate
Extra durable
Made of eco-friendly PVC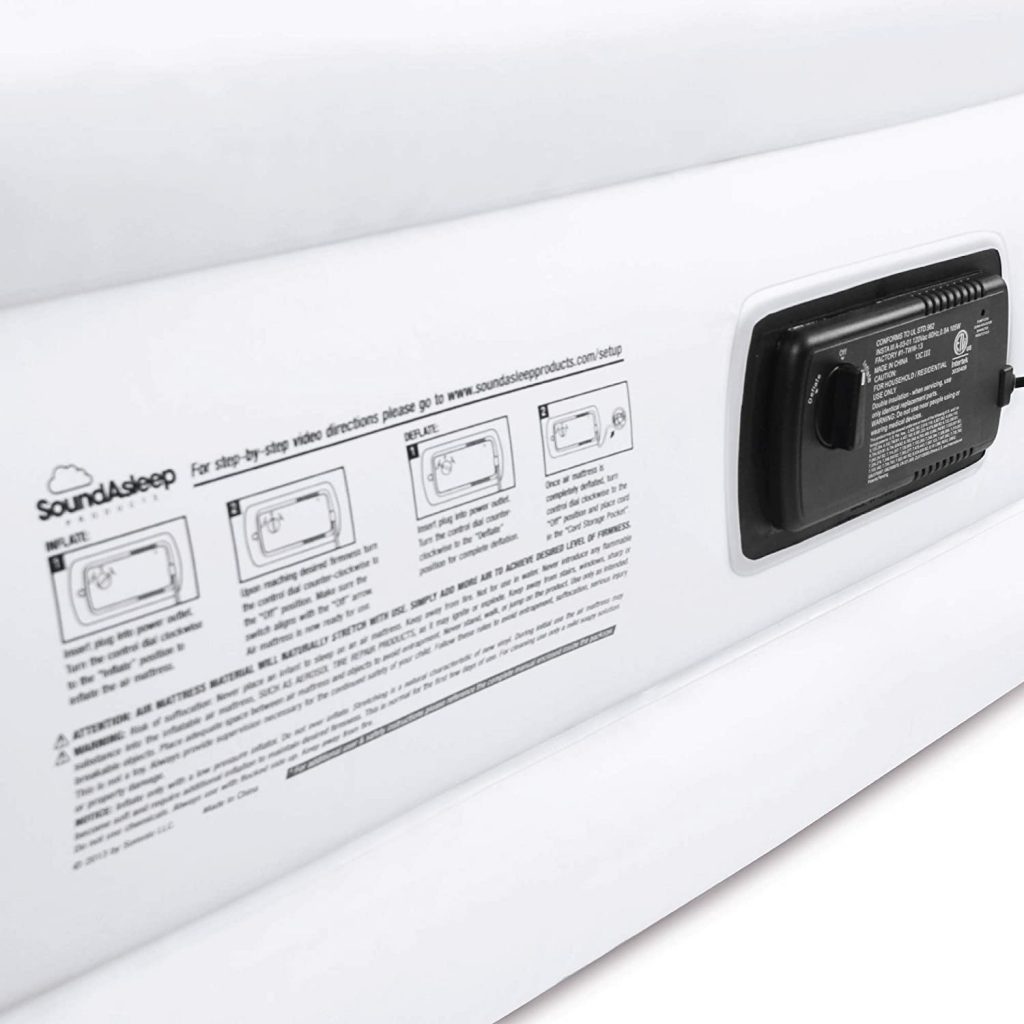 Cons:
Some issues with leaks
Heavy
Lots of motion transfer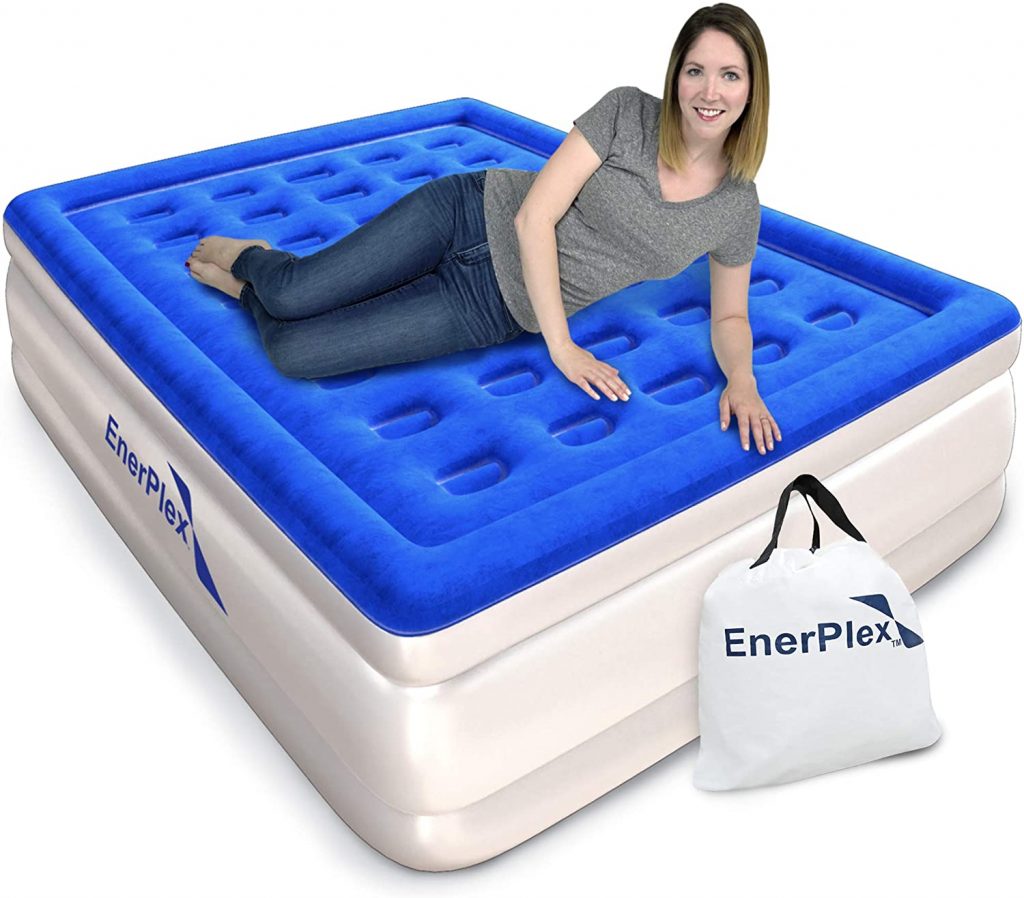 This 16″ double height inflatable air mattress has a built-in dual pump. This is durable, portable, and provides firm support for proper spinal alignment. It is multipurpose which can be used in both indoor and outdoor. EnerPlex air mattress has features top flocking to prevent leaking.
Pros:
Inflates and deflates in just 2 minutes
Includes carry bag so you can easily take the mattress anywhere
Versatile for use at home or camping
Excellent customer service
Waterproof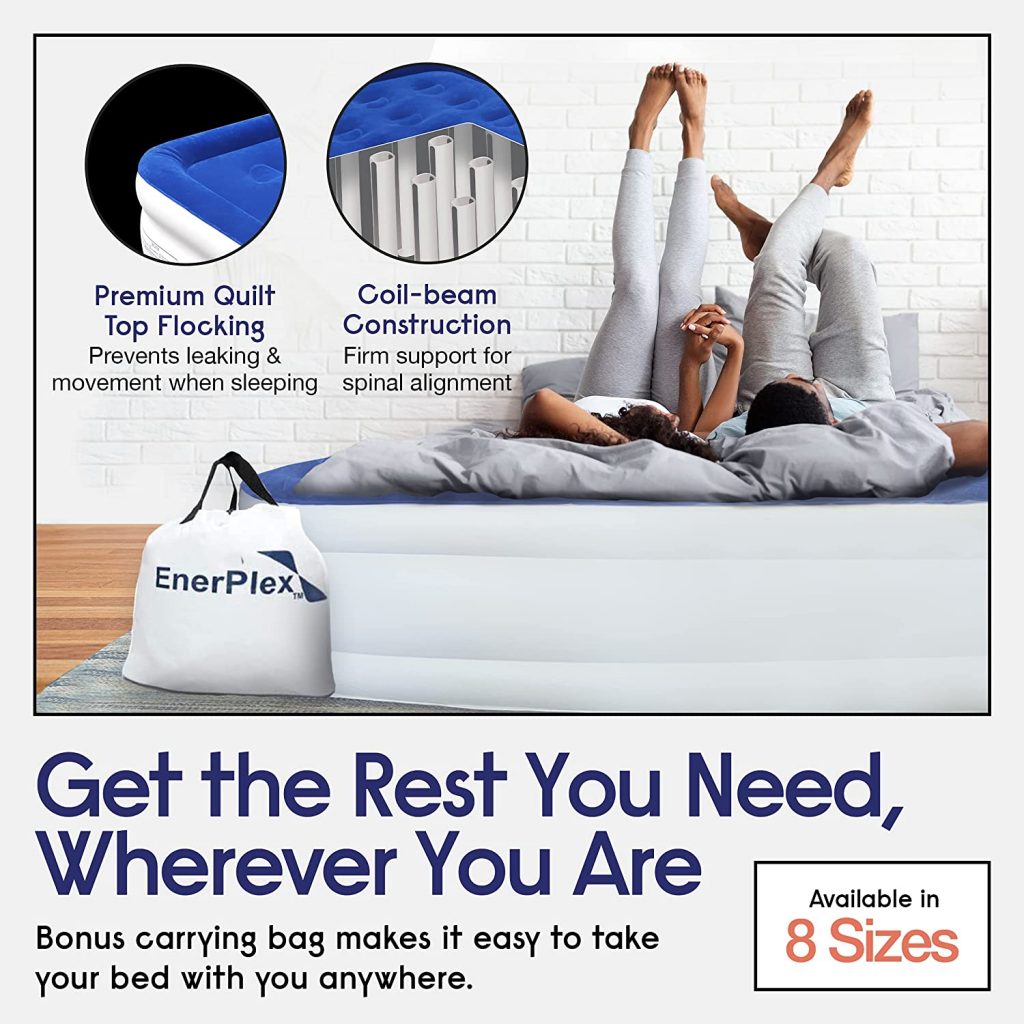 Cons:
Doesn't hold air more than an 30 minutes
Does not have emergency inflate valve in case you need to inflate the bed manually
Not long lasting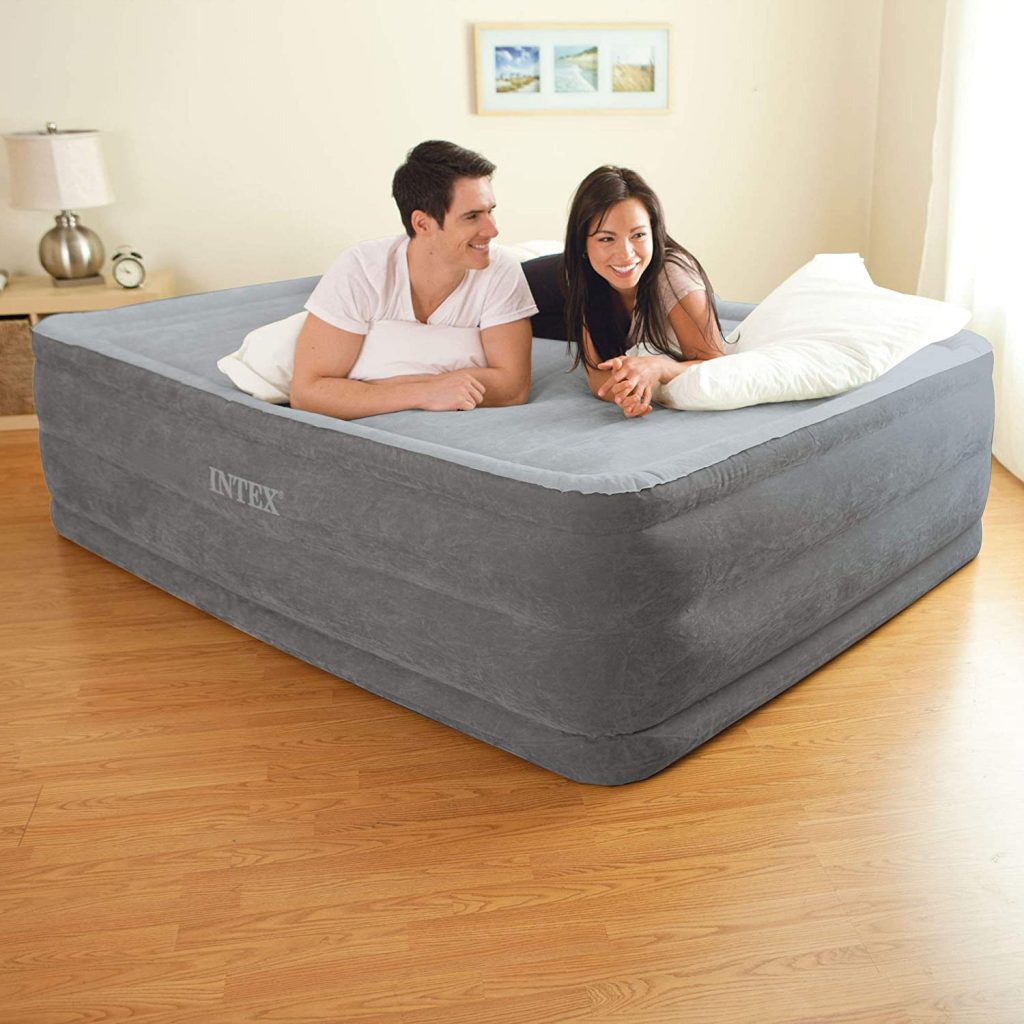 This Intex mattress is elevated to 22 inches. It's designed with Fiber-Tech Construction that gives it better support than most airbeds. It also includes unique edge construction that gives more stability to the edges for sitting. There's a pillowtop air system built into the top of the mattress. The top and sides are covered in velvety material that increases protection against punctures. The internal pump makes inflating and deflating easy, too.
Pros:
Setup is fast
Provides good support
Minimal motion transfer
Carry bag is good quality
Good value for money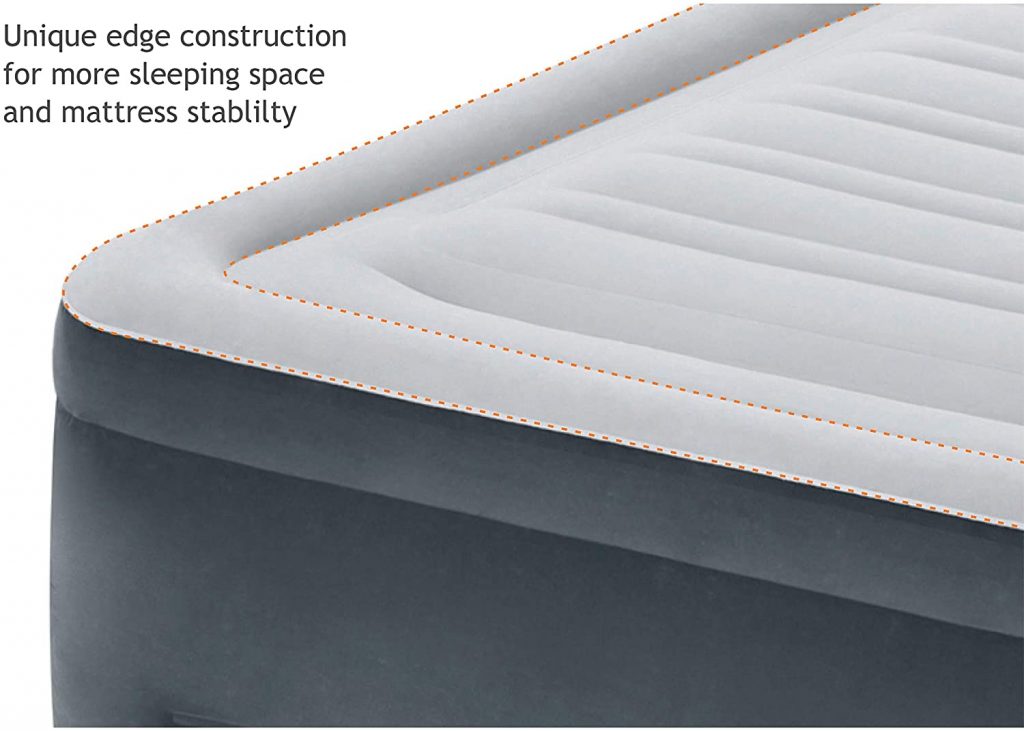 Cons:
Difficult to get back in bag
Heavy when folded up
May need deep pocket fitted sheet
Best Air Mattress
Is The Best Airbed Mattress Good For Daily Use?
Airbeds are good for daily use if they're durable enough for frequent use. The bed must be made of high-quality material that's strong enough to last a long time while being used every day.
Look for PVC as the main material. It's stronger and thicker than some other materials airbeds are made of.
You also want to choose one with internal air coils. The coils provide a lot more support than one large chamber does. The internal coils reinforce the mattress by keeping the air inside separated into small chambers.
Some air mattresses are covered by a layer of suede-like or velvety material. While that adds to the comfort of the bed, it also provides more protection against punctures.
Best Air Mattress:
Comfort Is The Key
Best air mattresses should offer great comfort. The internal air coils help add comfort. They give support to your spine and other parts of your body.
Features like pillowtop air layers, suede-like layers, and extra edge support also add to the comfort level of an air mattress. Look for technology that minimizes motion transfer when you're shopping for an airbed, as well.
Hot To Make It More Comfortable
Sometimes, all you need to do is release some air or put more air into an air mattress to make it more comfortable. Some of us like more firmness while others like less.
Other tips for making your air mattress more comfortable include:
Placing it on a softer surface
Using better sheets and covers
Adding a mattress topper
Using a box spring underneath it
Placing it against the wall
Getting some better pillows.
Best Air Mattress Guide
Setup Should Be Easy
Due to many technological advances, setting up an airbed should be quick and easy. Make sure you check into the setup process.
Look for the best air mattress with a built-in pump. It allows you to simply plug in the internal pump to inflate the bed. No more effort is needed. Most of these also allow you to deflate with the pump.
Choose The Right Height
Elevated air mattresses are the most like traditional beds. Generally, people report being more comfortable and pleased with airbeds that are close to two feet off the ground. You'll have better support and feel more like you're in a "real" bed.
If you want to go the extra mile, you can always put the air mattress on top of a box spring or a platform bed frame.
Warranties Are Important
Unfortunately, they are easy to damage. While they won't pop, they do get punctured or develop leaks sometimes. They're also defective at times, like most consumer products.
Choose the best air mattress with at least a 1-year warranty. It's an added layer of protection for you, so you can feel better about your purchase.
Best Air Mattress:
Where Is The Place To Buy?
Online retailers, such as Amazon, usually have generous return policies. It makes it safer for you to purchase things online because you know you have an out should you not like the product. Amazon is a good place to browse through many air mattresses to find the one you want.
You can also find them in national retail stores and camping stores. Do some comparison shopping to find the best deal and warranty.
Best Air Mattress Conclusion
Air mattresses are inexpensive and serve well as everyday beds if you put a little effort into choosing one. Make sure the one you buy is durable and comfortable, has a good warranty, is made of thick material, and sleeps the most like a traditional bed. You can use an air mattress every day. Just look for the airbed best suited for your needs.
Best Air Mattress: FAQs
Is best air mattress good to sleep on?
Some, like the SoundAsleep Dream Series Air Mattress, are designed to be slept on every night. Manufacturers build them to feel more like traditional beds. The difference is that a SoundAsleep Dream Series Air Mattress doesn't cost nearly as much as a traditional mattress.
What's better than an air mattress?
It's likely you'll get better support from traditional mattresses. Other alternatives, not necessarily better ones, include cots, folding mattresses, hammocks, futons, and sofa beds.
Does the best air mattress lose air?
Several reasons exist that cause air mattresses to lose air. The design may be faulty. Sometimes the temperature causes a loss of air in the mattress. Putting a lot of pressure on the bed results in loss of air, too. You may find there's a tear or puncture somewhere, as well.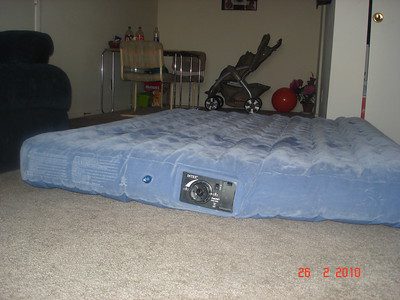 Can the best air mattress stay inflated?
Air mattresses made for home use should stay inflated as long as you want them to. In the first few days, you may notice some air loss. Keep adding air and eventually, the air loss will stop. The bed material is stretching. Once it stops, you won't notice the loss anymore.
Can air mattress explode?
Generally, no they won't. However, keep fire away from airbeds. Don't use any flammable products around airbeds, either. Overexposure to heat can cause an air mattress to explode.
Can memory foam go on the floor?
A memory foam mattress can go on the floor. It's not recommended to use a memory foam topper on the floor. It's not thick enough to provide any support.
Disclaimer: FamilyHype.com (Family Hype & FamilyHype) is a participant in the Amazon Services LLC Associates Program, an affiliate advertising program designed to provide a means for sites to earn advertising fees by advertising and linking to Amazon.com.
Last Updated on October 19, 2021 by Marie Miguel
DISCLAIMER
(IMPORTANT)
: This information (including all text, images, audio, or other formats on FamilyHype.com) is not intended to be a substitute for informed professional advice, diagnosis, endorsement or treatment. You should not take any action or avoid taking action without consulting a qualified professional. Always seek the advice of your physician or other qualified health provider with any questions about medical conditions. Do not disregard professional medical advice or delay seeking advice or treatment because of something you have read here a FamilyHype.com.