More people are working from home than ever before. That means the demand for home office equipment has skyrocketed. There is more of a need for items like copiers, scanners, fax machines, and printers. Home offices do not typically have the same amount of space for all of these machines, though, that you might find in an office building environment. But what you can do is look for the top all-in-one printers that provide all of those functions within a single unit.
Whether you have a dedicated office room in your home, or you are tucked into the corner of a bedroom with a desk and very limited space, the all-in-one printers can be beneficial to you. Read on to find out how to choose an all-in-one printer to buy and see a few of the options out on the market currently.
There are two main types of print technology—laser and inkjet. The biggest difference between them is a laser printer uses toner while an inkjet printer uses ink. Inkjet printers are better for situations where there won't be a lot of volume in terms of printed pages. Laser printers can produce many more pages much quicker and without using as much toner to do it.
Either type of printer will work well for a home office setup and can produce pages with excellent print quality. They both have benefits to offer, however, they also both have their downsides.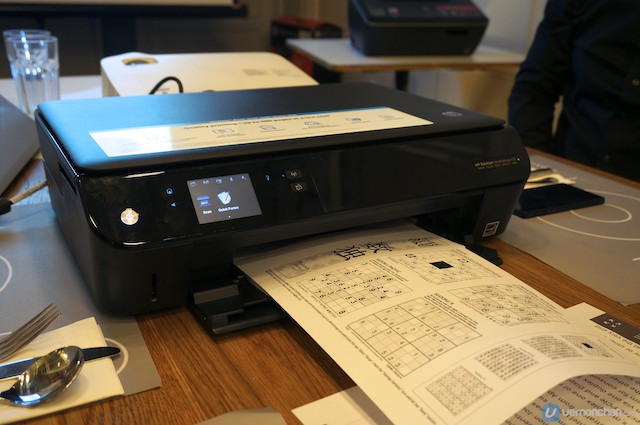 Choosing the best all-in-one printers to buy should start with deciding which type of print technology you would prefer—laser printers or inkjet printers. Next, look at the scanning function to see if there is an automatic document feeder and if it is a high-resolution scanner. Check the print quality indicator and look for a higher number. Also, look at the print speed. The connectivity options are important; wireless is usually best for at home use. Finally, the replacement ink cartridges need to be easy to find and have a reasonable price.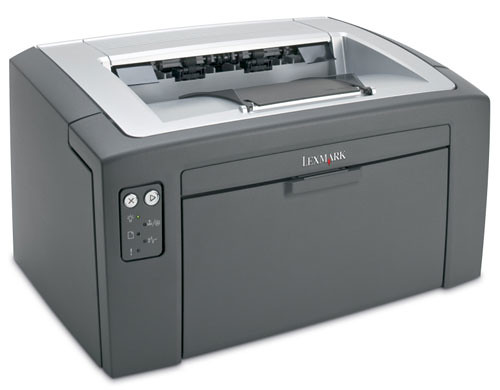 Laser Printer Pros:
High volume printing
Prints fast (15-100 pages per minute)
More economical
Toner doesn't dry up if not used for long periods of time
Toner cartridges have a higher page yield
Laser Printer Cons:
Higher upfront cost
Colors not as vivid for photo printing
Inkjet Printer Pros:
Low upfront cost
Can print elegant gallery-style photographs
More range of color
Easy to find ink cartridges
Inkjet Printer Cons:
Slow print times (up to 16 pages per minute)
Lower page yield per ink cartridges
Ink loss due to evaporation
Ink on paper can smudge if no dry time
If all you are needing is a printer that you will be using from time to time to print small volume projects and reports or you will be printing high-quality photos, then go with an inkjet printer. On the other hand, if you need something to print many documents on frequently, laser printers make more sense for that.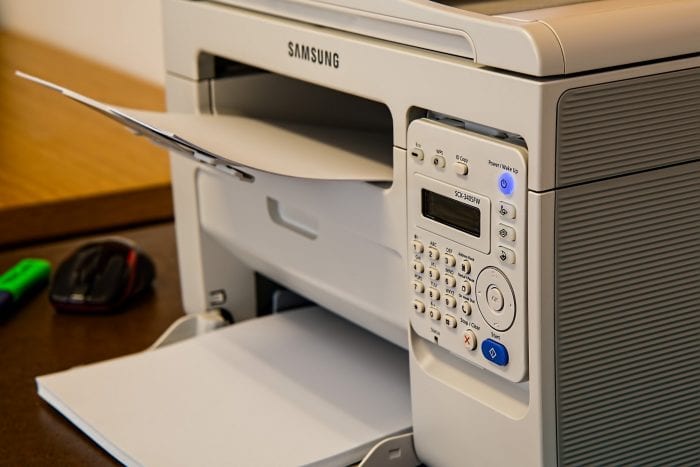 Scanners Aren't All the Same
We do not all have the need for a good scanner, but for those who do, the scanning function needs to be given ample consideration. Scanners do not all result in the same resolution. A lower quality scanner can cause documents to look blurry or fuzzy.
The resolution of a scanner or printer is measured in DPI, or dots per inch. You want your scanner to have a higher DPI so your documents come out with sharp images and crisp text that is easy to read. Look for a DPI that's no lower than 600 x 1,200 and a bit depth (scanner) of at least 24 bits.
It is important to get a scanner that has a high-volume automatic document feeder, as well, if you have the need to scan many multi-page documents frequently. You do not want to get stuck having to feed each page in one at a time. Look for an automatic document feeder that has multi-page feed capability.
One other thing to consider is if you need to scan in odd shaped pictures, papers, or other types of things. You'll be better off going with a flatbed scanner for those.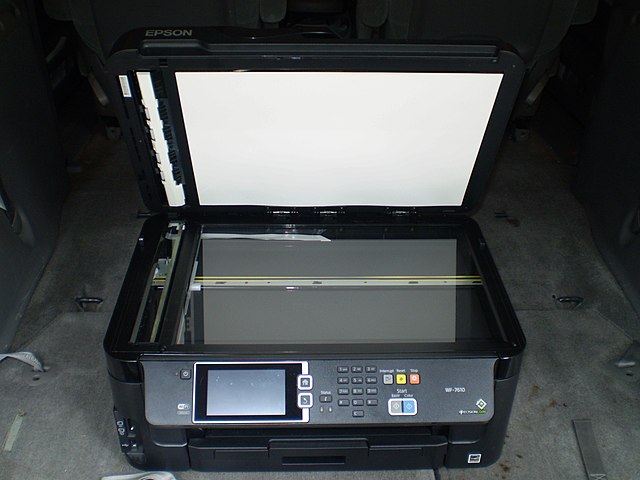 You can get good print quality from either laser printers or inkjet printers. You just need to check for what the print resolution is. As we mentioned in the last section, the print quality will be indicated in DPI. The higher numbers you see indicated, the better the print quality will be from that printer. You will get sharper images, clearer text, and crisper lines.
A note to remember about the resolution indicated by the manufacturer is that they usually are siting their highest print quality taken while at the slowest print speed. At faster print speeds, you can lose some of the print quality.
How Fast Can It Go?
The speed of the best all-in-one printer should be considered, especially for people who print high-volume projects. The print speed is referred to as ppm, or pages per minute. Laser printers will have much higher print speeds than inkjet printers because of the print technology. The way a laser printer functions makes it able to print pages much quicker than an inkjet printer that produces images by blowing droplets of ink onto paper.
Again, remember the faster you print, the more you will sacrifice in the way of print quality. Consequently, you will usually find that laser printers with high print speeds will have very high print resolution to counteract the loss of print quality.
Toner And Ink Cartridges
The way to truly compare the top all-in-one printers and their costs is by looking at the availability of and price tags on the toner or ink cartridges. This is what is really going to determine the cost effectiveness of different printers.
Generally, toner cartridges will cost more. The reason for this is they last longer. You'll get about 2,000 to 10,000 or more pages out of one toner cartridge. You also won't lose any of the page yield due to drying.
Ink cartridges only yield about 135 to 1,000 pages per cartridge. They also dry out causing the page yield to decrease in inkjet printers that don't get used for long periods of time.
Now, let us take a look at some of the top all-in-one printers that are currently selling.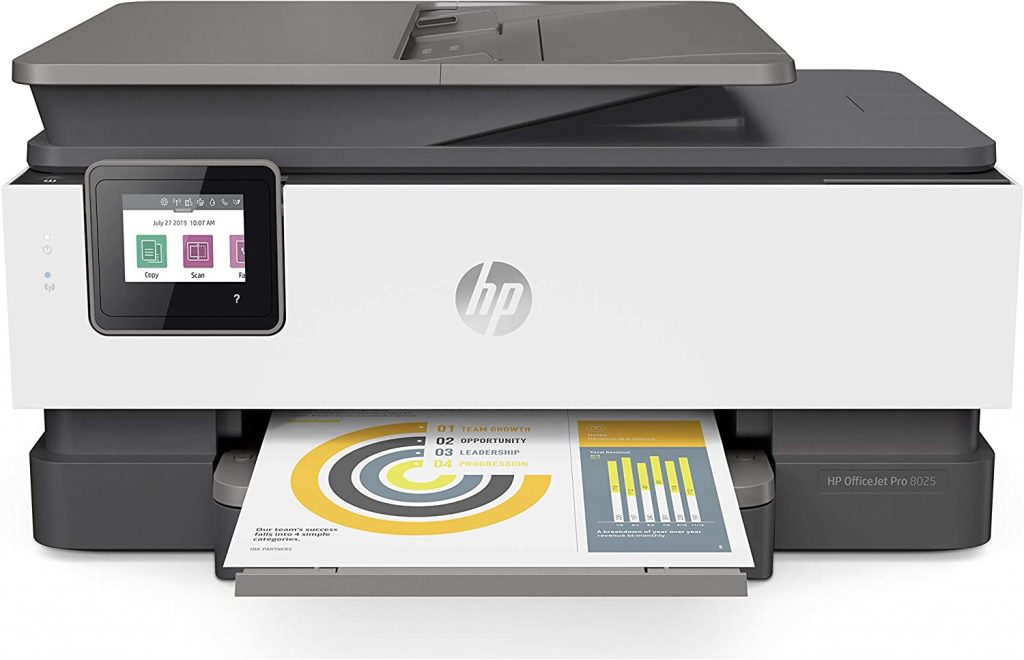 This is a reasonably priced home office printer that can print up to 20 pages per minute. It's wireless so you can print from anywhere in your home. You can also print remotely through the HP Smart app. This is one of HP's latest inkjet printers that replaces the 6968 model. You can enroll in the HP Instant Ink plan to have your ink cartridges delivered directly to your home on a schedule. There's a 1-year limited warranty on the hardware of the printer. It's easy to set up and super easy to use, also.
Pros:
HP Smart app is designed for saving time
Automatic document feeder on top
Includes ethernet connection
Easy to use color touchscreen display
Duplex printing
ENERGY STAR certified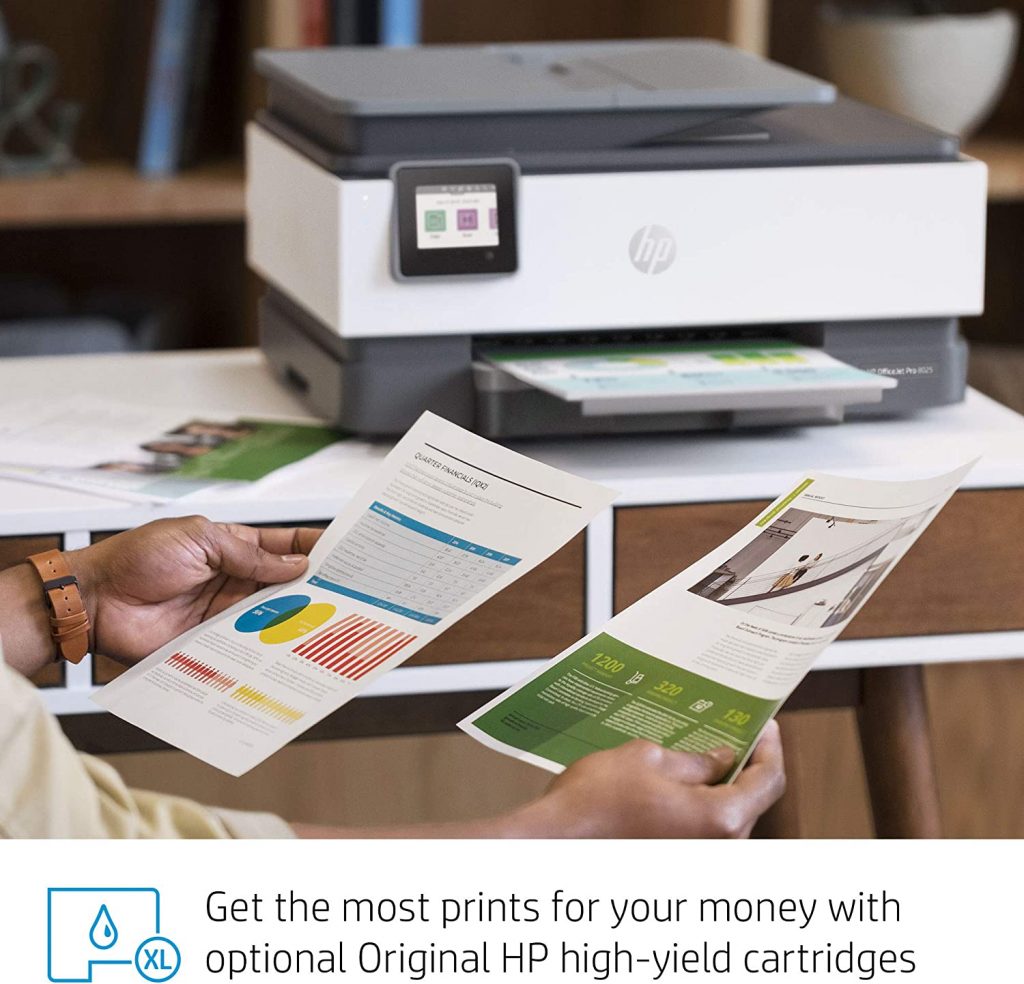 Cons:
Drops network connection sometimes
No enlarge or reduce feature
Paper tray is hard to slide in and out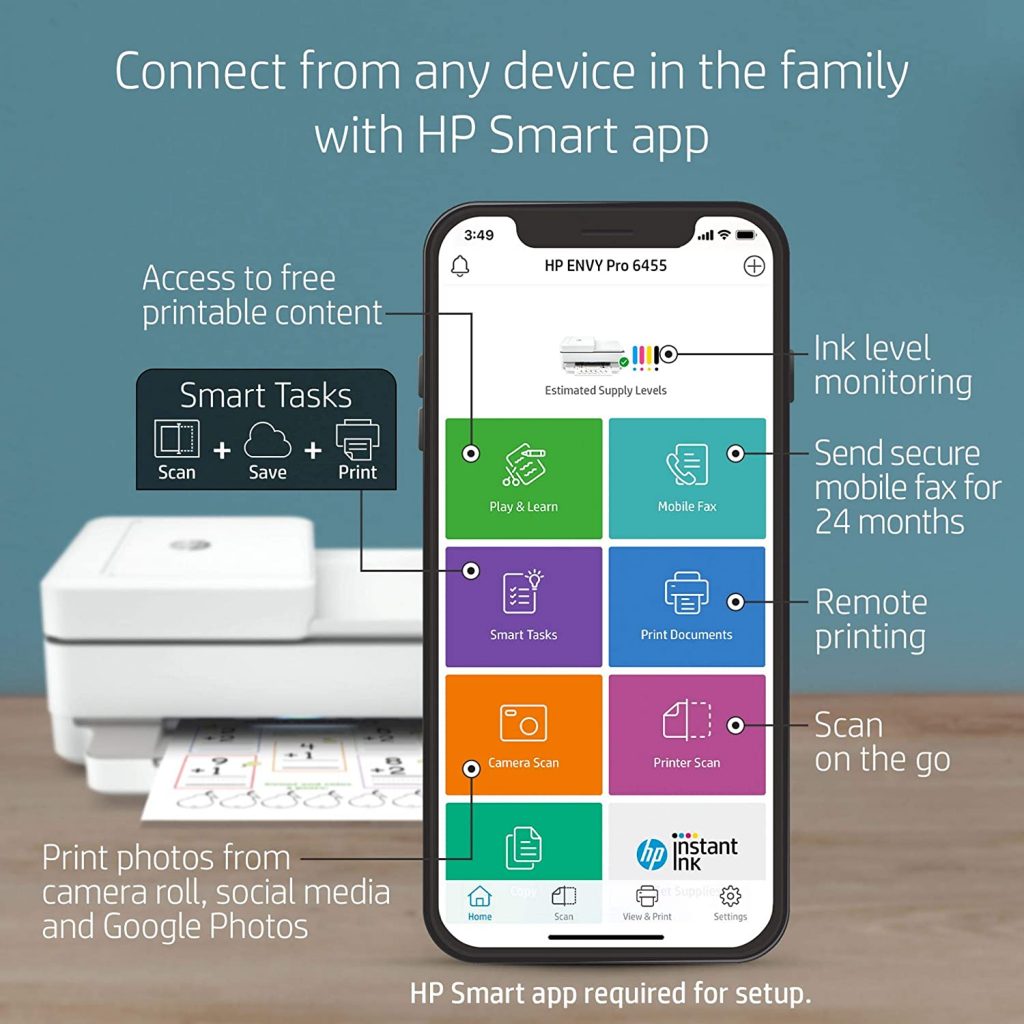 The HP Envy prints, scans, and copies. It has automatic duplex printing. There is an automatic document feeder that can handle 35 pages at a time. You'll have the HP Smart app to work through so you can print remotely and organize documents. The HP Envy inkjet printers allow you to easily share your printer across all of the devices in your home. You can also sign up for the HP Instant Ink plan to have your ink cartridges automatically delivered straight to your home.
Pros:
Easy step-by-step setup process
High volume automatic document feeder
Duplex printing
Self-healing dual-band WiFi
24 months of free mobile fax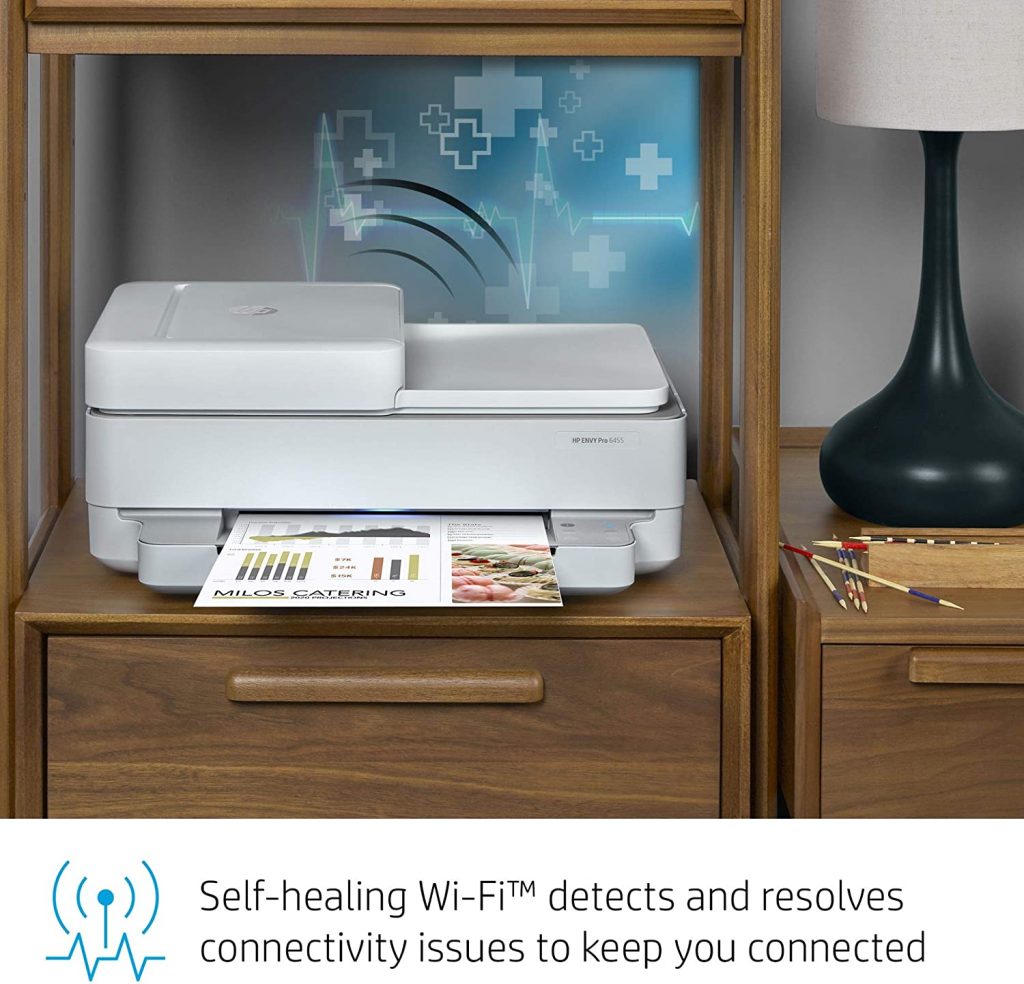 Cons:
Slow printing
No display screen
Paper tray light is bright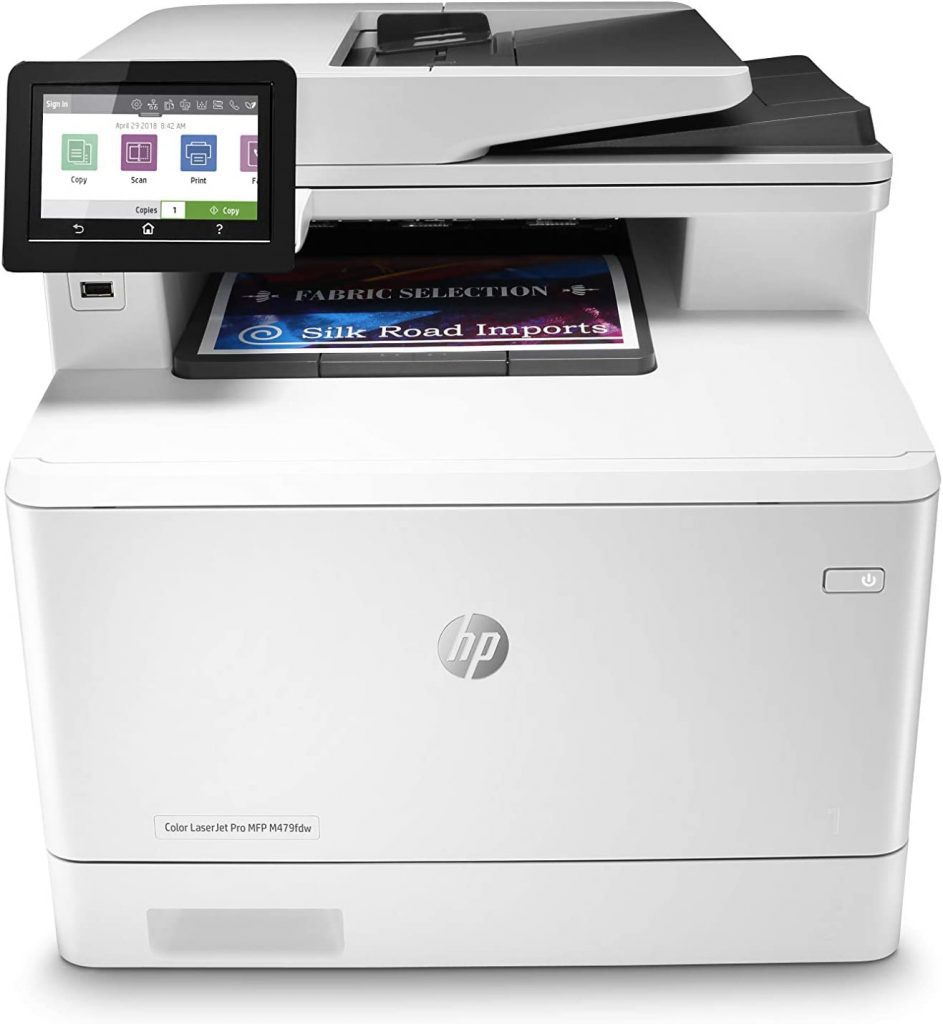 This laser printer comes at a much higher price than the previous two inkjet printers. It's also quite a bit larger. This one is meant to take your business printing and scanning operation up a few levels so you can stay on track. It has a large color touchscreen display for making selections. Or you can print through WiFi. It's energy efficient, has a 50-page automatic document feeder, and can print up to 28 pages per minute. You'll be supported with 24-hour service and there is a 1-year warranty included.
Pros:
Prints fast
Very high-quality print
Automatic duplex printing
Recommended monthly volume of 750 to 4,000 pages
Built-in security features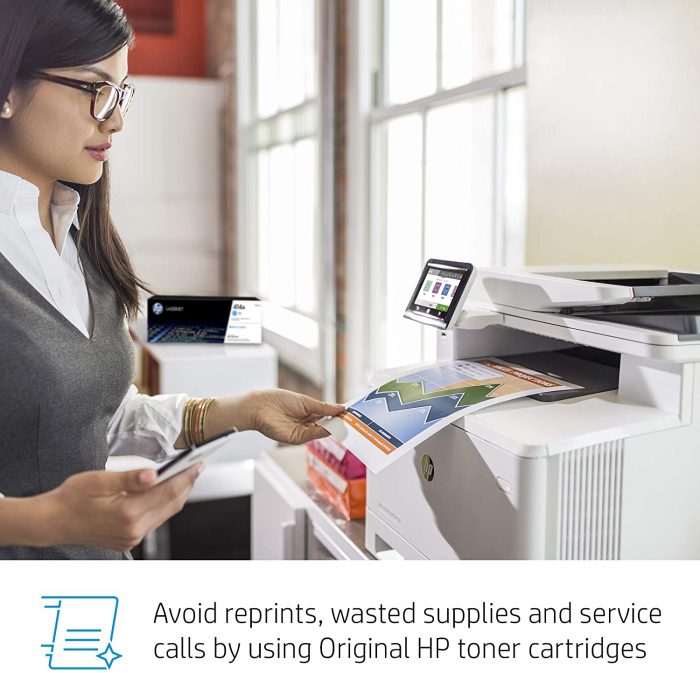 Cons:
Pricey
Large physical footprint
Slight tilt to feeder scanned images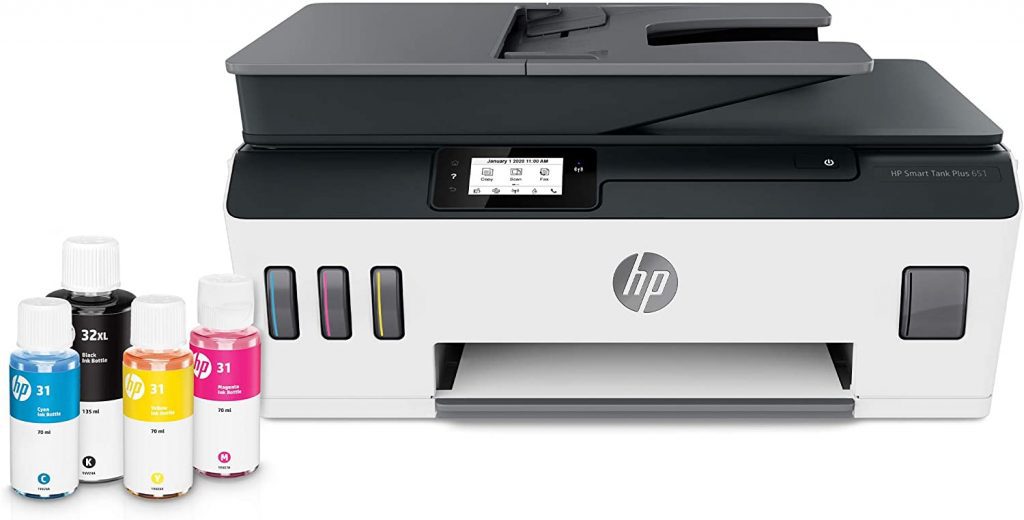 This is an inkjet printer, but instead of using traditional ink cartridges, it uses ink tanks. Ink tanks are actually bottles of ink that hold enough in them for up to 2 years of printing. You can print remotely, scan documents, and use the copier with this machine. There's a small touchscreen display for controlling settings and checking ink levels. You can also do this through the HP Smart app. The printer is small enough to fit just about anywhere, too.
Pros:
No expensive ink cartridge refills
Very easy to set up
High quality prints that are sharp
Easy to see how much ink is left
Vivid colors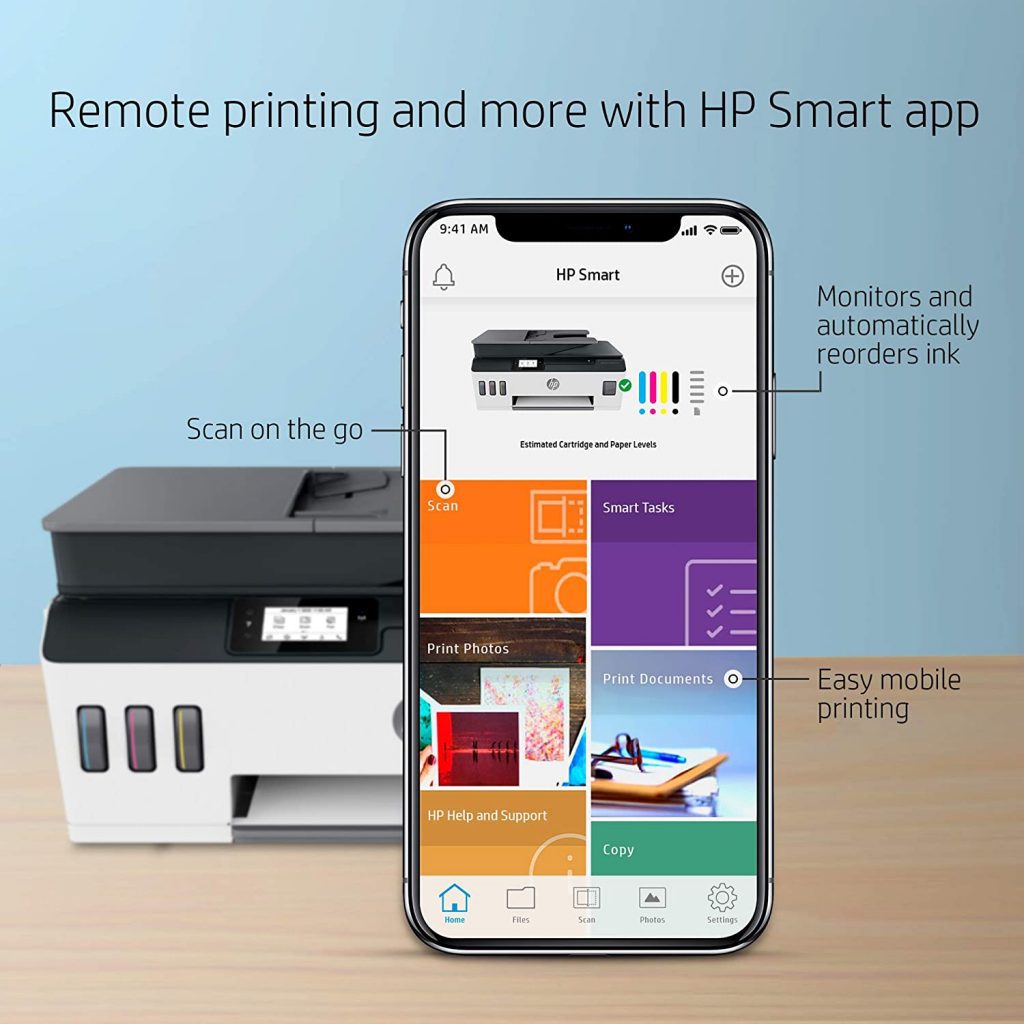 Cons:
Expensive
Paper feed tray located in the back
Touchscreen display is too small
Conclusion
The best all-in-one printers make good additions to any home office. Just make your choice between inkjet and laser, then check out the print quality of some of them. Make sure you look for additional features that will help you, such as automatic document feeders for scanning functions, what the resolution is of the scanner, and what the print speed is. You will need to look into the cartridge prices, too. Choose the best all-in-one printers that is the most cost effective for your needs to make your home office more complete.
FAQs:
Which of the best all-in-one printers are for home use?
One of the best all-in-one printers for a small home office is the HP OfficeJet Pro 9025.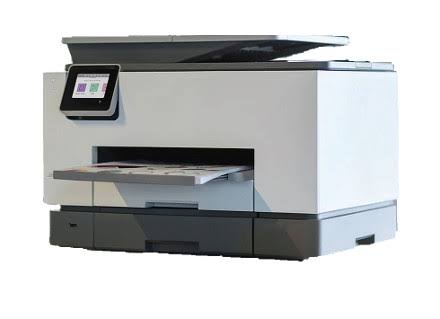 What is the best printer for home use 2020?
The HP Envy 5055 is the best home use printer in 2020.
What is the best all-in-one printer 2019?
This one was the Brother MFC-J895DW.
Which are the best all-in-one printers for home use UK?
The best for the UK is the Epson EcoTank Pro ET-16650.
Which printer brand is most reliable?
This gets debated a lot. HP is our pick for the most reliable printer brand, overall. Aside from the fact that it has been in the industry for decades, it is known to have the fewest issues.
Which printer is better, HP, Canon, or Epson?
HP is the most reliable overall. Canon is the best for color images with lots of contrast. When it comes to Epson, it is capable of producing printers that can offer the best of both worlds.
What is the most reliable printer for home use?
This is the HP OfficeJet Pro 9025.
What is the best home printer with cheapest ink?
This goes to the Brother MFC-J995DW. It's great for families.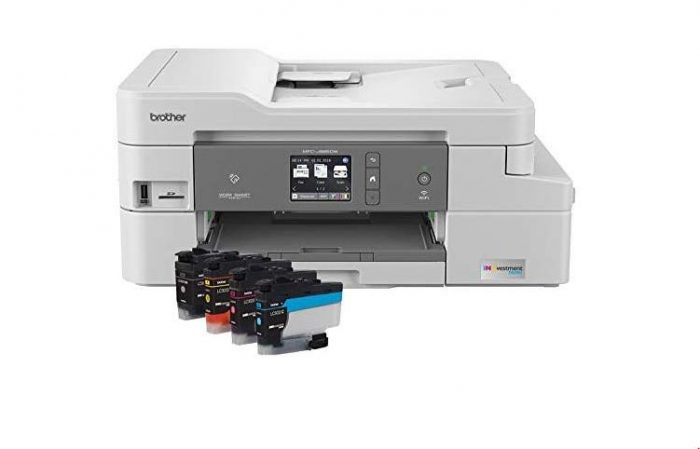 What is the best home printer for the money?
The best home printer in the budget category is the Brother MFC-J805DW INKvestment Tank.
What printer has the longest lasting ink cartridges?
Go with the HP OfficeJet Pro 6968 or the HP OfficeJet Pro 9150.
Disclaimer: FamilyHype.com (Family Hype & FamilyHype) is a participant in the Amazon Services LLC Associates Program, an affiliate advertising program designed to provide a means for sites to earn advertising fees by advertising and linking to Amazon.com.
Last Updated on September 28, 2021 by Anna Amad
DISCLAIMER
(IMPORTANT)
: This information (including all text, images, audio, or other formats on FamilyHype.com) is not intended to be a substitute for informed professional advice, diagnosis, endorsement or treatment. You should not take any action or avoid taking action without consulting a qualified professional. Always seek the advice of your physician or other qualified health provider with any questions about medical conditions. Do not disregard professional medical advice or delay seeking advice or treatment because of something you have read here a FamilyHype.com.