As a pregnant woman, you might be overwhelmed by the various do's and don'ts you have to comply with during your pregnancy journey. Also, you have to schedule monthly doctor's appointments, buy the best clothes and gear for your baby, adjust to your hormones, and more. The list of important things to remember during pregnancy seems to be endless (baby names, the type of crib, DIAPERS, etc); now we're here to add to that list by discussing the topic of drinking milk during pregnancy!
However, one of the more important aspects of pregnancy is taking care of your body for your baby's nutrition. Many women are advised to think seriously about the idea of drinking milk during pregnancy specially formulated for pregnant women; not just getting familiar with the amounts of calcium needed per serving. Still, there are many soon-to-be moms out there with no idea about which are the best milk brands for pregnant women. How can you choose the best milk brand for pregnant women? Selecting the best milk brand for pregnant women can be relatively simple. Read up on this article to find out!
Look For High Vitamins And Minerals Content From Milk Brands During Pregnancy
The best and most important reason why pregnant mommies to be are advised to consider drinking milk during pregnancy is that milk helps build up minerals (especially as it relates to the amounts of calcium needed) stored up the body. When women that are pregnant are already in their last trimester, they tend to experience backaches because of the baby's rapid growth inside the belly. The mother that is pregnant will need a calcium boost to support their growing bellies. Moreover, babies get their calcium requirements from their mom. That being said, it's important that an expecting mommy have more than enough of it for their babies as well.
In addition to calcium, the best milk brand for pregnant women should have additional nutrients such as protein and vitamin D to help prevent abnormalities in the baby's growth inside the womb. Specifically, having the right amount of protein and vitamin D in the body can lower birth weight deficiencies in babies during the pregnancy period. Studies have shown that women who are pregnant that have more protein and Vitamin D in their bodies during pregnancy have delivered babies with a healthy weight.
Taste – (Important to most people that drink milk during pregnancy)
Having a pleasant taste is a big deciding factor, especially for expecting moms that are OK with the idea of drinking milk during pregnancy. Pregnant mothers have to deal with a lot of hormones during the first trimester, while some women, unfortunately, have to deal with raging hormones throughout their pregnancy. These hormones may include wreaking havoc on a woman's taste buds, including the taste for milk; even some of the best and well-known brands around. Thus, choosing a great milk brand for pregnant women should also take into consideration the woman's current palate.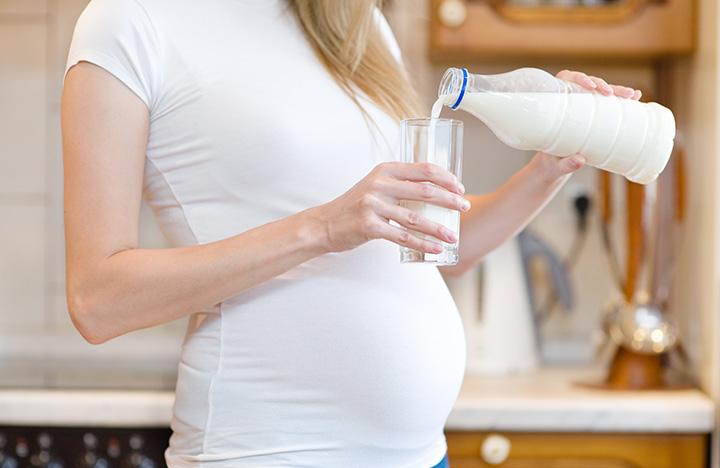 Source: momjunction.com/
Price – (Important for many people interested in buying milk during pregnancy)
In choosing the best milk brand for pregnant women, you also have to consider its cost. Better known milk brands for pregnant women are not cheap, because they also contain more nutrients and minerals than other commercially available milk. However, it is still considered prudent to look for economical prices even when buying a good milk brand for pregnant women. Mothers that are pregnant should consume at least three cups of milk a day, according to the USDA. If a box of milk already costs a hundred dollars, imagine how many of these will you have to consume in the course of your pregnancy? The better option is still to weigh the cost with quality.
What Are Some Of The Best Milk Brands For Women During Pregnancy?
Anmum Materna is formulated to include fiber and added DHA for your baby's brain development; something that shouldn't be overlooked during pregnancy. It also comes in two flavors (plain and chocolate) to accommodate various taste palates. In terms of the price, Anmum Materna is relatively easy on the budget as compared to other milk brands. There are also several sizes of boxes available to choose from.
There are four kinds of Prenagen milk, from pre-pregnancy up to the lactation stage. Each type of Prenagen milk provides the essential nutrients for the specific phase. For example, the Prenagen Mommy Emesis focuses on the early stages of the pregnancy. It reduces the likelihood and occurrence of nausea and vomiting for pregnant women.
Organic Valley Whole Milk
For women that are pregnant and want to stick to healthier options when it comes to drinking milk during pregnancy, Organic Valley Whole Milk is also a great option. This milk is organic and gluten-free as well.
When it comes to selecting a good milk brand for pregnant women, possible choices are endless. Bear in mind these tips in deciding for your best buy.
But What About Raw Milk During Pregnancy? (Often Referred To As Unpasteurized Milk)
It's important to listen to what health and wellness professionals have been encouraging pregnant women to consider when it comes to their milk choices when it comes to raw milk. That applies the general information found online as it relates to raw milk & unpasteurized milk, what you read online (including this website) shouldn't be considered as a reliable substitute for professional medical advice.
What has been mentioned above and elsewhere about unpasteurized milk also applies to any product prepared from raw milk for consumption. For anyone that feels the consumption of raw milk is a good idea and should be considered safe… it's important to not make a decision based on that opinion alone. In short, before a pregnant woman decides to rake the risk to drink raw milk, against what a medical professional expert recommends… it's really important to think of the possible consequences of drinking this kind of raw milk.
Source: janeshealthykitchen.com
What Are The Risks Of Drinking A Glass Of Milk That Is Unpasteurized During Pregnancy (aka.. Raw)
To clearly understand this, how about we consider the benefits of the pasteurization process. Simply put, this process removes a lot of the bacteria that is harmful to the pregnant woman and possibly the fetus. Since many of the decisions the expecting mom makes can directly how healthy a developing fetus can be, this isn't something that should be treated lightly.
Is It OK To Drink Low-Fat Or Non-Fat Milk While Pregnant?
When it comes to choosing which is the best milk to drink during pregnancy, one of the most common questions that come to mind is if it's acceptable to drink either low-fat or non-fat milk. It's an important question worth answering since it's definitely better, and healthier than the consumption of raw milk; which is why it's considered safe for drinking milk while pregnant.
Some of the important benefits of drinking low-fat milk are that it provides the amounts of calcium that your body needs to help the growing fetus, as well as it helps with keeping excess fat off for expecting moms concerned about too much weight gain during pregnancy. Of course, that doesn't mean that low-fat milk is the only thing needed to keep weight gain in check, but it's an important part of the equation when it comes to consuming dairy products. For more on this topic, there are plenty of resources that you can check (like here and here) for educational purposes on the subject of body weight during pregnancy, and good low-fat alternative milk options are on the market currently.
What About Wanting Drinking Whole While Pregnant? Is It The Best Milk To Drink?
There is no general consensus that says whole milk is a bad idea for women interested in drinking milk while pregnant. However, there has been shared concerns about the amount of saturated fat that is often contained in whole milk… which is something important and that should be monitored while pregnant and in general.
To get a sense of some of the concerns medical experts have with drinking milk that is whole, here is a good article for educational purposes; regardless of whether or not pregnancy is part of the equation. No matter what you have heard, or not, about consuming milk during pregnancy… this is a topic that shouldn't be overlooked.
What's The Big Deal About Pregnant Moms Drinking Milk Powder?
Many of the companies that produce milk specifically for pregnant moms provide it in a powdered form. Not only is milk powder often packed with flavor and creamy, but it's also become an increasingly popular product for pregnant moms that want a whole milk alternative. Here are some of the most popular milk powder products on the market:
Judee's Whole Milk Powder (11 Oz): Non-GMO, Hormone Free USA Produced (Non-Fat Also Available) – (One Of The Best Around)
Source: Amazon.com
With more than 200 reviews for this product, lots of people love this milk powder because:
It's non-GMO… good for pregnancy!

It's hormone free… good for pregnancy!

It's USA produced

It's gluten free… good for pregnancy!

A non-fat version is available

It generally ships fast.

It's 100% whole milk powder

It comes with a 100% satisfaction money-back guarantee.
Not only is this milk powder used for drinking, but it can also be used in baked goods, as a nutrient supplement, used as an ingredient, but also is great for us in confections. Additionally, this specific product has been known to mix well and taste (and even smell) like fresh milk… for those that care about that kind of thing. To see reviews from real people that have chosen to try this product and not drink raw milk, click here.
Hoosier Hill Farm All American Whole Milk Powder, 2 Pound – (A Milk Brand To Consider)
The Hoosier Hill Farm company has been offering its products to consumers since 1999. They are located in Indiana, and are proud to offer their milk powder product to anyone interested in the following:
Source: Amazon.com
Certified hormone-free (rBST is also known as rBGH)… good for pregnancy!

Gluten free… good for pregnancy!

Has many uses like baking, dry ingredient, substitute for liquid milk, and is a nutrient supplement for those looking for essential nutrients

USA based

Not an instant powder milk product, but can be mixed
Unlike other powdered milk products on the market, this one has been known to not upset the stomachs of many consumers; including women drinking milk during pregnancy. Additionally, this particular brand is loved by many since it offers many of the same benefits of fresh whole milk but is about half the price. So if you're looking for "milk" that you can store, that is creamy and tastes great… this milk powder from Hoosier Hill Farm might be the one for you. Take a look at some of the reviews for this product to see why this was one of the best choices and safe to drink for many people.
Meyenberg Whole Powdered Goat Milk (12 Ounce), Gluten Free, Non GMO, Vitamin D – (A Good Choice For Many)
This milk powder product from Meyenberg is a favorite for many moms that love goat milk, as well as those that are interested in trying this type of milk for the first time.
Source: Amazon.com
There are a variety of benefits of drinking goat milk that pregnant moms can drink, but some of the primary reasons a lot of them love this milk power product are as follows:
It's high in calcium… good for pregnancy!

It does not contain preservatives… good for pregnancy!

It does not contain antibiotics… good for pregnancy!

When mixed properly it has a smooth and creamy texture

It's made in the USA

It comes from a family business that has been around since 1934

Goat milk is often recommended by doctors as well as nutritionists due to its nutritional value
Like the previously mention milk powder above, although it's not from a goat, many of the 1,100+ amazon reviews mentioned how it doesn't upset their stomach. In fact, many mentioned that this dried milk helps deal with on-going stomach issues. Additionally, many have mentioned that it's easy to mix and it serves a great addition to recipes, baked goods, and is even used by some as a coffee creamer substitute; and of course some expecting months like it as their preferred choice for milk during pregnancy. So whether or not you're looking for one of the previously mentioned uses, or you're simply trying to find the best milk to drink while pregnant, this could be a good choice. You can read customer reviews about this dried goat milk product to see if its a good idea here.
Z Natural Foods Organic Coconut Milk Powder – All Natural Creamer – (One Of The Popular & Good Milkmakers)
Although the title/name of this product refers to it as an "all natural CREAMER," it's still a great healthy alternative to drinking while milk. As it relates to this milk powder specifically, it's a fan favorite for those that are specifically interested in drinking coconut milk due to it's benefits.
Source: Amazon.com
Z Natural Foods claims that their version of this product is of the highest available quality, and will for sure be a great milk alternative all while providing essential nutrients that many pregnant moms are looking for. Here are some of the reasons consumers feel this is the #1 coconut milk drink available:
It's USDA Certified organic milk… good for pregnancy!

It's dairy free… good for pregnancy!

It's great for anyone that is lactose intolerant… good for pregnancy!

It's a good choice for anyone allergic to gluten or casein… good for pregnancy!

It's MSG free… good for pregnancy!

Vegans love it

It's also free of soy & corn based additives
So whether you're looking for a healthy alternative milk option to drink, want a coffee creamer replacement, low-fat milk isn't suitable for you, or you're interested in the autoimmune benefits that come from coconut milk products like this… this is a winner in the opinion of many consumers. You can read more reviews for this coconut powdered milk here. This is definitely one of the types of milk that shouldn't be overlooked because it can contribute to a healthy pregnancy.
What About Folic Acid & Other Essential Vitamins and Minerals?
Source: Parent24.com
This is an important question that any pregnant mother, as well as breastfeeding women in general, do well to ask when they're in the process of growing babies in their bellies. Whether you're trying to understand which dry whole milk products that offer the appropriate amount of calcium and iron, enough folic acid, or you're just interested in maintaining a healthy diet during pregnancy… this is a fair question to ensure you're getting the required macronutrients for a healthy daily diet.
As an expecting mother, staying on top of these things is going to greatly increase the chances of you having a healthy pregnancy while ensuring you're choosing the right drink for pregnant women.
So what are the best sources when it comes to getting the amount of folic acid a pregnant mother needs?
A few of the most common and well-known sources of folic acid are:
Spinach
Peas
Asparagus
Orange Juice
Bananas
Bread
Rice
Milk
…for obvious reasons, we'll stop here.
When it comes to the recommended amount of folic acid that expecting mothers need during pregnancy, which is 600 µg day according to some studies, there are lots of milk products that can provide the amount needed. A few of the most common types of milk are:
dry whole milk
powdered milk
chocolate milk
reduced fat milk
breast milk (yes, some expecting women prefer this option; possibly from other pregnant and lactating moms)
other low-fat alternatives
With the wide variety of different types of milk products out there available for women looking to make the decision on what to drink to contribute to an overall healthy pregnancy, we how what's been mentioned above can help you narrow down what's best for you.
Frequently Asked Questions (FAQs):
What milk is good for pregnancy?
Some of the most common milk options to drink for pregnant women are almond milk, chocolate milk (and other flavored options), dry whole milk, cow's milk, goat's milk, coconut milk (a good low-fat alternative), soy milk (a good plant-based option), and rice milk. In the opinion of many people, these are among the top 10 best choices when it comes to choosing a good and safe drink.
Is goat milk good for pregnant women?
Including goat's milk in the daily diet for expecting moms is a popular alternative to cow milk; as long as it's pasteurized milk. Many studies and reports have shown that the decision to avoid unpasteurized milk greatly contributes to a healthy pregnancy and helps prevent a variety of diseases like listeria; which makings giving birth a more challenging experience, can hurt the baby's development, and doesn't help ensure a healthy pregnancy.
Is almond milk good for pregnancy?
Made from grounded almonds and water, almond milk is a favorite and healthy choice for moms that want to drink milk during pregnancy; but not cow's milk. It contains vitamin a content, dietary calcium needs for pregnant and lactating moms, protein content, other vitamins and minerals, and safe sugar levels; all of which is why it's one of the top 10 best drinks that are safe to consume for pregnant women. Finally, almond milk contains omega-3 fatty acids that help build a healthy and safe environment in a pregnant moms tummy for the unborn baby.
Is sterilized milk good for pregnancy?
While milk can be a good drink for pregnant… cow's milk, goat's milk, and frankly all milk dairy products SHOULD BE sterilized (also known as pasteurized or heat-treated). The pregnant woman interested in finding which milk dairy products are safe is doing what's best for the growing baby in her tummy.
In addition to just figuring out the best dairy drink when pregnant moms are looking for the safest option, it's important to keep an eye on things a variety of very important characteristics of their choice of milk. Things like added sugar contents, answering the question of whether or not the milk can provide the essential nutrients needed, a confirmed pasteurization process, if there is added calcium, the fat content such as nonfat or low-fat (aka reduced fat), and the likelihood of there being harmful bacteria present in the product.
Is UTH milk safe for pregnancy?
UHT milk (otherwise referred to as organic milk) could put an unborn baby at risk, according to a study from the University of Reading in the UK. Milk that has been treated with ultra-high temperatures (UHT) has been said to be 30 percent lower in iodine the other forms of milk. Iodine in milk helps a growing baby during the early stages of pregnancy; specifically as it relates to brain development.
Before choosing to drink cow's milk, goat's milk, or any non plant-based milk (like soy milk, rice milk, oat milk, or almond milk).. a pregnant woman will want to clearly understand the possible risks associated with UTH milk before grabbing that next glass of milk.
What happens if I don't drink milk while pregnant?
Drinking milk during pregnancy will enable a pregnant woman easily provide the essential nutrients that her body and growing baby needs; even if she normally deals with lactose intolerance. A variety of milk products provide things like calcium, protein content, vitamin A content, and good amounts of vitamin D; all of which help an expecting mother with maintaining a healthy pregnancy diet & experience.
For the pregnant woman drinking goat's milk, cow's milk, or another dairy product… it's important to make sure it's pasteurized milk, and it doesn't have a saturated fat content that is too high (which is why speaking to a  registered dietitian for reduced fat options is helpful). Of course, water is the best option for the drink that should be consumed during pregnancy; but in general, the right milk can be a good drink while pregnant.
What milk is best to drink?
Almond milk, soy milk, oat milk, rice milk, and other plant-based milk options are favorites for many people due to the calcium, protein, nonfat or low-fat options, a lack of harmful bacteria, and the ability to watch added sugar amounts.
On the other hand… cow's milk, goat's milk, and other pasteurized milk products are loved and preferred by many people. Of course, for expecting mothers, a variety of milk products are a good option; although the decision to drink whole milk might not be the best idea due to concerns of how it can negatively affect birth weight due to the amount of fat in whole milk that is thus absorbed by the body a woman drinking this kind of milk.
Can I drink cold milk during pregnancy?
Drinking cold milk during pregnancy can be viewed as a safe drink when pregnant. So whether or not you're considering drinking a cold glass of plant-based milk like almond, rice, coconut, oat, or soy milk… it's fine. That also applies to drinking cow's milk, or really any pasteurized milk for that matter.
Of course, it's important to mention that there is value in making sure a woman drinking milk during pregnancy might find value in taking recommendations of how much to consume from a registered dietitian. Of course, such a dietitian will emphasize that water is the best option, but there is value in considering how much milk can be safely consumed during pregnancy; especially as it relates to moms that want to drink whole milk.
Is coconut milk safe for pregnancy?
What can I drink besides water while pregnant?
There are a number of healthy drinks available if you're willing to choose brands that have added important nutrients that promote good health while pregnant. Whether that means drinking nonfat or low-fat cow's milk, water, lemonade, or apple cider… expecting mothers have a variety of options.
It's just important to remember that when not sticking to products like rice milk, oat milk, or soy milk, healthy babies that are still growing thrive in an environment with high levels and higher amounts of nutrients their body needs which is sometimes overlooked when drinking only cow's milk.
What should I not drink during pregnancy?
No expecting mom should overlook this question. Making sure you choose a safe drink for pregnant women can have a direct impact on your changing body; directly impacting whether or not it's best suited for your growing baby. As it relates to milk, it's best to not drink whole milk but instead drinking nonfat or low-fat alternatives along with a good calcium supplement that supports a healthier pregnancy.
Let Us Know: What Is Your Favorite Kind of Milk To Drink During Pregnancy? Tell Us In The Comment Section Below!
PS: If this is your first time at FamilyHype.com, please take a look around to see some of the other important topics we discuss related to pregnancy such as: healthy child growth, due date calculator tips, healthcare professional selection do's and don'ts, height predictor facts, ovulation calculator suggestions, general pregnancy symptoms (like morning sickness), pregnancy week by week reminders, the best baby products on the market, the best baby names and their meanings, and so much more!
If there is a topic you'd like to discuss that we haven't yet, let us know in the comments section below.
DISCLAIMER
(IMPORTANT)
: This information (including all text, images, audio, or other formats on FamilyHype.com) is not intended to be a substitute for informed professional advice, diagnosis, endorsement or treatment. You should not take any action or avoid taking action without consulting a qualified professional. Always seek the advice of your physician or other qualified health provider with any questions about medical conditions. Do not disregard professional medical advice or delay seeking advice or treatment because of something you have read here a FamilyHype.com.