We often see moms looking for the best wooden baby toys. But how about a xylophone? For many people, they believe that getting babies to playing music early on in life is a great way to build their creativity. One of a child's first musical instruments is often an awesome xylophone.
Play music early on with a musical toy xylophone for kids, which is a great educational toy because babies are often able to use it as soon as they can sit up and grip something in their hands. They work with not only their musical skills but also their fine motor skills (eye hand coordination, sensory development, and language skills).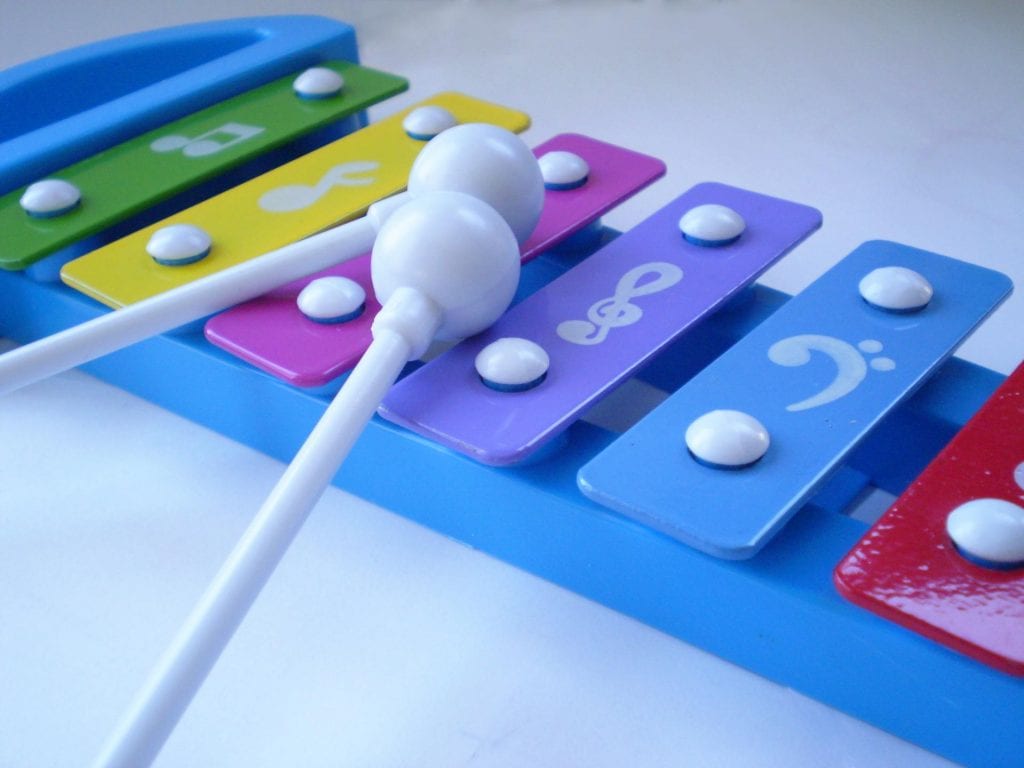 Best Xylophone Toy For Babies
The best baby xylophones, a fun instrument for a baby, will also grow with your child. Oftentimes they will come with a booklet that shows them what order to tap the non-metal keys in to play popular songs and nursery rhymes. Even more advanced books might even start to help your toddler learn music as they learn how to read words, too.
Kids often become curious about xylophones as they start to learn their letters and numbers since it's featured in many children's books as a word that starts with "X." Introducing your child to a smaller instrument early is a great way to help them make tangible connections between what they see in a book and real life.
In any case, it is important to pick out the number one xylophone for your little one. They come in many varieties, from a wooden xylophone to a plastic one, as well as in kits or by themselves. Sometimes, a big xylophone for kids might even be electronic and light up.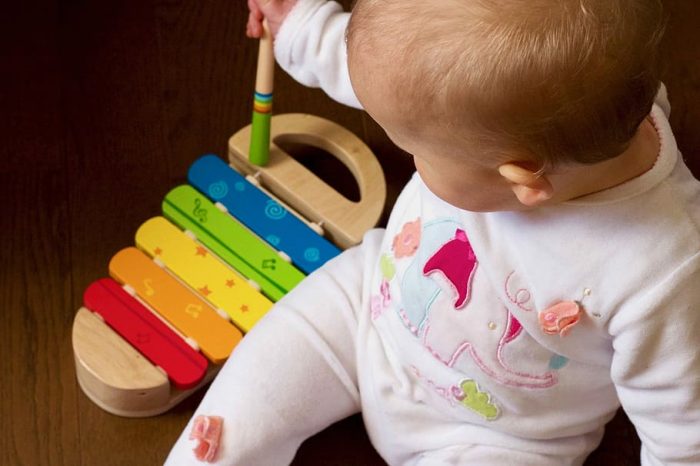 Here's a round-up of the xylophones for kids that we love:
Best Xylophone For Babies
Plastic Xylophones (Wheeled)
Our favorite wheeled plastic xylophone is Fisher-Price Classic Xylophone. This is the top choice for parents looking for a classic, simple, and safe option for their little ones.
Fisher-Price is a brand that parents know and trust, offering a larger xylophone for kids with bright colors and smooth edges, ensuring that the quality will be top-notch and the materials BPA free.
It comes with 8 rainbow musical keys and plastic mallets attached to the instrument's body with a string, ensuring high-quality material, providing better sound, and securely attached so you can be sure your little one won't misplace it. No more searching under the couch for this new toy.
It is also wheeled, which makes for easy transportation by your little one, allowing mini musicians to create musical notes anywhere they feel inspired. As they learn to crawl and eventually walk, they can drag it behind them so they can make musical notes anywhere they feel inspired and have a basic understanding of it.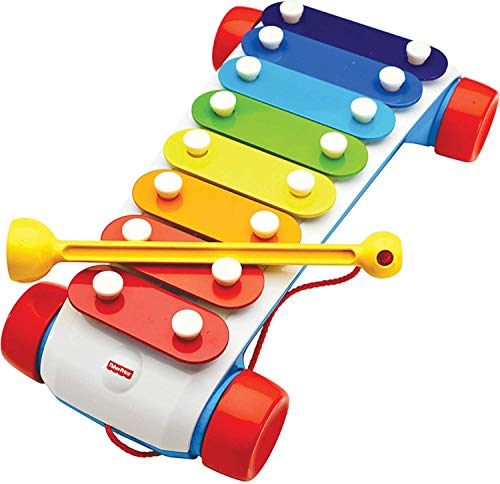 Best Plastic Xylophones (Animal)
For parents that aren't totally convinced Fisher-Price's classic design will catch their kid's eye, the Skip Hop Baby Xylophone Fox, an adorable shape sorter, is a great choice.
Many baby xylophones for a little child come in an animal shape like a small fish xylophone, encouraging creative play, but we especially love this fox because of the warm colors that will certainly attract your little one and the intuitive 8-key design.
We also know you'll be happy with the easy storage of this xylophone's safety mallet. Like the Fisher-Price option, the mallet is attached to the toy with a pull string, but this comes with a slot to an attached mallet on the underside to make for compact and quick storage.
It could also turn into a silly game of hide and seek with your child!
Most important of all, if you love this xylophone fox, Skip Hop Baby also offers a matching accordion hedgehog that will turn your child someday into a true musical genius.
Wooden Xylophones
The wooden xylophone. This timeless instrument has been the number one choice for many decades.
The best wooden xylophone option is out there with great sound quality too, featuring a sturdy wooden base that ensures your kid will not hurt themselves with the wooden base material.
We love the Melissa & Doug Caterpillar Xylophone because we know this wooden toy is from a brand we know and trust, providing rainbow-colored keys for visual stimulation. Your child will not be at risk for splinters with this excellent choice.
It's also adorable and comes with a booklet of music that helps your child learn music and play a few songs with. This wooden one is a great option for older children or if you're looking for the top while they are still little but will want to continue to use it as they grow.
It also comes with two wooden mallets for double the music-making fun! It's by far the finest xylophone for more advanced child musicians.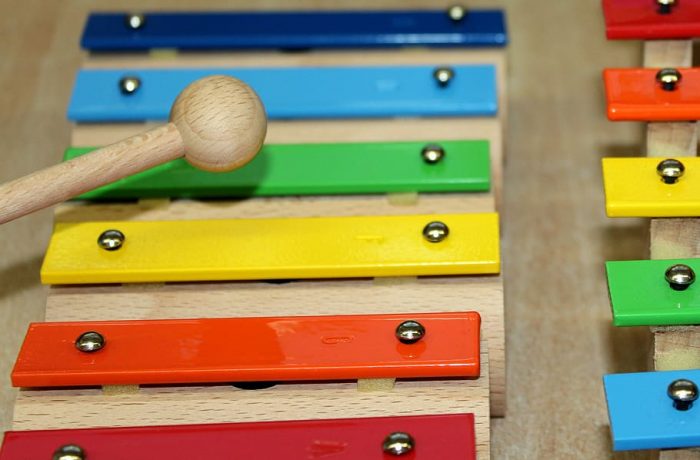 Electronic Xylophones
These days, it seems like every toy for little children has somehow been made the best to light and combine sounds, introducing features like an instructor mode for guided play, emphasizing the need for adult supervision. Unsurprisingly, a xylophone for a baby is no different. 
That said, there's nothing stopping an electronic xylophone from being one of the top toddler xylophones out there. We absolutely love the VTech Zoo Jamz Xylophone.
Babies will be fascinated by the bright rainbow colors and music that spills out of this colorful xylophone when they tap its colorful keys, helping them learn music, while older children can follow along with the games it offers. They can mimic different sounds or the sing-along songs the instrument plays, and it can even be an enticing introduction to more advanced career-playing musical instruments.
It also comes in two color options: Green and pink. No wooden mallets required!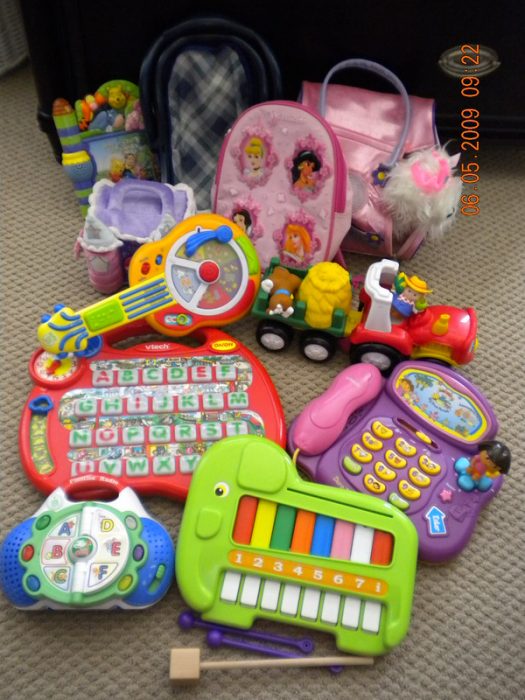 Best Musical Instruments Variety Packs With Wooden Xylophone Toy
If you think the baby you're buying a xylophone for won't be content with just a wooden one, we have good news: There are plenty of variety packs out there that come with several musical instruments, including the top xylophone for little kids with freestyle mode.
We love Maxzone's 12pcs Wooden Percussion Instruments Toys Set, which includes 12 wooden musical instrument toys, including a wooden xylophone. Although it may not be the top on our list, it still is a fun toy, especially if your kids put together a whole ensemble of music.
This set comes in three color options: Blue, pink and green. You can pick out the one that suits your little one's preferences.
In addition, it also includes drums, shakers, and clickers, as well as a tiny carrying case, which makes caring this set a total breeze.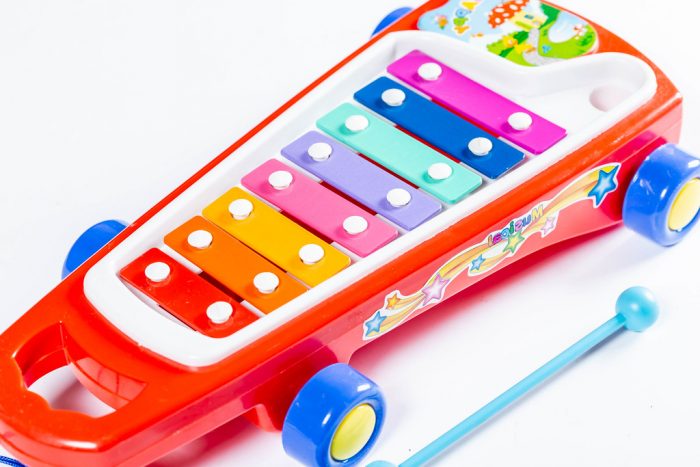 Conclusion
Best Toy Xylophones For Toddlers
Now that we've looked at the top xylophones out there, you're ready to go out and pick the best xylophones, wonderfully fun instruments for kids. You'll have excellent options for plastic, wooden, and even electronic xylophones, and you'll even know which variety pack includes a great xylophone for kids in addition to other engaging percussion instruments.
Frequently Asked Questions Best Xylophone For A Baby
Are Xylophones Good For Babies?
Yes, colorful xylophones and other musical toys, made with non-toxic materials, are great for a child's musical development. They enhance gross motor skills and introduce the joy of playing music at an early age. An adorable xylophone with eight brightly colored keys is a perfect gift for future generations.
At What Age Can Babies Play Best With A Xylophone?
Is The Best Xylophone For Toddlers?
What Is A Good Xylophone For Beginners?
A good xylophone for beginners is one that is accurately tuned and suitable for a young age group, helping children learn music. One recommended option is from Pick Percussions. It offers clear and pleasant tones, making it a great instrument for beginners to explore and develop their musical skills.
Are Musical Toys Good For Kids?
Yes, colorful xylophones and other musical toys, made with non-toxic materials, are great for a child's musical development. They enhance gross motor skills and introduce the joy of playing music at an early age. An adorable xylophone with eight brightly colored keys is a perfect gift for future generations.
How Do I Choose A Xylophone?
When choosing a xylophone, consider non-toxic materials, brightly colored keys, and an adorable design. Ensure it has eight keys for versatility, a wooden mallet for a clear sound. Is a percussion instrument suitable for early age learning.
How Does A Xylophone Help With Child Development?
A xylophone aids in developing a child's gross motor skills, color recognition, and audio recognition. Playing an adorable xylophone also introduces them to musical concepts and scales, fostering their overall musical development.
How Do I Teach My Child To Use The Xylophone?
Start with basic songs using song cards or music cards provided with the xylophone. Demonstrate how to use the wooden mallet to play each key and encourage your little toddler to follow along. This helps them learn the right colors and shapes while having fun.
What Is The Best Brand Of Xylophone?
Pick Percussion is a recommended brand for xylophones, offering instruments with non-toxic materials, and an adorable design. They provide the right xylophone for a perfect gift, ensuring quality and safety for your child's musical journey.
Is Learning Xylophone Easy?
Yes, learning the xylophone, especially a simple xylophone is relatively easy for children. With proper guidance and age-appropriate instruments, children can enjoy learning music.
What Is The Finest First Instrument For A 1 Year Old?

A wooden xylophone with elastic cords, providing a safe and fun design, is a great choice as the finest first instrument for a 1-year-old. It introduces them to music and helps in developing their motor skills.
What Instruments Are Good For Toddlers?

Instruments like colorful xylophones, percussion instruments, and shape sorters are good for toddlers. These instruments, made with non-toxic materials, encourage sensory exploration and contribute to their early musical development.
What Kind Of Music Is Good For Baby Brain?

Gentle and melodic music is beneficial for a baby's brain. Introducing them to simple xylophone tunes or soft melodies can have a positive impact on their cognitive development.
What Do Children Learn From The Xylophone?

Children learn essential musical concepts, including playing musical scales, recognizing different tones, and understanding the basics of percussion instruments. The xylophone also helps in developing their fine motor skills and sets a foundation for learning music at an early age. It's a great gift with fun designs
What To Look For When Buying A Xylophone?
When buying a xylophone, there are a few key factors to consider. Firstly, pay attention to the quality and material of the bars, as many xylophones have metal bars that produce a brighter and more resonant sound compared to those with wooden bars. Additionally, ensure that the xylophone has enough bars for versatility in playing different melodies and scales. A good starting point is to look for a xylophone with at least eight bars, allowing for a decent range of notes to be played.
Best Xylophone – Other Resources
https://www.experiencedmommy.com/best-toy-xylophones/
https://www.verywellfamily.com/best-musical-toys-for-all-ages-1449013
https://childhood101.com/kids-music-101-xylophones-and-glockenspiels/
Last Updated on May 3, 2023 by Inma Barquero
DISCLAIMER
(IMPORTANT)
: This information (including all text, images, audio, or other formats on FamilyHype.com) is not intended to be a substitute for informed professional advice, diagnosis, endorsement or treatment. You should not take any action or avoid taking action without consulting a qualified professional. Always seek the advice of your physician or other qualified health provider with any questions about medical conditions. Do not disregard professional medical advice or delay seeking advice or treatment because of something you have read here a FamilyHype.com.