Looking for the top pick child car seat protector? When your child is riding in the car with you, you have to take precautions if they are younger.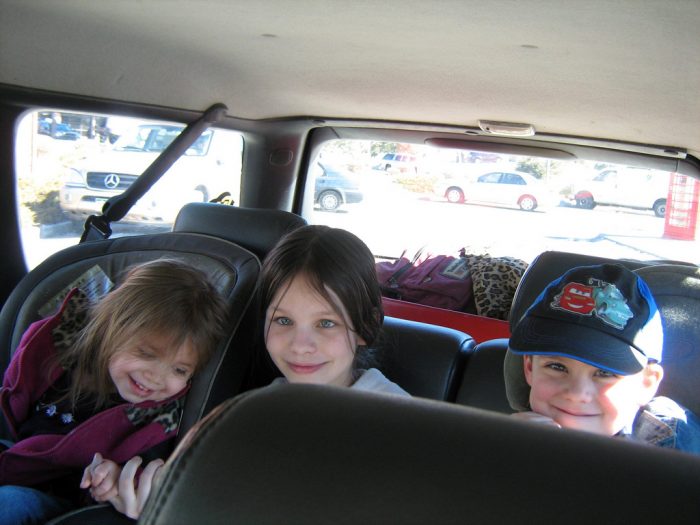 Children can be delicate, so in the event of a crash, you want to make sure they're as safe as possible. We all know to put a child under 12 in the back of the car or use a booster seat if they are small. However, you may be so busy trying to protect your child that you forget to protect the car seats.
Our lives can be pretty hectic most of the time, especially when we have children. So, we tend to eat on the go, as well as do other things on the go. That means our kids do too. In turn, that means they're doing all kinds of things while they sit in their car seats. Car seats and car seat covers are made of all sorts of materials. While some best car seats come with a rear seat cover that can be removed and is machine washable, not all best car seats are quite so easy to clean. This is something to consider when you're looking for car seat you'll be using. Beyond that, you have the materials your vehicle's back seat is made of, which also takes a beating from children. A car seat protector is a mat that you put under the car seats to make it easier for you to clean up the messes that kids make. Thus, we are going to take a look at some of the best car seat protectors available so you can have a back seat that's easy to clean, and your children can do all those on-the-go messy things kids do in the back of a car.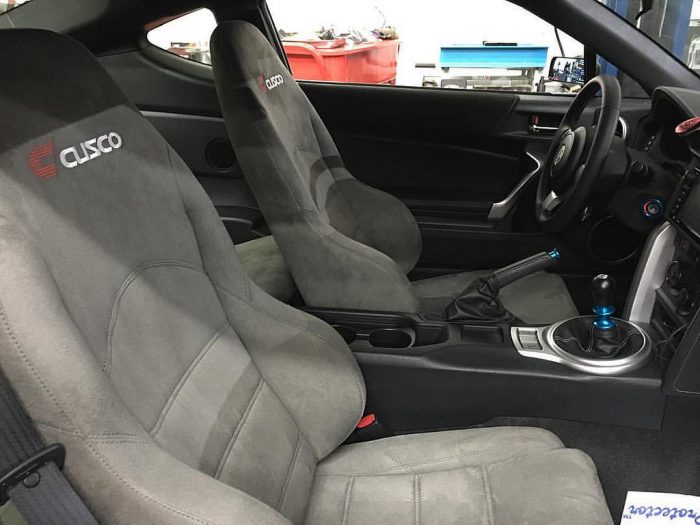 Top Car Seat Protector
Kids are messy. They spill food crumbs and drink, and if you have a baby, they can throw up. If you have a new car or a car you value, a mess can make you quite irritated. Luckily, you can get protectors for infant seats to make your life easier and more convenient. 
Most car seat protectors protect your upholstery against messes. It's like a mat, but one that fits into the shape of the children's car seats in the back of your vehicle. They work much like the kick mats that you put down on the floor of your car. The kick mat catches all the messes you make with dirty shoes and things you spill or drop, and the car seat protector mat does the same for your rear seats.
When searching for the best child's seat protector, you'll want one that can conform to your car's shape and store items and is made from materials that are high density. Besides, you may want one that is nonslip and protects against spills.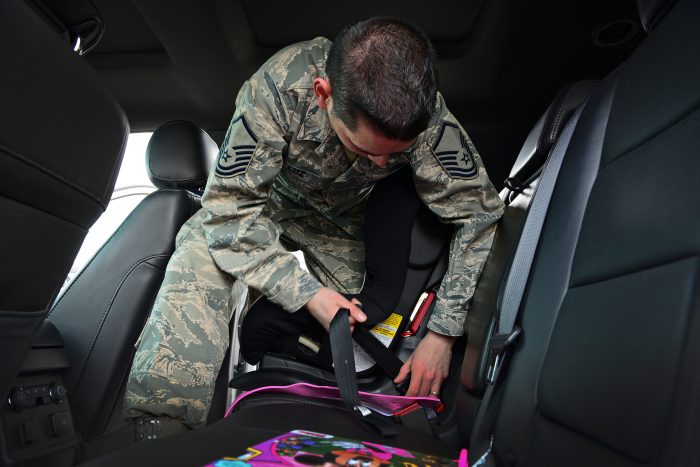 Why Purchase A Car Seat Protector?
There are many reasons why you should buy a best car seat protectors. Here are a few of them:
You want to keep your car clean. A clean car just looks good, and you can prevent bugs or any other pests from entering. A vehicle filled with garbage, spills, or crumbs is not ideal at all. 
Do it for your guests. You or your kid may not mind a dirty car, but a guest riding with you may feel differently, especially if you're a neat freak. Also, you don't want your guest sitting in your child's crumbs, now do you? 
It can increase the value of your car. When it's time for you to sell your car, the last thing you want is a car that has stains and crumbs. This can decrease its value! A car seat protector can help with its value and then some. If you get a car seat protector that has water-resistant surfaces, you'll keep stains away from reaching the upholstery of the seats. 
It can keep your child comfy, too. During the long ride, it can be bumpy or uncomfortable for your child to sit for a long time. A car seat protector helps with that by giving them the ability to sit down for a long time. Some of the best car seat protectors have padding that can absorb some of the shock from bumps in the road. 
Car seat protectors can conform to the color and shape of your car, making them visually unobtrusive. This means they aren't distracting and can enhance the aesthetics of your vehicle if that's something you care about. Most car seat protectors can seamlessly blend with the existing front seat cover and rear seat covers, making them a tasteful addition to your car's interior. You can look into a car seat protector that has the look and feel of various best car seat cover materials and select a color that complements the hue of your best seat cushions. Whether you're seeking the right car seat protector for an individual seat or bench seat protectors, there are options to suit every need, contributing to a cohesive and stylish look in your vehicle.
Finally, seat protectors make it effortless to clean the car. Vacuuming crumbs can be annoying. A tough stain on your upholstery can take forever. However, with a protector, most can be cleaned through machine washing. You can get a car seat protector made of waterproof material that is machine washable so everything is super easy to clean.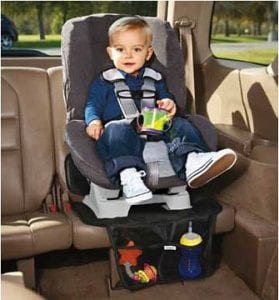 Here are the top picks that do everything we just talked about. 
Munchkin Brica Seat Guardian
This is an excellent protector because of its universal fit. Made from flexible and durable vinyl, it can fit over your best seat and protect against all the messes. Also, its bottom is nonslip, so your child will be able to sit securely and stay gripped. Cleaning up is a breeze as it's protected from crumbs. You can adjust the headrest as your child grows as well. When your child eats, they usually love to spill crumbs everywhere, so having crumb protection is always a plus. The brica car seat protector or Brica Seat Guardian is a Munchkin Auto Seat Protector that you can get for the best budget price and feel good about. It is ideal for protecting your leather seats. Plus, it has color-safe construction that won't bleed onto the car's upholstery. 
One thing this car seat protector has over some of the competition is its dual grip traction technology. On the part of the car seat protector that the car seat sits on top of, there are traction strips that make an "X" shape. This is to prevent the infant car seats from sliding at all on top of the car seat protector. Then, underneath the mat, there is also non slip technology in place. When you're looking for a car seat protector, check that the best seat you use isn't going to be sliding on the mat, and that the mat won't be sliding on your vehicle seat. You can check more of its features here on  MomLovesBest page.

Munchkin Car Seat Protector
Munchkin is a great way to protect spills from your little munchkin. It's full and flat, making it easy to install and protect your leather seat. Munchkin's easy clean grime guard fabric provides excellent protection from spills and stains.  Also, it has large mesh pockets on the bottom that allows you to store some stuff. You can put food or other goods, making it great for a long ride. Also, it can fit with most LATCH systems, especially if your car is new. The color-safe construction of Munchkin best car seat cover is another plus since it does not rub off its color on the leather seat. 
If you're worried about the best seat protector moving at all, fear not. It can stabilize itself, and thanks to its non-slip surface, your child is safe. It is crash-tested and comfortable too. It's compatible with any booster seat and protects your child if they are aching. The rear-facing mat is compatible with rear-facing child seat. It also comes with a quick release adjustable headrest strap for additional security. 
Summer Infant Elite DuoMat
Summer is a protection mat for any season. It can fit most car seats and can protect your child against slipping through its slip resistant material on the bottom. Also, it conforms to rear- or front-facing seats, which is excellent for a growing toddler. Rear facing children tend to be younger, but still make messes with spit up and milk. Older children can spill their drinks and snacks everywhere. The Elite DuoMat is water resistant. Further, it is crash-tested for safety. It accommodates LATCH connectors and seat belt. It is best to protect leather seats.
Cleaning is a breeze, and it protects against many scratches. Also, it has memory foam inside. This can help warm your child up during winter and keep cool air in the summer. The outside can be machine-washed, so any spill is moot. Thanks to the abilities of Summer.
In the front, there are also mesh storage pockets at the bottom where you can store toys, sippy cups, you name it. This is a great car seat protector that you can get for less than $25.
ROYAL OXFORD Luxury Car Seat Protector
This is great for upholstery that's dark, but it works with any color, honestly. Again, it's nonslip, comfy, and helps protect your car against any spills. You can take it off without worrying about damaging what's under there. And it's completely waterproof, so spills are no match.
This car seat protector is made from a custom high quality Oxford fabric produced by the manufacturers and PVC leather that is water resistant. The PVC leather is used advantageously in the areas of the car seat protector that need to be reinforced so they don't tear. You can use this with rear facing baby car seats all the way up through best booster seats for older children who use the seat belts of the car to secure themselves. 
The Royal Oxford Luxury Car Seat Protector is amongst the top car seat protectors because of how easy to clean they are, their water resistant Oxford fabric materials, the anti-slip raised bumps on the underside of the mat, the storage pockets located at the bottom of the mat, and the optimal thickness they're designed with.
Lusso Gear Car Seat Protector
When trying to put padding on your car, you want something thick. Luckily, this is just what the doctor ordered. This thick padding is waterproof and can prevent most spills. Also, it can fit most car sizes. Thanks to its XL option, you don't have to worry if the car is bigger than the others. There isn't an auto seat this car seat protector can't work with. Plus, it feels comfortable for those sitting directly on the car seat cover. However, it is not a universal car seat protector, so be sure to measure the dimensions of the car's entire seat before purchasing. 
As for convenient storage, there are two organizer pockets to help that can be used. If you have a child who is packing a lot for a long trip, you don't have to worry. Lusso Gear car seat protector has it all. Its easy to install or uninstall and has easy to clean material. There are slits where the top and the bottom come together to allow for the vehicle's seat belt to come through with ease, too (read further here: https://www.800bucklup.org/car-seat-accessories/protector/). Its backseat protector has plenty of extra pockets to keep things organized. It provides additional storage space since the backseat protectors block access to the vehicle's back seat pockets. 
Britax Vehicle Seat Protector
This is one car seat protector that is compatible with LATCH system. It's easy to install and keep car seats clean. This is one of the best car seat covers that offer full length protection on your car's seat upholstery. This one is made from waterproof rubber, so you don't have to worry about slipping or spills. Also, it has crumb catchers. We all know how annoying it is to clean crumbs, so Britax has you covered in that regard. 
Gorla Universal Fit Waterproof Car Seat Protector
The Gorla Universal Fit Waterproof is one car seat protector made from a high quality product and durable materials. It is 100% waterproof and sweat proof which is good protection for your leather seats, be it bucket seats or bench seats. It can even be used as a pet seat cover. The Gorla Universal Fit is made from neoprene that offers good quality and comfort. It comes with a free seat belt protector and anti-integrated anti-slip elastic straps. Gorla offers a universal compatibility that comes with an integrated buckle strap to secure the fit properly.  It suits well with any bucket seat and bench seat. The downside is that this seat protector is fairly heavy. Nonetheless, this car seat cover is one of the best car seat covers worth considering.
Fortem Waterproof Car Seat Protector
The Fortem Waterproof is one car seat protector worth considering to have because of its high quality. It is manufactured from durable Oxford cloth. The Oxford cloth is known for its waterproof quality which makes the material easy to clean. This car seat cover is ideal for those who have pets or toddlers. Protecting your bench seat from dirt, spills, and scratches is easier with the Fortem car seat cover.
The installation of Fortem Waterproof is easy via one LATCH system. The car seat cover accommodates rear-facing car seats and front-facing booster seats. It is safe to use with small children since it has a rubber grip bottom that child's seat stays safely in place and does not slide. Plus it has large pockets at its bottom for storage and organization. The only downside about this car seat protector is that you can only secure it around the headrest, so it will be difficult if the vehicle has middle seats or seats without a headrest.
Best Car Seat Protectors Conclusion
The best car seat protectors will give you the peace of mind you're looking for when it comes to protecting the durable fabric or other material of your car's back seat. You'll want to find a car seat protector that looks good, has other features like anti-slip and storage pockets, and is the right fit for your vehicle. You may want to look into one with slightly raised edges so the crumbs stay put for easy cleaning and one that is water-resistant. Further, it would be good to have a package deal, such as a bucket and back seat protector, since this pulls double duty. It's also not a bad idea to find a great option that has a money-back guarantee included, in case you find it doesn't meet your needs. Sometimes we need to try something out before we know if it's going to work for us.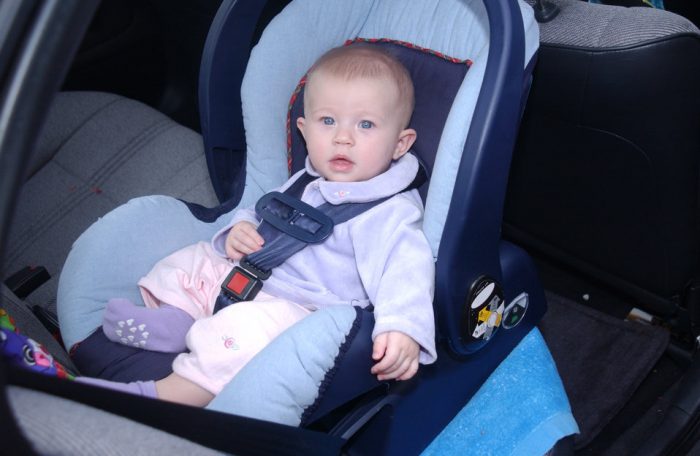 Car Seat Protectors FAQs
Are Car Seat Protectors Safe?
Some experts do not recommend the use of a car seat protector since it has been misused before. Still, the decision to use one is up to the parents. If you make sure it doesn't impede the use of the seat belts for older children, isn't used in the front seat for a child still riding in a car seat or booster, has an anti-slip feature on the bottom, and is installed properly in the vehicle, then car seat protectors are completely safe. It is also vital to note that your child's car seat must also be properly installed and in the rear middle seat for maximum protection. 
How Can I Protect My Car Seat From Car Seat Damage?
Car seat protectors keep your car's interior from getting damaged, thus retaining its pristine condition. You can find many car seat protectors in the market to protect your car interior from the baby car seat. There are available reviews around the web that you may find helpful to get the best car seats protector suited for your car. Car seat protectors work much like the kick mats you put on the floorboard of most vehicles to protect the flooring material.
What Is The Most Effective Best Car Seat Protectors For Leather?
While you protect your baby while on a road trip, you might be worrying that your vehicle's leather seat might get damaged in time because of the car seat installed. Luckily, there are available seat protectors to shield leather from scratches, dirt, and damage. Honorable mention products below:
Brica Elite Seat Guardian Car Seat Protector

Lusso Car Seat Protector with Thickest Padding – Featuring XL Size

DINKANUR Car Seat Protector PU Leather

Zohzo Child & Infant Car Seat Protector
You can also find more recommendations here: https://carseatsmom.com/car-seat-protectors/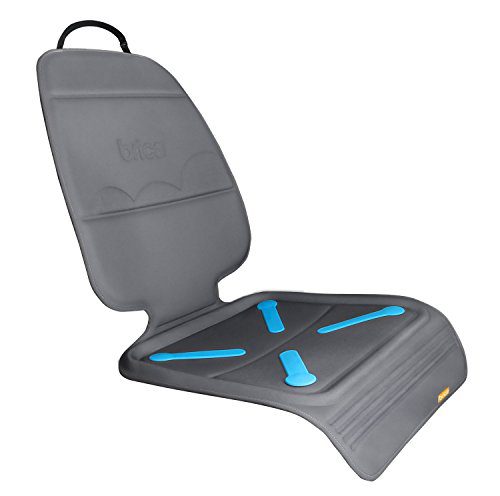 Car seat protectors come in one or two-piece designs, providing versatility for your needs. You can remove the top portion of a two-piece protector when your child uses a booster with no back, utilizing the vehicle's seat belts. Seat anchors often enhance the stability of these designs. These protectors are adaptable, suitable for both the passenger seat and front seats. For entire backseat protection or safeguarding both the front and rear seats in a compact car, a one-piece protector is an excellent choice.
What Are The Most Important Features To Look For In A Car Seat Protector?
For starters, look for an anti-slip technology to be used. You'll also want it to have ample space for the safety belts to fit through for when kids are using those in your vehicle. You want high-quality materials that are machine washable. You want to make sure it matches your car's fabrics and kick mats. And finally, you should look for one with a money-back guarantee, just in case. It's actually a really good idea to look for the money-back guarantee with most of your safety products.
How Can I Protect My Car Seats From Stains?
What Is the Best Seat Cover Material?
Are Best Neoprene Seat Covers Good?
Do You Really Need Best Car Seat Protector?
Is It Safe To Put Best Car Seat On A Seat Protector?
What Can I Spray On My Car Seats To Protect Them?
Do Car Seat Protectors Void Warranty?
How Do I Protect My Leather Car Seats?
What Product To Use On Car Seats?
Last Updated on April 12, 2023 by Allen Laconsay
DISCLAIMER
(IMPORTANT)
: This information (including all text, images, audio, or other formats on FamilyHype.com) is not intended to be a substitute for informed professional advice, diagnosis, endorsement or treatment. You should not take any action or avoid taking action without consulting a qualified professional. Always seek the advice of your physician or other qualified health provider with any questions about medical conditions. Do not disregard professional medical advice or delay seeking advice or treatment because of something you have read here a FamilyHype.com.