Having a baby is a joy, but boy, can diapers be a hassle. It takes a few years before your baby knows how to use the bathroom on their own, and until then, you need diapers. And these diapers can be expensive. 
If you're on a budget, you may wonder how you can buy diapers for cheap without sacrificing quality. A diaper that seems too cheap to be true usually is. It can leak, not stay on, and be uncomfortable for your baby.
Luckily, there are ways to get more for your money, and we will look at a few of them.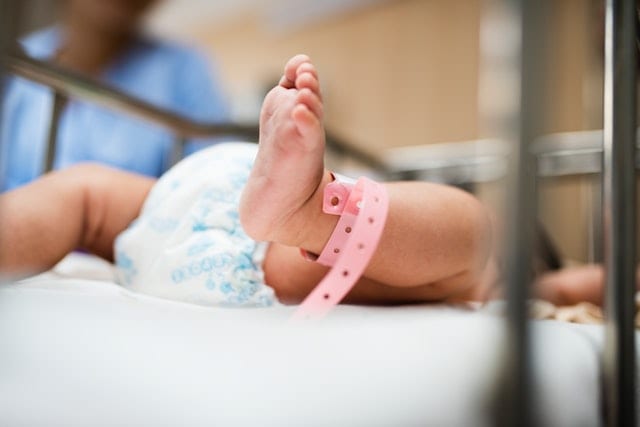 The Cost Of Diapers
As a new parent, you may be curious about how many diapers a baby uses every year. You may think it's once a day, but that's not the case. A baby may go through nearly 3,000 diapers every year. Yikes! You may spend around $800 every year on diapers alone. And if your baby is a late bloomer when it comes to potty training, or you have more than one baby, you're in for a rude awakening.
Diapers are never fun, and until we learn a way for babies to use the bathroom after they're born, we're never going to get past them.
Bulk Buying
First, there's the idea of buying in bulk. When you buy in bulk, you have to spend more, but you're saving money in the long run. 
Bulk buying means that you buy what is mainly three or so packs of diapers. But the amount you pay is less than if you purchased those three packs individually. Bulk buying not only means fewer trips to the store but more savings.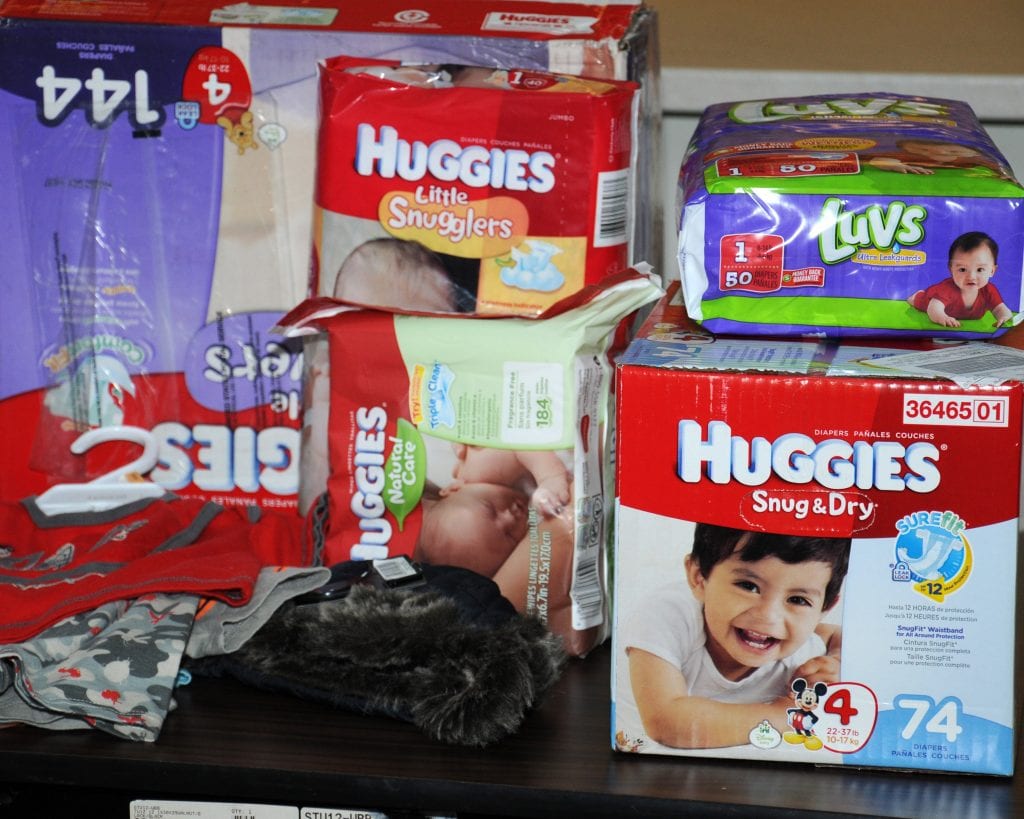 There are many ways you can bulk buy. Here are a few examples. 
Club-based stores like Sam's Club and Costco can help. These stores require a yearly membership fee, but the amount of money you save can be quite amazing. If there isn't one near you, there are online options as well. For example, Sam's Club online offers free shipping with a plus membership.
Amazon. Amazon Prime can be an excellent way for you to save money. You can usually get more diapers for cheaper, allowing you not to worry as much. Not only that but with two-day shipping, you can keep the supply of diapers coming.
Some traditional stores may offer bigger packs as well. 
Stockpiling fits into this concept too. Sometimes, stores may have deals. Buy one, get one free with diapers, or diapers off for a limited time. In that case, buy as many as you can. It can hurt your bank account at first, but you're definitely saving money in the long run. 
Before you had a child, you may have rolled your eyes at people who have to coupon everything. However, as you become a parent, you realize just how valuable couponing is. Every dollar you save adds up, whether you want it to or not. Luckily, there are many ways to extreme coupon. You can find coupons at the store or online, and it can help you save a good chunk off of diapers. 
Some parents swear by cloth diapers that you can wash and use again. If you're frequently doing laundry, it may be worth it. Of course, disposable diapers are much more convenient, especially if you're a parent who is dealing with traveling. 
As your baby grows, you may think of getting bigger diapers. However, bigger diapers mean fewer in every package. 
Obviously, you don't want diapers that are too small for your baby. But many parents switch diaper sizes when their babies could easily fit in them. Following the weight, a recommendation is a good thing, but make sure the diaper can still fit well.
Depending on how you put the diaper on, you can make smaller diapers last. If you pull it in a certain way, you can stop leaks. If it leaks in the back, pull it more toward the back, or vice versa. And if they leak from both sides, then you should make the switch.
Brand Loyalty? What Brand Loyalty?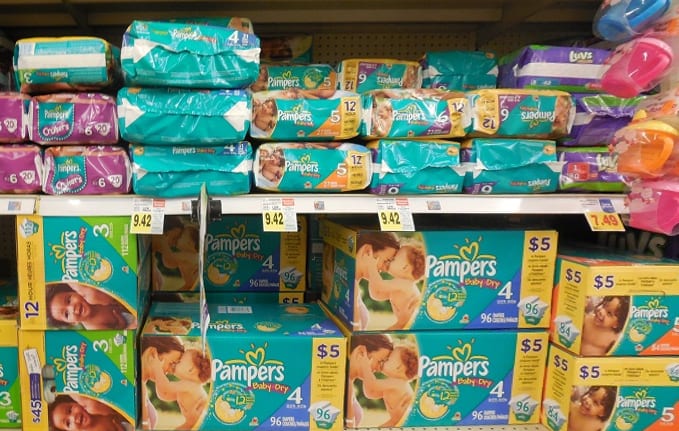 If you're loyal to a particular brand, don't be. When it comes to Pampers vs. Huggies, the prices can vary, and you should go for the cheapest brand. Sometimes, store brands are good as well.
You may roll your eyes at store brand diapers. Sometimes, they are inferior and feel uncomfortable for your baby. However, some stores are the best place to buy diapers as they allow you to save more and still have a right product. Read the reviews and see if they're for you. You may be able to save a lot of money buying a store brand diaper.
Especially if that store brand is a club store like Costco or Sam's Club, you can get a bulk amount of diapers for cheap because you chose the store brand.
The Same Rules Apply For Other Diaper Accessories 
When you're shopping for diapers, think about the other things a baby needs. A baby needs some good diaper wipes, for example, or some baby powder. Use the same rules when shopping for those. Buy in bulk, consider store brands, coupon, and look for the deals. This can help you live a much better life and allow you to save some valuable cash that you need to have. 
Conclusion
If you're wondering just where the best place to buy diapers is, it's always changing. Sometimes, it's online, and other times, it's in a store. Keep your head out for great deals and interesting ways to get the diapers you need. Chances are, you can be able to buy a lot of diapers for less, and that's always a good thing.
Diapers are definitely one of the biggest hassles of raising a baby. But through smart shopping, the diaper process can be a little less stinky.
Frequently Asked Questions (FAQs)
How do I get the best price on diapers?
The best way to get a great diaper deal is by buying them in bulk. The more diapers you get, the less each one costs.
Which brand of diapers is the best?
Pampers is perhaps the best and most well-known diaper brand all over the globe. The company makes all kinds of diapers for every baby's needs.
Is it better for me to buy diapers in bulk?
Yes, it is better to buy diapers in bulk. Some parents don't know this; that's they stick with small packs.
Are diapers cheaper at Costco?
No, it's a bit challenging to find cheap diapers at Costco. It is not the best place to buy diapers. If you're on a tight budget, head to Walmart or Target.
Do Costco diapers go on sale?
Yes, some Costco diapers go on sale throughout the year. However, the discount percentages vary depending on the brand.
What should you not buy at Costco?
Aside from diapers, you should not purchase fresh flowers, fruits, and vegetables from Costco. That is especially true if they are sold in bulks.
Last Updated on March 22, 2020 by Gofa Dela Pena
DISCLAIMER
(IMPORTANT)
: This information (including all text, images, audio, or other formats on FamilyHype.com) is not intended to be a substitute for informed professional advice, diagnosis, endorsement or treatment. You should not take any action or avoid taking action without consulting a qualified professional. Always seek the advice of your physician or other qualified health provider with any questions about medical conditions. Do not disregard professional medical advice or delay seeking advice or treatment because of something you have read here a FamilyHype.com.