When choosing the best piano for kids, sometimes it can be hard to find ones that you can get the most out of. Fortunately, here, we'll talk about the best pianos for kids, and ones that will fit their fingers as they grow. It is also important to know the battery life and how many keys it has.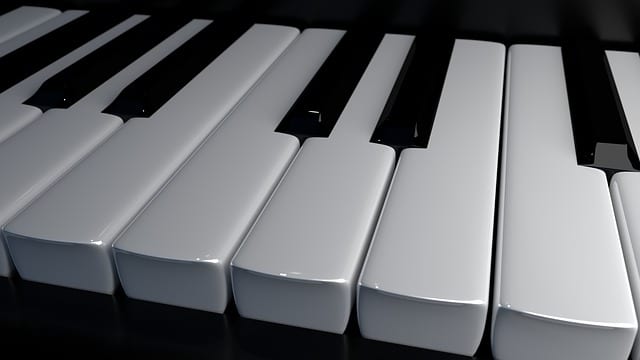 AresKo Baby Musical Keyboard
This one is the best beginner keyboards for younger kids, and it comes with both functionality and durability, along with value to you as you have a good time. it's got a safe, rounded look to it that doesn't require harsh edges, and the handle is large enough for the toddler to carry it.  There are also multiple mode options with this, including different keyboard sounds, and a wide range of animal noises and your tot will get to have fun with their imagination as they continue to find out more sounds within their surroundings. it's made of ABS plastic, so you won't have to worry if your kid puts it in their mouth. It is a bit small, but it's one of the good toy pianos with mini keys for toddlers to start playing on.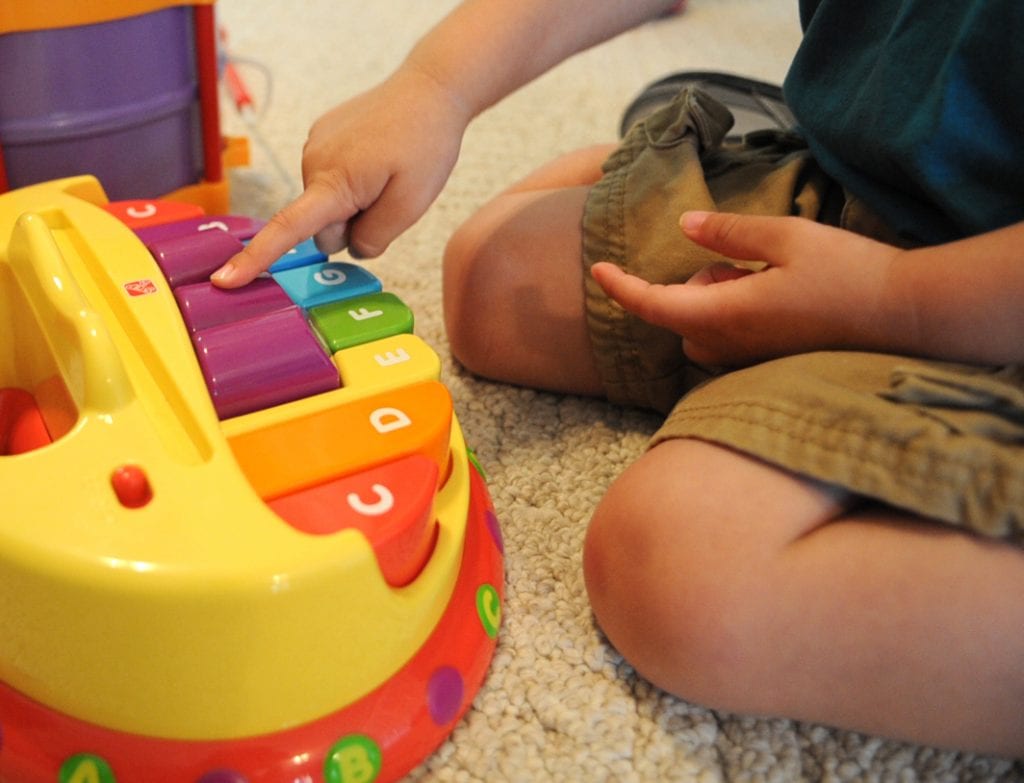 Electronic Keyboard With Microphone
It is the next step up for toddlers, and this toddler keyboard essentially allows your toddler to have 37 different hammer action keys to play with.  There are other different modes in this, too, such as violin, trumpet, drum sounds and even music box and animal sounds as well. There are eight different rhythms to play that include rock, samba, and a whole lot more, and your child can create sounds and beats that they will enjoy. The microphone is built-in, and it comes with its keyboard stand and keyboard, and there is a stool used as well for the young musician to sit on while they play.
May & Benton Piano
If you want to get the most out of your money, this is probably one of the best, and it's a multifunctional piano that's worth a look. It looks like a baby grand, but it does more than just act as a piano. It comes with 24 keys to try out, including a variety of other instruments, and there are different rhythms as well, and even music box sounds. You can adjust the sound as you need to, and your child can play with the tempo of this as well.  Your child will also get to use their vocals and even record songs for you to hear with the built-in microphone. It also has a cable for you to hook it up to an iPad or a speaker, so your child can show off the skills, and you can play along. With just a couple of batteries, you'll be able to get your child a good piano that's great for them to start using.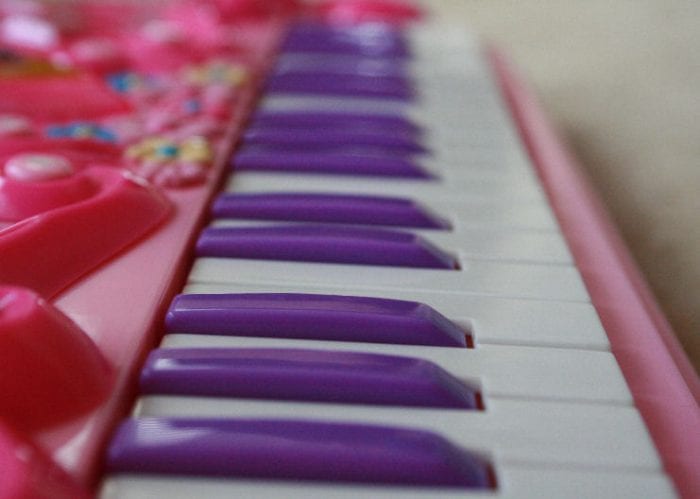 Hamzer 61 Electronic Piano
This one is the best digital piano for kids who also want to play and record music and also work on mixing and producing.  Now, this is one that's similar to the traditional piano, and it is a bit heavier than these others, but it's a good one for children to learn music, and it's cheaper than the real piano. It comes with an LED display, four-wattage speakers, 12 demo songs, a microphone jack, and headphone jack.  There are 100 different rhythms and timbers that allow you to have a lot of fun and have a single finger pressing for bass chords. The sound played comes out from built-in speakers, and it can get loud as needed. There are different percussion that creates joy and diversity. The keyboard itself can be performed initially on its own, or with the child along with it, which can aid with music lessons.  It is also inexpensive too, which is what makes it one of the best toddler pianos, and it is a good one for kids at a young age.
Classic Wooden Mini Grand Piano
This one gives the child a gentle push in the direction of learning music, and is essentially a miniature version of a traditional grand piano, though it only contains 30 keys. It is the best piano for kids' room or the playroom, and it comes with a stool, and note holder, so it can make them feel like they're playing the piano. The one downside is that the seat isn't adjustable, so the child might need a little bit of cushion when working on this. It's made of hardwood, and it has a glossy, elegant finish on it. You also can choose the colors, meaning that it's a beautiful item, and it comes with some impressive features.
The Plixio Electronic Keyboard
This one doesn't just have to be for kids, but older beginners too, meaning that it's light and portable, so your child can bring it to lessons and school as needed. It can be played with batteries, or you can plug it into an outlet for fun. It comes with 43 keys for children to get used to, but it is a little bit smaller, so your child can get used to learning the placement of different chords. It also has different tones and rhythms to play as well as some demo songs. It's the right way for a child to learn music at an early age, and the cool thing about it is that it can create good music, record it, and then listen to it once again. It even has a lesson mode, so it is pretty good if you want to teach your child all about basic notes and chords.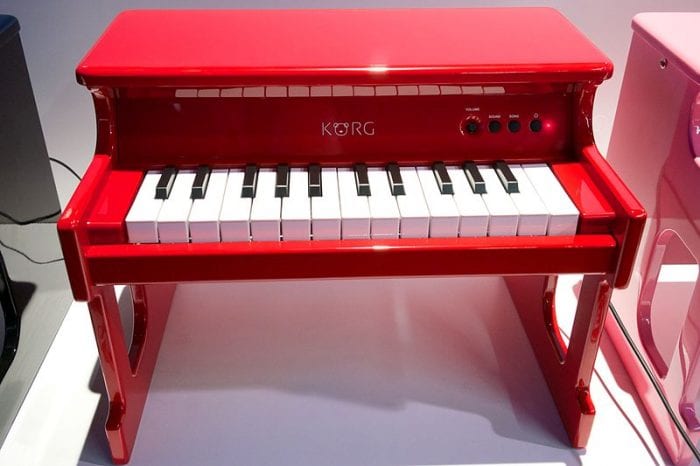 The one downside is that it's hard to navigate through the different modes, but since it's so small and portable, and comes with a varied range of features and sounds, it's quite lovely, and worth it if you're looking to benefit from a keyboard with some different actions.
When it comes to a child's keyboard, getting them a piano that fits their tiny hands can be hard, but these are the best for that too.
Piano For Kids Frequently Asked Questions
What is the child's top piano?
Which piano is ideal to be used by beginners?
The best piano for beginners is the Yamaha YPT-360. Its main feature is the touch sensitive keys design, which entails that the keys will produce a sound even without pressing them hard. It also features the Yamaha Education Suite.
Read further here
.
Can a four-year-old child learn playing keyboard?
Yes, a 4-year-old can learn piano. A lot of prodigies start learning to play at this age or even earlier.In the same way, a child can also start learning drums with the best drumsticks for beginners at a young age, which can help develop their hand-eye coordination and rhythm skills.
Do you need 88 key piano?
An 88-key piano is essential for kids who want to become classical pianists. Otherwise, they may use keyboards with fewer keys.
Does this instrument get better with age?
No, pianos don't get better with age. The older the piano is, the more the keys or strings inside may not work.
What age can a child start keyboard lessons?
Children between the ages of 5 and 9 years old usually get enrolled in piano lessons. This age range is when you can expect them to focus on the instructions more. Similarly, children at this age can start learning other instruments such as guitar, toy violin, and even the lyre harp. It's never too early to introduce your child to the joys of playing music and watching them develop their skills and passion over time.
What do piano lessons cost?
Piano lessons can cost $50 per session on average. It can still increase or decrease depending on where you live
.
Is adigital piano better than an acoustic piano?
How do I choose a piano?
Should I start with a keyboard or a piano?
The Top Piano For Kids
Other Resources
https://www.musicradar.com/news/best-keyboards-for-beginners-and-kids
https://www.scarymommy.com/spotted/best-pianos-kids-beginners/F
Last Updated on May 9, 2023 by Bernadine Racoma
DISCLAIMER
(IMPORTANT)
: This information (including all text, images, audio, or other formats on FamilyHype.com) is not intended to be a substitute for informed professional advice, diagnosis, endorsement or treatment. You should not take any action or avoid taking action without consulting a qualified professional. Always seek the advice of your physician or other qualified health provider with any questions about medical conditions. Do not disregard professional medical advice or delay seeking advice or treatment because of something you have read here a FamilyHype.com.