When you're an adult, seeing a tow truck haul your car away can be stressful, especially if it's because you parked in a place where you weren't supposed to! However, for little children, a tow truck can strike their imagination. They may imagine themselves hauling or saving a car for an adventure. There are plenty of toy tow trucks out there for your children to love. They can carry quite a bit and stimulate a child's skills. They can learn how to hook up a car, as well as the weight limits that particular truck bed allows. In addition, you can consider getting your child one of the best erector sets available in the market today, which can further enhance their imagination and fine motor skills.
Here are some of the best tow trucks around.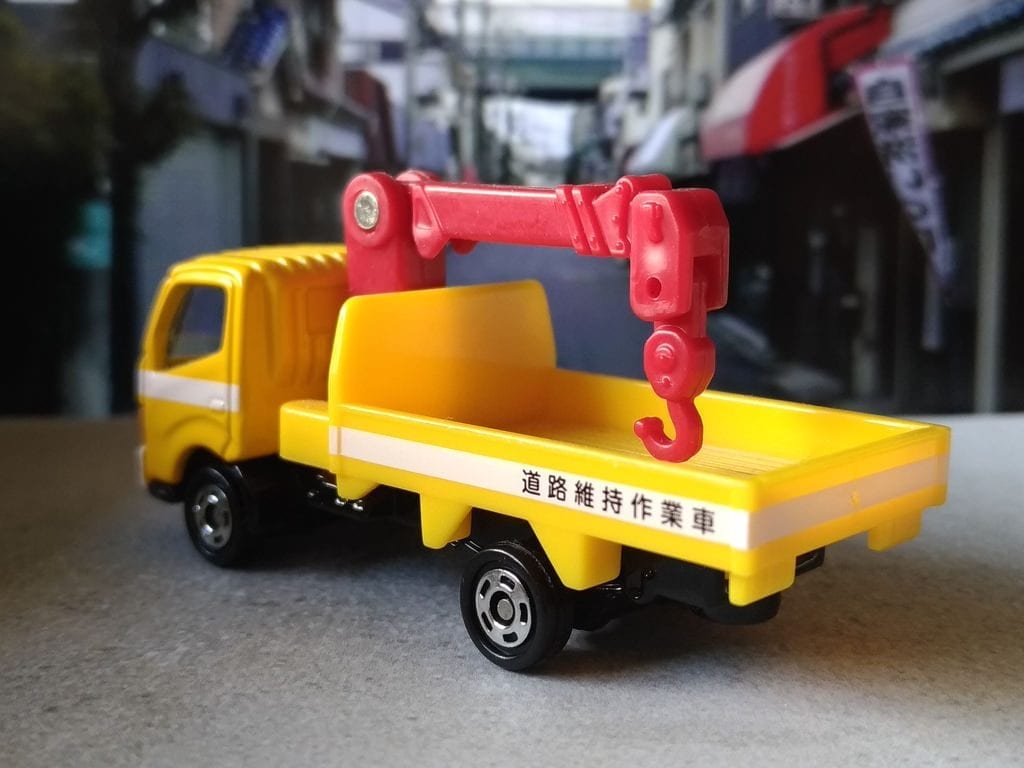 Best Of Toy Tow Trucks For Kids
Tonka Steel Retro Toy Tow Truck
Tonka is one of the biggest brands, and it's for a good reason. They can handle roughhousing like no other. This toy has a retro design and a beautiful color that your child is going to love. This is excellent for towing most other toy trucks. We guarantee your child will love it despite not having an engine.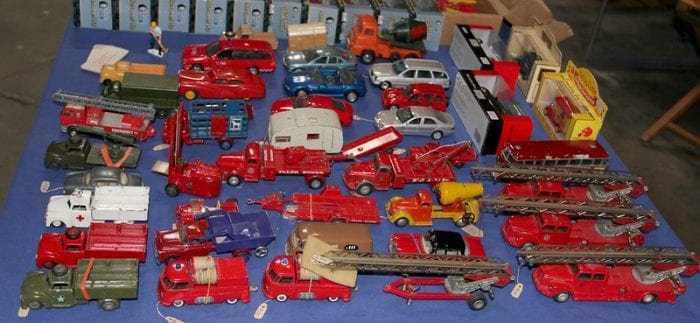 Dickie Toys Tow Truck with Air Pump
If you need a pump-action tow truck, Dickie Toys with Air Pump is the right one for you. This pump-action toy comes with many tools and features, including a pneumatic winch to lift most other toy trucks. Children love playing with this action tow toy and enjoy all it has to offer.
Police Toy Truck with a WolVol Wrecker on It
This is excellent if your child wants to play a game of cops. It doesn't need any batteries and includes a real thing paint job that looks like a small police car. When looking for the best toy cars for toddlers, it's important to consider various features and options. One such feature is having strings to help pull most toy cars as well. This makes it easier for young children to play with and maneuver their favorite vehicles.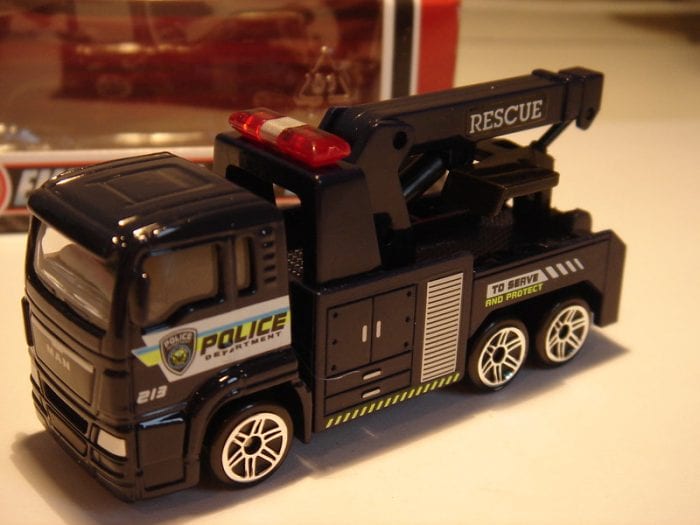 Bruder Man Tga Toy Tow Truck With Cross-Country Vehicle
This action toy with a cross-country vehicle keeps up with your child's busy life. The toy is made from some tough plastics and is German-manufactured. You can purchase components that give the toy sound and light, but it works just fine without it.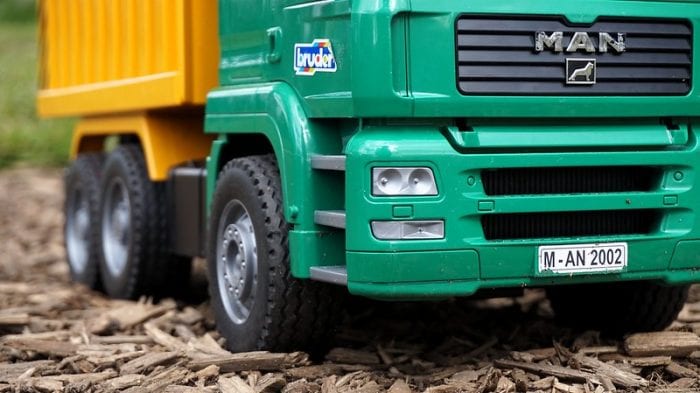 Wader Basics Toy Tow Truck
The Wader Basics is meant for a younger audience (aged 2-6). We are talking your toddler up to preschool age. It is brightly colored, easy to clean, has no complicated parts, and is excellent for general use. Your child should love what the Wader Basics Tow Truck toy has to offer.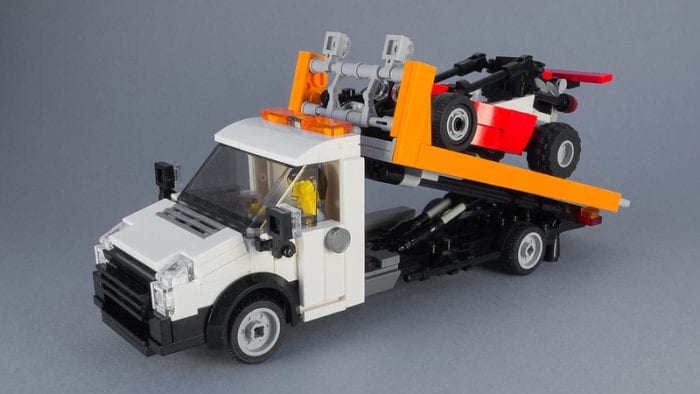 Kinsmart 1955 Chevy Stepside Pick-up Tow Truck
Old cars have captured the imaginations of generations. We all imagine ourselves back in a simpler time, and this toy for most children can take your child back to the 1950s. It's a beautiful replica of a police tow toy that you would have seen in 1955, only small. Your grandpa may love it, too, since this toy is so old. This action tow toy for children offers towing action, doors open, and other features.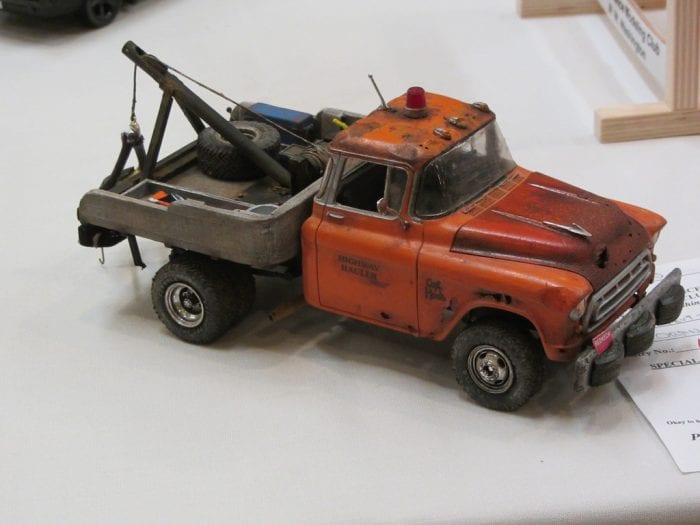 VTech Go! Go! Smart Wheels Tow Truck
This is another excellent tow toy for toddlers. It has a lifted pulley system for children that plays melodies and says phrases. It can teach children the alphabet, particularly the letter T. These toys have lights and other cute bells and whistles. What's nice is that batteries and other accessories are included.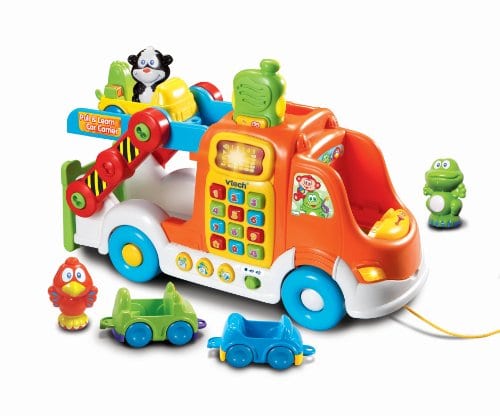 Set of 4 Tow Trucks from Small Car
As the name implies, this set comes with four tow trucks. It includes a retro 1953 tow toy and comes in beautiful die-cast metal. Because of how well-made this toy is, this is ideal for an older audience who can appreciate its build and not slam it into the walls. Adult collectors may also like its quality.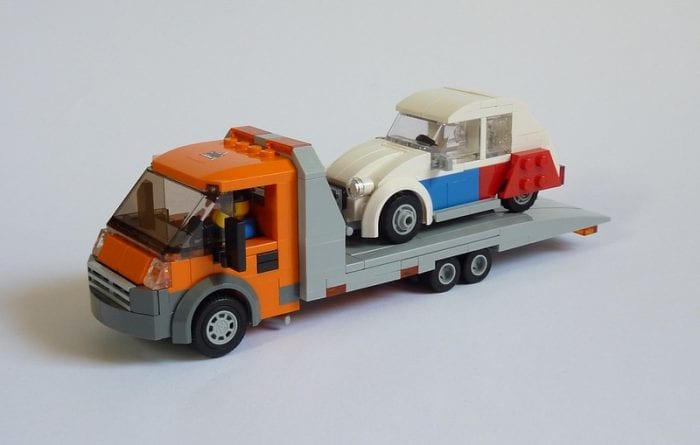 Sons of Anarchy Maisto Die-Cast Tow Truck
This is a TV show that isn't exactly equipped or appropriate for children, to say the very least. However, the tow truck from the show is excellent for all ages. It's another die-cast vehicle that works great for older children. With a detailed interior and opening doors, it's great for older children, collectors, and cool fans of the show alike.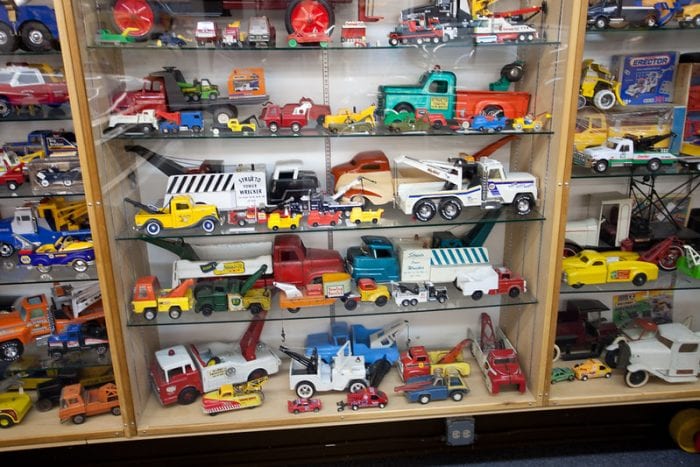 Fast And Furious Jada Tow Truck
The Fast and the Furious is another franchise intended for an older audience, but this tow toy is excellent for older children. It has plenty of detail and a hood, doors, and other interactive features. Be like Vin Diesel and Speed to get this toy today.
This toy from Jada Toys is one of the most popular because it's fun to use, and it certainly offers a lot of experience if your child likes these fun toys for children.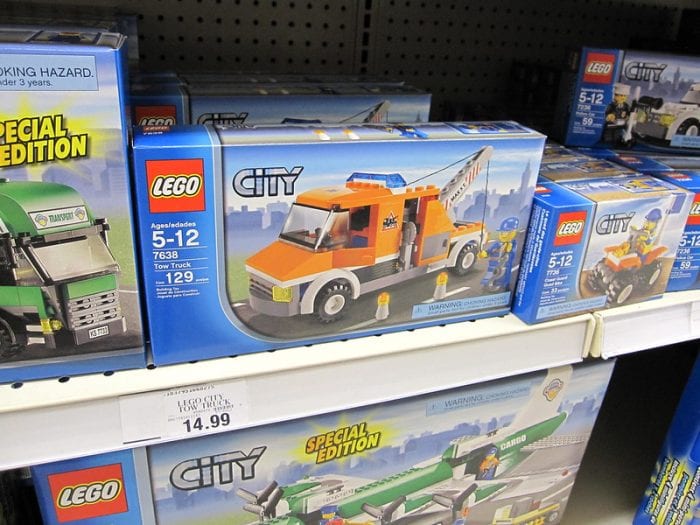 Disney Pixar Cars – Mater
Cars is a movie trilogy by Pixar starring talking cars. You probably knew that already, but in case if you didn't, then now you know. Mater is a talking, rusty toy voiced by Larry the Cable Guy, and there has been plenty of merchandise for him. This is a car that has quite a bit of detail to it, making it great for older children and collectors alike. While it can't tell you jokes about getting 'r' done, it can do quite a bit. Get Mater for your child today.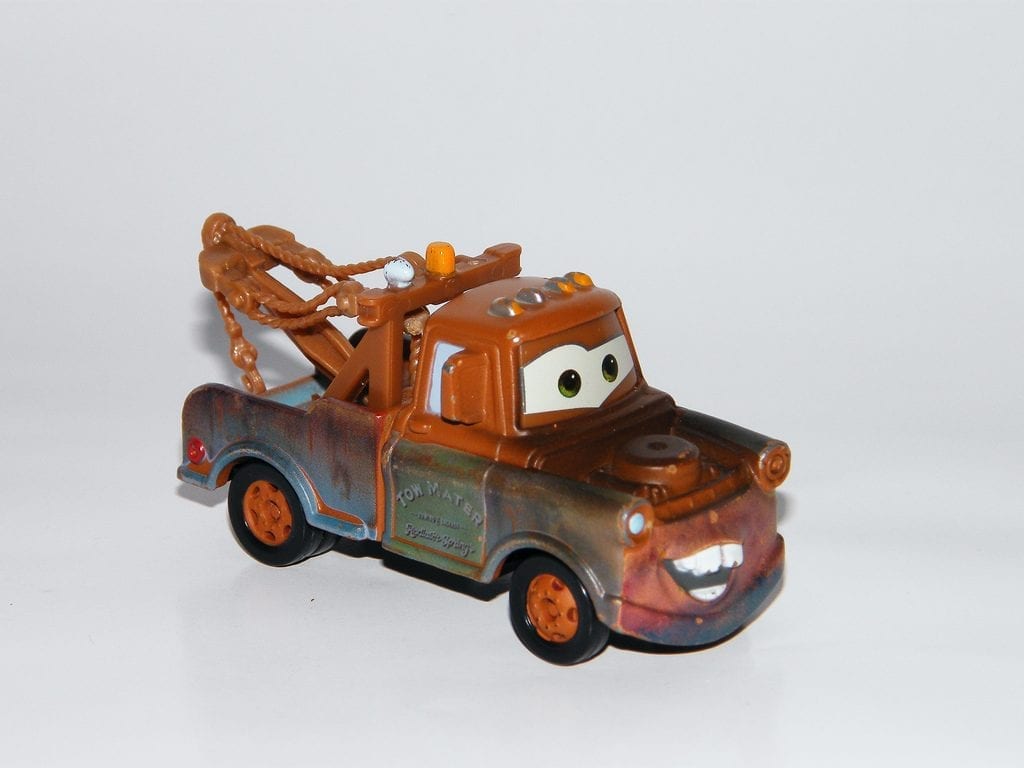 Playskool Play Favorites Rumbling Tow Truck
Playskool is a brand that caters to your babies. This toy, in particular, is excellent for smaller children. It has a hook to pull some light objects, and it makes a noise as well. It's brightly colored, and your toddler will probably love every bit of it. Try it today and see how much your little tyke likes it and helps with their hand eye coordination.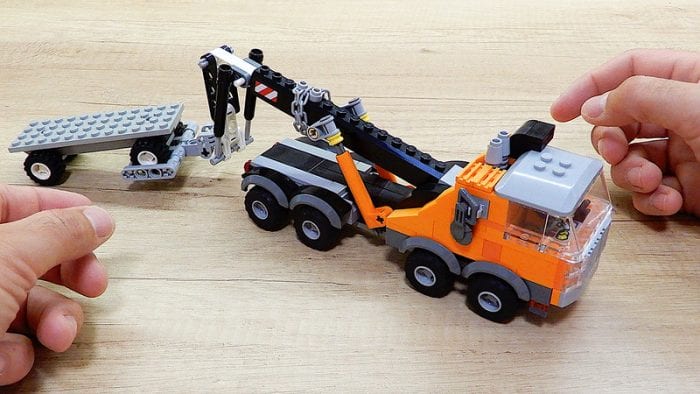 LEGO DUPLO Tow Truck
Lego is fantastic for many reasons. The reason is that it teaches children how to operate and build things. If you want your child to be creative, this toy allows your child to build their tow truck and then hook anything to it. It's a great way to encourage lots of play, and your child should love every bit of it.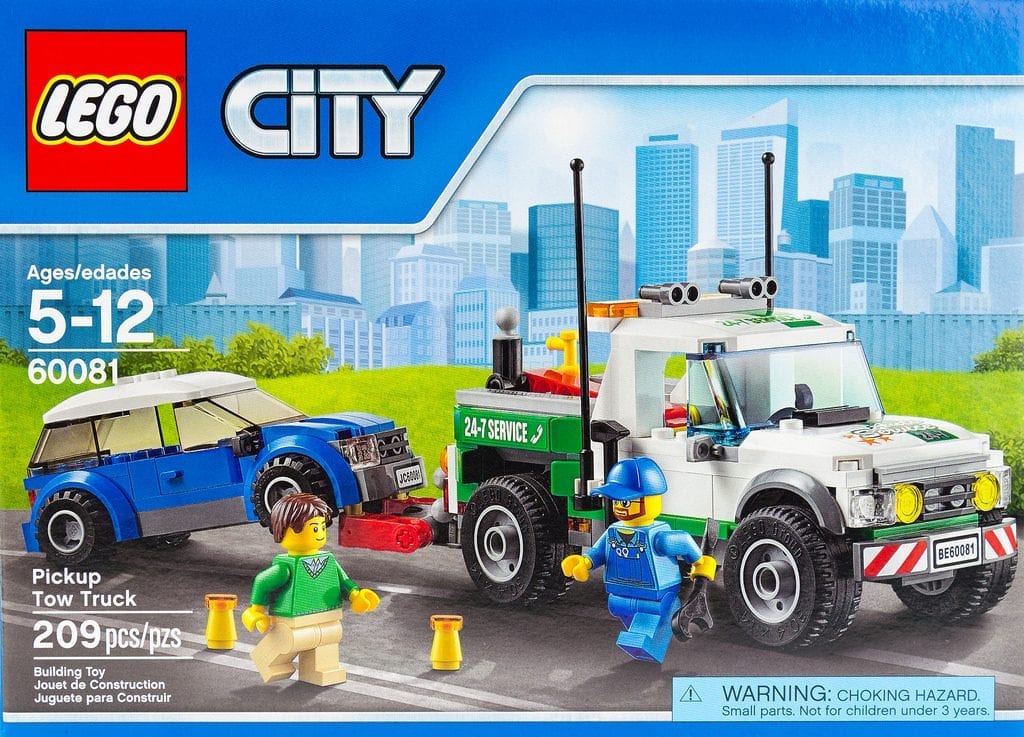 Battat Micro Toy Truck
This is a great toy for younger children.  You can get it in the form of a delivery vehicle or car load toy. Each of these little trucks is driven by Battat people, small little characters that fit in the seats, so it's a great little toy to really build a fun experience.
Hess Toy Heavy Duty Wrecker
This is a delivery vehicle that's sleek and beautiful. It is a heavy-duty wrecker, so it's good for even the most rough of pretend play. It is a sturdy heavy-duty wrecker for all that pretend play that involves towing and wrecking.
You can attach cars to the back of the heavy-duty wrecker toy, and with this wrecker, you'll be able to use it to carry other cars around. it's a great wrecker toy that's a heavy-duty model, and with an air pump action tow toy, you can have even more fun with this.
Lego City Tow Truck Police Toy
This is a bit different because it's a police toy that's perfect for pretend play in the city. It is a small building kit that builds a ramp for a wrecker police car.  It comes with not only a tow truck police toy but also some officers, a jail, and even criminals to nab.  It is a great police toy for children because not only does it build fine motor skills, but with the car loader in this, your child can learn a lot about this.
Tonka Mighty Motorized Toy Truck
This is a motorized toy that is fun for children. The Tonka Mighty Motorized toy is a toy vehicle that is big for them to play with. It comes with real-life sounds, and it is big enough that children can build fine motor skills while playing with it.  The Tonka Mighty Motorized tow truck is a great toy vehicle for pretend play. It's big, fun, and a great toy vehicle that children ages 3 and up can play in the dirt.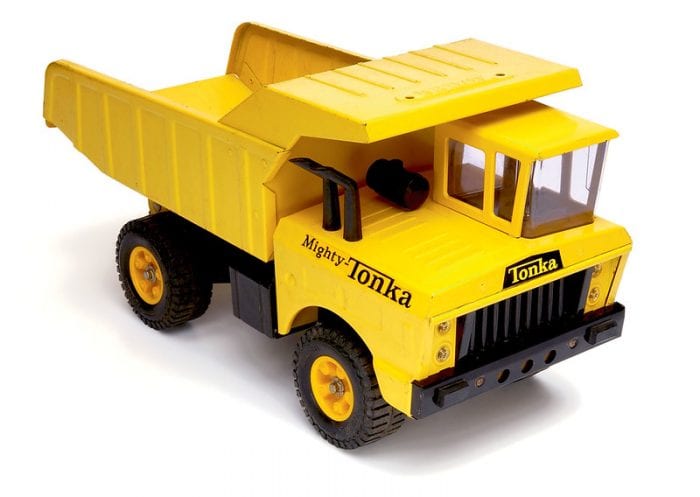 Duplo My First Toy Tow Truck
This is different than the Lego City toys as it's a very basic toy vehicle that teaches letters.  You can build the truck in certain ways to build different letters and words, and it's a fun little building kit for young children to help develop fine motor skills.
Melissa Doug Magnetic Toy Truck
This is another toy that's used to help build fine motor skills.  It is a delivery vehicle with shapes that your child can put in the holes and is similar to the Duplo My First Tow toy, so great for small children.
The Melissa Doug Magnetic Toy Car loader is a great way for children to learn since it's a valuable car loader that teaches some great skills to children.
Some of the big heavy-duty toys for kids with friction power are:
Max tow truck
Max tow truck turbo
Tonka Steel Retro Tow Truck
Dickie Tow Toy Truck
Driven by battat micro tow
Flatbed tow truck
Nickelodeon blaze
Monster machines tow trucks
When buying a tow toy, don't just think of the price. Make sure to get one that is durable and can tow a few cars and toys. If your child is older, consider a tow toy made of more detailed die-cast metal. For younger children, get them a brightly colored plastic tow toy.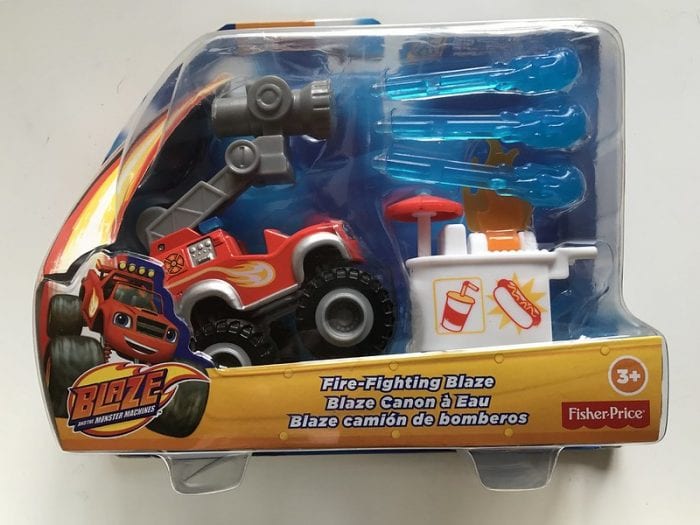 FAQs
How do you know if a toy is safe?
Use a small-part tester or choke tube to determine if a toy is dangerous for your children.
What kind of toys do preschoolers like?
Toddlers like to play with LEGO or DUPLO blocks. The other toys include:
DUPLO Basic Bricks Set
Wooden Blocks
Hunting Faeries
Mudpuppy 70-Piece US puzzle
Cooperative Board Games
Peaceable Kingdom
Wooden Pattern Blocks
Melissa and Doug
What type of toys do kids like?
Duplos: Not Legos
Discovery marble maze
Balls
Hot Wheels
Leapfrog Fridge DJ
Train table
Crayola Dry Erase Crayons
Little Tykes
What is the most suitable toy trucks for kids?
The best toy tow trucks for children are:
Tonka Steel Retro
Dickie Toys Air Pump Action
Gizmovine Toy Truck Heavy-Duty Wrecker
Bruder Man Tga Tow Truck With Cross Country Vehicle
Wader Basics
Kinsma
VTech Go!
rt 1955 Chevy Stepside Pick-up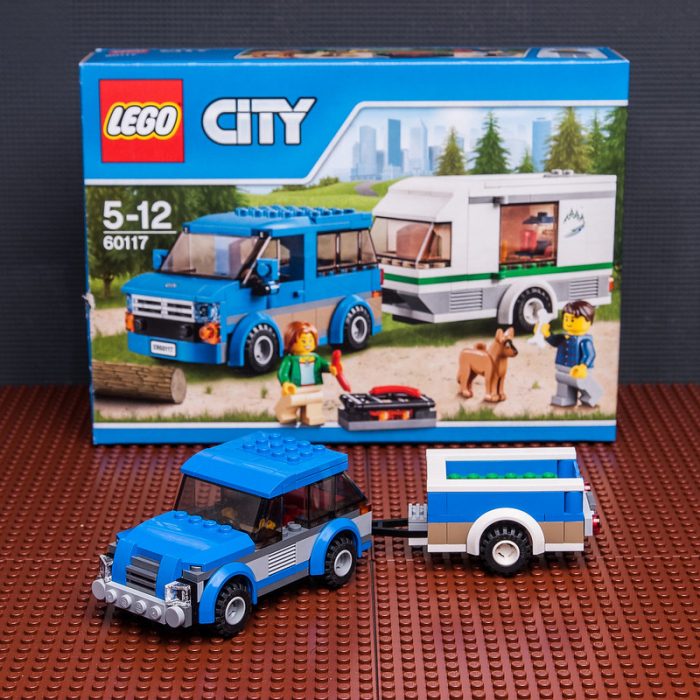 How long will my child play with a truck?
This depends on your child. Some children never get tired of playing tow truck toys, while others stop playing at 8-years-old.
Are the best toy trucks for children durable?
The great news is that the best toy tow truck for children is built to last and can pass down to younger siblings or friends.
Can my child learn anything from playing with a toy truck?
Yes, of course. Tow toys teach excellent motor skills, and cognitive skills, and even begin your child's STEM skills.
Should I pick a simple plaything for my kids?
There are a variety of trucks for your child that is available in the market. Just consider your child's preference. Some children need the noise and the action to enjoy a tow toy, but some kids prefer a simple one that can be pushed around the floor in circles.
How to find the perfect tow toy truck?
Most of the toy tow trucks are affordable enough to buy more than one. Therefore, moms and dads can find what their child enjoys and provide an alternative for different play options.
What is a big tow truck called?
What is the nicest kind of tow truck to start?
Why do children like toy trucks?
What age group plays with toy cars?
What toys are good for child development?
What is the most popular child's toy of all time?

Kids Best Toy Tow Trucks Other Resources
https://www.isisparenting.com/best-toy-tow-trucks/
https://www.fractuslearning.com/top-toy-tow-trucks-kids/
https://littleonemag.com/best-tow-truck-toys/
https://thetoyreport.com/specialty/best-tow-truck/
Last Updated on May 10, 2023 by Bernadine Racoma
DISCLAIMER
(IMPORTANT)
: This information (including all text, images, audio, or other formats on FamilyHype.com) is not intended to be a substitute for informed professional advice, diagnosis, endorsement or treatment. You should not take any action or avoid taking action without consulting a qualified professional. Always seek the advice of your physician or other qualified health provider with any questions about medical conditions. Do not disregard professional medical advice or delay seeking advice or treatment because of something you have read here a FamilyHype.com.