The Skybound trampoline is the industry's leading trampoline product. It's famous for its superior rust protection, easy-installation feature, safety certified jumping pads, and a quick bounce.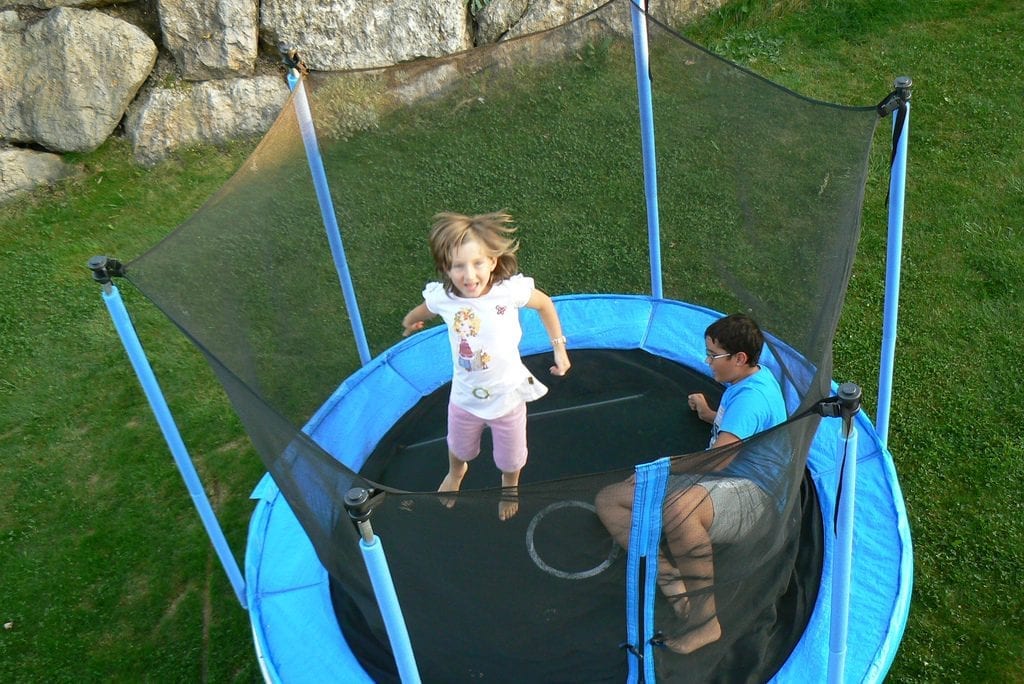 Because of its unique offerings, we recommend this for some trampoline fun. We have listed down seven fun and neat tricks you can do with your Skybound trampolines.
Double Bounce
The double bounce is probably the easiest trick in the books. The odds are you have already discovered this on your own.
This technique will require at least two people on the Skybound trampoline. Start by placing yourselves in the center with your partner. Then, both of you should try to bounce as high as you can. One of you should land half a second before the other one does.
The person who lands earlier tends to pull down the trampoline USA with their weight. Hence, once the second jumper hits the pad, he or she will be thrown upwards with extra force.
Remember to perform this trick with caution since there's a significant chance of injury if executed wrong. There's even a possibility that one will fall off the Sky bouncer trampoline because of the tremendous force on the landing. Check out skybound.com for some safety tips.
Knee Drop
Start by practicing the proper knee drop position. Kneel on the Sky bounce trampoline with a straight back, upward arms, and pointed toes and make sure that you're not sitting on your heels.
Once you have perfected the position, stand up, and complete three little bobs. Bobs are small bounces where your feet do not leave the pad. After the third bob, jump as high as you can, flex your leg at your knee, and land on the proper knee drop position.
Seat Drop
The seat drop is a neat and unique way to land on your butt without hurting. Start by jumping straight as high as you can. Once you have established your jumping position in the air, bring your legs forward. Make sure that it's parallel to the floor and Skybound trampoline as much as possible. Doing this will enable you to land on your butt.
Pike Jump
To start, accomplish a high jump in the air using the Sky bound. While you're up, stretch out your legs in front of you to form a 90-degree angle with your body. Reach forward as well while in that position. Try touching your toes so that it easier for you to align your body with the intended shape. Getting the perfect balance between reaching forward and bringing the legs up will help you create that beautiful line while in the air.
This trick is not as simple as you think. However, rest assured that you will be able to accomplish the pike jump perfectly with practice.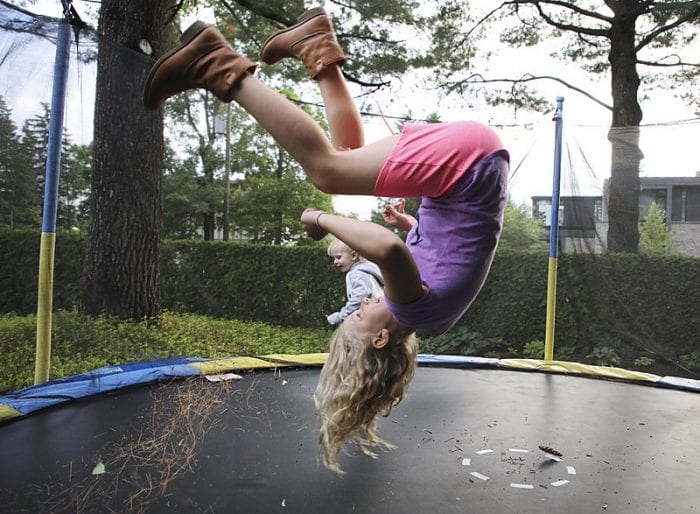 Trampoline Spin
If you want to know how many spins you can accomplish before landing, this is the perfect trick for you. The trampoline spin is as easy as it sounds. However, we recommend that you start practicing first with a small turn. Once you have mastered this, try leveling it up a notch so you can get used to the spinning motion.
The challenge with this trick is that people underestimate the difficulty of landing. Being able to land correctly is not as easy it looks. Remember to bend your knees once you feel the contact on the Skybound USA. That's one of the techniques for a proper landing.
Somersault
If you're up for some advanced tricks, try executing somersaults. There are two types of somersaults you can try—the back somersault and the front somersault.
The back somersault entails you to flip your body in a backward direction and landing on your feet. The front somersault, on the other hand, requires you to execute a front flip in the air and land with a straight body.
If you want to level this up, you can add some spice to it. You can do a double or triple somersault and even follow the somersault with a twist at the end before landing.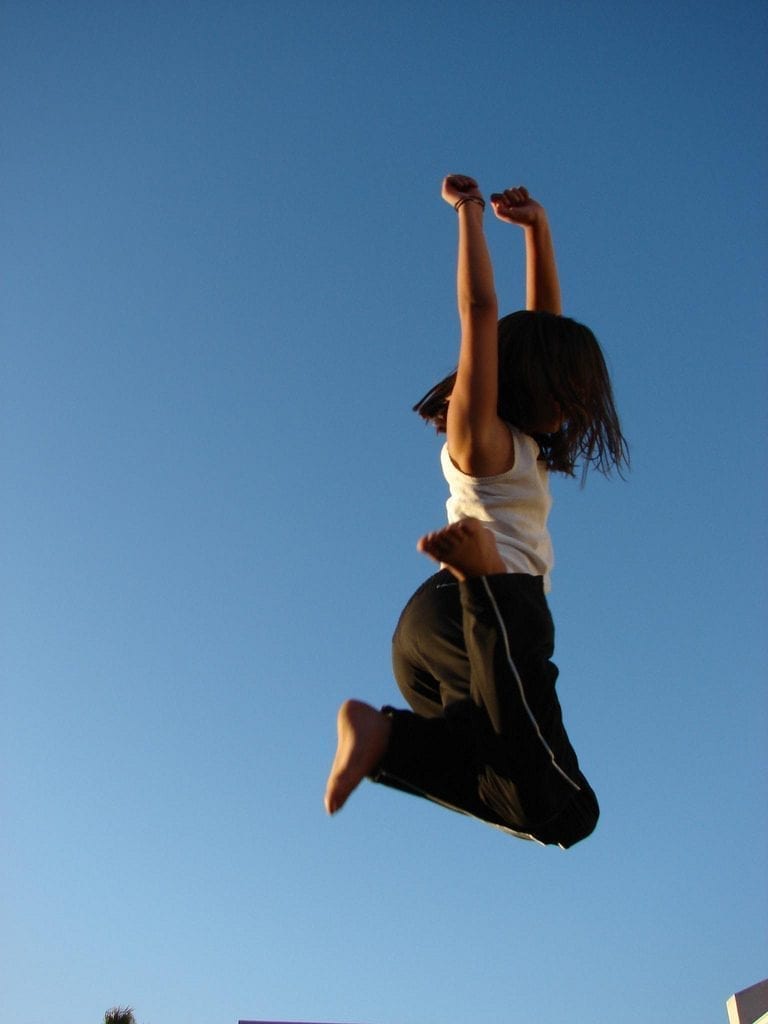 Handsprings
If you want to impress your audience, try doing the handsprings. It's an attractive crowd pleaser.
A handspring starts with you arching backward on the Skybounds until you accomplish a bridge with your belly up. This position will require you to place your hands over your head while bent backward. Once you have done this, the next step entails you to flip your legs over in just one movement so that you will be brought back to a standing position.
Remember that you should only attempt this trick if you have enough flexibility and gymnast abilities flowing in your body.
If you are ready to show your Skybound trampoline tricks to the whole world, visit skybound.com and buy one now!
Some Skybound Trampolines To Look At
With that said, you do need to choose a Skybound trampoline. Though you may be a little overwhelmed with how many there are to choose from. Let's look at some of them right now.
1.Skybound Stratos Trampolines
The Skybound Stratos trampoline is a popular one, and for a good reason. Let's take a look at all of what the Skybound Stratos trampolines have to offer.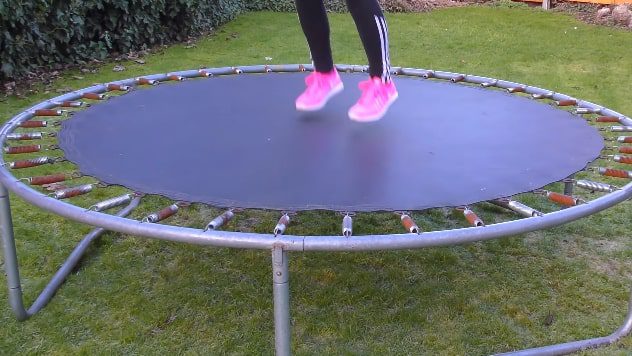 When looking for an oval trampoline, safety is always essential. Your kid can bounce a little too high and a little bit too wild, only to fall off the trampoline and hurt themselves. This is why you need a trampoline with an enclosure net to help you out. Luckily, the Skybound Stratos trampoline has you covered. The Skybound Stratos trampoline has a safety net that is UV resistant. The trampoline with enclosure net also prevents kids from hitting the safety enclosure poles as well, which is always a concern with any safety net. The trampoline with an enclosure net is something that any person should have, as a safety net could save your child.
Any kids' trampoline should be easy to install, be it an oval trampoline, a trampoline with an enclosure system, and so much more. This oval trampoline is quite easy to install, along with its enclosure system. This oval trampoline has instructions that are easy to follow. It also offers excellent customer service if you get confused with any of the trampoline parts or installing any of the enclosure poles. With that said, most should be able to put it all up in under an hour.
However, if you have any concerns with installation, such as the safety enclosure net not fitting on or some trampoline parts you don't know how they ended up there, you can call somebody.
The frame is made of steel. Seeing as how it rains and whatnot, you don't want your oval trampoline with enclosure system to go wrong, do you? Luckily, these kids' trampoline can last up to 10 years with its long frame warranty. You can buy it in peace.
You may want a kids' trampoline with varying sizes depending on how many kids you have. This kids' trampoline has different sizes to choose from. The cost goes up depending on how big you want the kids' trampoline to be. Always buy a kids' trampoline that will fit anyone.
Any trampoline is going to have a weight limit. This trampoline has 330 pounds when it comes to the weight limit, and this weight limit does not change depending on size. 
2. Skybound Orion
Next up is the Skybound Orion. This is an even more higher-end trampoline with an enclosure net. What makes this trampoline with enclosure net so nice? Let's take a look.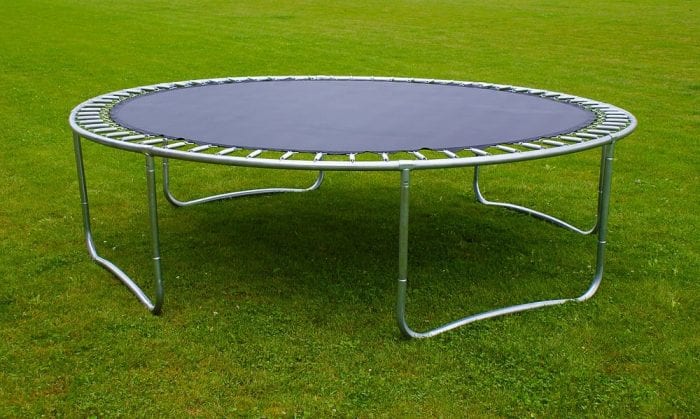 As we mentioned before, these trampolines come with a safety enclosure net. This one has a few more cool features, including more USB on the safety enclosure net. When it's very sunny out, you don't have to worry. This safety enclosure net is resistant to all-weather. It fits all the safety requirements, so you don't have to worry. Always install the safety enclosure net and trampoline parts according to the installation instructions. Make sure the safety standards enclosure net is, well, safely enclosed.
Again, the galvanized steel frame is resistant for ten years warranty. With sturdy galvanized steel, it can handle all weather. 
One of the best trampoline features is the fact that installing it is secure. With this trampoline, you can install it in under an hour, with expert installation available for a little more in case you don't want to do it.
Powerful Trampoline Springs 
One of the essential features in the best trampolines has to be the jump. You want a trampoline that goes high into the sky, and this trampoline has you covered in that regard. This one has an excellent jumping mat and powerful trampoline springs, allowing you to go as high as possible. 
3. Skybound Atmos 8FT Trampoline
The Skybound Atmos 8FT Trampoline is the next trampoline we will be discussing. The Skybound Atmos 8FT Trampoline is one that is a more mini trampoline, but still a trampoline with full enclosure and a trampoline with safety features. This 8FT trampoline is one for the ages, so let's take a look at it and the trampoline accessories it has.
When it comes to everything, this 8FT trampoline has all the features you'd come to expect: A jumping mat, a safety pad, and all the other features. It's a small, 8 FT trampoline, so an entire family filled with kids may not be able to enjoy it, but if you just have one kid, maybe two or a friend, it's good.
This trampoline is quite cheap as well. You can buy it for about $250. It comes with an expert assembly option, but with the price of that being almost as much as the trampoline itself, many may feel turned off by it.
4. Skybound Cirrus 14 FT Trampoline
The Skybound Cirrus is another trampoline to check out. Let's see what the Skybound Cirrus 14 FT trampoline has to offer.
Like the other trampolines, this one has many safety features. It has a beautiful jumping mat and safety pad and is once again easy to assemble. It's one of the best trampolines available for a reason, and it does come with some trampoline accessories as well. It's another excellent trampoline with a full enclosure and a trampoline with safety features.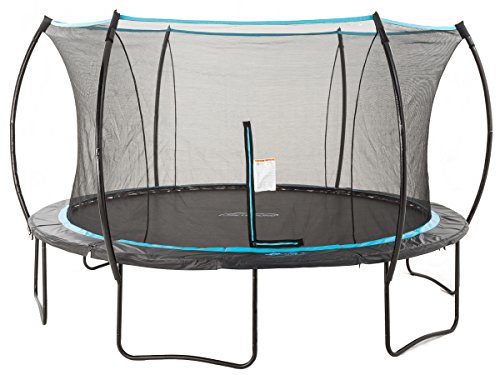 What To Look For In A Trampoline
When shopping for a trampoline, there are some features that you should check out. Let's take a look, shall we?
Most outdoor trampolines are oval or circular, but there are a few trampolines that aren't oval. Instead, they're a rectangle trampoline or another shape.
A rectangle trampoline? Yes, that's right. Many people love to use a rectangle trampoline, and they offer a few advantages. A rectangle trampoline offers higher bounce and absorbs the rebound better. Because of it, you can go higher with a rectangle trampoline. A rectangle trampoline has springs that can take more lumps, too. The jumping mat of a rectangle trampoline is just better, giving you the best quality jumping mat ever.
However, a rectangle trampoline is for experienced jumpers, so if your kid is a starter, they may benefit from the bounce of an oval one. 
The square trampoline is quite similar to the rectangle trampoline, by the way, so whichever you choose, know that you're in good hands.
There are many accessories you can purchase with a trampoline with safety nets or a safety pad. One of them is a basketball hoop. A basketball hoop brings new life to a trampoline. A basketball hoop allows your child to play a game of b-ball while bouncing around. The high jumps won't make basketball a challenge, but it's quite fun. A basketball hoop may breathe new life into your outdoor trampolines.
You want a trampoline with a good safety pad, should your little one bounce a bit too high. Many trampoline mats and pads should meet ASTM safety standards. You want an ASTM safety pad or trampoline mats that can help you jump high should you need to. Many of these trampolines that meet ASTM safety standards have a safety pad that can help your child should they fall. Always make sure your trampoline meets or exceeds safety expectations.
Many trampolines will have an industry-leading warranty that meets or exceeds your standards. The trampolines in this article tend to have an industry-leading warranty for ten years, which is about the lifespan of your average trampoline. It's a nice feeling when you know your trampoline can deliver on that promise.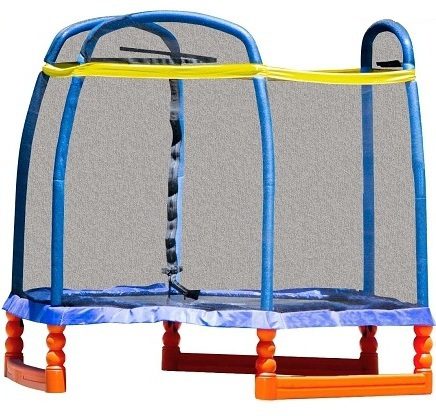 You want to be sure that your frame is made from a vinyl PVC material that is quite strong. Most are, and most have weatherproofing that allows your trampoline to stay outside during weather without any problems. You want to make sure your trampoline's frame is good, and many of them do offer you quite a few options.
You want a trampoline that has a high upper bounce, and a good bounce in general. Your kid will be a little disappointed should the trampoline not bounce that high. Luckily, all these trampolines are quality with their jumping, allowing for hours of fun. 
Some trampolines have a shoe bag where you can put your shoes in. This feature allows your kids to have a safe place to put their shoes. If you have a dog or another animal that may take the shoes while the kid is bouncing, this is a good investment. 
While trampolines stay securely on the ground on their own, an anchor kit is still a good investment. You never know when the storm of the century will come and blow the trampoline away, or when roughhousing gets extreme. An anchor kit can secure your trampoline to the ground, and once it's secured, it's hard for you to move it. Make sure your trampoline has one.
You may want pole caps you can put on your trampoline legs when not in use. These can be quite decorative, so try them out and see if they work for you. 
You want a trampoline for a reasonable price as well. Different trampolines will cost different amounts of money, with some of them going from a few hundred to over a grand. The more bells and whistles a trampoline has, the more expensive it will be. It also applies to its size. The bigger it is, the more it costs, usually. 
If you want to save money on a trampoline, here are a few ideas:
Buy a smaller one, and if your kid likes it, consider upgrading to a bigger one in the future. 
Skip out on expert installation and instead install it on your own. Most trampolines are quite easy to install, which is quite lovely. 
Consider buying a trampoline without any unneeded accessories. Safety accessories like nets are essential, but you may not that extra basketball hoop.
Shop online and use coupons, as you can find a lot better deals when you do that. 
This way, you can find a quality trampoline for not too much money. Good, quality trampolines can help your kid become more athletic and grow more, so try them all out and see how good they are for you. 
Other Trampolines To Consider
You don't need a Skybound trampoline necessarily. You may want to consider the Vuly Thunder, and if not that, then the Orion Oval Trampoline. Both the Vuly Thunder and the Orion Oval Trampoline provide you with quality bouncing and for a reasonable price.
When trying trampolines, see if there's a sports store nearby where you or your kid can hop on them for a few minutes and decide if it's the right fit for you. When ordering online, see if there is a good return policy should you or your child not like the trampoline. 
A good return or replacement policy is also essential if you end up with a trampoline that is defective or has missing parts. If you suspect that your trampoline is faulty, you should return it as soon as possible.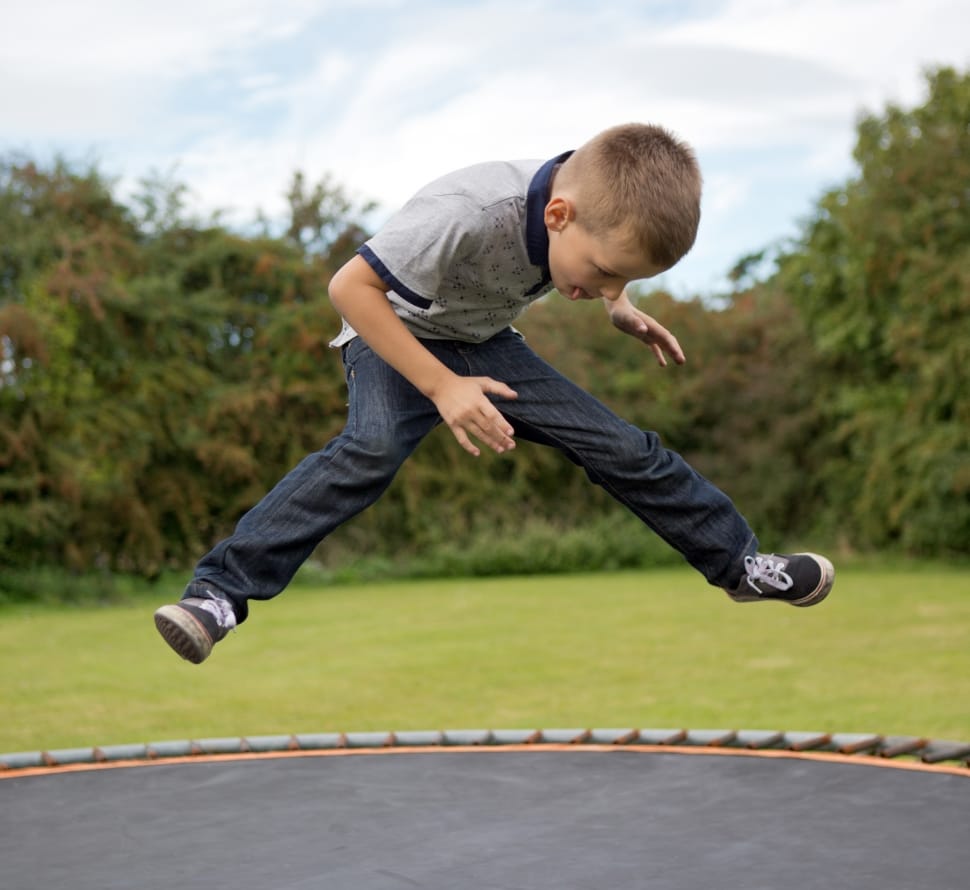 Conclusion
In addition to doing all sorts of neat tricks, these trampolines are sturdy and can get the energy out of a bouncing kid. If you're considering a trampoline for your child, you are in good hands. Make sure you are buying a trampoline that is high quality, and your kids will love you for it 
Trampolines are a fun and classic way to get yourself and your children into working out.
FAQs
The weight limit on a 14-foot trampoline is usually 250 to 350 pounds.
What is the best size trampoline?
When looking for the best size trampoline, it will still depend on the availability of space that you have. Typically, you can choose the eight or 10ft trampoline as the best size if you do not have a huge space in your area. This size is perfect in a backyard with a few children.
Are trampolines safe for two-year-olds?
Generally, trampolines aren't safe for 2-year-olds. It is because 2-year-olds do still have soft muscle tissues making them prone to accidents or compression when using the trampolines.
What age is suitable for a trampoline?
The perfect age for trampolining is between 4 to 10 years old. You can start with the 8ft trampoline if there are two kids or less so they can still have enough space for jumping and bouncing.
Is a square or rectangle trampoline better?
A square or rectangular trampoline has both its pros and cons. If you have a smaller area, a square trampoline is better. Rectangular trampolines need a much larger area, but they provide higher bounce, so it's recommended for gymnasts and athletes.
What is the standard trampoline size?
The size of a standard trampoline ranges from 8 ft to as high as 15 ft. Normally, an average size trampoline measures an average of 12ft.
What is the best trampoline for toddlers?
Here are the top-rated trampolines for toddlers:
The Original Toy Company Fold & Go Trampoline
Little Tikes 3′ Trampoline
Gymnast Portable & Foldable Trampoline
SkyBound Trampoline Super 7
My First Trampoline 84
Kangaroo's 36″ Indoor Trampoline For Kids
Bazoongi 48″ Bouncer Trampoline with Handle Bar
DISCLAIMER
(IMPORTANT)
: This information (including all text, images, audio, or other formats on FamilyHype.com) is not intended to be a substitute for informed professional advice, diagnosis, endorsement or treatment. You should not take any action or avoid taking action without consulting a qualified professional. Always seek the advice of your physician or other qualified health provider with any questions about medical conditions. Do not disregard professional medical advice or delay seeking advice or treatment because of something you have read here a FamilyHype.com.
Last Updated on March 20, 2020 by Gofa Dela Pena