Do you have fears about how your kid will react if you decide to supplement or entirely shift to formula feeding from breast milk? Before you get confused, it is important to understand that the best ones that taste good are not just about taste; it's also about complete nutrition and overall health. It should have the right balance of nutrients and vitamins altogether. Let's discuss more about its significance here in this article.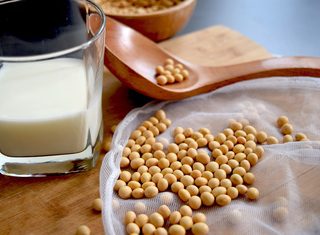 Source: pxhere.com
Some of the most common nutritional benefits that you see in the best infant milk are DHA and ARA which is for a child's brain and eye development, another thing to check is the base of the infant milk if it's cow's milk protein, soy-based, or protein hydrolysate formulas. Especially when it's paired with the best water for baby formula.
Tasteful Baby Formula Ingredients
Tasteful infant milk is usually made of cow's milk protein and soy protein. This combination of soy baby formula provides a lot of protein with all the essential amino acids as well as DHA and ARA for infants and toddlers. The other ingredients are added to provide extra vitamins, minerals, antioxidants, and probiotics. Also, you can try the best baby cereal to mix with formula. There is also the best baby formula for gas that can help prevent the build-up of gas in your infant's intestines. Although, we all know that the best milk for babies is still breast milk here we give you the best infant's milk to choose from for your little angels.
Popular/Best Baby Formula Brands
Choosing infant milk with a taste similar to breast milk may seem like the greatest option, but this isn't possible because the breast milk taste varies over time.
When it comes down to it, some infant milk have a tastier taste than others, and they're more likely to be picked up by babies who are breastfeeding and used to the taste of breast milk.
Importance of Monitoring Sugar Content in Infant Milk
Choosing the best formula for newborns that has a similar sweetness to breast milk is ideal but keep an eye on the amount of sugar in the bottle, and make sure that no artificial sweeteners like corn syrup solids are included in the infant milk. When it comes to nutrition and flavor, these are the milk for infants that come closest to the benefits found in breast milk. Some milk for infants contain rbGH (sometimes called rbST), and artificial growth hormones given to cows to help them make more cow's milk. Some parents are concerned that this added growth hormone can cause health problems in kids, so you might want to keep an eye on that too.
Enfamil Enspire Infant Formula With MFGM & Lactoferrin
Breastfed newborns will benefit from this product despite its higher price point, as it contains only nutrients in breast milk. To begin with, it contains lactoferrin, an essential component of colostrum, the first breast milk your body produces during pregnancy. This is also why it is important for pregnant mothers to include the best milk for pregnancy in their meal plans. A child's immune system and digestive system are both supported by these nutrients.
Non-GMO for Breastfed Infants
Milk fat globule membrane (MFGM) is another important component of your baby's cognitive development, which is included in this powdered infant milk. Iron, choline, and omega-3 docosahexaenoic acid are also included in Enfamil Enspire, in addition to these two critical nutrients (DHA and ARA). Additionally, it's vital to note that the best baby formula for breastfed babies does not contain genetically modified organisms. Although according to their official website, the nutritional values of Enfamil Enspire Infant Formula With milk fat globule membrane (MFGM) & Lactoferrin are inspired by those found in breast milk, that's why it's not surprising to think that some parents choose this infant milk as one of the best milk for infants in the market.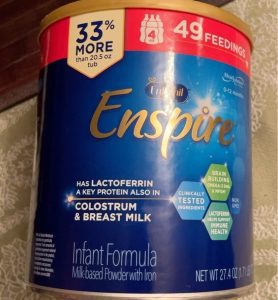 Source: world.openfoodfacts.org
Gerber Good Start A2 Milk Baby Formula
This best-tasting infant milk is prepared with A2 milk, which sets it distinct from many other kinds. It is also the best formula for colic babies. Casein (a milk protein) is referred to as 'A2 milk,' and milk with a high concentration of A2 beta-casein is referred to as such.
Good Start Infant Milk for Sensitive Stomachs
Lactose-intolerant people may find it easier to digest A2 milk than ordinary milk, according to some specialists. If you're worried about how the milk for infants will affect your baby's digestive system or if your infant has a sensitive stomach, you might like to start with Good Start.
Reuteri, an essential probiotic for a infant's digestive health, is also included in the infant milk recipe. According to the results of a 2011 study, this probiotic may even help with the symptoms of colic. Prebiotic 2′-FL Human Milk Oligosaccharide (HMO), which is found in breast milk and is critical for healthy digestive tract development, is also included in this milk for infants.
In order to help your infants eyes and brain develop properly, Good Start contains DHA, a fatty acid that is not found in any other milk for infants.
Enfamil A2 Premium Infant Formula
When it comes to digestive health, A2 milk is thought to be superior to regular milk. So, if your kid has a sensitive stomach, you should think about giving him or her this infant milk. Aside from GMO-free DHA, this product is also gluten-free.
As many parents have discovered, this best formula for baby works wonders in reducing gas symptoms, which means your child will be happier and more comfortable after each feeding.
Breastfed babies are more likely to prefer it because it's good to mix and tastes excellent.
Gerber Nestle Nan 1 Pro Infant Formula Powder
Babies that are accustomed to nursing won't have a problem with the formula's taste. It contains 2′-FL HMO and L. reuteri, therefore, it shouldn't be a problem for your child to eat. For many parents, the fussiness associated with gas or indigestion has been alleviated by giving their infant this powdered infant milk.
This best-tasting powdered formula is also affordable.
Earth's Best Organic Dairy Infant Powder Formula with Iron
Because the U.S. Department of Agriculture (USDA) has certified its infant milk powder as organic, you can have complete confidence in its organic status.
However, that doesn't imply that non-organic infant milk are necessarily inferior to organic infant milk, as all infant milk must meet certain nutrient requirements before they can be on the market, as mandated by the US Food and Drug Administration (FDA). When it comes to organic products, Earth's Best is an excellent starting point. Organic baby formula (like all infant milk) is made from either cow's milk protein or soy protein. The only difference is that the cow's milk or soy used in the organic formula is free of artificial growth hormones, chemicals, and pesticides, which, in theory, makes it safer than non-organic infant milk.
Importance of Iron in Brain Development
One of the most important nutrients for the healthy development of the brain is iron. In addition to DHA and ARA for brain and eye development as well as the nervous system.
Organic lactose, whey protein concentrates, and corn syrup granules are among the other constituents. There hasn't been a lot of acid reflux, gas, or yellow spit-up among parents who have switched from nursing to Earth's Best Organic Dairy Infant Powder Formula with Iron so many reasons to consider this as the best organic infant milk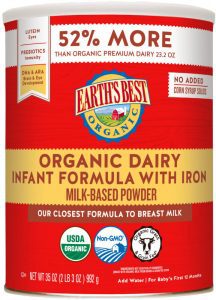 Source: world.openfoodfacts.org
Happy Baby Organic Infant Formula
It is USDA-certified organic and does not contain any genetically modified organisms. Maltodextrin, a sweetener made from wheat, rice, or corn, is not included in this product.
Prebiotics galactooligosaccharides (GOS) and fructooligosaccharides (FOS) are included in this infant milk (FOS). They aid in promoting digestion by providing food for the beneficial bacteria in the stomach.
Those who have gassy newborns should try Happy Baby since it is one of the best on the market for them. DHA and ARA are also included in this formula, as well as a slew of other nutrients critical to your child's development. Always keep in mind to check and make sure that the formula does not contain any artificial growth hormones.
Enfamil NeuroPro Infant Formula
MFGM or milk fat globule membrane can also be found in Enfamil NeuroPro, which is a child's formula. MFGM is a naturally occurring nutrient in breast milk that promotes a child's cognitive development. Adding MFGM to infant milk may improve cognitive development and even prevent infection, according to a study published in 2019.
Alleviating Fears of Baby Formula Shortages
It's wonderful to know that formulas exist and that no baby formula shortages will happen, as this can help alleviate parents' fears that their formula-fed babies would be more susceptible to infection or sickness than a infant who breastfeeds. There are currently at least 3 forms of formula milk powdered formula, ready-to-feed formula, and liquid concentrate infant milk. The first two you might be familiar with but the last one which is the liquid concentrate formula is a form where you just add water and the liquid concentrate infant milk with the precise amount then just shake it, it eliminates the scooping part in the powder infant milk.
Prebiotics, DHA, and ARA are included in this mix, which is free of GMOs. Taurine, calcium, and vitamin D3 round out the list of essential nutrients.
Enfamil's more gentle infant milk might be used if your infant has a delicate digestive system. What do you think are the best milk for infants?
Bookmark the Family Hype page for more updates on the best milk for infants!
Frequently Asked Questions
What Is The Most Common Infant Milk ?
The most common infant milk in the market these days is made with cow's milk, usually packed with amino acids, ARA and DHA, and all other basic dietary nutrients that a growing baby needs. But all babies have different needs and one baby might thrive with a formula made with cow's milk ut another might be lactose intolerant and would do better with lactose-free infant milk. The best way to know what brand to give your baby is still to talk to your doctor and have them recommend what milk is best
What is the closest formula to breast milk?
What infant milk do most pediatricians recommend?
Which infant milk kind is best?
Just to be clear, breastmilk is still the best milk for babies and it is highly recommended that they drink breast milk at least for the first year of their life. Now, if we are to talk about infant milk, there are different types of milk for infants, we have organic, soy formula, cow's milk, and ready-for-feeding formula just to name a few. One infamous device that makes preparing these with convenience is the Baby Brezza Formula Pro. The type of infant milk that your infant should take would mainly depend on their needs and conditions, so the best baby formula for each child could be different. One child might tolerate earth's best organic dairy formula well, while another infant might not take it too well. Because of each child's specific needs and what works for them, the best baby formula milk for one infant might not work for another. Talk to your pediatrician and ask for their recommendation.
What infant milk do most hospitals use?
What formula do most doctors recommend?
The most recommended infant formula brand by doctors are some of the most trusted brands like Similac, Enfamil, and Earth's Best Organic Dairy just to name a few. This will highly depend on what your baby needs, how much infant milk they consume, and how they tolerate the infant formula, the best ones for your child are not going to be the great for other children and that's perfectly normal. The doctor will recommend the best brand depending on your infant's needs, the general criteria that they are looking for are those brands have safe ingredients and are good for the baby's brain and eye development, they are also looking for brands that are not using artificial sweeteners like corn syrup that might be harmful when consumed by a child.
What formulas should you not use?
Most baby formulas or infant formulas are safes based on general standards, you should only avoid a certain infant milk if your child has milk allergies, cow's milk allergy is pretty common or if they are lactose intolerant, you might also want to stay away from products that are made with corn syrup solids which is an artificial sweetener that is not good for babies.
Which baby formula is easiest to digest?
What formula should I try first?
If breastfeeding your child is not possible, cow's milk-based infant milk for babies are also a good source of the nutrients that they need. You might want to start with the best organic baby formula to avoid artificial additives that might cause different effects for your babies such as colic or allergies. You might also want to consult your doctor as to how much infant milk your baby should consume in a day.
Do you add water before or after the formula?
What are the most famous infant formula brands?
What is the most expensive infant formula?
What is the perfect formula for breastfeeding?
Can I mix formula and breastmilk?
Which milk is best for infant weight gain?
Last Updated on May 16, 2023 by Nisa Jabajab
DISCLAIMER
(IMPORTANT)
: This information (including all text, images, audio, or other formats on FamilyHype.com) is not intended to be a substitute for informed professional advice, diagnosis, endorsement or treatment. You should not take any action or avoid taking action without consulting a qualified professional. Always seek the advice of your physician or other qualified health provider with any questions about medical conditions. Do not disregard professional medical advice or delay seeking advice or treatment because of something you have read here a FamilyHype.com.