Tracks have captured the imaginations of kids for generations. Once you put a little car on it, the kid gets suddenly transported to a world of fast race course, car crashes, and goal achievements that can develop educational value, a child's imagination, fine motor skills and problem solving skills! 
Most of us grew up with some kind of race track set. You'd pick your car, place it on the race tracks and grab your remote control. Then, three, two, one, go! You'd send your Hot Wheels racing around the race car track at high speed to find a winner. Race track sets are still really popular today, and for good reason.
There are many race tracks out there, like the dinosaur track toy set. Some are big and epic, while others are simple enough for small kids. What is the best race car track for kids? Let's dive into this article, helpful in choosing what's best to get for your child.
Race Car Track Toys Set: Best Car Track Features
If you're buying a racetrack for kids, what features should you look for? Not all race track sets are meant for all ages. There are some that have a lot of track pieces, some that work for Disney Pixar cars, and some that are actually crash track sets. You want to make sure you're matching the race track set to the person who will be using it. Here are a few things to watch out for.
Assembly 
Most tracks will require some form of assembly. Your kid will have to snap together pieces, and you may need to help them. More complex racetracks for older children will require fully assembled than others, but once they're complete, they are worth it. Younger children don't need a race track set with tons of track pieces that are hard to put together. For them, you want to look for something that is easy to assemble.
Complexity 
Some racetracks are simple–when the car goes in a loop, that's it. Meanwhile, other tracks have stunt box, twists, turns, multiple paths, traps, and other gimmicks to keep the race exciting. A simple track can be stimulating enough for a young child, but older kids may want something more.
One that's really cool for older kids are criss cross tracks like the Hot Wheels Criss Cross Crash  motorized Track. The race cars race around through a track that has a criss cross in the middle and eventually can meet in the middle in a wreck. It's just like real car racing.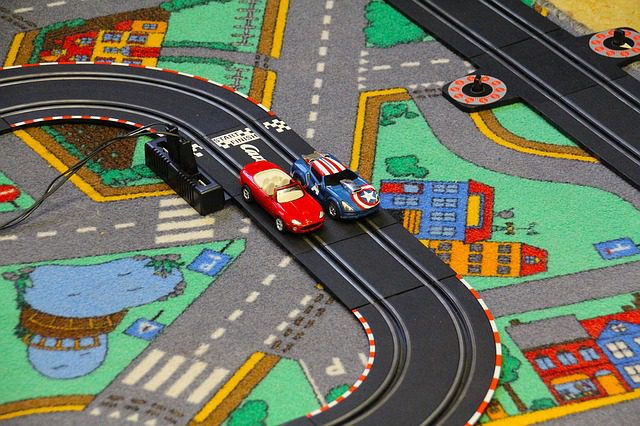 Requirements And Suitability
Some racetracks can handle small vehicles, while others may use their particular kind of car. If your kid has a bunch of cars already, see if they can find a race track that can suit them. Hot Wheels has a whole line of race track sets that kids can use all of their Hot Wheels cars on. Your kiddo can even turn a police car into one of their race cars.
You definitely need to pay attention to whether or not the race track set you are considering comes with race cars. Some may not have cars included. 
Battery or No Batteries 
Some tracks may have batteries. They make realistic noises or use battery-powered devices to make the cars speed up. Cells can mean more costs, but it can also add complexity to motorized vehicles, which your kids may love. Consider what batteries are needed and what kind of remote controls are used, if any.
Speed
Finally, we are talking about one of the most critical factors: speed. Some tracks send the cars flying like bullets, while others slow down the action a bit. A younger kid may benefit from a slower track since it lowers their chances of getting an injury, while an older kid will want the excitement that comes with a faster path.
A car race is supposed to be fast. While that's true, it should also be safe for kids to play with a race track set with finish line. If you give a young child a racing track where the cars go too fast, someone could end up getting hurt. Make sure to adhere to the age guidelines for the race car track you're buying.
With that said, let's look at a few tracks.
Race Car Track Toys Best List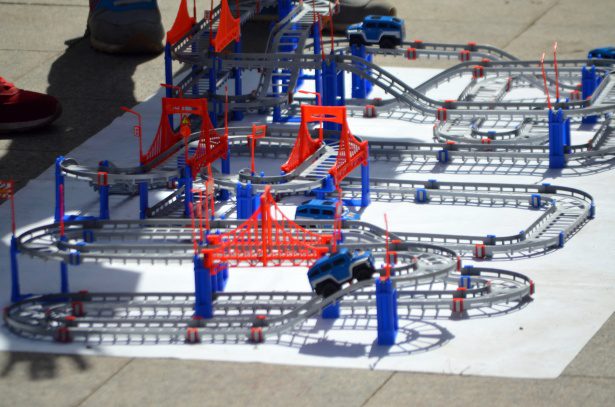 Ontel Magic Tracks Amazing Racetrack
This race track has led lights and glowing neon tracks. It's a budget-friendly racetrack, going under twenty bucks. For an older kid, they may want higher complexity, but for a smaller kid, a glowing track is fun enough. An Ontel Magic race track set has glow in the dark track pieces. That makes young children feel like they are really looking at magic tracks. The glow in the dark feature of this race track set adds something a little extra to this race track toy for younger kids.
AGM Slot Car Set With Racing Assistant
This is a high-end racetrack for older kids. It offers fast-paced action and plenty of speed. What makes this track cool is that it is smartphone-compatible. The app can show stats, commentary, and much more. It's one track that will entertain your kid for quite a bit. 
If you're looking for a race car track set that is more than just race cars going around in circles, then this one might be what you want. It's one of the best race track sets for older kids. They'll be able to gauge how they're doing and try to beat their personal bests while playing with this racing track set.
Max Traxxx Twin Loop RC Track Set
This is an RC car set with glowing cars. These cars leave behind some killer light trails, and it's great for both new and advanced racers. It has two loops for even more racing action. Although it's a bit expensive, many kids will love it and say it's worth the price.
It's pretty easy to assemble and has a moderate amount of track pieces to put together. The toy cars are fun to watch because of the glowing light trails they leave in their wake. It makes the race cars seem like they're going even faster. These cars make for one of the best race car experiences because of the light bonus feature.
Hot Wheels Versus Track Set
Hot Wheels is one of the best names in racing, and for a good reason. This is a great, cheaper race track where your kid can race with parents or friends. Not to mention, these cars can crash into each other for even more action. It's one versus everyone type of track set that the entire family is going to love.
Hot Wheels makes most of their race track sets where they're compatible with most of the Hot Wheels cars kids have in their collections. That means your kids can turn a police car into race cars, put a truck on the racing track, or any other type of toy car they have.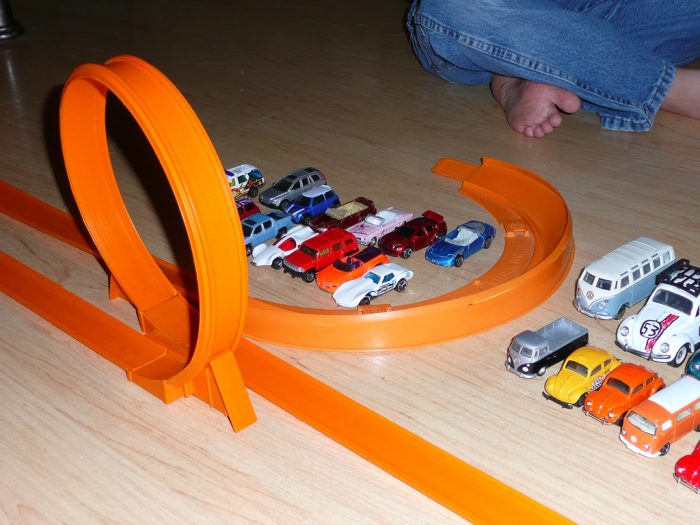 Hot Wheels Criss Cross Crash Track Set
Now, if you like Hot Wheels, this set has four different looping tracks, and they can fire the cars quickly. It's another track set that promises to crash as well. It's a more expensive version of the last track, packed with storage and other goodies. It's worth the price if your kid is serious about racing. 
With this Hot Wheels race car track, kids can spend hours watching to see if their race track toys are going to collide with each race. It's a fun track set because each cycle turns out differently. This is certainly one of the best race track sets for excitement.
Indy 500 Style Slot Car Track Ho Scale Race Set
This is a racetrack straight from NASCAR. It has two cars and a raceway that looks like a miniature NASCAR track. It's perfect for fans, young and old. It's super easy to assemble with a low number of track pieces to put together and has two pistol grip remote control guns that accelerate the cars around the racing track.
Scalextric American Racers Slot Car Race Track
Get ready to get some great speed and burn some rubber with this impressive race car set! This kit contains two cars and rates you can adjust. You can start with slower paces and then ramp it up for a super challenging race. It even has a lap counter added for even more competition and fun! It is a bit pricier but worth it! 
This one has a small, easy to assemble track. It comes with some pretty detailed cars, a Camaro and a Corvette. You can watch them battle it out on the race car tracks. It's a higher quality racing set that should be used by more mature car racing enthusiasts.
Anki Overdrive: Fast & Furious Edition
This is an expensive but awesome little racetrack. You can hook it up to your smartphone. It has over eight battlefields to choose from and plenty to do with. It's ideal for the kid who wants the best, toughest races out there.
This race track set is a bit different than other race track sets. It's not just about a racing track. Instead, you'll get to complete missions, trigger explosions, and so much more, just like in the Fast & Furious movies. This is one of the best race track toys for people who love this movie series.
Anki Overdrive Starter Kit
This is an excellent racing set with a twist. If your kid has no one to race with, they can compete with the AI, which allows them to have fun no matter the circumstances. It's a great set that you and your kid can enjoy. 
This racing track set is meant for kids who are a little bit older, though. The recommended age starts at 8 years old. You can use the track pieces to make 8 different battlefield race car tracks that are easy to assemble. Then you can sit back with your remote control and drive your awesome car around the racing track to victory. You can also grow this track set by purchasing an additional car racing set that is compatible with the starter kit for more fun (read further here).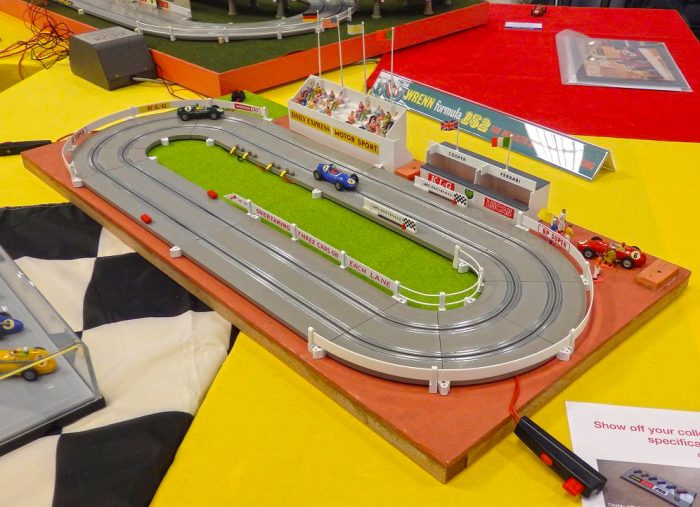 Haktoys Authentic Track Racer Set with Music
This little budget-friendly racetrack is easy to set up and includes four cars- four players. It also has a helicopter that watches over the race. It's a nice track for beginners that your little one is going to love. It's the perfect track set for younger children, even toddlers.
It's made of materials that are safe for young kids and has different colors they'll love. It does require batteries that don't come with the track set. It doesn't look like traditional race tracks. This one looks like more fun. 
Fisher Price Little People Launch and Loop Raceway
This is a racing set that is meant entirely for toddlers and young children. Fisher Price is one of the leaders in the toddler toy industry. This race car track has everything from a steep drop to a loop-d-loop, and even a criss cross section of the race car track where the cars might crash. Race tracks can be fun for all ages so Fisher Price made sure to give little ones that same excitement that big kids get from playing with race track toys.
Disney and Pixar Cars Rust-Eze Double Circuit Speedway Playset
This set is great for younger children. It's one of several that you can use Disney Pixar Cars on, like Lightning McQueen. This is a great set for toddlers and one that you can use along with other Disney Pixar Cars race car tracks.
Hot Wheels Sky Crash Tower Track Set
This Hot Wheels race car track set is pretty large. It's really convenient, though, because it can be easily collapsed down for storing. You can watch cars come down the corkscrew section of the car track, race down the steep section, and even crash. The more Hot Wheels cars you add, the more crash action you'll get. This is one of the more exciting Hot Wheels race car tracks. You can race your sports cars, a police car, a Hot Wheels truck, and more with this race car track.
Bend A Path Glow-in-the-Dark Car and Track Set
This is a cool beginner set because your little one can bend the track to create a bit of variety. It teaches kids how to customize and is excellent for young ones. It's easy to store as well, which is always a useful thing. 
Your child can make several different race tracks with this racing set because it comes with 260 track pieces. The race car track is easy to put together so your little one should be able to do it on their own. Also, these race track sets glow in the dark so it's fun to play with in a dark room.
These are a few racetracks that you may want to consider. No matter where you are, kids love to race, so get them a track that they're going to love for all time. Race tracks from heavy hitter in the toy industry, such as Hot Wheels and Fisher Price aren't likely to go over without lots of excitement from the child who's getting it. They'll probably want to get out those race tracks, grab the remote control, and send their cars roaring around the race car track, right away.
Best Race Car Toy Track For Kids FAQs
What's one of the best race car tracks for kids to buy?
A slot car set has always been popular with both kids and adults. Miniature cars never go out of toy trends. If you decide to buy, here are the five best race car track for kids that you can consider:
Scalextric ARC One American Classics Slot Car Race Track

AGM Slot Car Set With Racing Assistant App

Carrera Evolution Speed Patrol Slot Car Race Set

Scalextric James Bond Micro Slot Car Race Set

Artin Super Loop Speedway Slot Car Set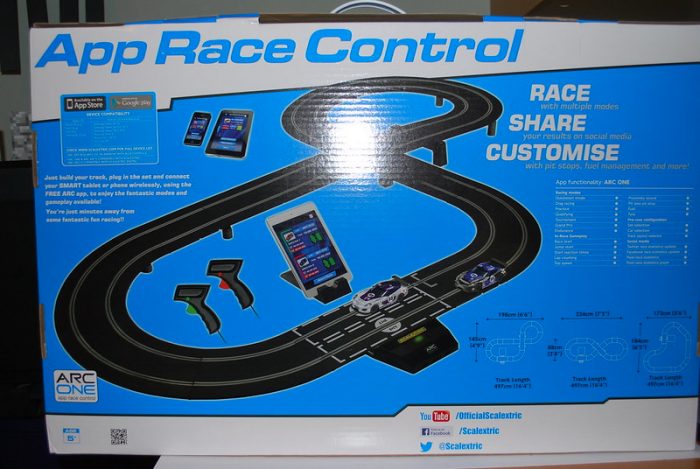 What's the fastest slot car to use for race car track?
According to Guinness World Records, Scalextric Honda F1 replica is the fastest slot car with a speed of 1,583.4 scale kph. This was reached during the Gadget show held in June 2008 at Chatsworth, UK.
How do you keep slot cars on the track?
Playing slot cars is always fun. Whether you play alone or compete with other users, you'll always find it exciting. And to make you enjoy more, you also need to ensure that your slot cars perform excellently. Here are some ways to keep your slot cars on the track:
Check your car slot condition after every five races to see if there are damages that need to be fixed.

Schedule a cleaning and oiling routine.

Replace rubber rear tires with Jel-Claw to accelerate your car's speed and improve performance.

Upgrade the copper pickup shoes to gold-plated ones to increase power and improve racing speed.

Keep the race car track clear of debris whenever it's in use.

Practice makes perfect. Continue learning until you become a pro!
How much are slot cars worth?
A complete slot car set in the 70s was around $40. It is more costly these days, especially when you get one in good condition. Rare slot cars are even more expensive and cost more than $100. And the whole track set is less than 300 bucks or less.
What are the different sizes of slot cars?
In slot cars, scales refer to sizes. There are three common slot car sizes or scales:
1:24 (1/24)

1:32 (1/32)

1:87 (1/87) to 1:64 (1/64)
What is the most popular slot car scale?
Based on the side by side standard scales of car slot, the 1/24 is referred to as the XL size, 1/32 is a large size, 1/43 is medium, and 1/64 is the smallest. Both small and medium sizes are the most popular scales when it comes to tracks for home.
How much does Anki overdrive cost?
Anki overdrive new version has a similar app-controlled set of great toy cars with a completely modular track. This latest version costs $149 in the United States and £149 in the United Kingdom. Unfortunately, it is not yet available in other big countries except these two mentioned. You can also check more price details here in CNET page.
Does Anki overdrive require WiFi?
Yes, you will need WIFI for both Android and IOS to match. Both players require to have compatible Android or IOS.
Does Anki overdrive work with fast and furious?
Yes, the Fast & Furious Edition of Anki Overdrive works with other Anki Overdrive products. It is compatible with cars, trucks, tracks, and even several accessories.
Does Anki overdrive need batteries?
Anki Overdrive is battery-powered. The battery life depends on how long you are playing the game. Like other battery-operated toy vehicles, Anki overdrive's battery duration depends on how or heavier you play.
Which race tracks have track configurations?
Does the race track car set have a car elevator?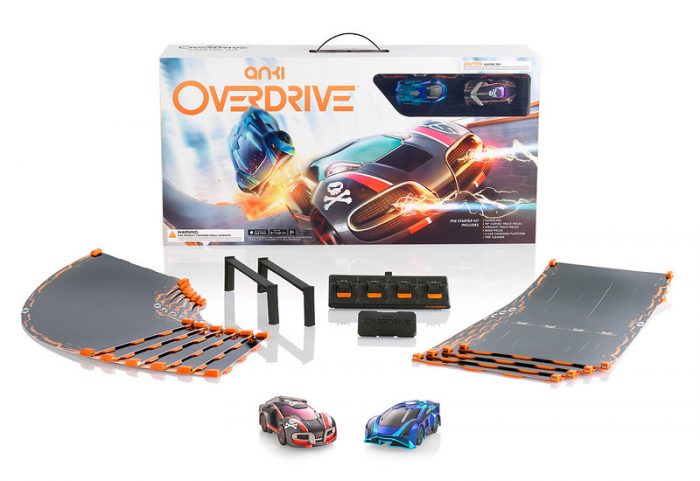 Best Race Car Track For Kids Other Resources
https://parentingpod.com/best-toy-race-car-tracks/
Last Updated on January 26, 2023 by Rejie Salazar
DISCLAIMER
(IMPORTANT)
: This information (including all text, images, audio, or other formats on FamilyHype.com) is not intended to be a substitute for informed professional advice, diagnosis, endorsement or treatment. You should not take any action or avoid taking action without consulting a qualified professional. Always seek the advice of your physician or other qualified health provider with any questions about medical conditions. Do not disregard professional medical advice or delay seeking advice or treatment because of something you have read here a FamilyHype.com.