One toy set that has become more popular in recent is the erector building set. These are building sets that test the limits of a kid's imagination and their building skills. If your child wants to be a little architect, you simply cannot go wrong by getting them an erector set.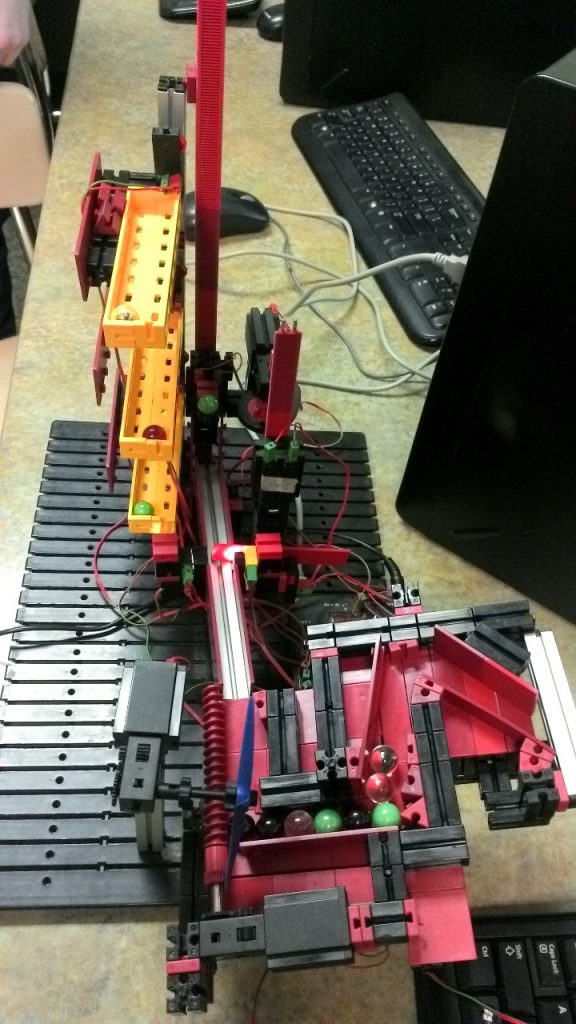 There's been a recent uptick in the world of STEM. STEM stands for science, technology, engineering, and mathematics. STEM learning educational toys help children learn valuable skills like problem solving and critical thinking, as well as allow them to flex their imagination and creativity muscles. A kids erector set is a STEM learning toy that's suitable for children ages 3 and up.
With that said, which ones are the cream of the crop? Which ones are worth buying? Let's check out some of the sets and explain why they're great.
What To Look For In An Erector Set 
When shopping for a set for your child, here are some features that you may want to look for that can help you make a more informed decision. Erector sets aren't all the same and aren't all meant for the same children ages. We're going to help you with finding the best kids erector set for your child.
Appropriate For The Age 
There are many sets designed for younger children. These include fewer parts, parts that are easier to assemble, and easy to follow instructions. These are good for young kids as well as kids who do lack the skills necessary for more advanced sets. It may even be unsafe for you to get a small child an erector set made for older kids. This is because they can have some very small parts, like nuts and bolts that small children could choke on. 
Advanced sets are meant for older children and have more parts and more complex instructions. The result is that you have a more complex product, with many moving parts. Some of these erector sets will even require kids to use real tools to build the different items.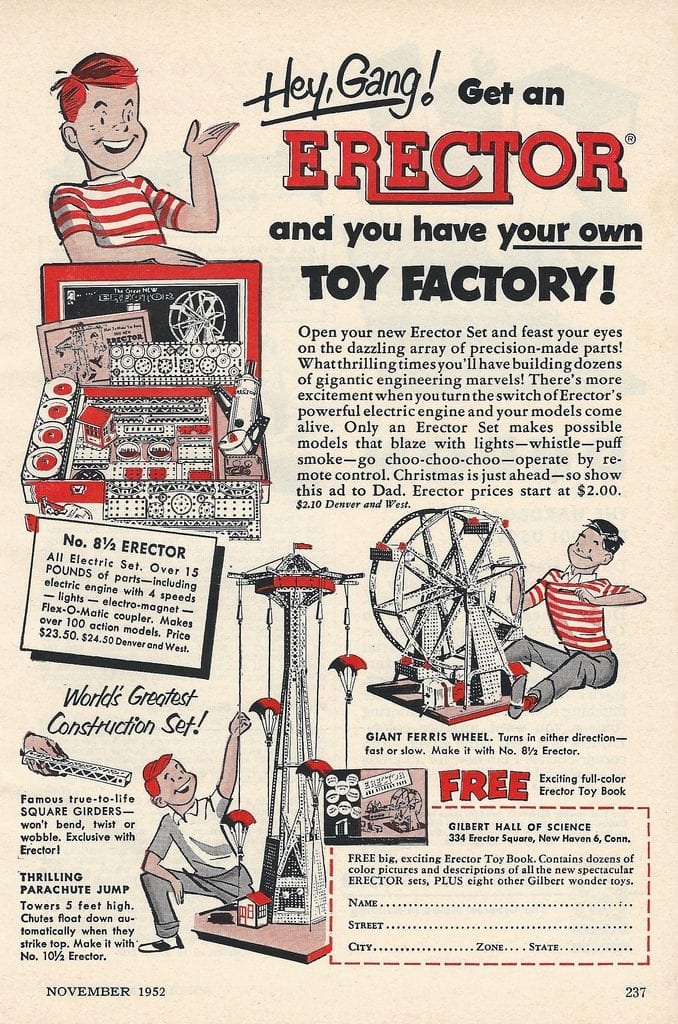 Sturdy Parts 
Since children are building it, they may scuff or possibly damage the parts if these parts are poorly designed. Look for a set that has competently made parts. It can allow your child to mess up a few times without damaging the parts. 
Different children ages may be better suited with certain materials. For instance, a younger child will probably do better with plastic pieces, while an older child might do well with metal parts.
Storage 
Many of these sets will come with storage kits. As children can lose parts, thus ruining the set, make sure you have a set that comes in easy storage. Alternatively, buy a box for the parts, and make sure that your children are storing them whenever they are done. A good storage box makes for easier clean up and helps keep everything in one place so pieces are less likely to go missing.
Variety 
Many of these builder sets will have the ability to create more than one model, with some allowing for the creation of anything. Look for a set that will hold a child's interest for a long time. 
If your child is has a lot of imagination and creativity that could be used with building blocks and other parts to make all sorts of things, then look for an erector set that accommodates that. However, you may have a child that enjoys building models by using an instruction manual with step by step directions for how to build something specific. In that case, you can look for an erector set that's well suited for that.
Now that you know what to look for, let's take a look at some of the current erector set options that you can choose from.
70 Model Building Set by K'NEX
K'nex is a brand that has been a bit overshadowed by Lego, and that's a shame, as they have some very elaborate and unique sets. If you want to get your child started in the world of K'nex, this model is a great place to start. It is a set that includes over 700 pieces for your child to work with, and you can make a whopping 70 models with it. Your child can create many mechanical parts, and it requires plenty of patience, and yet it is quite easy for any kid to learn.
This erector set has more than 700 classic K'nex pieces, but it also has many moving parts. Children ages 7 years and above can make different vehicles with a number of parts, such as wheels, rotary body parts, wings, tracks, and more. The set also includes a treasure chest shaped box to store all of the parts in.
It's a great way to introduce your kid into the building, and with so many opportunities to build, you really can't go wrong with it. Give it a spin, and you'll see what we mean as you watch your kids build some impressive structures.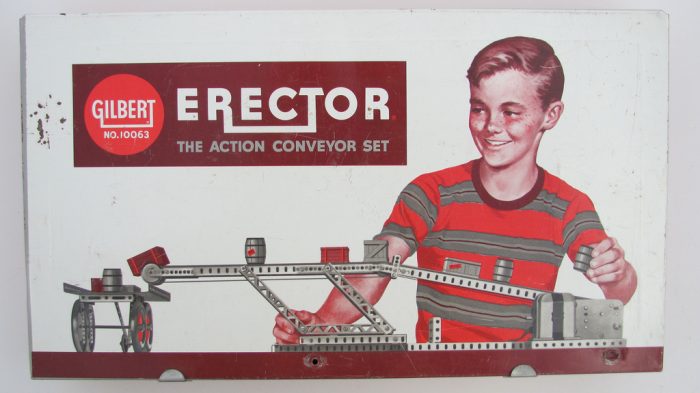 Zeliku Building Block Set
These are building blocks for big kids. It has almost 200 blocks, and other parts like screws, to work with. Your child can build many unique sets with them, and storing and transferring is a breeze. Plus, they are durable as well and easy to clean. They are great for toddlers and even teens. Also, a great way to socialize. We highly recommend these blocks for those reasons alone. From building, to using tools, to problem-solving, these blocks have them all.
This is an erector set which has building blocks and other shapes, screws and pegs to hold things together, instructions to follow like a blueprint, and tools to use for building the models. You can teach your child how to use a screwdriver, a wrench, and even a power tool while they play and have fun. This construction set can be used by children ages 3 and up.
IQ BUILDER STEM Learning Toys | Creative Construction
Another toy that helps stimulate a child's motor skills, this building set is great for older kids who just want to do some magic. It has 164 pieces, and all the pieces are unique. It comes with many different parts for a junior engineer.
An erector set like this is meant to stimulate the part of the brain that handles engineering and math. These are toys best suited for kids who like to think logically. When children try to build things, sometimes they'll run into problems along the way. Then they have to go into problem solving mode. The best way to learn problem solving is to do it. 
People of all skill levels can make something out of this educational toy, too. It's friendly towards beginners, yet offers more for advanced people. The set includes a convenient carrying case with a handle, as well. We say give this one a buy.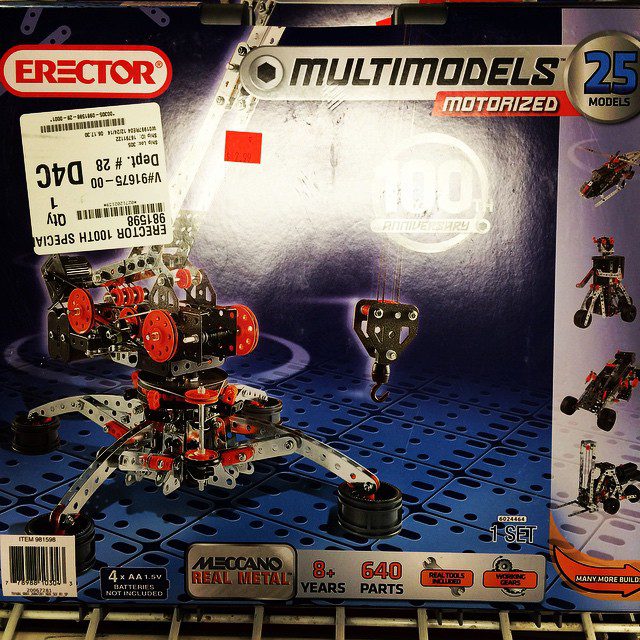 TINKERTOY – 100 Piece Essentials Value Set
It is a great building set for a younger child. As the name implies, it only has 100 pieces that are easy to put together, and best of all, your kid can make 13 models out of them. It's great for a young child who is interested in building but may not have the skills to make everything a reality. Your kid is going to love them.
They're sturdy, have instructions that are easy to follow, and are designed for a young child in mind. These also come in different types of materials. Some are made from plastic, while others are made from traditional wood. Give it to your kid and be ready to watch them tinker.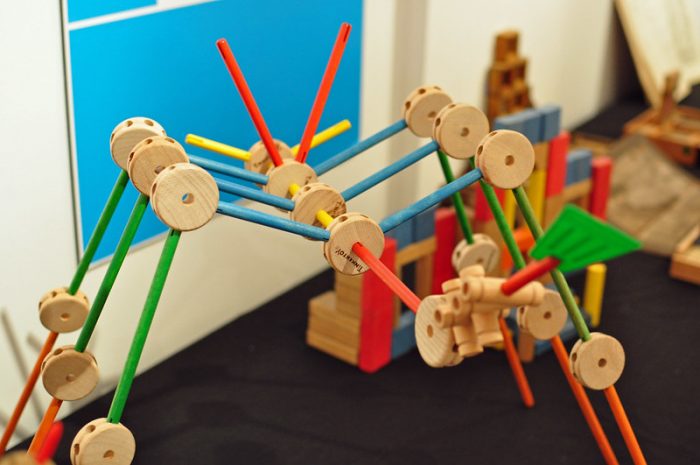 Kids First Robot Engineer Kit And Storybook
We live in an interesting time for robotics. While we don't live in an age of advanced AI robots, we still live in an age where the robots are developing and are learning. Our children are the engineers of the future, so why not give them a kit to help create their own robot? 
This kit is designed for younger kids. It only has 53 pieces, and its instructions are set with a storybook that provides more information and a story that will immerse young readers.
The storybook feature is great because it allows a young child to practice their reading skills. As for the robot building, it's good for a child who is looking to improve on their motor skills and to help them develop their overall mind. 
With that said, this may require some assistance from you. Therefore, make sure you're there to supervise. It's an excellent way for your child to learn how to listen to directions too.
Meccano Erector Set, Super Construction 25-in-1 Building Set
This erector set is a little more high end than the others. It costs a bit more. This one allows children ages 10 and up to build some pretty cool construction vehicles, including a motorized crane. It has many moving parts that can be put together to make trucks, cars, airplanes, helicopters, and more. There are 638 pieces so these are toys best used by older children. Kids will learn problem solving skills, as well as many lessons that are part of STEM subjects. This is an educational toy that's good for keeping teenagers busy and off their video games.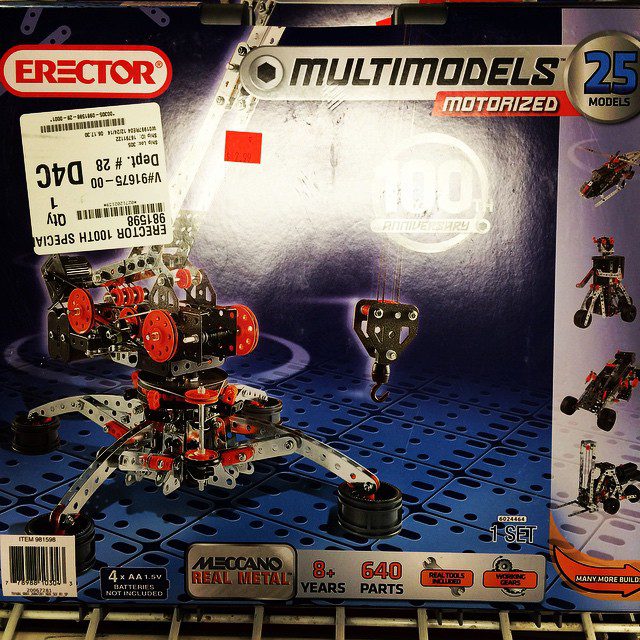 Conclusion
These sets can help your children grow and develop some skills they can use for a lifetime, including problem solving. Whether as a career or a hobby, erector sets can stimulate a child's creative interests and allow them to make some killer creations. Buy a few of them and see what we mean. Your child will love them.
FAQs On Best Erector Sets
What is an erector set?
Erector sets are building toys that stimulate your child's brain development. It is played by putting many little pieces together and creating a masterpiece. It's an educational toy that's part of the STEM category.

Why are erector sets a good gift for kids?
The best erector sets allow a child's development by letting them develop important cognitive skills, hand-eye coordination, and excellent motor skills. These are toys best suited for children who like to build things and be creative.

What are motorized erector sets?
Motorized building erector sets use motors that make different parts move. It is a bit complicated, so it is advised for children ages eight and older. Make sure to adhere to age guidelines and stick to toys best suited for the age of your child.

What is the appropriate procedure for removing the erector set from its packaging?
A stand that is made from plastic holds the toys in place in most building sets. Therefore, remove the two screws when removing the building sets from the stands.

Are erector sets still made?
Yes. Erector Sets are being marketed as "Erector by Meccano" and is now called "The New Erector, The World's Greatest Toy". You can find an erector set made by different manufacturers.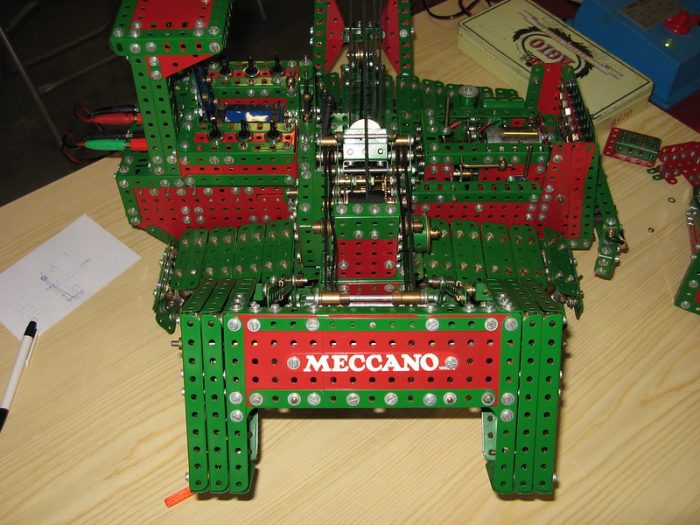 What age is Meccano suitable for?
The suitable age for the build-it-yourself Meccano sets are children aged from 5 and above. However, Meccano makes toys best suited for kids over the age of 10, as well. Check the packaging to verify what age the set is recommended for.

What are the best erector sets?
The best erector sets for kids are Eitech Crane and Windmill, Erector Empire State Box Set, K'NEX 35 Model Erector Building Toy Set, K'NEX 100 Model Building Set with 863 Erector Pieces, and K'NEX 70 Erector Model Building Set with 705 Pieces.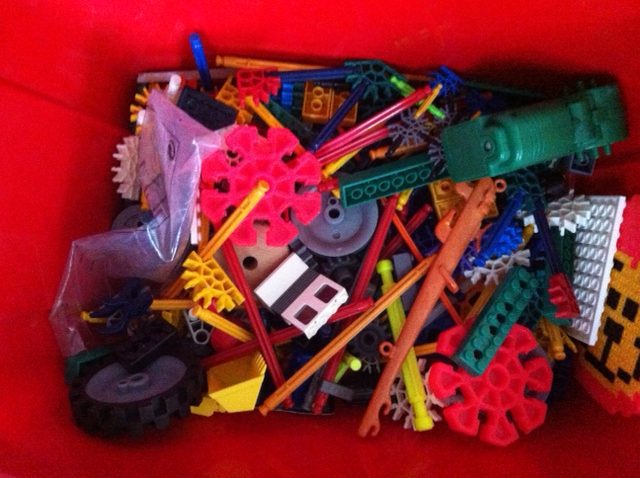 What are the best erector sets safe for kids?
The best erector sets that are safe for kids are Zeliku Building Block Set, TINKERTOY – 100 Piece Essentials Value Set, K'NEX Bridges Set, K'NEX Swing Ride Building Set, K'NEX 70 Model Building Set, IQ BUILDER STEM Learning Toys Creative Construction, K'nex 35 Model Building Set, and Meccano 25-in-1 Motorized Model Set.
Best Erector Sets Other Resources
https://momlovesbest.com/kids-erector-sets
https://www.scarymommy.com/spotted/best-erector-set-kids-legos/
https://www.aneverydaystory.com/best-erector-sets/
https://www.experiencedmommy.com/best-erector-set/
Last Updated on April 11, 2021 by Marie Miguel
DISCLAIMER
(IMPORTANT)
: This information (including all text, images, audio, or other formats on FamilyHype.com) is not intended to be a substitute for informed professional advice, diagnosis, endorsement or treatment. You should not take any action or avoid taking action without consulting a qualified professional. Always seek the advice of your physician or other qualified health provider with any questions about medical conditions. Do not disregard professional medical advice or delay seeking advice or treatment because of something you have read here a FamilyHype.com.