It's weird how something old becomes new again. A long time ago, everyone played with wooden toys. Then, plastic toys came, and wooden toys were suddenly seen as expensive and impractical. Now, with how much of a waste a plastic can be, wooden toys are making a comeback and seen as high quality and lasting a lot longer.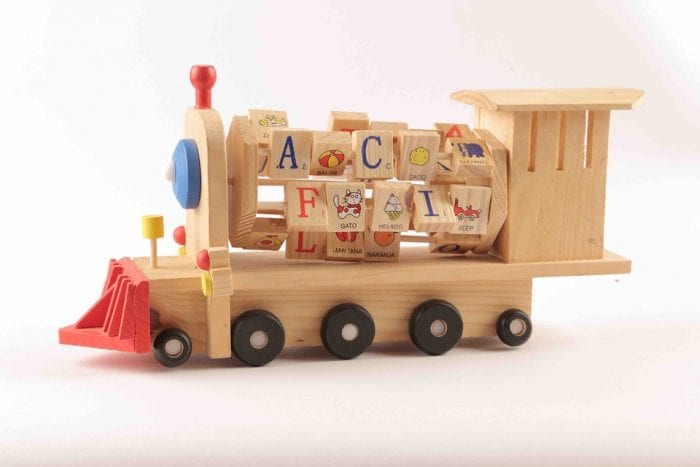 If you have a baby, wooden toys are worth checking out. Today, we will be looking at some of the best wooden toys out there and seeing which ones stack up.
What To Look For In The Best Wooden Baby Toys
Here are some features you should look for in wooden toys meant for babies
As your baby is growing, they need gadgets that can help them learn to walk. The toys that can be pushed or pulled can help them learn how to walk. There are a few toys here that can do this. The best wooden baby toys are those that are interactive.
Babies are curious. Having toys that stimulate their curiosity while giving you peace of mind is ideal. Toys such as stackers and wooden puzzles can teach your children how to be curious and figure out how some pieces can fit together to form a bigger picture.
Finally, a toy should encourage your baby to be more creative. There are some toys on this list that give your baby plenty of creativity, such as block stacking.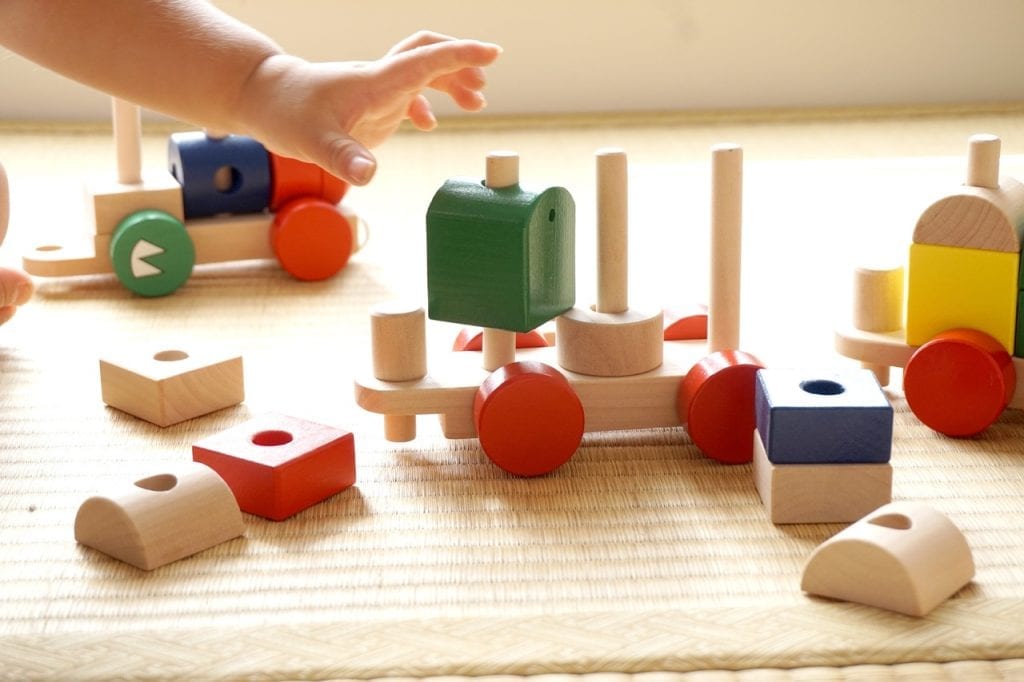 Manhattan Toy Co Natural Skwish Rattle
This is a unique little rattle. It's a rattle that's shaped like a molecule and gives babies a natural curiosity. What makes this rattle nice is the fact that it's not at all annoying. Many rattles are noisy and get tiring after a while, but this one sounds nice and is subtle. This rattle comes in colors, or you can just get a plain wooden toy as well. Whatever your choice, you're going to love this rattle and love watching your baby shake it. Read more about it here: https://www.thegoodtrade.com/features/wooden-baby-toys.
Plan Toys Dancing Alligator
Toys that stimulate a baby's ability to walk are a good idea. The toys can give a baby an incentive to stand up and pull something, or walk to their toy. This toy depicts a wooden alligator attached to a rope your kid can pull. Your kid has their own pet alligator that does not bite but instead makes a click-clack noise as your kid pulls it. It's satisfying to watch, and your baby will love it.
Melissa & Doug Stacking Train
This is a cool wooden train set that your baby is going to love. Your kid can stack blocks and other goodies on the train, and this helps them learn about their motor skills. It's a durable set that teaches children about combining. We say that it's worth a try, and you are guaranteed to love every bit of it as you watch your baby get on board the wooden train.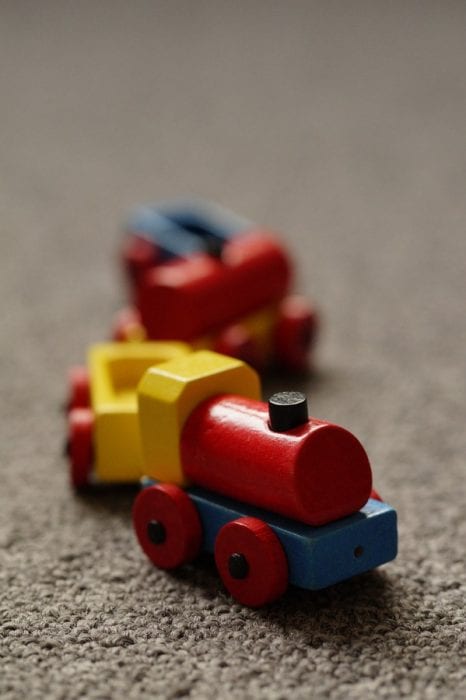 Classic Baby Beads
Beads can be a simple yet effective toy for your baby. These beads come together in an elastic cord, and you can move around these beads with ease. Plus, your baby can teethe on them. They are not choking hazards and toxic, which makes these beads a win-win for all. You can put these beads together and then watch as your kid plays with them. Fun for all.
Uncle Goose Classic ABC Blocks
This is a cool set of blocks that your baby can stack, and it teaches them about their ABCs and other educational factors that they learn. Your baby is never too young to learn, and these blocks are a fun and effective way to teach your baby how to learn. Overall, they are a great little set that proves that simple toys like baby blocks are worth having, and they can last your baby a long time.
Melissa and Doug Rainbow Stacker
The stacking toy is another classic baby toy that your child will love. It comes in many different rings, allowing your baby to stack them and sort them to make the process a whole lot easier. Plus, it teaches babies how to organize. Your baby can stack in order for biggest to smallest, and this can teach them about size and whatnot. Melissa and Doug also manufactures some of the other best wooden baby toys available. You can also find more Melissa and Doug wooden toys here: https://www.babylist.com/hello-baby/best-wooden-toys.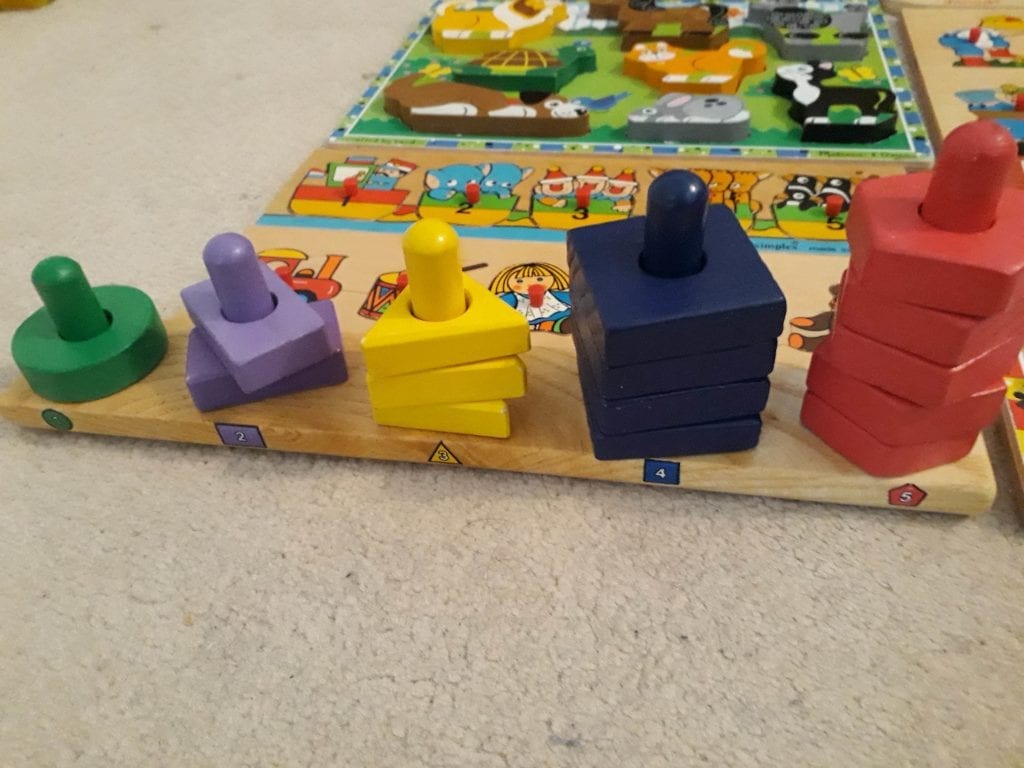 Green Start Chunky Wooden Puzzles
Puzzles are fun for all ages. However, when you're a baby, a 1,000-piece puzzle may be a bit too big of a task for your baby. Luckily, this puzzle comes with a few pieces, but they deliver, and carrying them is much easier than ever before. You just put them in a carrying case and you're good to go, which this puzzle set does come with.
And who knows? As your kid grows older, maybe they will be interested in bigger puzzles and projects. Puzzles are fun because you glue them together and then hang up your masterpiece for the world to see. Puzzles are one of the best wooden baby toys since they are educational yet still fun. 
Bannor Toys Bunny Push Toy
This is another cool little toy that involves teaching babies how to walk. As they learn to use their legs, having some support to push around is a good first idea. This is a push toy that is shaped like a bunny. It's made from all-natural ingredients and great for your child to teeth on. Also, you can custom engrave the toy, making it ideal if you want a toy that feels more personalized for your baby.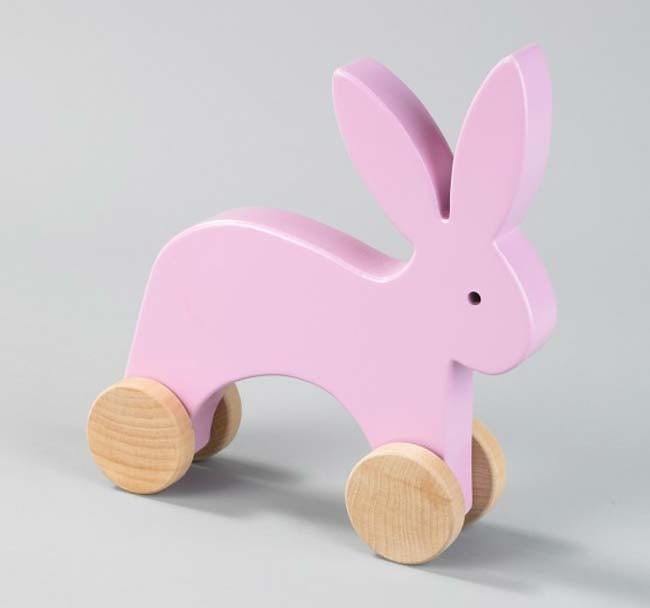 Hape All Seasons Kid's Wooden Doll House
A doll house is a cool gift for girls and boys. It teaches kids how to be imaginative as their pretend family lives their own lives and gives them stories to tell. This is an expensive dollhouse, but it is worth it. With six rooms to play with, a wooden finish, nontoxic paint, and movable furnishings and stairs, it's a great doll house that your kid is going to love.
FAQs On The Best Wooden Baby Toys
Yes, it is since the toy is durable; the cost per play is maximized. It is a quality toy that can be resold since it is a well-known brand.
Last Updated on April 17, 2021 by Marie Miguel
DISCLAIMER
(IMPORTANT)
: This information (including all text, images, audio, or other formats on FamilyHype.com) is not intended to be a substitute for informed professional advice, diagnosis, endorsement or treatment. You should not take any action or avoid taking action without consulting a qualified professional. Always seek the advice of your physician or other qualified health provider with any questions about medical conditions. Do not disregard professional medical advice or delay seeking advice or treatment because of something you have read here a FamilyHype.com.