Being a spy is a fun form of imaginative play for children, and it's not just a fun and creative style of playing. It also lets them develop skills that allow them to investigate different aspects and even create complex games for them. Having spy toys, spy gear and gadgets are necessary since it gives them the chance to communicate and observe the worlds that they usually are not allowed access to. But, what is the best spy gear for kids to have currently? Well, read on to find out about these cool and innovative spy toys that are perfect for your spy fan.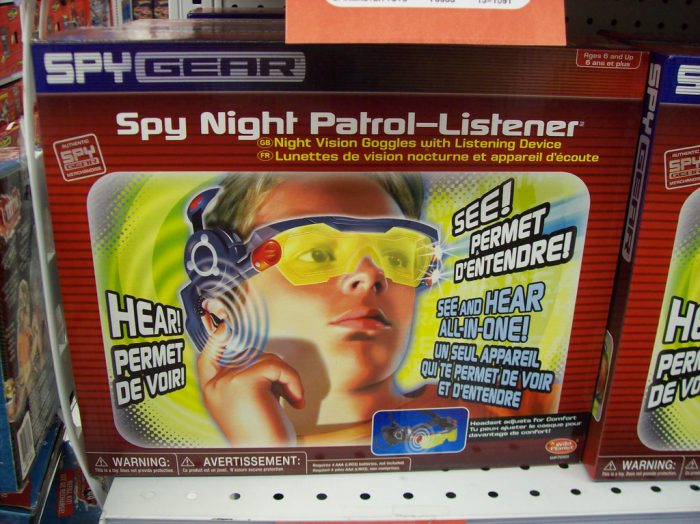 Invisible Disappearing Ink Pen
This is a fun spy toy that allows your children to send secret messages, and it can let other little spies uncover what the secret message says. Once the ink dries, you can decode the message by shining a light down from the pen top to the message to read this. This is a fun way to create a super sneaky note pen system. This spy toy comes with a twelve-pack of brightly-colored pens, and they're great not just as stocking stuffers, but if you're throwing a party for the kid, you can use these as party favors, and they work perfectly for a spy gear collection. The UV flashlight runs on button cell batteries, and it comes with a clip to put on your pocket. The shells are neon-colored, and they're super small and simple. Sometimes though, these invisible ink pens run out fast, which is the one downside to these.
Spy Go Action Camera
One of the most famous spy gear toys, this is a fun camera that little spies will love. They can capture everything an enemy might be doing, and the camera has three different modes to it. It has a burst, capture, single capture, and finally, the video capture. The burst is a split section, single capture being one second, and video capture being well, for videos – these make the toy super exciting to use. You can get some crisp and clear shots on this spy toy that they can analyze as well and is perfect for any spy ready to go on a mission. This is the perfect piece of spy gear to add to your child's collection.
Mission Alpha Set
If you want to get your kid a full kit that they can use on the field, this is the one for them. This spy toy set includes night goggles that work, a tactical mirror to see what's behind them, a recording pen, and also a motion alarm. The recording pen can record sounds that they hear. The equipment is straightforward to set up so that any kid can be ready for whatever happens during their next mission.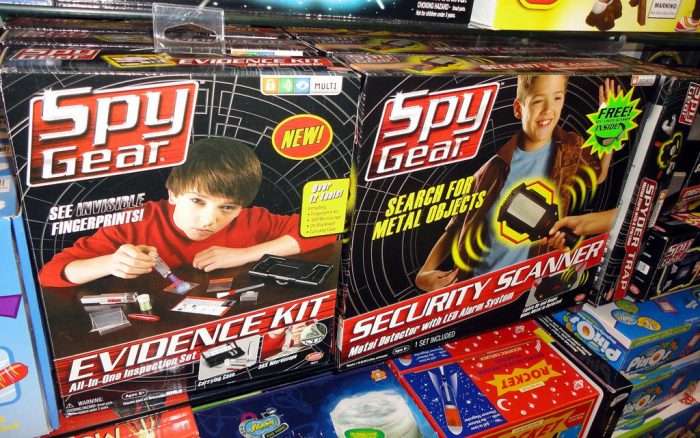 MJX Bus 3 RC Quadcopter
This is a great quadcopter option for spies. It's mostly a remote control drone that they can have a fly around the house, and it comes with brushless motors that will prevent it from being lost. This is a great beginner drone, and if your child is curious about being a drone pilot, this is an excellent addition to their spy set. It does come with a distance alarm, and a low battery alert sound, so if the drone is almost out of juice, they can bring it down to recharge.
It doesn't come with a camera, which is one of the downsides, but if your child doesn't need a camera, then this should be a fine spy toy.
Video Walkie Talkies
These walkie talkies are a little bit on the pricier end, but if your child loves to pretend that they are a spy, this is one of the best spy gear toys that are perfect for them. They are great if they want to talk to their ally with walkie-talkies, and it does transmit both sound and video communications to the other user up to 160 feet. You can press the button, and then you can speak. This spy toy is fun for kids and will give them hours of entertainment.
Field Action Spy Watch
This is a working spy recon watch that has all kinds of gadgets to make the mission a success. It's an 8 in 1 tool that they can put together and allow for young spies to message others in small capsules, and also has a motion sensor and some spy paper. This recon watch can also tell time, which is great if your child wants to launch attacks with their friends. Plus, this recon watch teaches kids how to understand time, so it's worth considering if you're looking for an excellent watch to use.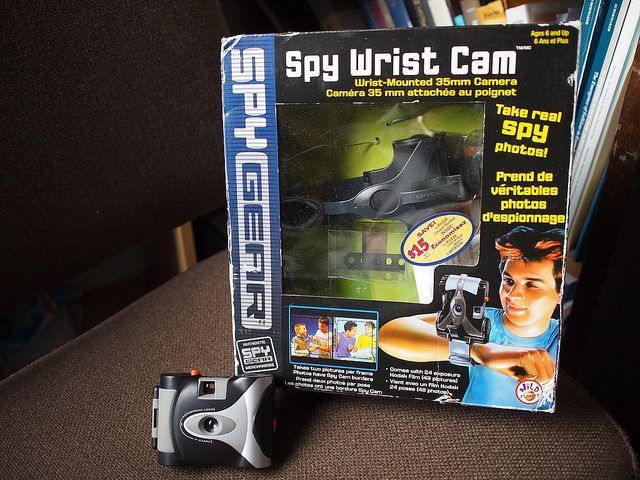 Project MC2 Ultimate Spy Bag
This is the perfect spy bag for girls ready to have fun and be the spy that they've wanted to be. It comes with a pink carrying case that looks like a standard accessory. However, this set includes tones of spy gear inside that disguises itself as average everyday items. For example, the makeup powder in this doubles as a dusting kit for fingerprints. A fake bottle of perfume reveals prints, and the compact magnifies them. The fake lipstick can hide and give secret messages, and the nail polish even disguises itself as a flashlight. If your little spy loves makeup but also wants to innocuously hold onto these items when they're moving around the house, this is one of the spy gear toys for them, and this gear set does create necessary investigatory skills in children. The one downside is if they have small fingers, it can be hard to open.
Ultra Range Walkie Talkies
These walkie talkies don't have video enabling, but they work at better ranges than others, up to 2 miles apart. With the press of a button, you use these walkie talkies to tell your fellow spy what you plan to do, and if you have a big house, this creates the ultimate spy experience, allowing your children to plan missions despite being miles apart.
Motion Alarm Toy
This motion alarm toy is a small toy that warns others of an enemy presence. It's easy to put together, and then press the button. Motion alarms are a way for spies to set up traps and let others know who is behind them. This trap alarm will make the perfect addition to your child's spy tools and spy set. 
These spy toys are perfect for young spy fans who are ready to take on missions with their friends, and it's ideal for an imaginative play that they can do around the house, and it gets them active as well, which is a definite bonus too.
FAQs On Spy Gear Toys
How do you make spy gear?
A DIY spy gear for kids example would be a coffee cup spy cam. This is done by transforming two paper cups. Place the spycam device in one of the cups and insert it into the second cup. Put holes at the bottom of each cup. Now, two LEDs are seen through the lid. The first one illuminates when the switch is turned on while the second flashes when a photo is taken. Now you have the first in many spy tools that will go in your child's gear set. 
What are some of the best spy gear toys?
The Spy Gear Mission Alpha Set is the top choice of parents and children. This set includes a lot of options for kids to play with. It features night goggles, a techy mirror, a spy recording pen, and a motion detector. Kids just can't enough of all the fantastic stuff that this set has. The SpyX MukikiM Micro and the ALEX Toys Super Sleuth Kit are also some of the favorite spy gear sets that children love.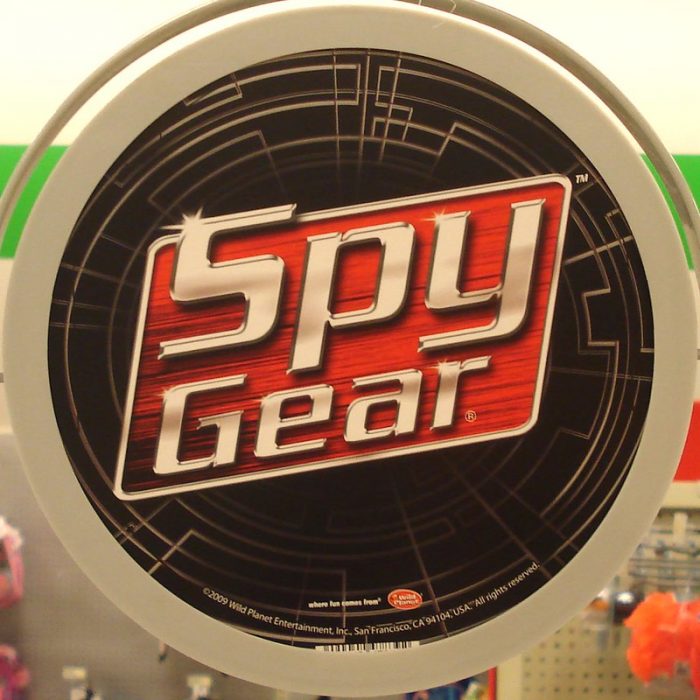 How do you make a 'bug-in-a-book?'
This device allows you to eavesdrop on deceitful plots that you want to know. To start, use an 'amplified listener' hearing device from a shirt-pocket to a radio transmitter of a car to make a wireless bug. Insert is inside an empty or emptied-out book with a microphone hidden by the cover. Now, you have a DIY listening spy gear that you can leave in on a side table when you want to find something out. This is the perfect toy for spy fans.
How do you turn your teddy bear into a spy?
You'll need a cute stuffed toy, like a teddy or puppy, for this one. You'll also need a webcam and a laptop. Get hold of your webcam and remove its circuit board and lens. Carefully, take out one of the teddy's eyes and cut a small opening behind it. Now, position the lens on the space where the eye was formerly on, creating a secret spy teddy. When you connect your webcam to your laptop and check it in another room, you can now see through the techy eyes of the teddy!
What do you put in a spy kit?
What's excellent about organizing a DIY kids spy kit is that maybe most, if not all, of what you need for the kit is just within the premises of your own home! Things like clear tapes, makeup brush, baby powder, toilet paper rolls, containers with lids, and a small notebook are just within your reach. These are some of the essential things that you need to have in your spy kit to become a gear ninja. If you have extra colored pens, an ink pad, and spare sunglasses, then you're good to go as a spy or secret agent!
What are some affordable spy gear toys for sale in the market? 
One of the cheapest spy gear gadgets that children are raving about is the Spektiv monocular telescope. They love using this outdoors in the day or even nighttime, although it only features moderate vision during the evenings. It costs as low as $50 or below, so parents don't complain about the average performance as well. Kids love its rugged design and the fact they can carry it around in their pockets. Other spy gear for kids that cost below $50 include Hausbell Electronic Spy Listening Device, Sonic Distractors, Spy X-Night Vision Binoculars, Voice Disguiser, Lazer Trip Alarm, and an adjustable belt for your child to hold all of their spy gear. You can find more spy gears here at Walmart page.
Why do kids love the SpyX MukikiM Micro?
Kids rave over the SpyX MukikiM Micro gear set because the SpyX Micro consists of a lot of gadgets, including micro ear lights, invisible ink pens, a utility adjustable belt, a micro listener, and a micromotion trap alarm detector. The utility adjustable belt is a great addition that helps parents decide to purchase the SpyX Micro gear set, as it can hold the other parts while their kids are still able to move around comfortably. This SpyX Micro gear set spy toy encourages kids to do imaginative play and act as secret agents and micro spy.
What are other unique characters my child can play as?
In addition to being a spy, using SpyX Micro spy tools, your child can become a scientific explorer. Countless science kits cater to the interests of your child. If they are interested in engineering, then there is a science kit for that. If they prefer pretending to play in a lab, there is a science kit for that. Whatever your scientific explorer is interested in, there are gear sets that will cater to them. 
Spy Gear Toys Other Resources
MomLovesBest: https://momlovesbest.com/spy-gear-for-kids
TwinCitiesKidsClub: https://twincitieskidsclub.com/the-ultimate-list-of-spy-gear-for-that-spy-loving-kid-of-yours/
ScaryMommy: https://www.scarymommy.com/spotted/kids-spy-gear-gadgets-kits/
DISCLAIMER
(IMPORTANT)
: This information (including all text, images, audio, or other formats on FamilyHype.com) is not intended to be a substitute for informed professional advice, diagnosis, endorsement or treatment. You should not take any action or avoid taking action without consulting a qualified professional. Always seek the advice of your physician or other qualified health provider with any questions about medical conditions. Do not disregard professional medical advice or delay seeking advice or treatment because of something you have read here a FamilyHype.com.