Infant swings are good inventions. There are those traditional swings, tree swing for toddlers, remote control swings, and more innovative multi motion baby swing that you can find in the market. It keeps your child happy and allows the parents to accomplish their other tasks without worrying about their little ones.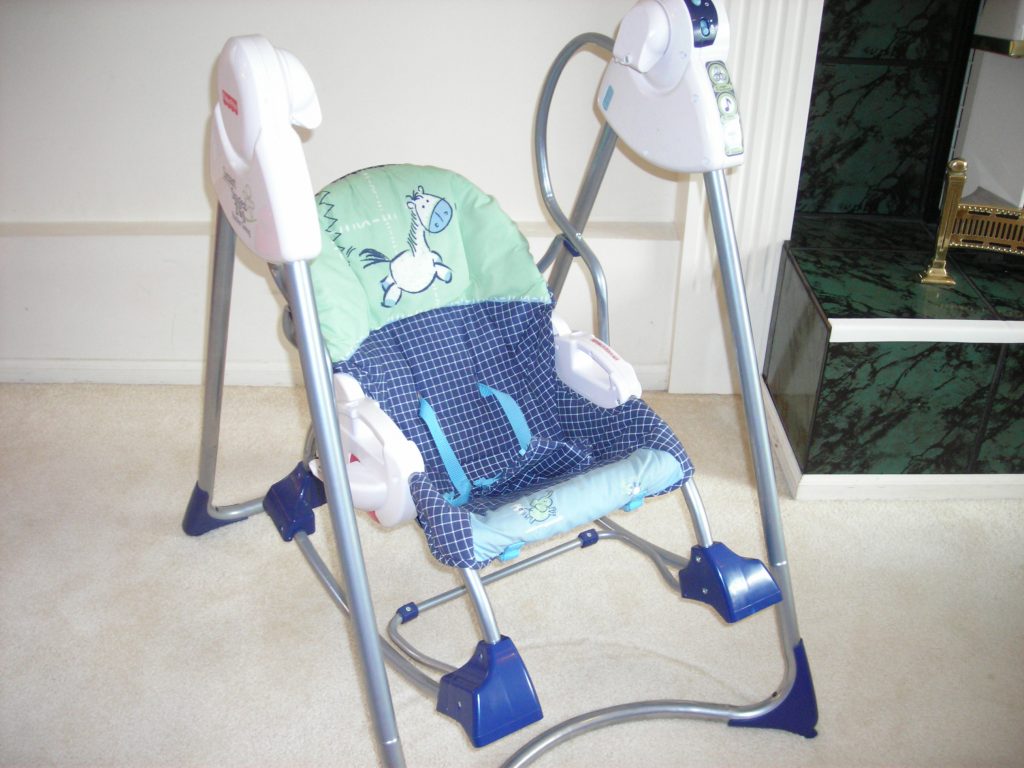 There are many options for the best baby swings, and this article aims to help you choose the right one for your infant. To start with, we made a list of the top 5 most recommended baby swings in the market according to online customer reviews. Like choosing the best baby swing for big babies, similar to selecting car rides for infants, you will also learn more information that will guide you with your search.
Ingenuity Swing For Small Children
Ingenuity baby swings are popular and innovative products designed to provide comfort and entertainment for infants. These swings offer various features to soothe and entertain babies younger than 3 years old, including gentle swinging motions, music, nature sounds, and toy attachments. With adjustable speed settings and reclining seat, adjustable toy bar, parents can customize the swing to their child's preferences. It is often incorporate safety features such as secure harness systems and sturdy frames. They are designed to provide a cozy swing and secure environment for babies to relax, nap, or engage in play. The combination of comfort, entertainment, and safety makes Ingenuity baby swings a popular choice for parents seeking a reliable and enjoyable option for their little ones.
Fisher-Price Elephant Safari Baby Swing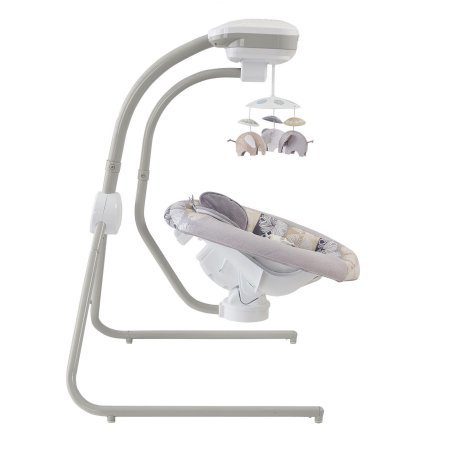 Elephant Safari Baby Swing Pros:
The baby swing and rocker from fisher price has superior features and can be considered in convenience and versatility. It boasts two gentle gliding motion choices with multiple speed settings and sounds and three reclining positions and deep baby seat position, weight sensor, and push-free start. It has a reliable five-point harness and can accommodate babies up to 25 lb.
Elephant Safari Swing Cons:
The Fisher-Price Elephant Safari Cradle N Swing is not as portable as other infant swings since it does not have a battery option available. You will have to stay in a place with a plug-in switch to use, which means you cannot use it outdoors back and forth or in some areas in your house without a wall socket.
Graco Simple Sway Baby Swing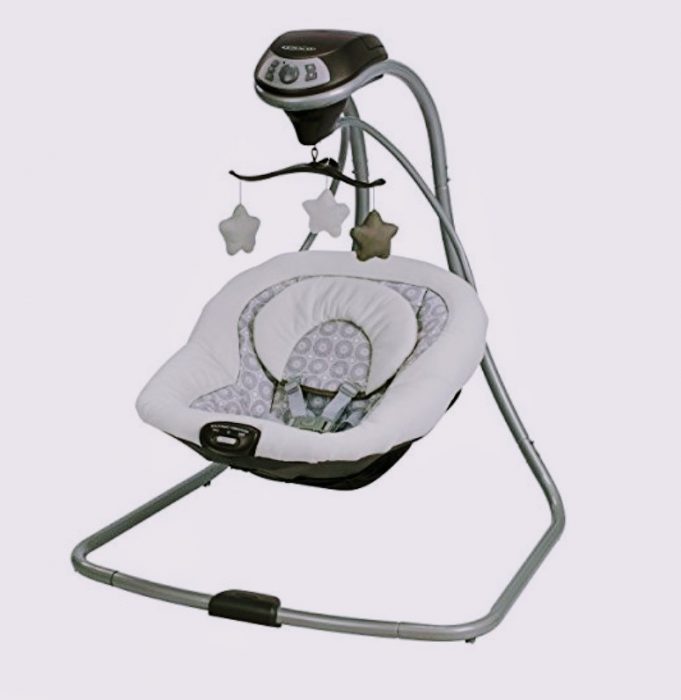 The Graco swing is compact and good for homes with limited space. It is both battery-operated and plug-in powered. Hence, you can bring it when traveling with your little one. Feature-wise, the Graco Simple Sway Baby Swing will not disappoint. Aside from having a machine washable cover, it also offers 15 songs and sounds, six speeds and two vibration speeds, a 5-point harness (including shoulder straps) with head support, a plush cushion, and three soft hanging toys that move. This makes it a great baby sound machine.
Simple Sway Baby Swing Cons:
You may be bothered by its loud motor sound, and it lets your baby to sit upright only. It can only hold up to 19 pounds, which may be slightly lower than what it can accommodate.  One of the most important features of rockers and carriers is that they must be able to hold your child's weight. Of course, you don't want to buy something that does not fit your child.
Graco Duet Connect Baby Swing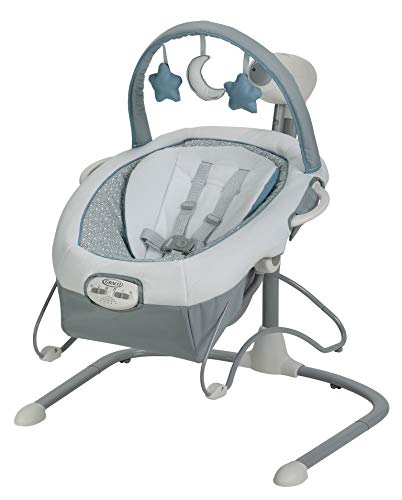 Duet Connect Baby Swing Pros:
The child swing is highly recommended for bigger infants as it has the most oversized swing seat among other full-size baby swings from Graco. It is both plugs in and battery-powered, and there are multiple ways to use it. Your little one can use this child gear as a floor bouncer, and you can take it anywhere your child loves, which is quite convenient when you are working around the house. To put your fussy child to sleep and keep them fuss-free, you can play 15 songs and sounds and utilize the 2-speed vibration and 6 swing speed.
Duet Connect Baby Swing Cons:
It is not the child swing if you want many sway options since it only swings side to side. Because it's bigger than other swings, it may also eat a lot of space in your nursery. Therefore, it is not advisable if you have limited space.
Fisher-Price Sweet Snugapuppy Baby Swing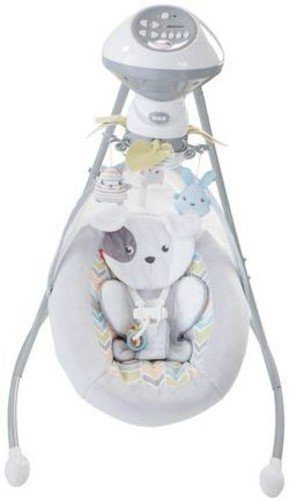 Sweet Snugapuppy Baby Swing Pros:
It is easy to operate, and it has the essential qualities of the best swings for a child. If you are using it indoors, you can plug it in your wall socket, and it can run by batteries if you are bringing it somewhere else. Although affordable, it offers 16 soothing songs and nature sounds, and it utilizes smart technology that helps adjust the child swing speed based on the child's weight. Maintaining it is also a breeze since it is machine washable and easy to clean.
Sweet Snugapuppy Baby Swing Cons:
Like the 3rd option on the list, it is also heavy and bulky, which means it can be challenging to move around the house. Aside from its portability, it lacks a vibration option and is not suitable for younger babies since it does not have extra padding for infant support.
4Moms 2015 MamaRoo Multi Motion Baby Swing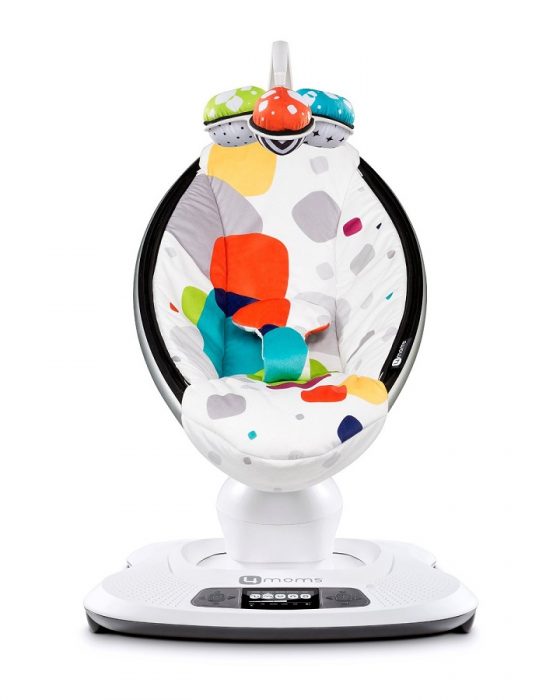 The selling point of the child swing is its modern design and features. Unlike the classic version, it looks innovative and will blend perfectly with any nursery with to date or minimalist design. It features five unique motions that mimic parents' movements when cradling the infant. It swings front to back perfectly, which many rockers usually don't do. You can also use the MP3 plug to play your music if you want to skip the four built-in sounds it comes with. While sturdy, it is not heavy and saves space.
This 4moms mamaroo multi motion also comes with cons. First of all, if you're looking for a portable swing, this may not be the best option. The portable baby swing has limitations when it comes to what it offers. For starters, it does not have vibration, newborn insert, and only plays natural sounds. It is also not battery-operated and can't be carried around the house like other portable baby swings.
Things To Consider When Buying A Rocker For Your Child
It is imperative to pay attention to this factor since it will be a place where your child will stay while they are growing. Always look at the ergonomic benefit of the child swing because it will determine how comfortable your child will be when riding in it. Moreover, ensure that it has adequate padding and good ventilation to keep your child cozy in cold weather and sweat-free on warm and humid months.
When settling your child, the speed and sway options will play a significant role. It is good to buy a child swing that offers a wide range of speed and sway settings.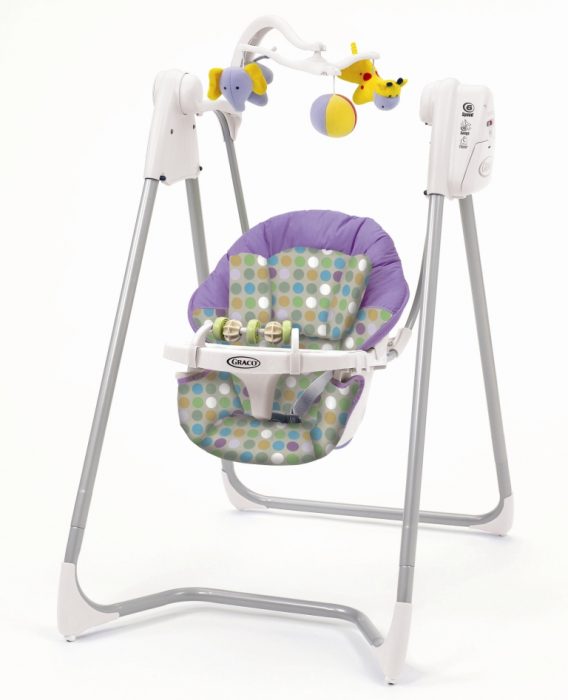 The size, weight limits, and design of the swing matter and should be one of the parameters that you should look for if you have limited space in your home. It is a bonus factor if you can find a baby swing that folds flat so you can save space when you are not using it.
Durability And Sturdiness
Anything related to your child's safety is a top priority, so make sure you get them the best baby swing. Always choose a swing made with high-quality materials and a durable frame to be sure that it is stable regardless of the swing speed.
The key to getting the best is to compare each child's swing before you make your decision. Some rockers may offer more features and, in return, may cause more than a regular baby swing. Always ask yourself if the extra features are worth splurging on before you settle with a baby swing.
Best Baby Swing Frequently Asked Questions
Can A Child Sleep In A Swing All night?
If it is under your supervision, a child sleeping for a presumably long period in a swing might be fine. But note that your child definitely must not ever spend the night sleeping in the swing while you're asleep, too. It would be good that you first remove the child from the swing and place the child in a safe sleeping place if they fall asleep in the swing.
Swing Vs Bouncer: Which One Is Better
Swings and Bouncers can be great for soothing newborns, especially those ones that are a bit meticulous when it comes to white noise and other distractions. But you should keep in mind that it can also be dangerous at some point. So it is good that you use it properly and under supervision.
Can Babies Nap In A Swing?
Yes, babies can nap in rockers provided with supervision. But you need to also consider that thought rockers can provide the child with soothing feelings, there are instances that it can be dangerous. So might as well use it when there are individuals that can watch over the child.
What Is The Safest Infant Swing?
With more than a lot of research, interviews, and other necessary tests, experts agree and found out that the Graco Glider LX Gliding Swing, is the safest of all. With its consistent swaying motion, it provides babies with a soothing feeling while taking care of them at the same time.
If your goal is to lull them with rock-a-bye and put a tired child to sleep. you can always opt for a swing. But if you simply want a place for your child to wiggle happily while you run some errands such as wash dishes or clean parts of the house, you can get a bouncer. Depending on your preference and need, you can always opt for something convenient and comfortable for babies.
What Is The Difference Between A Portable Rocker And Swing?
What Is The Disadvantage Of Swing?
Does Swing Affect Child's Brain?
How Long Can Child Stay In Swing?
How Can I Get My Child  To Sleep Without A Swing?
What Age Is Chicco Swing Chair For?
Best Baby Swing – Other Resources
MomInformed Facebook
VeryWellFamily Facebook
Last Updated on May 13, 2023 by Mary Cimeni
DISCLAIMER
(IMPORTANT)
: This information (including all text, images, audio, or other formats on FamilyHype.com) is not intended to be a substitute for informed professional advice, diagnosis, endorsement or treatment. You should not take any action or avoid taking action without consulting a qualified professional. Always seek the advice of your physician or other qualified health provider with any questions about medical conditions. Do not disregard professional medical advice or delay seeking advice or treatment because of something you have read here a FamilyHype.com.