Cleaning the house is a necessary evil. But you can improve it by buying yourself the best cordless stick vacuum. The problem with cordless stick vacuums is they're often more expensive than your normal vacuum. You must find the right one for your home. What are some features of the cordless vacuums? What are the prices? And are these cordless vacuums durable?
The ideal one will be lightweight and easy to carry. They should work well for all the floors in your household. They should be easy to clean out and have powerful suction. You also want the battery life of the stick vacuum to be long enough for you to clean whatever you want to. Different tools to use with your cordless vacuum are things you should look for, as well.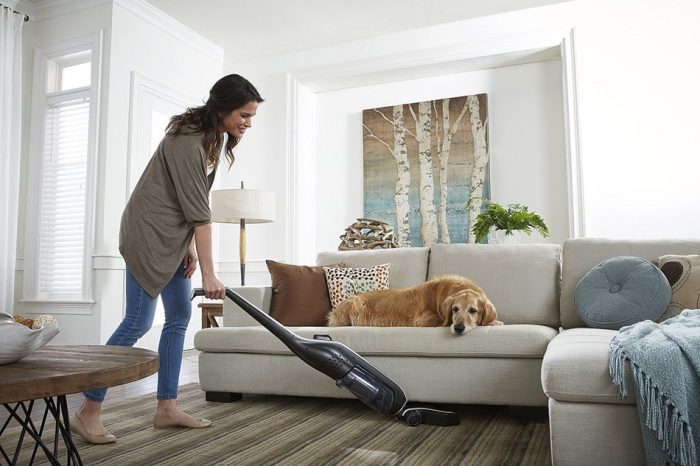 Many companies you are familiar with make corded and cordless ones. We're looking at some brands to help you decide on the best option for your cleaning needs. Before wrapping things up, we'll also look at some specific options for handheld ones.
Best Cordless Stick Vacuum
Some people feel that a cordless one, such as the Samsung Bespoke Jet or a Dyson brand, is redundant because they already have a traditional one.
However, there are several reasons why it makes sense in addition to traditional ones or canister options. For instance, most brands offer comparable cleaning power to their corded counterparts, with the added benefit of portability and ease of use. Moreover, models like the Samsung Bespoke Jet and Dyson's range are known for their deep cleaning ability, ensuring your floors are as clean as possible.
Convenience And Efficiency Of Cordless Stick Vacuums
Thus, while it might seem like an unnecessary addition at first glance, the convenience and efficiency offered by cordless stick vacuums make them a worthy investment.
Traditional ones are heavier and bulkier. It's not convenient to get them out all the time. They're usually terrible for taking up and downstairs. Cordless stick ones can be easily taken from room to room and floor to floor because of their size and weight.
They are more maneuverable. They can slide easily under tables and chairs, places your regular cleaner may have difficulty getting to.
You can use it as a handheld, too. You can use it anywhere around the house.
Storing it is easy, too. You can keep it much handier than your regular vacuum cleaner. Most of them come with mounts for the wall where you can hang them right inside your kitchen pantry.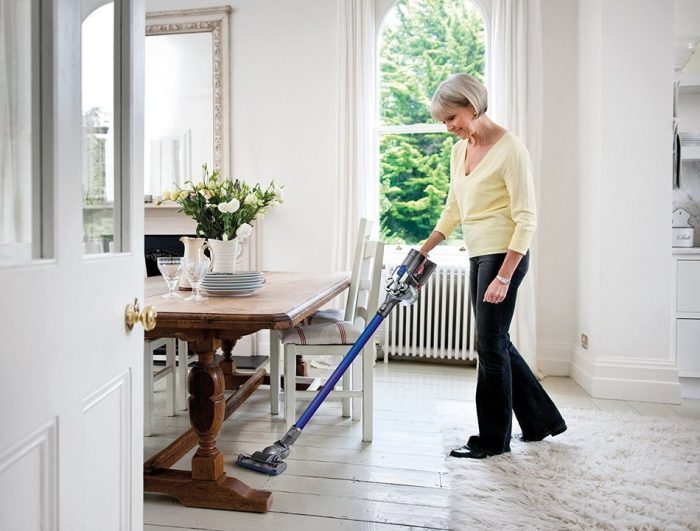 Best Cordless Stick Vacuum Benefits
Good for carpets.
Easy to handle.
Comes with different attachments.
Easy to empty.
Unlocking Enhanced Home Cleaning
Shark Stratos cordless or comparable models allows you to move around from room to room without worrying about switching the outlet. You can easily tote cordless stick vacuums all over your house so you can clean up messes anywhere. They're good for vacuuming debris off the carpets (both low-pile and high-pile carpets) and in tight spaces and dusting off hard bare floors using different tools such as a dusting brush and crevice tool.
Many homes have area rugs. The heavy canister vacuum cleaners and other vacuums have difficulty cleaning area rugs because they pull them up a lot. On the other hand, Cordless stick vacuums don't have that kind of heft, so they're great for cleaning area rugs.
You can vacuum under almost anything with cordless stick vacuums. They're small and maneuverable so you can get under your furniture and behind things in your home. Most stick vacuums are designed with this functionality in mind.
Many also come with different attachments of tools to clean stairs, crevices, pet hair, and furniture. You can usually detach the "stick" of it and turn it into a handheld vac for cleaning your car or other places where a handheld makes things so much easier.
They're the ideal little tool for cleaning up crumby messes, snack drops, craft leftovers, hair, and more. It is user-friendly and usually easy to empty with one lever push.
It also comes with a spare battery, ensuring you always have power when needed, making them an even more practical solution than their corded counterparts.
Cordless Stick Vacuums Downsides
There are some downsides to these convenient, lightweight cordless stick vacuum cleaners, like the Dyson V15 Detect or similar stick vac models. They often cost more than traditional upright vacuums do. If there are more tools or easier functionality, like the V15 Detect's ability to detect and clean fine dust and larger debris, they can cost quite a lot of money.
The battery life can be a concern. Cordless stick cleaners can run out of battery during cleaning, especially when using boost mode. You must diligently put it back on the charger so it's ready whenever needed. You should look into the battery life of the vacuums you're considering so you're sure to get one with some good use time.
The longevity doesn't seem to be very good. This cordless stick has different quality levels, so some last longer than others, but generally, they don't seem to last more than a couple of years. Therefore, while they may offer a convenient cleaning solution, it is important to weigh these considerations when investing in a cordless vacuum.
Cordless Stick Vacuums Options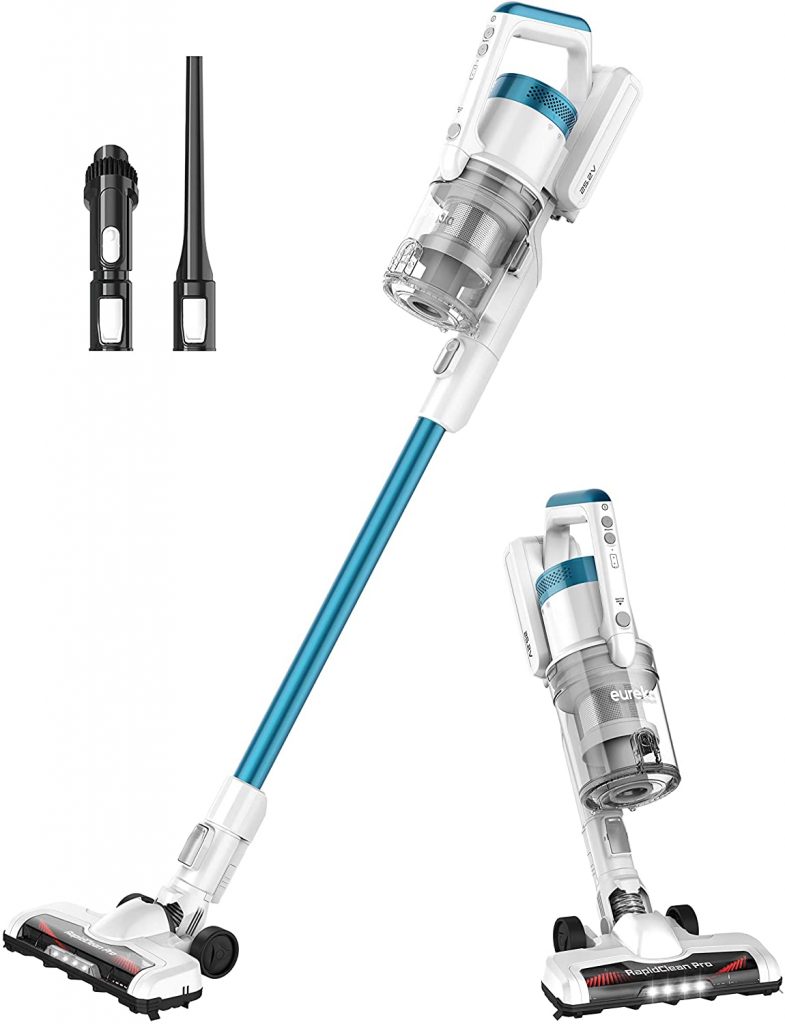 This is a high-functioning, attractive-looking cordless vacuum, much like its class's Miele Triflex HX1 or other cordless vacuums. It has LED headlights so you can see everything on the bare floor. There is a powerful digital motor that is super efficient, so you get a good suction and cleaning power without using too much of the battery, unlike some other cordless vacuums.
As a cordless stick vac, you should be able to get about 40 minutes of runtime off of a full charge. The design includes a versatile cleaning head that adjusts to different floor types for optimal cleaning. You can remove the stick and take it down to a handheld size with a button.
The cordless design makes it easy to get underneath those hard-to-reach spaces to get your home truly clean. Once you're done, emptying the debris into a trash can is usually a breeze, making the entire cleaning process from start to finish as convenient as possible.
Eureka Rapid Clean Pro Lightweight
Pros:
Two power modes (low-max mode) for better efficiency
Switch from stick to handheld
LED headlights make it easy to see dust and fine particles
Cleans multiple types of floors
Easy Rest notch so you can lean it without it falling
It only weighs 5 lbs.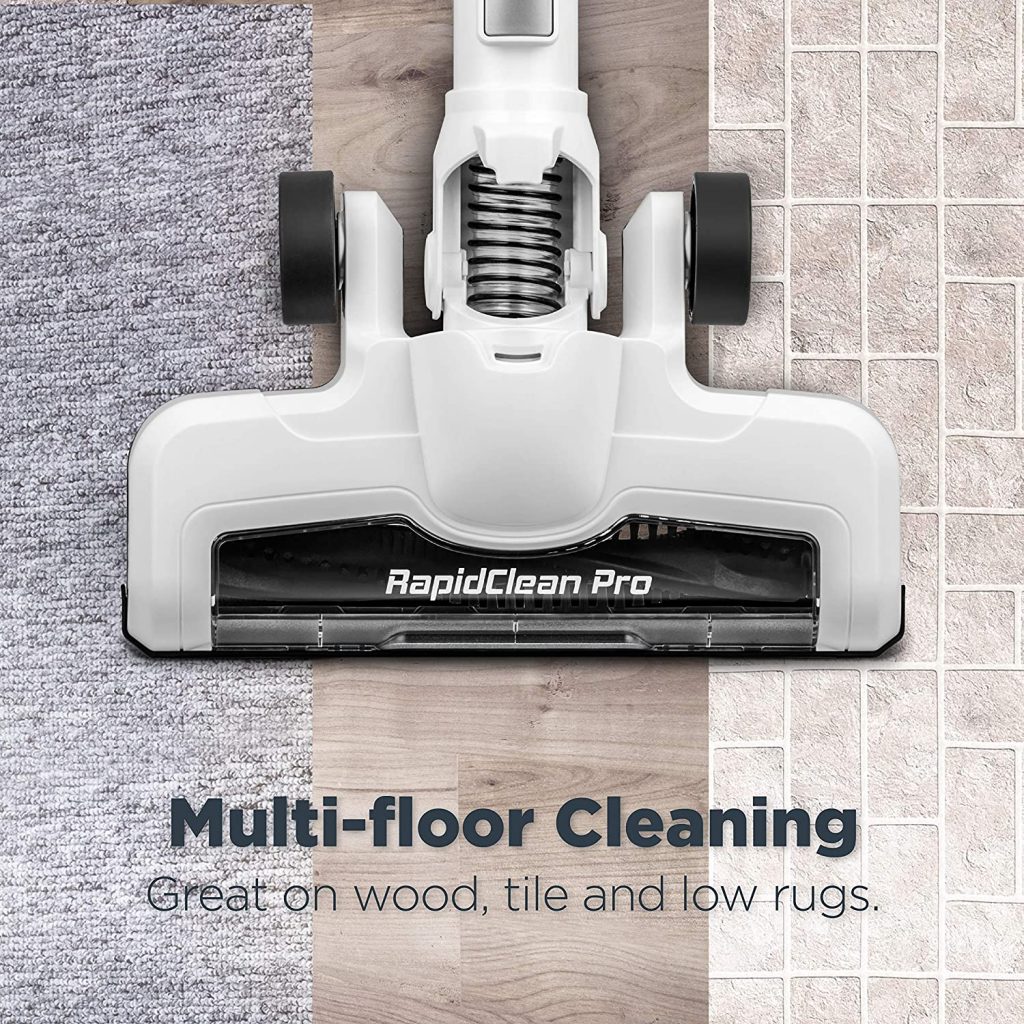 Cons:
Less suction than some others
The battery in the handle is heavy for some people's wrists
The wall mount doesn't have to charge contacts
Eureka Lightweight Cordless Stick Vacuums Brushless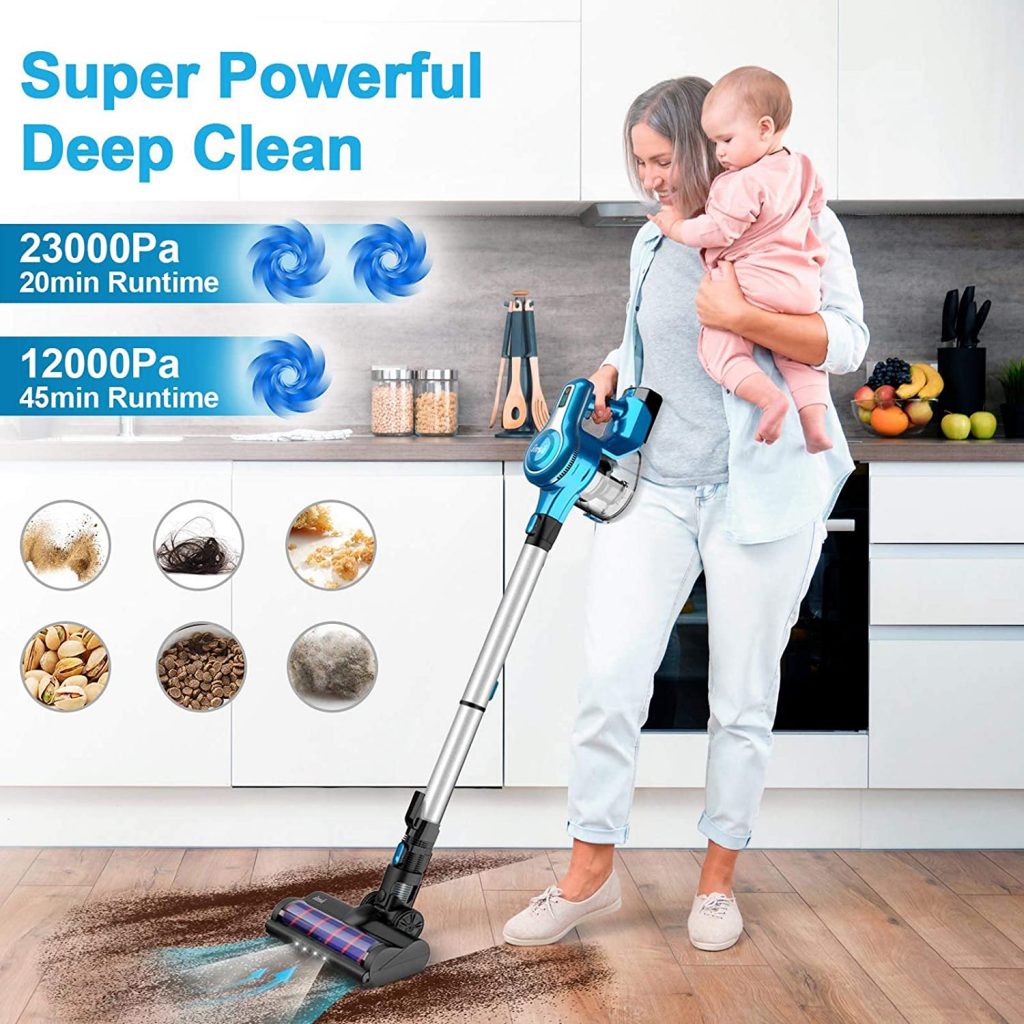 This one is slightly more expensive than the last one. You can get up to 45 minutes of runtime from a charge. It comes with more attachments and is considered to be a 5-in-1 tool. The brushless motor gives it powerful suction that is good for hard floors, high-pile carpets, pet hair, crumbs, and dust from tight corners; you name it. Filtration is a 6 highly efficient part system. A sponge filter, cyclone separation factors, and a stainless steel strainer exist. The wall mount is easy to install and gives you a place for the vacuum and some of its accessories.
Eureka Pro Lightweight Cordless Stick Vacuums
Pros:
More tools than your average stick vacuum
6 stage filter makes your home cleaner
Super lightweight body at only 3.3 lbs.
Very easy to maneuver
Can lay flat to get under furniture
Cons:
Some accessories aren't necessary
The bin size is a little small
Too many accessories to store
Shark IZ163H Rocket Pro With MultiFlex Cordless Vacuums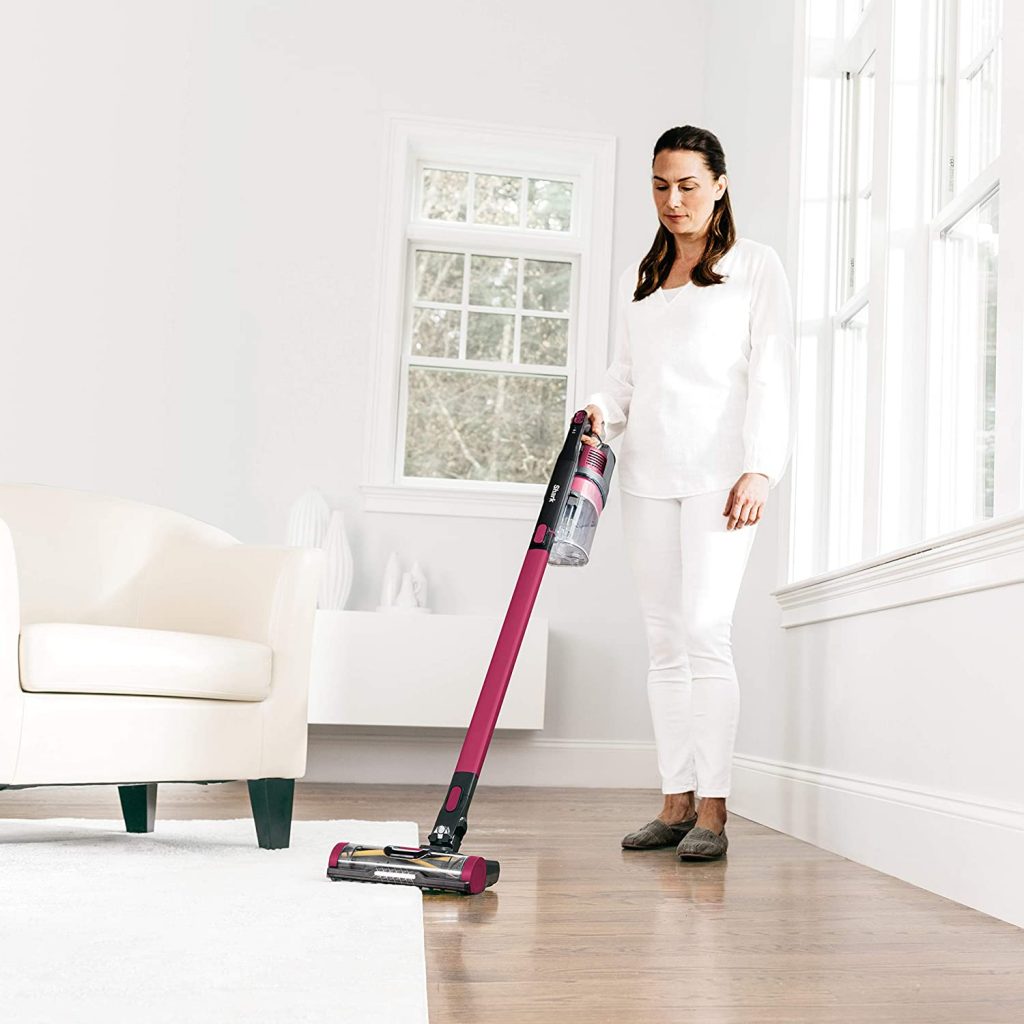 This one comes in a few different fun colors. It is designed around the needs of pet owners who are used to dealing with pet hair clogging up their vacuums and getting stuck in roller brushes. The Shark Rocket Pro has a self-cleaning brush roll to help make your life easier. Some useful tools come with it, and it has the powerful suction people have come to love from the Shark brand. You'll have about 40 minutes of runtime from a full charge. You really can use it to clean your entire home.
Pros:
HEPA filtration and anti-allergen complete seal technology to make your air healthier
MultiFlex wand that can turn however you need it to
Lightweight at 3.4 lbs.
Cleans with Dirt Engage technology to pull up embedded dirt and debris
Simple conversion to handheld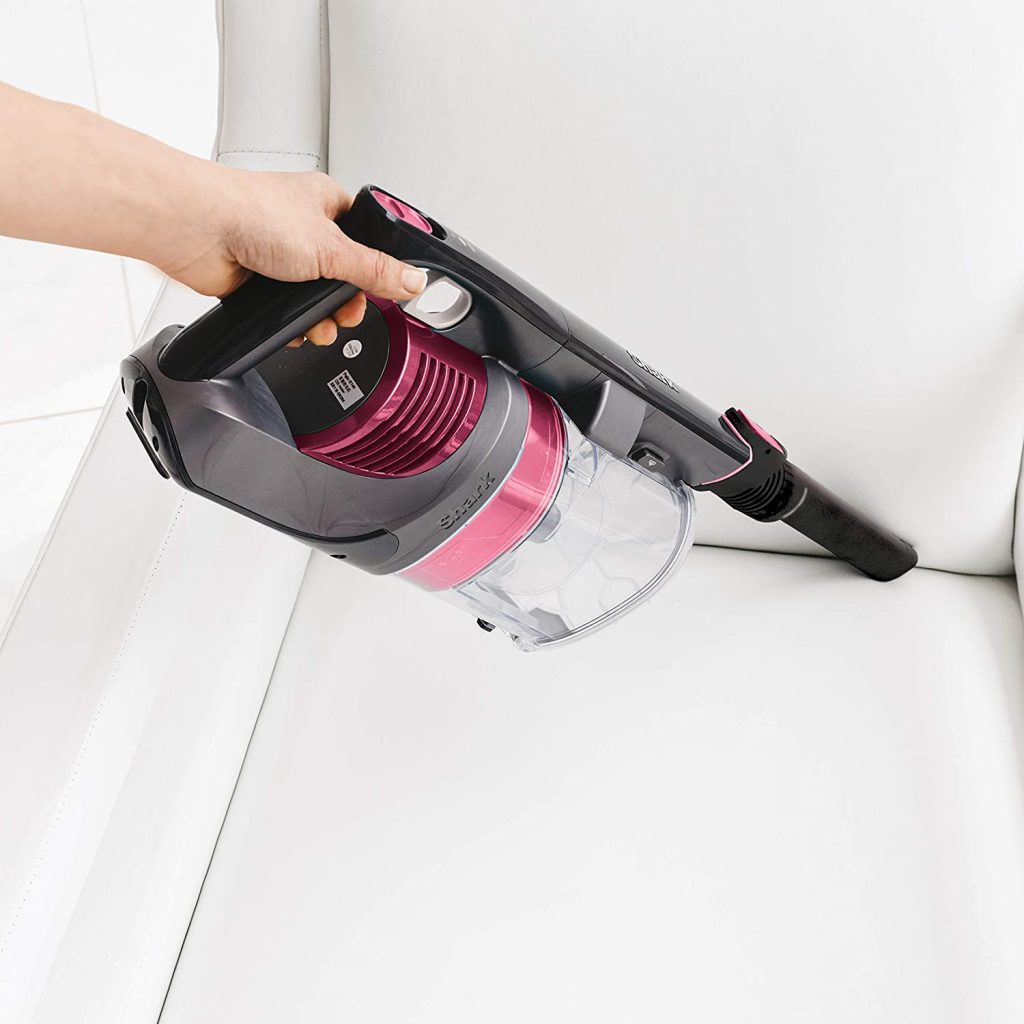 Cons:
Static electricity can build up on the carpet
Motor is loud
The brush head is a little too narrow
Aleema Vacuums 4 in 1 Powerful Suction Handled Cordless Cleaner For Home Hard Floor Carpet
The run time for this vacuum cleaner is a little less than the others at 12-20 minutes. It works on different surfaces and converts to a handheld easily so you can clean stairs, furniture, and your car's interior. The filter system is the cyclone type that's highly efficient and it also has a HEPA filter. There is an LED headlight to help you see where the dirt and small debris are and you can easily swivel the vacuum in the direction you need to go.
Aleema Cordless Vacuums 4 In-1 Handheld Cleaner
Pros:
Very affordable
4-in-1 vacuum
Removable and washable HEPA filter
Lightweight 3.3 lbs.
Includes a hair cutter tool for cleaning the brush
Cons:
Short battery life
It has a loud sound
Loses suction easily
Wrap Up
Investing in best cordless stick vacuums can make your life more convenient. Whether it's your first cordless vacuum or an upgrade from an existing model, cordless vacs are lightweight, easy to take around the house, convert to handheld vacuums, and great with unexpected messes.
Compared to corded vacuums, the freedom, and flexibility offered by a cord-free vacuum is unparalleled. You want one with longer battery life, an extra battery pack, a decent dust bin capacity, and the necessary tools. In addition, the convenience of cordless vacs extends to maintenance too – you also want it to be easy to clean out and have an efficient filtration system that helps keep the air in your home clean.
Testing vacuums might be ideal to ensure you're getting the right fit for your needs. Remember that some of these get pricey, but with thorough research and comparison shopping, you can find a great machine that will match your budget.
Frequently Asked Questions:
Which is the top cordless stick vacuum available on the market?
Several cordless stick vacuums were considered top-tier, with the Dyson V11, Shark ION F80, and Tineco Pure One S12 all receiving high praise for their performance, versatility, and battery life.
What are the top cordless stick vacuums for 2020?
Several cordless stick vacuums were highly praised for their superior functionality, strong suction power, and convenient features. Here are some of the top models that consumers and experts preferred:
Dyson V11 Torque Drive: The Dyson V11 Torque Drive stood out with its high suction power, an LCD screen to display battery life, and an auto mode that adjusts suction based on floor type. Its high price point was often noted as a drawback, though many considered it worth the investment.
Shark ION F80 MultiFlex: This vacuum was praised for its flexible reach for cleaning under furniture, a long-lasting battery, and a multiFLEX system that allows compact, freestanding storage.
Tineco Pure One S12: Tineco's high-end model was celebrated for its smart features, such as a dust sensor and an LED display. It also offered strong suction and long battery life.
Bissell AirRam 1984: This model was recognized for its affordability, strong suction on all floor types, and easy-to-empty dust bin. It had a simple design without the bells and whistles of some higher-end models, which some consumers appreciated.
LG CordZero A9: LG's CordZero A9 had strong suction and came with two batteries, so you could use one while the other was charging. It could also stand up independently, a feature missing from many stick vacuums.
It is the Bissell Pet Hair Eraser Slim 2897 for the year 2020.
The Bissell Pet Hair Eraser Slim 2897 was popular in 2020, particularly among pet owners. This cordless stick vacuum was renowned for its specialized pet tools, including a tangle-free brush roll and a crevice tool designed to remove embedded pet hair from hard-to-reach places.
Its lightweight design and swivel steering made it easy to maneuver, while the CleanSlide Technology allowed hassle-free emptying of the dirt tank. With strong suction and a long-lasting lithium-ion battery, the Bissell Pet Hair Eraser Slim 2897 offered efficient cleaning performance, proving an excellent tool for tackling pet hair around the house.
What cordless stick vacuums have the top suction?
Suction power is a critical factor when choosing a cordless stick vacuum. These are some of the cordless stick vacuums noted for their superior suction:
Dyson V11 Torque Drive: The Dyson V11 boasts powerful suction among cordless vacuums and features an automatically adjustable cleaner head for different floor types. It's high torque cleaner head and efficient cyclone technology contribute to its impressive suction power.
Tineco Pure One S12: The Tineco Pure One S12 offers powerful suction and smart sensor technology. It adjusts the suction power in real time when it detects a change in dust amounts.
Shark ION F80 MultiFlex: Known for its strong suction and DuoClean technology, the Shark ION F80 can tackle various surfaces, from hard floors to carpets, with ease.
LG CordZero A9: This cordless stick vacuum by LG also has strong suction power. It features a Kompressor technology that allows more effective cleaning by removing more dirt and dust.
Miele Triflex HX1: Miele's Triflex HX1 offers strong suction, similar to traditional canister models. Its unique design allows it to be used as a stick vacuum or handheld.
Is Shark better than Dyson?
These are probably the best two brands in the industry. One isn't better than the other. They both offer large lines of products that are very good at cleaning your home. You'll have to decide based on prices, features, and what looks better for your needs.
Is the Kmart stick vacuums the best?
The Kmart does a decent job and runs around the middle of the pack for quality. You can do better for your money, but you could do worse, too.
Is Shark cordless stick vacuums the best?
Yes, they are. They have great suction, are easy to maneuver, and are lightweight.
Are Bosch cordless stick vacuums cleaners the best?
Bosch is quite good. Many of them have long battery life and very good suction power.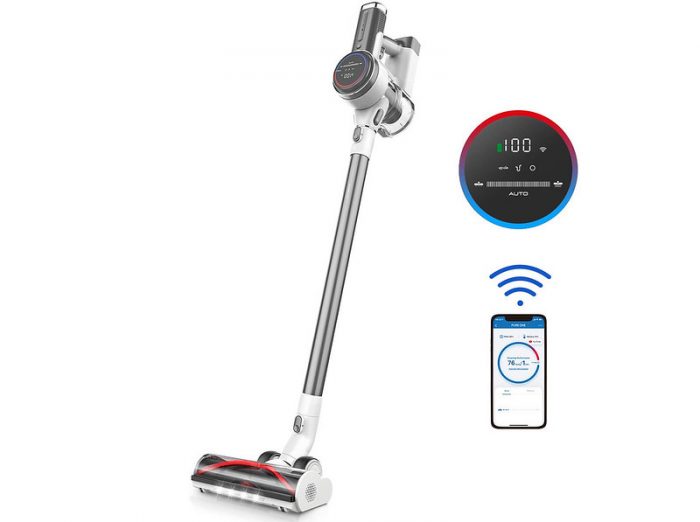 Source: flickr.com
What cordless stick vacuum do Consumer Reports recommend?
Consumer Reports recommends the Tineco Pure One S12. Beware, though; it has a very high price tag.
What vacuum cleaner is better than Dyson?
Dyson vacuums are well-regarded due to their innovative design, strong suction, and high-quality build. However, some other brands and models offer competitive features and might be considered "better" than Dyson, depending on specific needs and preferences.
Shark: Shark vacuums, such as the Shark APEX Upright With DuoClean (AZ1002), are often compared favorably with Dyson models. They often come at a more affordable price point and offer impressive suction power, innovative brush-roll designs for effective cleaning on various surfaces, and sometimes provide a more extended warranty.
Miele: Known for their high-quality construction and long lifespan, Miele vacuums, like the Miele Triflex HX1, offer strong competition to Dyson, particularly in their canister and bagged models. They also feature HEPA filtration and are often praised for being exceptionally quiet.
Roborock: If you're considering robotic vacuums, Roborock models, such as the Roborock S6, can provide excellent automated cleaning with strong suction, long battery life, and advanced navigation capabilities.
Tineco: For cordless options, Tineco's high-end models, like the Tineco Pure One S12, provide strong suction, smart features, and a long battery life, which rival similar models from Dyson.
LG CordZero A9: This model provides strong suction and comes with two batteries for extended cleaning time, offering a robust challenge to Dyson's cordless range.
How many years do cordless vacuums last?
The lifespan of a cordless vacuum cleaner can vary significantly based on several factors, including the brand, model, usage frequency, and maintenance. On average, cordless vacuums are expected to last anywhere from 2 to 5 years.
The battery is the primary component that tends to wear out first in cordless vacuums. Most cordless vacuum batteries are designed to last for around 500 to 1000 charge cycles, translating into about 2-3 years of use if you're using and charging the vacuum regularly. Some high-end models may offer replaceable batteries, which can extend the overall lifespan of the vacuum.
However, by caring for your cordless vacuum, you can extend its life. This involves cleaning the filters regularly, emptying the dustbin after every use, avoiding overcharging the battery, and not using it to pick up sharp or large debris that could damage the vacuum.
It's always a good idea to check the warranty period when buying a cordless vacuum. This gives you an idea of the manufacturer's confidence in the product's durability and some assurance that you'll be covered if something goes wrong within the warranty period.
Where can I buy a cordless stick vacuum?
There are several places where you can buy a cordless stick vacuum, both online and in brick-and-mortar stores:
Online Retailers
Amazon: Known for its vast selection and competitive pricing, Amazon carries various cordless stick vacuums from various brands.
eBay: eBay might be a good option if you're open to used or refurbished models. They also sell new vacuums.
Walmart, Target, or Best Buy online stores: These retail giants have extensive online marketplaces with a range of options.
Brand Websites: Brands like Dyson, Shark, or Bissell often sell their products directly to consumers through their websites.
Physical Retail Stores
Big-Box Retailers: Stores like Walmart, Target, and Best Buy often carry a variety of vacuum cleaners, including cordless stick models.
Home Improvement Stores: Home Depot, Lowe's, and similar stores typically carry a selection of household appliances, including vacuum cleaners.
Specialty Stores: Stores specializing in home goods or appliances, like Bed Bath & Beyond or Sears, usually carry a range of vacuum cleaners.
Before purchasing, it's a good idea to read reviews, compare prices, and consider the warranty and return policy. Remember to ensure that the vacuum suits your particular needs and preferences.
What are some recommended brands for cordless stick vacuums?
Here are some brands that have been recognized for their high-quality:
Dyson: Known for their innovative designs and powerful suction, Dyson's V-series, including the Dyson V11 and V10, have consistently received high marks.
Shark: The Shark ION and Shark Rocket cordless series have earned praise for their strong cleaning performance, flexible design, and value for money.
Tineco: Tineco offers a variety of cordless stick vacuums that balance performance with affordability. Their A10 and A11 series has been popular, and the Pure One S12 is a high-end model with smart features.
Bissell: Bissell's AirRam and other models are well-reviewed for their good performance, and pet owners favor specific models like the Pet Hair Eraser.
LG: The CordZero series from LG offers strong suction and convenient features like a telescoping wand and dual batteries.
Miele: While better known for their canister vacuums, Miele's Triflex HX1 has received good reviews for its powerful performance and quality build.
Samsung: Samsung's Jet series is known for its strong suction, sophisticated design, and five-layer filtration system.
Hoover: Hoover's ONEPWR series includes various cordless models with the same battery, offering a convenient solution for those looking for multiple cordless cleaning tools.
Remember, it will depend on your needs, including your home's size, floor types, and whether you have pets or allergies. It's a good idea to read reviews and compare models before deciding.
How much does a good cordless stick vacuum cost?
It can vary widely depending on the brand, model, and the features it offers.
Budget-Friendly Options: These typically range from $50 to $150. They may have fewer features and less suction power than more expensive models but can still offer solid performance for smaller homes or apartments. Examples of such brands could be BLACK+DECKER and Hoover.
Mid-Range Options: These usually cost between $150 and $300. They often have stronger suction, longer battery life, and more accessories than budget-friendly options. Brands like Shark and Bissell often have models in this range.
High-End Options: These are priced from $300 upwards, with some premium models, like certain Dyson or Miele models, costing $600 or more. High-end ones typically offer the strongest suction, longest battery life, and most advanced features, often with various accessories.
Remember, the one for your needs might not be the most expensive. Factors such as your home's size and layout, the types of floors you have, whether you have pets, and your specific cleaning needs should all be considered when choosing one. Always make sure to read reviews and compare models before making a purchase.
What are some features to look for in a cordless stick vacuum?
There are several key features to look out for depending on your specific cleaning needs:
Battery Life: Most can run anywhere between 15 minutes to an hour on a single charge. Premium models often feature removable batteries, allowing you to extend the run time by swapping a charged battery.
Suction Power: Look for the one with enough suction to clean your floor types effectively. Some offer adjustable power settings to tailor to different cleaning tasks.
Weight and Design: It should be lightweight and easy to maneuver. Some models feature a swivel head for easy navigation around furniture.
Dustbin Capacity: Larger dustbins mean less frequent emptying but can also make it heavier. Some models offer easy-empty dustbins for added convenience.
Filtration System: Consider one with a good filtration system if you have allergies or pets. HEPA filters are known for their ability to trap small particles and are considered the gold standard for allergy sufferers.
Accessories and Attachments: These can add versatility to your cleaning routine. Look for features like a motorized brush roll for carpets, a soft roller for hard floors, and attachments like a crevice tool or dusting brush.
Convertible Design: Can be easily converted into a handheld vacuum, making it easy to clean areas like stairs, upholstery, and the interior of your car.
Noise Level: They are quieter than their corded counterparts, and the noise level can vary between models.
Price and Warranty: Lastly, consider your budget and the warranty offered by the manufacturer. A good warranty can provide peace of mind and protection for your investment.
Consider your needs, read reviews, and compare different models before deciding.
Are Dyson vacuums worth the price?
Whether a Dyson is worth the price depends largely on your needs and preferences. As of my training cutoff in September 2021, Dyson is considered some of the top-performing cleaners in the market, praised for their strong suction, innovative design, and high-quality construction.
Here are a few factors that might make a Dyson worth the price for you:
Performance: Dyson is known for their powerful suction and efficiency in cleaning various surfaces, from hardwood floors to plush carpets. They are also praised for their effective filtration systems, which can particularly benefit allergy sufferers.
Innovation: Dyson consistently introduces innovative features in their cleaners, such as cyclonic technology for sustained suction, ball technology for easy maneuverability, and trigger switches to conserve battery life in cordless models.
Versatility: Many Dyson models are 2-in-1 units, operating as both stick and handheld. This makes them quite versatile for a range of cleaning tasks.
Durability: Dyson is are known for their build quality and often have a longer lifespan compared to cheaper models, which could make the higher upfront cost worthwhile over time.
However, there are a few potential downsides to consider:
Price: Dyson is typically more expensive than many other brands. If your cleaning needs are straightforward, a cheaper one might also serve you.
Maintenance Costs: While Dyson is built to last, replacement parts (like filters or batteries for cordless models) can be costly.
Overkill for Some Users: If you live in a small apartment with hard floors, you might not need the powerful suction and features that a Dyson offers.
Whether a Dyson is worth the cost depends on your needs, budget, and willingness to invest in a high-end cleaner. It's always a good idea to read reviews and compare models before deciding.
Last Updated on May 14, 2023 by Harold Chan
DISCLAIMER
(IMPORTANT)
: This information (including all text, images, audio, or other formats on FamilyHype.com) is not intended to be a substitute for informed professional advice, diagnosis, endorsement or treatment. You should not take any action or avoid taking action without consulting a qualified professional. Always seek the advice of your physician or other qualified health provider with any questions about medical conditions. Do not disregard professional medical advice or delay seeking advice or treatment because of something you have read here a FamilyHype.com.