Many of our households don't have a desktop computer and haven't for quite some time. However, with recent changes in the world, many more people are working from home and looking to purchase a new desktop computer for their home office. So, they want to know what the best desktop computers are these days. That's what we're here for.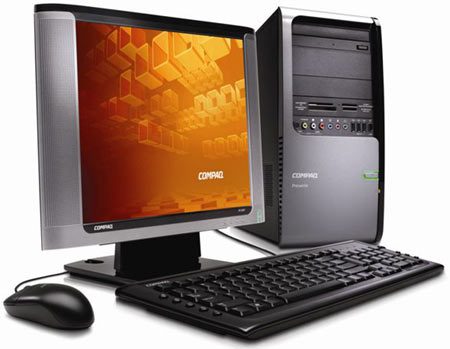 The best desktop computers can be determined based on your needs. Desktop computers are designed with purpose in mind. The features needed to give you a seamless video conference call will be different than what's needed to edit photos, produce beautiful art, or support immersive gaming experiences. 
In this article, we're going to look at some of these features, discuss how you can choose from all the desktop computers available, and even look at some specific options so you can get a better idea of what's on the market.
Desktop Computers Today
Desktop computers aren't the same as they used to be. Or at least, some of them aren't. Today, you get your choice of PCs with large towers to house the CPU brain, mini PCs that can fit in tight spaces, and all-in-one options where there is no separate PC brain tower. 
While many of us have turned away from the stationary desktop computer because we have our mobile devices, which are smart phones, tablets, and laptops, the power you can get in the best desktop computers can far exceed what you can get with those portable devices. In other words, you'll be able to get a much faster computer by going with the best desktop.
Now, that may not always be a good thing. Because of their greater potential for power and speed, they also consume a lot more energy. That means your power bill may go up with high usage, as will your environmental footprint. Laptops are more energy efficient because they don't have the same type of potential and power.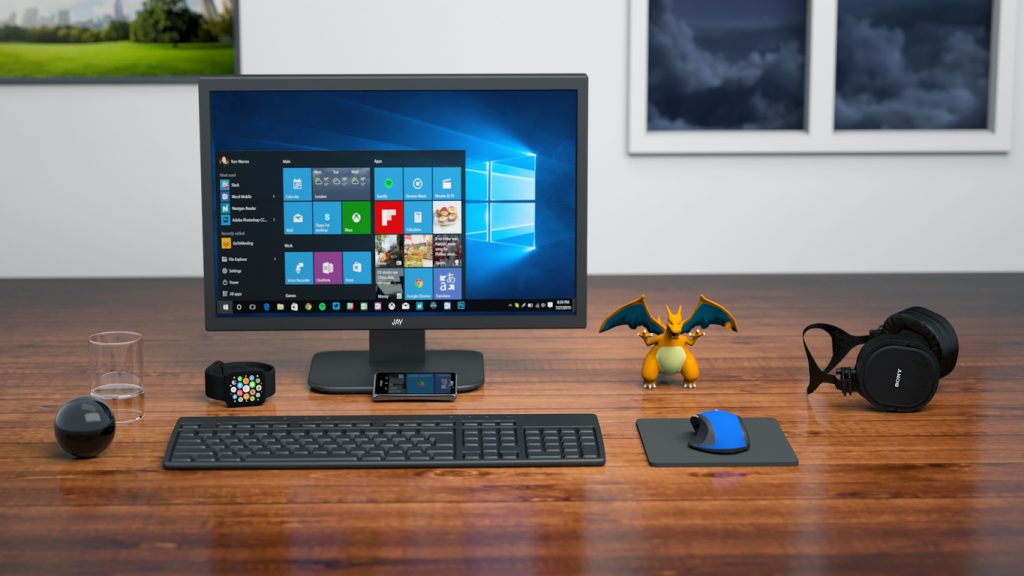 Features Of A Desktop Computer
Many of the features you look for in the best desktop computer will be the same as what you'll look for in a laptop. You still want the most powerful processor with the fastest speed. You'll want it to run on the operating system you like. You want to look at the monitor size, the graphics, the resolution and color of the display, and whether it's touchscreen, or not. You should also look at the available internal memory and the available RAM.
There are some physical features that will be different, though. The desktop computer that most of us are familiar with comes with a keyboard, a monitor, and bulky tower that houses the CPU. You can still purchase one of these. It may be the best option for people who want to have a lot of memory, power, and DVD drives. Your other options here are to go with the all-in-one or the mini PC.
All-in-one computers are the best desktop options for people who want things to be clean and streamlined in their office space. They're usually less expensive than the more traditional PCs, too. The brain of the computer will be at the back of the monitor. Essentially, the monitor is the PC. You can still get plenty of power and speed, you just won't have to have all the clutter and cords. One thing to beware of is not all of them come with a keyboard. In that case, you'd have to buy that separately.
The other choice you have is to go with a mini PC. This could be a good option as the best desktop for those who want to piece together their own ideal computer. Some of the best gaming desktop computers are made this way. You simply choose the mini PC unit you want, then you can build out from there. You'll add the monitor you want, the keyboard you want, and any other accessories you'd like. People like these because they save on space and allow for a lot of customization.
Best Desktop Computer Options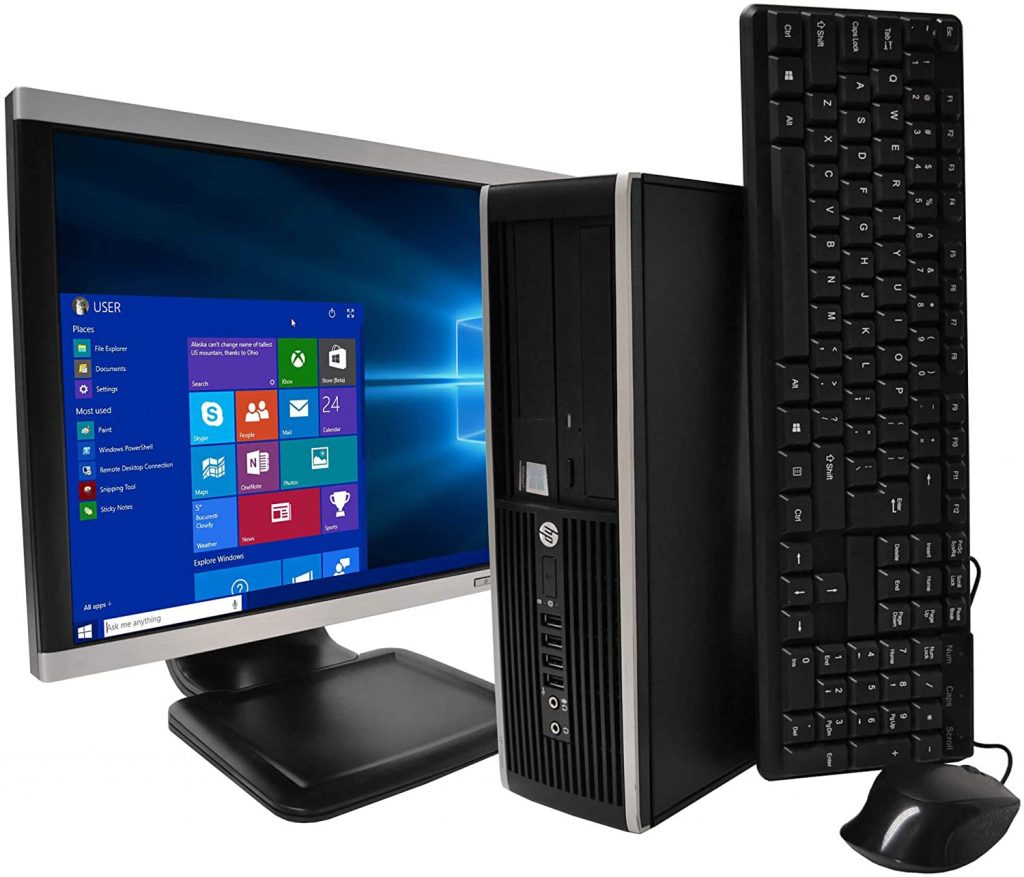 The HP Elite Desktop PC comes with a 19 inch LCD monitor, a keyboard, a mouse, and a CPU tower. The Intel Quad Core i5 processor is super fast making this a good home PC as a gaming desktop, a work computer, or for students. It works with 8 GB of RAM and has the Windows 10 operating system. It's a good all around computer that will suit the functions of many types of users. There are 6 USB ports for plenty of connectivity options and built-in wireless capability.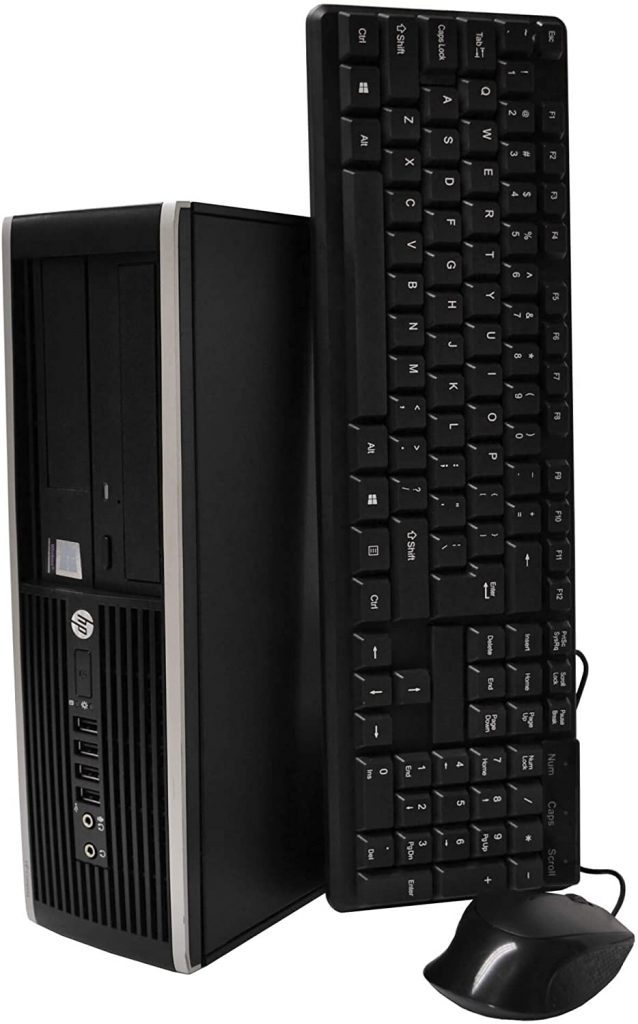 Pros:
Lots of value-bundle includes everything you need to get started right away
Upgradeable
Easy to set up
Packaged well
Low cost
Cons:
Not the best display
WiFi adapter could be better
Not enough memory or RAM for serious gaming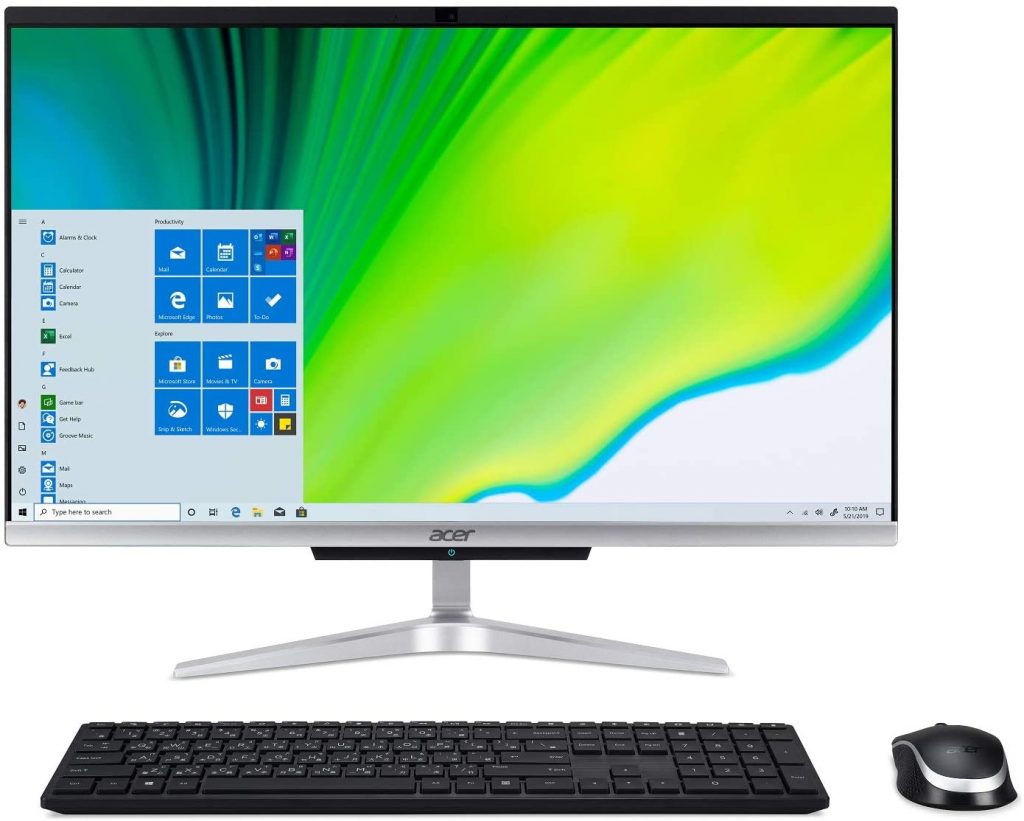 The Acer Aspire has a 10th Gen Intel Core i3-1005G1 processor that keeps things moving quickly. This computer does come with a wireless keyboard and a mouse. It runs on the Windows 10 operating system. It also has Alexa voice control built in. The monitor is super thin and can tilt between -5° and 25° so you can set it to your liking. There are 4 USB ports, an SD card reader, an audio port, an HDMI port, and an Ethernet connection port. The display has BlueLightShield incorporated into the screen, which is easier on the eyes. There's also lots of storage and you can upgrade to more, if needed.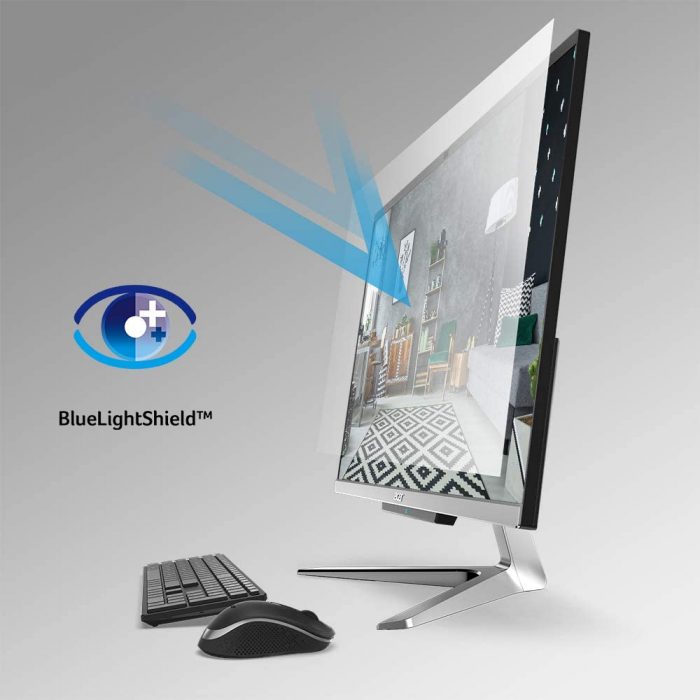 Pros:
All-in-One style means no bulky tower
Good aesthetic
Includes keyboard and mouse
Lots of connectivity ports
Low price
Cons:
On the slow side
Graphics aren't great for serious gaming desktop
Sound quality not great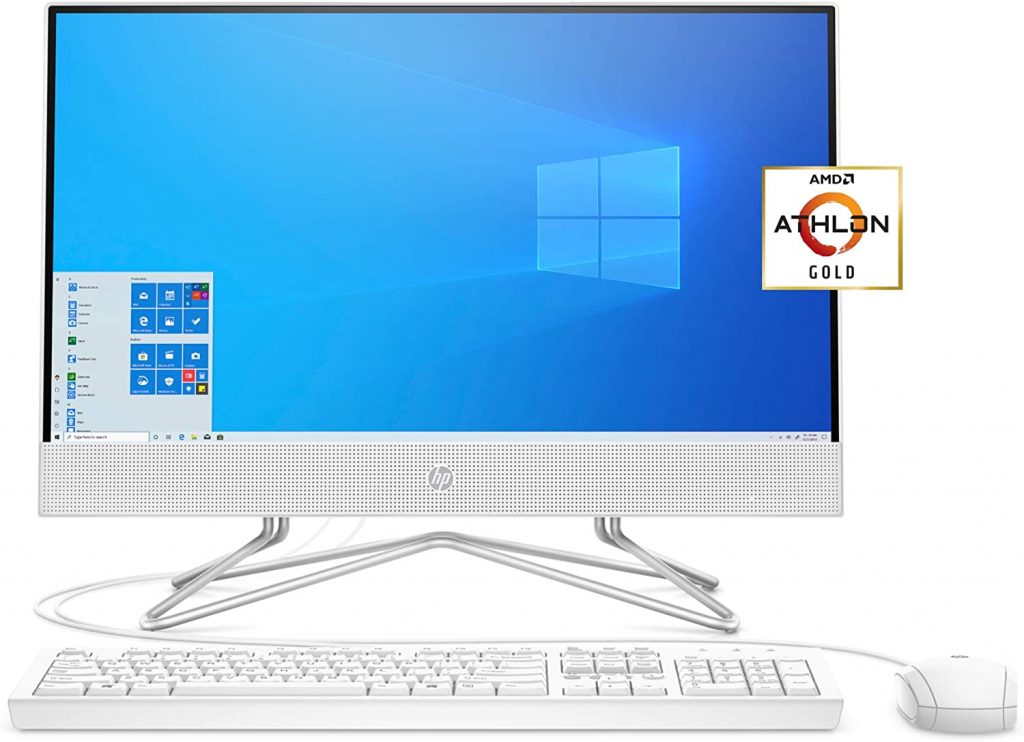 This is an all-in-one that costs slightly less than the previous option. It has less RAM, though, at 4GB, and a smaller screen. You do get a Full HD display with anti-glare built into it, however. This one also runs on Windows 10 and comes with a keyboard and mouse that are both wired with USB connections. The HP all-in-one is Alexa enabled like the Acer. The really cool thing about the monitor for this one is the micro-edge display. You get maximum viewing with barely any screen edge.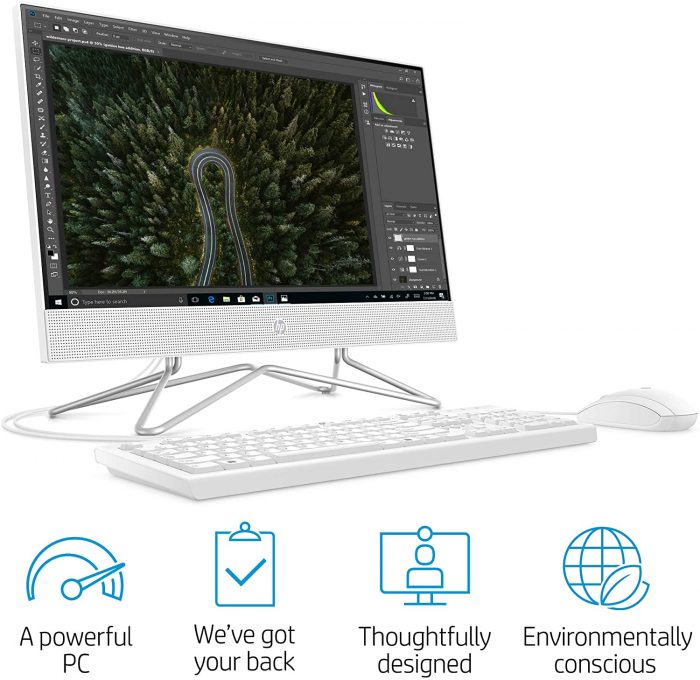 Pros:
Good overall computer at low price
RAM and storage upgradeable
Attractive to look at
Super easy setup
Almost edge-to-edge display
Cons:
Not fast enough for any serious gaming desktop
Only 4GB RAM included
Upgradeable but not an easy process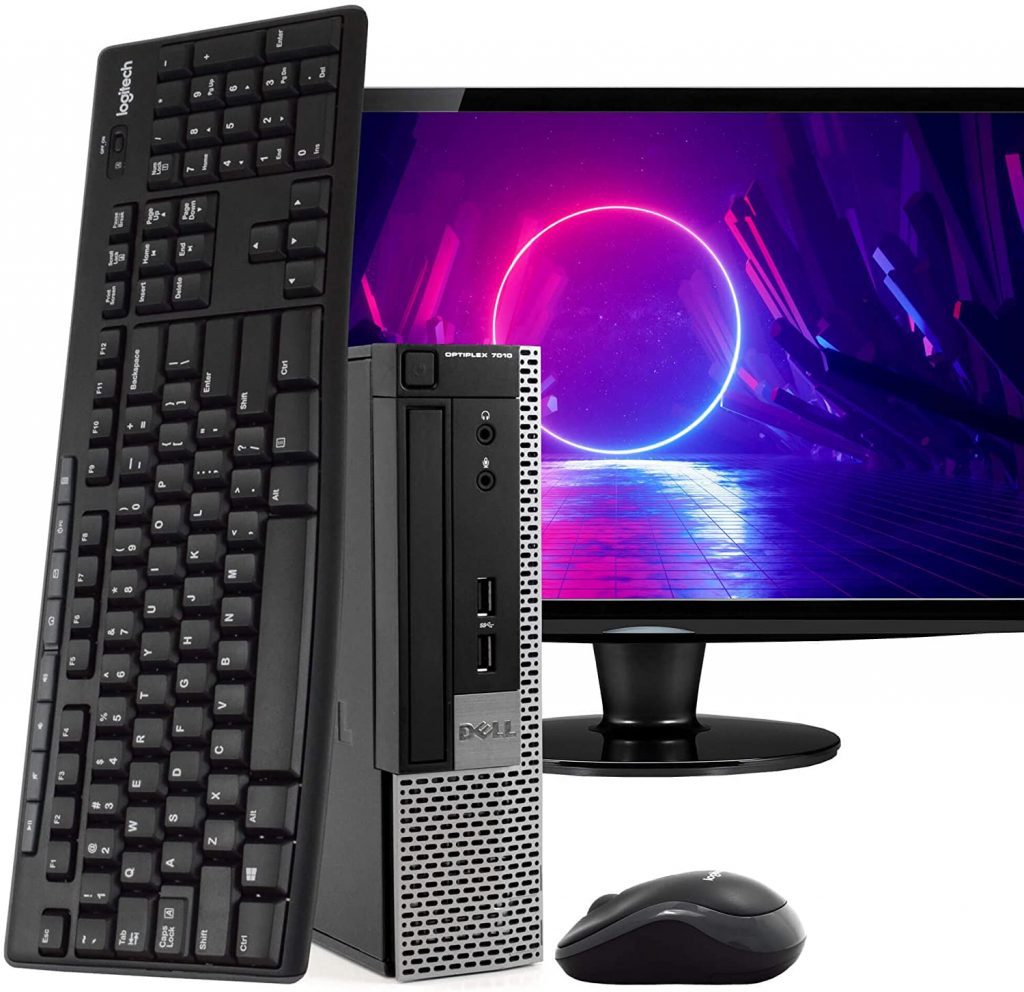 This is a desktop bundle computer that includes a 24" LCD monitor, a wireless keyboard and mouse, a DVD drive, and a 16GB flash drive. It has a small CPU that is free-standing and runs with 8GB of RAM. The original design of this computer was meant for the business user. It comes with the latest version of Windows and has plenty of storage space for all of your files and important documents. You can also enjoy streaming movies and music and play some kinds of PC games.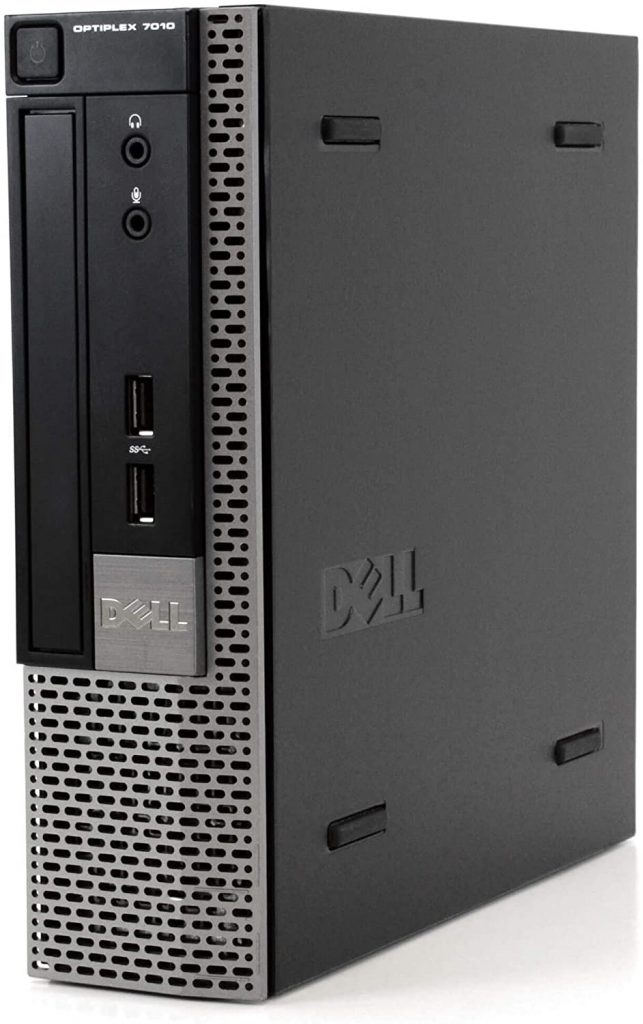 Pros:
Large monitor
Fast browsing and everyday use
Easy setup
Bundle that comes with everything needed
Small physical footprint
Cons:
Too slow for much gaming
Some problems with USB ports not working
Basic
Conclusion
The desktop computer is back. Well, they were never really gone, just less popular. They are currently gaining in popularity again, so this article about the best desktop computer options should have been helpful for you. When you're shopping for yours, consider the use it's going to get. Do you need a gaming desktop, a business desktop, or a school desktop? This will ultimately help you prioritize the features you want to look for in a desktop PC. Then, a little research and budgeting will go a long way toward helping you choose the best desktop computer for your needs.
FAQs:
What is the best desktop computer for 2020?
The mid-range all-in-one HP Pavilion 24 Series is the best overall desktop computer for 2020. It's good for all members of the family to support the different activities they would be doing.
What is the best desktop PC to buy?
You almost can't go wrong with with Apple iMac computer. It's fast and super reliable.
What are the top 10 desktop computers?
HP Pavilion 24 All-in-One
Acer Aspire TC-885-UA92
Dell Precision 7920 Tower
HP Envy 32 All-in-One
Apple Mac mini
Intel NUC 9 Extreme Kit (Ghost Canyon)
Apple iMac 27-Inch
Microsoft Surface Studio 2
Lenovo Legion Tower 5i
Dell G5 Gaming Desktop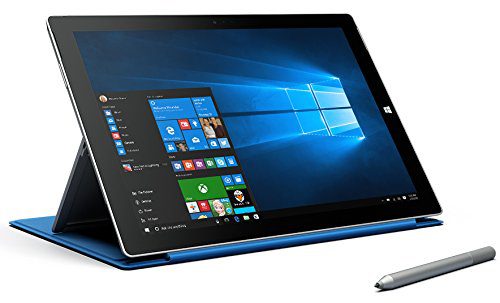 What is the best affordable desktop computer?
The most affordable and best all around is the Acer Aspire TC-885-UA92. You get a lot of bang for your buck with this one.
What is the best home computer for 2020?
The best of the best for home computers in 2020 is the Apple iMac with Retina 5K Display. It's pricey but it will last you a long time and is more secure.
What is the best HP desktop computer for home use?
The HP Pavilion 24 All-in-One is the best from HP. If you want one with a tower, though, go with the HP Envy Desktop.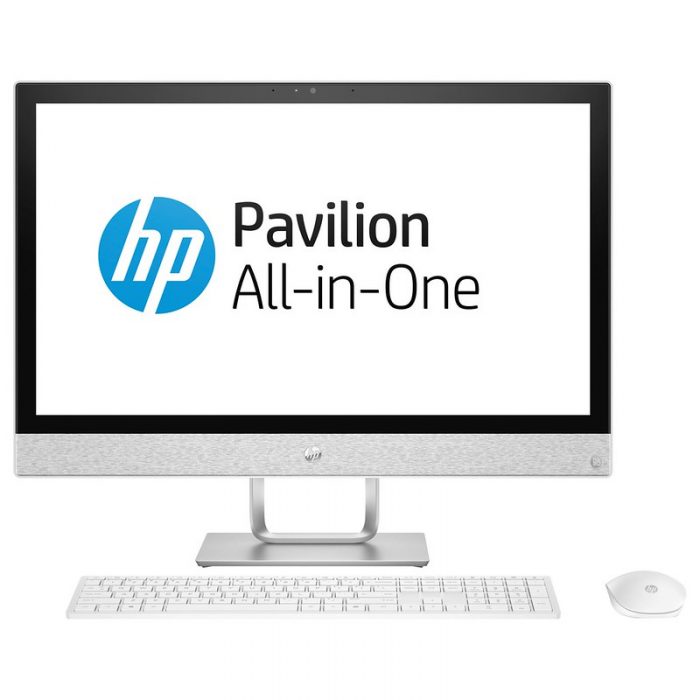 What are the worst computer brands?
This is in terms of reliability. The worst brands go to ASUS and Acer when it comes to how reliable they will be.
What should I look for when buying a new desktop computer?
Look for the space you want it to take up. You have plenty of options when it comes to the footprint, now. Look at the processing speed, the internal memory, the RAM, and what things come with it. Also, check out the screen size and the clarity of the images. And, of course, look at the price.
What should I look for in a new computer 2020?
Look at what you'll be getting for your money. Look at the operating system and the included software, including security software. Make sure it has the features that you'll want the most for the type of usage you will be doing. Choose the size that fits the space you have available.
Is Dell or HP better?
HP is slightly better than Dell in terms of reliability. They also have a little more market share. For the most part, though, these two big names in the industry run neck and neck in the middle of the pack.
Disclaimer: FamilyHype.com (Family Hype & FamilyHype) is a participant in the Amazon Services LLC Associates Program, an affiliate advertising program designed to provide a means for sites to earn advertising fees by advertising and linking to Amazon.com.
DISCLAIMER
(IMPORTANT)
: This information (including all text, images, audio, or other formats on FamilyHype.com) is not intended to be a substitute for informed professional advice, diagnosis, endorsement or treatment. You should not take any action or avoid taking action without consulting a qualified professional. Always seek the advice of your physician or other qualified health provider with any questions about medical conditions. Do not disregard professional medical advice or delay seeking advice or treatment because of something you have read here a FamilyHype.com.