Summer is a great season because the weather that it brings creates a vibrant and fun experience. It can be a bit harder to dress during this season because of the heat and humidity. However, there are plenty of means to get your best looks ready so that you can have fun under the heat of the sun.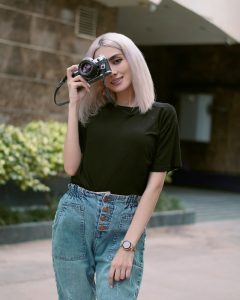 You can be sure that the warmer months will be here before you know it, so you want to prepare your summer vacation bucket list. And among the things you need for summer vacation are cute clothes.
So, we have compiled a list of vacation looks for you to choose from so that you can wear this season's hottest trends. Let's get started on how to pack for summer vacation.
Keep scrolling to find fashion inspiration for both women and men!
Vacation Clothing For Women
T-shirt and Jeans 
#1 Summer Outfit For Women
Let's start with the basics. A pair of relaxed jeans and a summer vacation t-shirt is an easy-to-pack outfit for any vacation. You'll be more comfortable in the air conditioning with the jeans, while the T-shirt is a classic pick for everyday wear. This is the perfect outfit for going out to eat, shop, or explore. You can even dress it up with accessories and signature pieces, like a straw bag or a cool hat, to keep your head protected from the sun.
If you like, you can wear a white T-shirt for increased adaptability. For an extra layer of warmth or to dress it up for the evenings if the temperature drops in your destination, you may throw on a jacket or cardigan on top of it. The best thing to do is to bring a white T-shirt, followed by a few different colored T-shirts. Having a spare, clean T-shirt in your suitcase for a vacation is always good, and you can wear your jeans two or three times before washing them.
Tank Top and Shorts
#2 Summer Outfit For Women
Vacation attire can't be complete without a pair of loose-fitting shorts and a cotton tank top for ladies. The pair is one of the summer vacation necessities for women. Whether you're on the road, lounging around at the hotel, going touring or shopping, or even as a swimming cover-up, this one is quite versatile. You won't have to worry about it being out of place while doing your favorite summer vacation activities. Additionally, it's easy to mix and match, which is a must-have when packing for a vacation. Pair this look with some flip flops for a more laid-back vibe.
For example, you may wear the tank top with a different pair of pants or wear the shorts many times before laundering them, based on how long you use them and your activities. If you don't prefer to wear shorts, you may opt for skirts. Women wear skirts because they're cool and comfortable to wear. Skirts are also easy to style and can fit with all fashion aesthetics. You can also create different silhouettes. Loose skirts that flow with the air are the perfect fashion statement for a windy day. If you're looking for something a little more dressed up, go for a form fitting silhouette. Skirts are definitely something that won't go out of style that easily.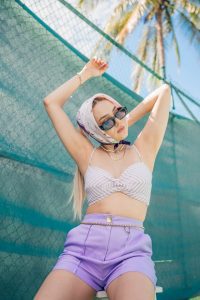 White Blouse and Jeans
#3 Summer Outfit For Women
There should always be a good pair of jeans and a white shirt in every lady's closet. With this combo, you can dress up or down, wear it year-round, and get more wear out of it than nearly anything else. It can take you from casual to chic without much effort. Just make sure you pick a blouse in a breathable fabric to ensure comfort in the warm weather.
A holiday suit that can go from day to night is just what you're looking for. Choose a pair of adorable sneakers or a comfortable pair of sandals for the day. Change into a pair of dressier sandals or heels, as well as some jewelry and a little extra make-up for the evening. Adding a few of your favorite sparkles and a little lipstick and mascara can transform this look into something truly spectacular.
Polo Shirt and Chinos
#4 Summer Outfit For Women
Hotter months are the perfect time to wear chinos, and they're easy to pack for a vacation. A polo shirt is another wardrobe staple that instantly transforms a casual look into something more polished. Chinos for women in stone or khaki work well in the heat because they're light and airy and can be worn with nearly anything in your closet. Chinos always look good on a white blouse to a T-shirt. It even goes well with a tank top and a cardigan to extend your vacation wardrobe. They'll keep you looking and feeling your best all day and night long. If you're going out for dinner or drinks, you can even throw on a cute blazer.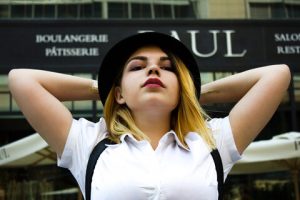 Shirt Dress
#5 Summer Outfit For Women
One of the best summer dresses for women is shirt dresses. They appear like they were meant to be worn on a hot day. They are one-piece garments that can be worn up or down and are comfortable, airy, and versatile. For a night on the town, spruce up your look with a little jewelry and a pair of your most stylish sandals. One can wear a pair of white shoes to go sightseeing or shopping. Not just for fashion, but it's also possible to use a shirt dress as a swimsuit cover-up.
Blouse and White Capris
#6 Summer Outfit For Women
White Capri trousers with a stylish shirt in a bright color or print are the perfect attire for a vacation. Put on white sneakers or sandals, and you'll have a casual yet refined attire that's both comfortable and stylish. If you're not used to wearing white pants, here's a thought experiment for you: As long as the fabric is sufficiently opaque, you should be able to wear white pants without any issues.
Men's Vacation Clothing
It's not just men who enjoy dressing up on vacation. The world of fashion is not only for women; fashion is for everyone.
Chinos
To avoid overheating while strolling down the sand on the beach, go back to wearing chino pants. Your sleek white sneakers and an unbuttoned white shirt look great with these. Enhance your beach outfit by adding a longer necklace and stylish sunglass frames to your ensemble. And for an even better photo, don't forget to bring a sand pail to create an interesting background detail at the beach.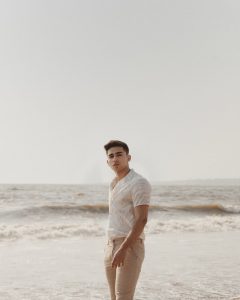 Tank and Trousers
A white tank top will never get out of style on hot days. Don't put together a haphazard outfit. It's best to wear a shirt with dark-colored pants, such as grey or dark olive green. Wear sandals or clogs if you can, or something equally as comfortable. Always remember to accessorize with a belt, delicate jewelry, and sunglasses.
Traveller's Vest
Make your staples fashionable, and you'll never have to worry about forgetting them again. Keep all of your essentials in a fisherman's vest for the day. Put a white T-shirt underneath and pair it with dark-colored shorts for a casual look. Then, put on your most comfortable pair of sneakers and white cotton socks, and you're set to go exploring.
Bucket Hats
#4 Summer Outfits For Men
This summer, wear your muscle shirt with a pair of denim shorts for a casual look. To keep things lighthearted, pair your purse and sandals with a bucket hat – because this season's hottest fad is still bucket hats. There are tons of bucket hats to fit with your style and fashion. Buy one with the right color for your chosen style. A watch or a chain necklace, as is customary, can complete your look for the day.
Go for Minimal Prints
For some, the warmer months are the ideal time to don shirts with bold and colorful prints. When it comes to the best summer vacation clothes, the cleanest option is to wear a light-colored shirt that matches your jogger pants or trousers and has little patterns and details. Put on loafers instead of sneakers. Sometimes, you don't have to be in style or wear fashionable clothes. Going for an outfit with minimal print will do the job.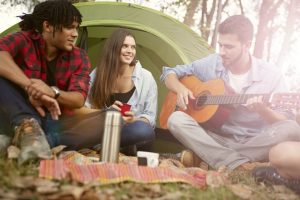 Play with Blue
For one thing, navy blue is a color that can be worn with just about anything. Beneath a short-sleeved navy shirt, layer a grey top and jogger trousers to make the color pop. Clogs are the perfect footwear choice for a laid-back getaway look.
Yes, this season's must-haves for fashion are all neon hues. It's still possible to be daring but choose darker colors like royal blue for your outfit. Combine it with white jogging trousers and sandals for a fun look.
What are your best vacation outfits? Bookmark Family Hype for more fashion and trending outfits!
Frequently Asked Questions (FAQs)
Which clothes are best for the warmer months?
There are plenty of outfit ideas you can play around with. But of course, the most important thing is that you feel confident and comfortable in the clothes you wear.
What should I wear in warm weather in 2023?
How can I be stylish during the warm season?
What do people wear in warmer weather?
What is the best color to wear in the heat?
How can I look smart in hot weather?
How do rich people dress in the summer?
How can I look cool in warm weather?
How can I look classy in the summer with no money?
What are the hottest summer outfits this year?
What to wear in hot weather?
How can I look more elegant in the warmer months?
How should I dress without showing any skin?
What colors should you avoid in the heat?
What clothes NOT to wear in the heat?
Last Updated on May 15, 2023 by Inma Barquero
DISCLAIMER
(IMPORTANT)
: This information (including all text, images, audio, or other formats on FamilyHype.com) is not intended to be a substitute for informed professional advice, diagnosis, endorsement or treatment. You should not take any action or avoid taking action without consulting a qualified professional. Always seek the advice of your physician or other qualified health provider with any questions about medical conditions. Do not disregard professional medical advice or delay seeking advice or treatment because of something you have read here a FamilyHype.com.