Have you purchased a travel set before going to the hospital and meeting your newborn? Having a Maxi travel set is so convenient. You get the stroller, the car seat, and more all in one package. If you're a parent, buying an infant car seat is much easier for you in the long run, even if the cost is a bit pricey in the initial purchase.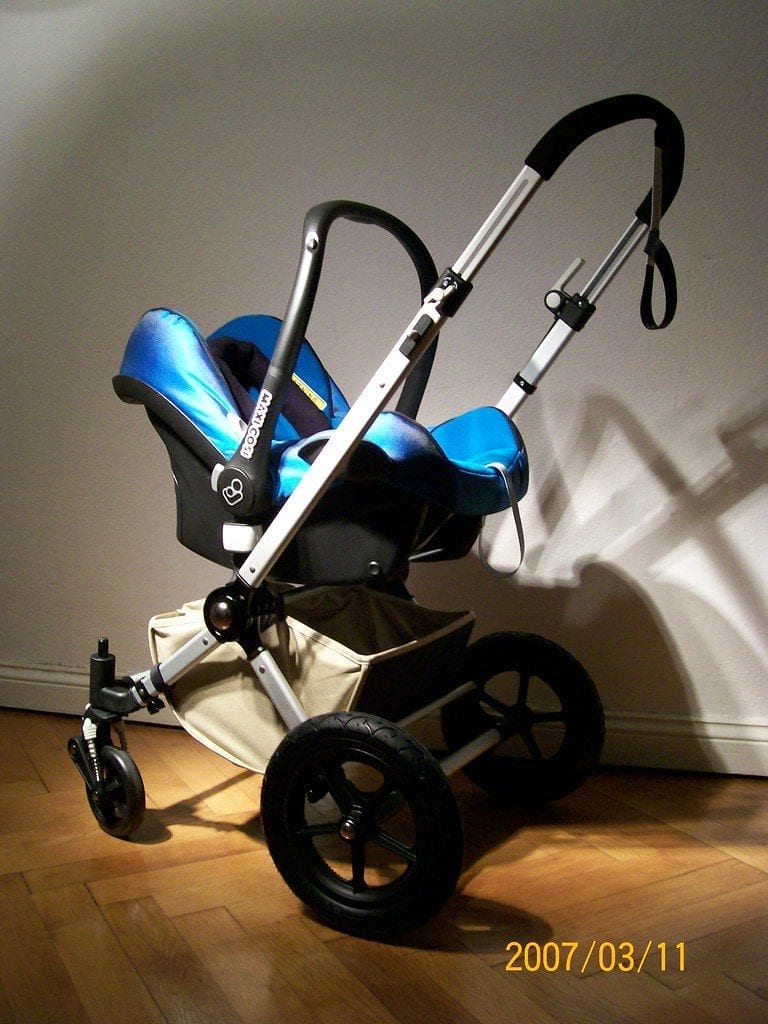 With that said, today we are looking at the Maxi-Cosi 5-in-1. Is it a good Maxi Cosi travel set for cars, or is it lacking? Let's find out with these Maxi Cosi infant car seats review so you can decide. 
What Is The Maxi-Cosi Travel Set?
This tall but not-so-cheap travel set has a light car seat equipped with a no-rethread harness and lower anchors, making it not only easy to install but also enhancing safety. The car seat, also boasting impact protection, comes with soft harness covers that increase the comfort level for your little one.
It's easy to fit the car seat on the stroller via the well-guided belt path. The Maxi Cosi car seat is reversible, allowing you to adjust it to the most comfortable harness height and position. Transferring the car seat to your stroller is straightforward, enabling you to maintain your baby's comfort throughout the journey.
As for the Maxi Cosi stroller itself, it does have a smooth experience for vehicles, with a reclinable seat. Reclinable seats are always a plus in any stroller because some babies are picky with their seating positions. 
The Maxi Cosi stroller also is easy to clean and self-wicking, allowing your baby to stay cool and dry when the weather isn't behaving so well. 
Compared to other infant car seats, the Maxi Cosi car seat is suitable for kids up to 30 pounds, with the stroller going up to 50, which is always convenient, though that means it has a bit of an inconsistent tight weight limit.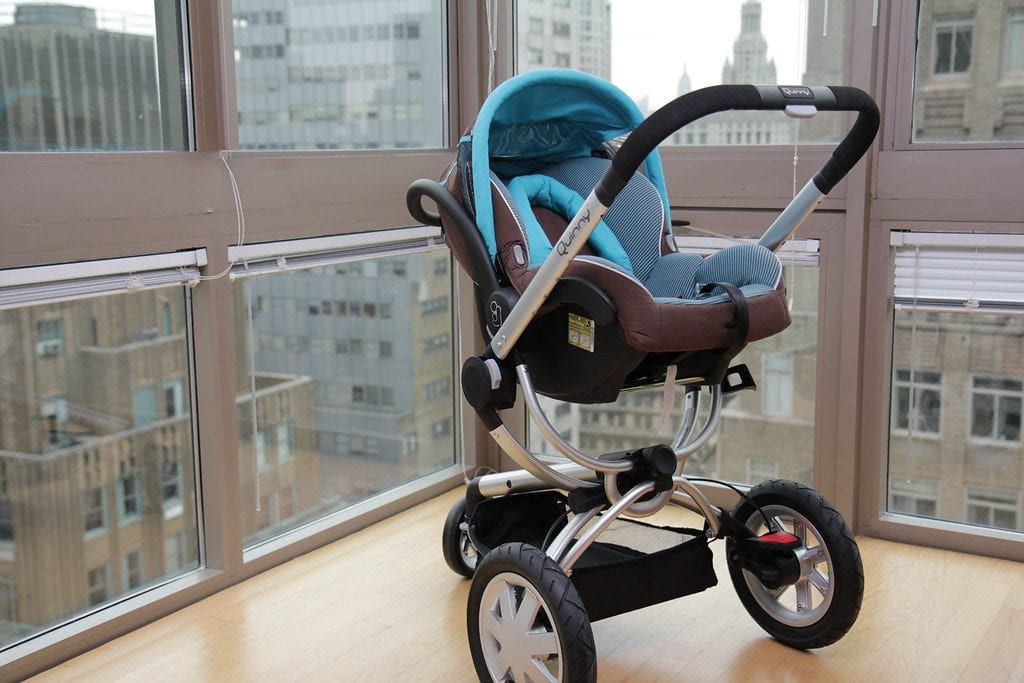 Review And Features Of Maxi Cosi
With that said, let's look at the features in a little more detail.
Weight
This unit has had a positive reception due to its being lightweight. The stroller itself weighs 21.5 lbs. While not the lightest stroller, it's still lightweight and saves space. As for the car seat itself, the seat weighs 9 pounds without its base. You and your husband could easily carry and pass this to each other.
Stroller Features 
This stroller has quite a few unique features. The stroller boasts a five-point safety harness that keeps your baby safe and sound. The seat can face rear or forward—some parents like the baby facing their parents, which is always an advantage. The center itself, distinct from other car seats, is fully reclinable. It has a unique Carriage Mode and a recline angle indicator to ensure it's in the correct position, making things much more accessible.
In addition, this stroller features a handlebar you can adjust, and it has a convenient locking mechanism for added safety. This comfortable car seat has also impressed us with its superior crash test results. Including a soft headrest pad further enhances the comfort level, setting it apart from the competition. We do love how easy it is to use this stroller.
Unique Features
Folding is also easy, and the car seat base includes latch anchors to secure it, ensuring it stays in a forward-facing position. When you fold it, it can stand upright without assistance, which is always interesting. It even includes an anti-rebound bar for additional safety.
The stroller's brake and foot brake are also easy to use. It's designed with a comprehensive weight range, catering to various stages of your child's growth. The "air protect" feature contributes to its safety measures, offering additional head protection. Furthermore, the fabrics are dryer safe for your convenience, simplifying the cleaning process.
The tires themselves are filled with foam. Some parents may prefer these foam-filled tires because they require no air, but it depends on what you need the stroller for. Some foam-filled tires can't handle certain types of terrain.
Finally, this stroller has a nice canopy that covers the baby and a huge storage basket. Being able to store everything is always a nice feature. We're glad this travel set has that in spades, and the canopy protects everything.
Car Seat's Features
The Maxi Cosi car seat can fit newborns, smaller babies, and kids up to 30 pounds, and just like the stroller, it has a 5-point harness. Sadly, Maxi Cosi is only for rear-facing in the back seat, which is disappointing. Still, the good news is that it does have self-wicking fabrics and extra soft head padding, and you can wash the fabric by machine.
Maxi Cosi has quite a few safety features as well. It protects against side impacts, and its LATCH system makes it so that installation is a breeze. Some Maxi Cosi car seats are a little hassle to install, so we are glad this car seat breaks the mold. You can also add an infant insert, so it's not a hassle to nestle in and out.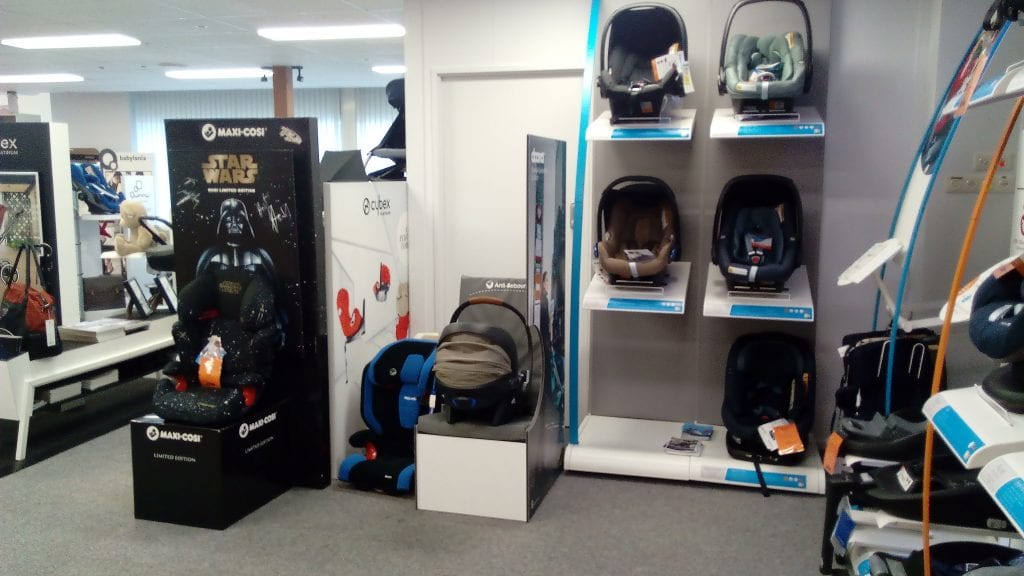 Review About Maxi Cosi 
Reading the Amazon Maxi Cosi review is always helpful, as you can determine whether parents like you love or hate specific infant seats. As of this post, there are almost 150 comments, with 4 out of 5 stars on average. This means the reception is mostly positive, but there are a few complaints. 
In this set, the negative comments are very vocal. You go on Amazon, and the negative feedback is the most upvoted. This is quite common in any other seat. People are always looking for the negative rather than giving both the positive and negative a fair shake. 
However, we'll try to keep the consensus balanced. 
Lightweight Travel Set For Infants
Many parents love this travel set for their infant primarily because it is lightweight. Many parents have to handle heavy objects when dealing with baby products, and sometimes, you need a spare travel set. Specifically designed for tiny babies, it offers a secure rear-facing position with an adjustable crotch buckle for added safety.
Even though it is light, it's also a high-quality set. Many parents enjoy its maneuverability and praise how easy it is to use, making it a popular choice among baby travel sets.
Pros And Cons Of The Brand's Product
Another praise was the light cushioning of the seat, with many parents envious of their baby's comfort.
Meanwhile, there were some complaints. Many parents said that the Maxi Cosi seat, despite meeting federal standards, and other parts were flimsy and that the seat was too hot, making the child feel uncomfortable. According to their feedback, some parents complained about the height limit, noting that it did not fit perfectly for taller children, which was annoying to maneuver.
Some parents, unfortunately, received defective Maxi Cosi units. While this is unlikely, obtaining a defective unit understandably leads a parent to leave scathing feedback. Some said that it is hard to install, proving that despite its many merits, there are some areas for improvement.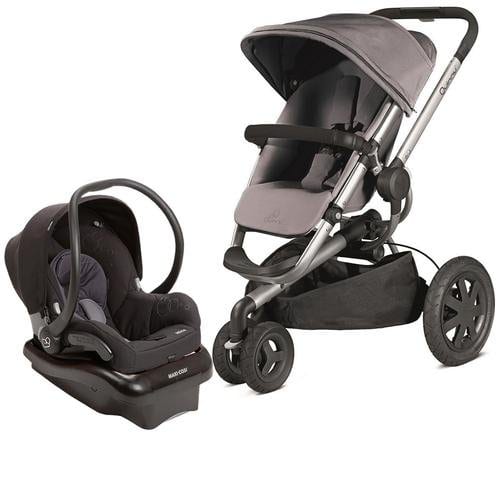 Price Of Maxi Cosi
The Maxi Cosi travel set costs around $339 on Amazon. This price suits a Maxi Cosi travel set (see the comparison here). Since it combines the car seat and the stroller, it can help you save money in the long run. It's a mid-range travel set. There are cheaper Maxi Cosi units, but they are also more expensive. It's a lovely mid-range baby set if we do say so ourselves. 
Maxi Cosi Verdict
This is a great travel set, albeit one that isn't perfect. We wish the Maxi Cosi car seat had a little more, and with a vocal minority of complaints, it may make you think twice about purchasing it. However, with many satisfied customers, you may like it if you can buy it risk-free. You have to remember that many Maxi Cosi travel sets focus on convenience, and many will have stroller seats with potential that aren't fully fleshed out. However, you still get a quality enough travel set worth the purchase. 
I hope this Maxi Cosi Review helps you decide what car seat to get. Try out this Maxi Cosi car seat set today and see if it's for you. Chances are, you're going to love it. 
Maxi Cosi Frequently Asked Questions
Is It A Good Brand?
Maxi Cosi has gained popularity for providing safe and comfy car seats. Maxi Cosi is not the most affordable brand, but you may not mind splurging on a Maxi Cosi for your child's safety.
Is It FAA Approved?
Maxi Cosi's car seats are FAA-approved. It means you can take the Maxi Cosi car seat in the plane and secure it with a seat belt.
How Long Is Maxi Cosi Car Seat Good For?
A Maxi Cosi car seat can be used for six to eight years. You can see the expiration date molded into the shell of the Maxi Cosi seat.
What Age Is The Maxi Cosi Car Seat For?
Your baby can use a Maxi Cosi car seat as early as four months old. You may opt for a convertible type to avoid buying a new Maxi Cosi car seat multiple times.
When Should I Upgrade My Car Seat?
The child's age is not the ideal deciding factor when upgrading Maxi Cosi car seats. It would help if you based it on their height and weight instead. If your baby has exceeded the maximum size and weight limit the brand has set for a model, it is time to look for a new car seat.
Last Updated on May 10, 2023 by Harold Chan
DISCLAIMER
(IMPORTANT)
: This information (including all text, images, audio, or other formats on FamilyHype.com) is not intended to be a substitute for informed professional advice, diagnosis, endorsement or treatment. You should not take any action or avoid taking action without consulting a qualified professional. Always seek the advice of your physician or other qualified health provider with any questions about medical conditions. Do not disregard professional medical advice or delay seeking advice or treatment because of something you have read here a FamilyHype.com.