Ahh, spiders! Some people get scared at the mention of spiders, but there are some cool ones to play with that, if your child loves these eight-legged creatures, he or she will love.  Here, we'll talk about the best remote-controlled spiders that children will love, and why they're considered some of the best on the market. Whether you think this is a scary toy for kids or not, kids in all types of age range, boys and girls, love remote control toys, and that includes spider battery powered robotic toy arachnids. Why not give your kiddo something to help tear their attention away from those video games they love so much?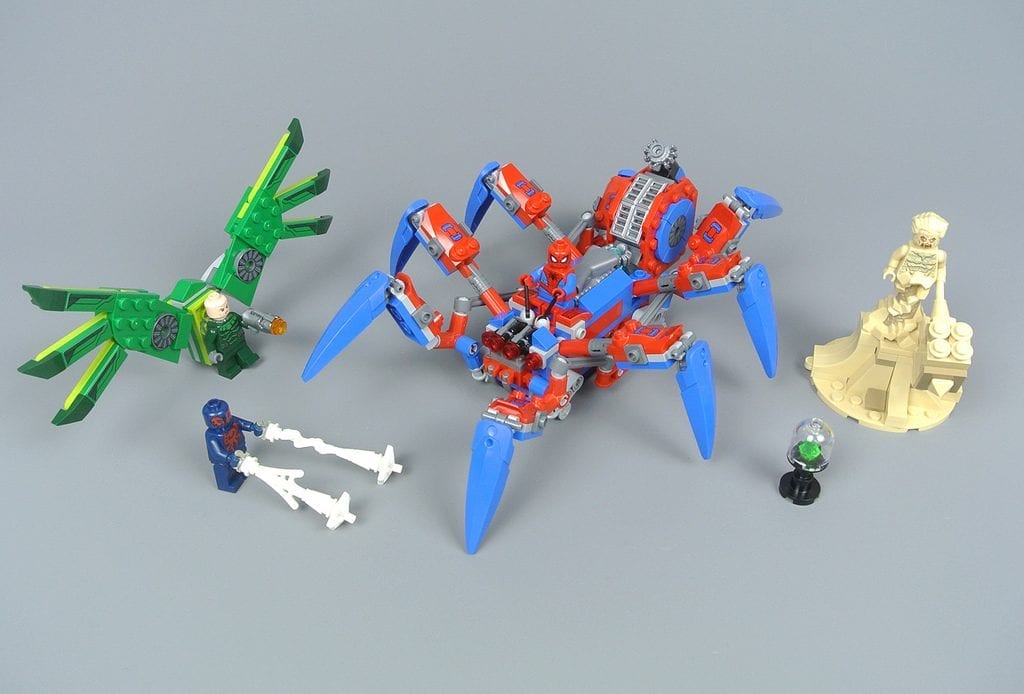 Why Would Your Kid Want A Spider
You may wonder why your child might want a remote-controlled spider, but here's the thing, it does involve endless hours of play, but they're also educational and fun. The more appropriate question here is why wouldn't your kid want a spider? You may not want him or her playing with a real spider, but a harmless remote control tarantula could be lots of fun.
They are stimulating for the mind, and they also help form the building blocks in mind, and scientific thinking, which is useful for engineering, robotics, and other science. They also provide a learning experience and problem-solving skills that are good. You can even get kits, which involve building a remote control toy and help build more engagement with time.  These are pretty cool, and they are suitable for laughs and giggles. Plus, if you're not creeped out by spiders, some of them are very realistic and refreshing.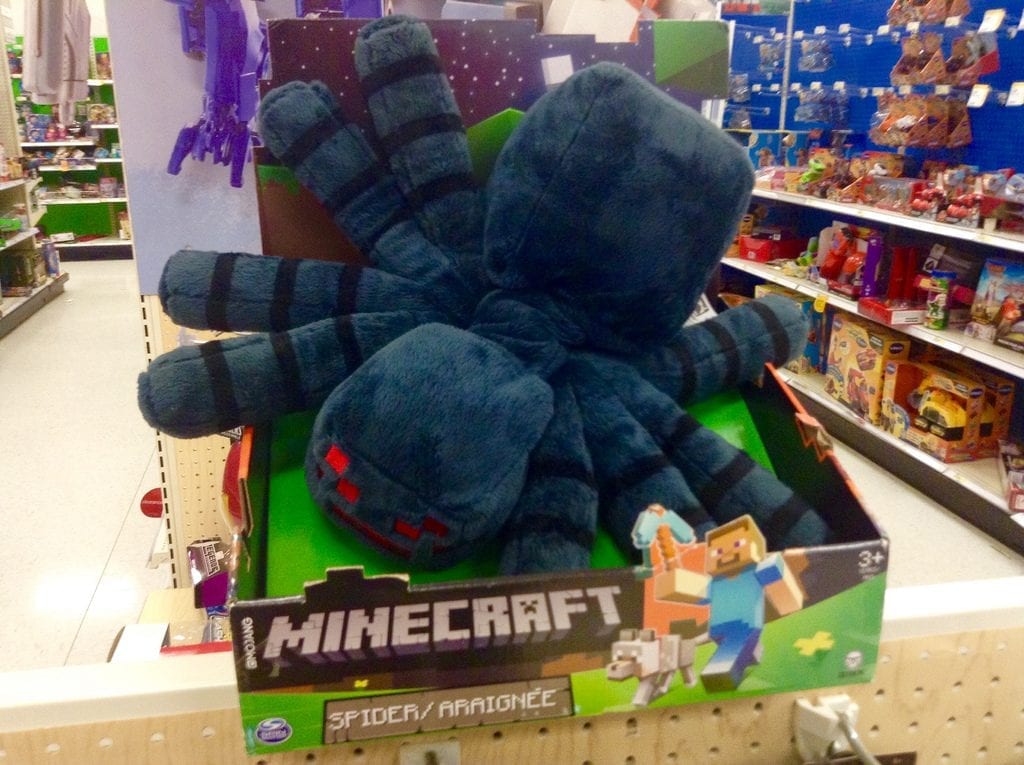 Discovery RC Tarantula With LED Infrared Controlled Technology
This toy is one of the cheaper spiders, but with over four stars on Amazon, it's a great one. It's got lifelike movements, along with glowing LED eyes. It also has an infrared wireless remote controller and universal wheel for lifelike action that is flexible and realistic.  It doesn't come with batteries, but if you have 3 AAA ones around, you just pop those in and let the child have fun. Make sure that young children aren't left to install the AAA batteries. AAA batteries are small and should only be handled by parents or older children. That being said, for 16 bucks, it's a pretty reasonably-priced spider toy. 
This remote control tarantula looks much like a real spider. It's good for kids aged 6 and up. It's a wireless remote control toy for kids that will keep them interested and give them something cool to show off to their friends. You can find this one in the toys games sections of many large retailers.
HEXBUG Spider
It is one of the best choices for a spider bot, and on Amazon, it's got great reviews. It offers a 360-degree movement with a build and hard casting, one that your kids will adore playing with, and they'll see that it handles most surfaces easily.  They will look at all of the different complex mechanisms as it moves. It comes in different colors that you can choose, and it also has a remote that can power different Hexbug spiders that work together. It is a fun little idea, especially if they want to have an army of robot spiders. It's a little slower than the other RC models out there, but it's also good if you don't want your child to ambush you with it.  Plus, let's face it, this is the least creepy on the market.
HEXBUG actually makes a few different versions of remote controlled spiders. This one doesn't look very realistic, instead having more of a robotic look to it. There is an original HEXBUG spider that is meant for kids aged 5-15 years old. Then there's the battle spider.
The HEXBUG battle spider, which is officially called the HEXBUG Battle Spider 2.0 Dual is meant for kids that are a little bit older. The recommended age range for this one is 8-15 years old. You can get one of these remote control spiders for all of the kids in your house and they can have a HEXBUG battle. You can find them on Amazon in the toys games department.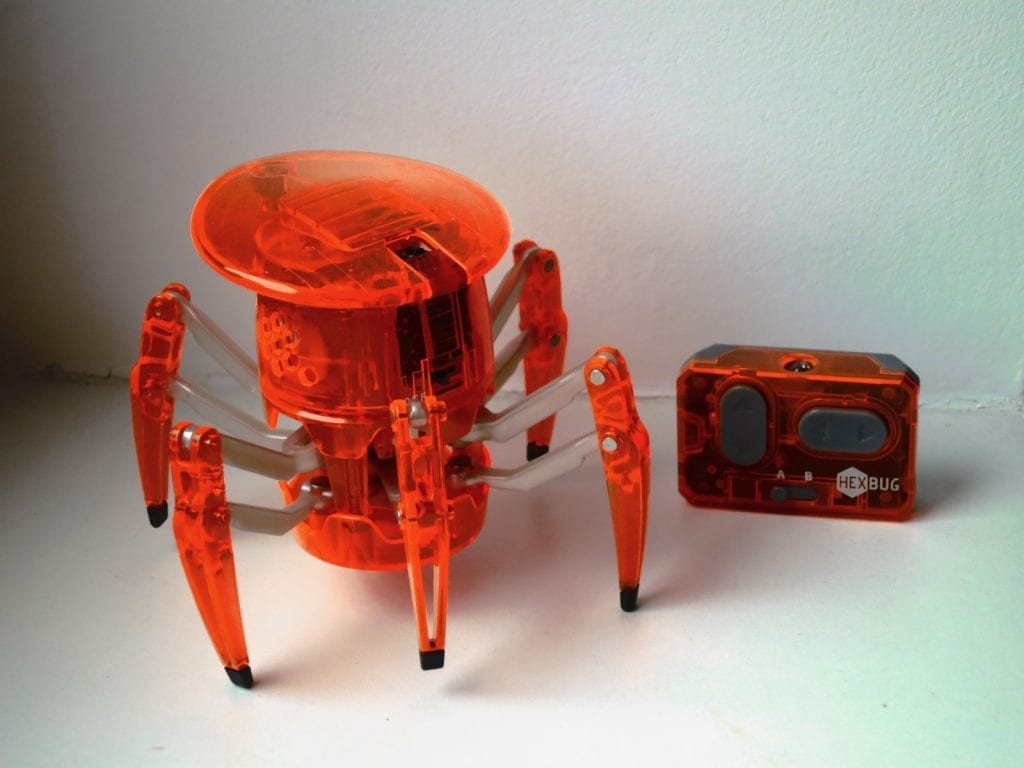 Meccano MeccaSpider Robot Kit 
It is a vast robot kit, like super huge in terms of size, and also the effort it takes to build one. This one is good for children over ten or so since it does require a bit of work. However, the payoff on this is that it's a great educational gift that you can get for your kid.  While you do need to assemble and supervise this, it comes with instructions to make this monster, and if you build it together, it can be both challenging and rewarding. 
It's pretty cool because it does have infrared controls and even apps and games that your child will enjoy. The infrared remote control gives you better maneuverability for your robot. You'll need 5 C batteries, as it's battery operated.
This one is one of the more expensive spiders on the market for obvious reasons, but the payoff is worth it, especially if you want to give your children a gift that they will enjoy for years to come. 
Furry toys Spider 
If you're scared of spiders, I may not suggest getting this one, since this is super realistic looking. It's the perfect gift for pranksters since it can crawl quietly over surfaces, and ambush those that aren't expecting it. It's super easy to use and is excellent for younger children. The fact that it's not as complicated as the other spiders that are listed here is a great feature.  It is pretty durable, but has trouble sometimes if there are harder surfaces, but it also is a fun toy for children to learn how to use. It is suitable for Halloween parties too, and they do make cool decorations around the home. The set comes with two-channel infrared controls, and you'll need two batteries for this. 
This really is probably the best remote control spider for prank purposes that's on this list. It will help you scare someone with a toy that looks like an alive crawling spider battery operated and controlled by your hand and a remote control. You can use this remote control spider for prank time with your friends, family, and parents might get a kick out of the spider for prank time against their kids. Sometimes it's good for us parents to get back at our kids. Who's with me?!
Horrible Pets RC Tarantula 
If you're planning to get a creepy critter for your child, then look no further. This one is practically begging to scare those that you love, and it's a furry, realistic tarantula that can crawl in different directions with realistic movements. It's got an egg-shaped controller that's simple to use and is perfect for both younger and older kids because of the ease of use. Since it is radio-controlled, the range is much stronger than the infrared version and is suitable if your child plays with it around different areas. That also makes this remote control spider tarantula one that is the perfect spider for prank games. When you can hide further away and use your spider wireless remote control to move your spider for prank purposes, you're sure to get a big reaction.
The biggest con here, however, is that it can only really move around smoother surfaces, which is fine if the child keeps this bad boy indoors. The textures on this are realistic and like hair.
Wolf Spider Robot 
This one is another infrared spider bot that's economical and not toxic, and with the realistic design, it's perfect for kids that love creepy crawlies.  One thing of note, though, is that it doesn't walk on the legs itself, but rather, it has wheels under all of this, so it's more like a spider RC car. It's okay if you're trying not to have to worry about crawling over difficult surfaces, but it's also super fast compared to the other models. It also is much more durable than other models, so if your child takes this outside, they'll have loads of fun. It's made with environmentally-friendly materials, bringing more fun to everyone as well.
Robo Alive Crawling Spider
This one is a remote control robotic toy by Zuru. Rather than a spider tarantula, this one is designed as a black widow. It's realistic in the way it's sized closer to a real spider and its movements are pretty authentic. It has a fuzzy body, the markings of the black widow, and best of all, this remote control spider is super cheap at less than $10!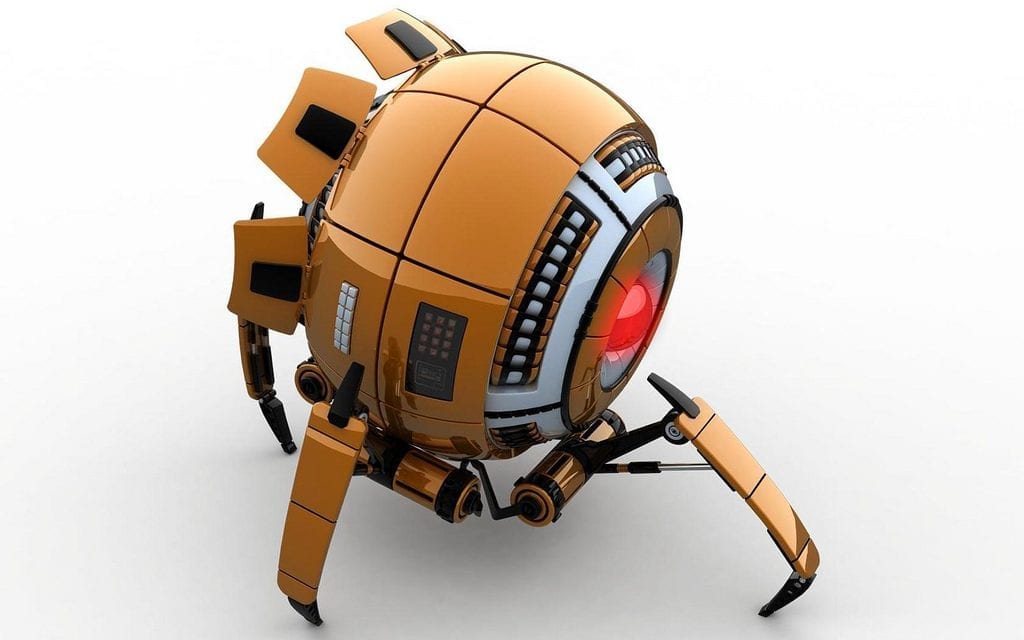 LEGO: Marvel Spider Man Set
So, this one isn't a remote control spider but it's still a cool spider-like toy that lots of kids will like, so we thought we'd mention it. This is a Spider Man set made by LEGO that has a cool Spider Man vehicle that looks very much like a blue and red spider. The center of the vehicle has wheels like a motorcycle so your child can have plenty of fun rolling Spider Man around in this awesome spider cycle. Remote control or not, Spider Man is always a hit with kids.
Best Remote Control Spider Conclusion
These spiders range from cool little robots to being creepy and scary. But, if your child loves spiders, pranking, or even just wanting to learn more about spiders, and they want to use it around the home, these spiders are the best that are out there, and the controls are simple, yet practical and allow for a ton of great fun for hours. Plus, you get the great feeling of giving your kids an interesting toy to play with that has more benefits than other activities like playing video games or watching tv. With a remote control spider around, your kid may not even think about those video games!
Best Remote Control Spider Other Resources
https://www.isisparenting.com/best-remote-control-spider-toys/
https://muddysmiles.com/best-remote-control-spider/
https://www.hammacher.com/product/realistic-movement-remote-controlled-spider
Last Updated on April 9, 2021 by Marie Miguel
DISCLAIMER
(IMPORTANT)
: This information (including all text, images, audio, or other formats on FamilyHype.com) is not intended to be a substitute for informed professional advice, diagnosis, endorsement or treatment. You should not take any action or avoid taking action without consulting a qualified professional. Always seek the advice of your physician or other qualified health provider with any questions about medical conditions. Do not disregard professional medical advice or delay seeking advice or treatment because of something you have read here a FamilyHype.com.