RC Options
An RC car can be a blast for kids and adults of all ages, but as you start getting more and more into an RC trucks, you want to get something that works a little differently. So, how do you get the best RC cars to help you have a really great time? And where can you find the fastest RC car? If you're looking to take your RC car experience to the next level, consider investing in one of the best RC rock climbers on the market.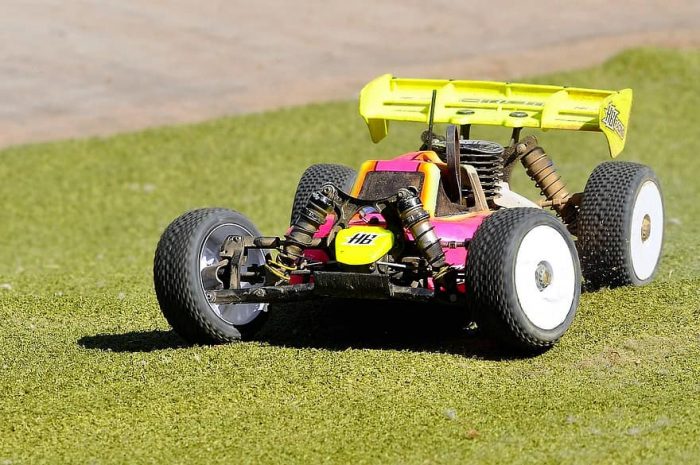 To start your search, we made a list of the fastest RC cars under 100 from Amazon, and we provided a detailed product description for each toy so you can see if it ticks off many boxes on your checklist. We also discussed FAQs and tips on choosing the right RC cars, so keep on reading.
Make Sure to Check The Specs of your Remote Control Truck
The most important thing that you need to do if you want a fast RC car is to check out the specs. You want to know how fast the RC car is made to go out of the box and what the overall specs are. For example, what does the best RC cars weigh and what does their motor look like. These will give you a starting place when looking into the best RC cars and the best racetrack toy.
RC Car – DEERC RC Cars DE36W – RC Car with 720P HD FPV Camera Car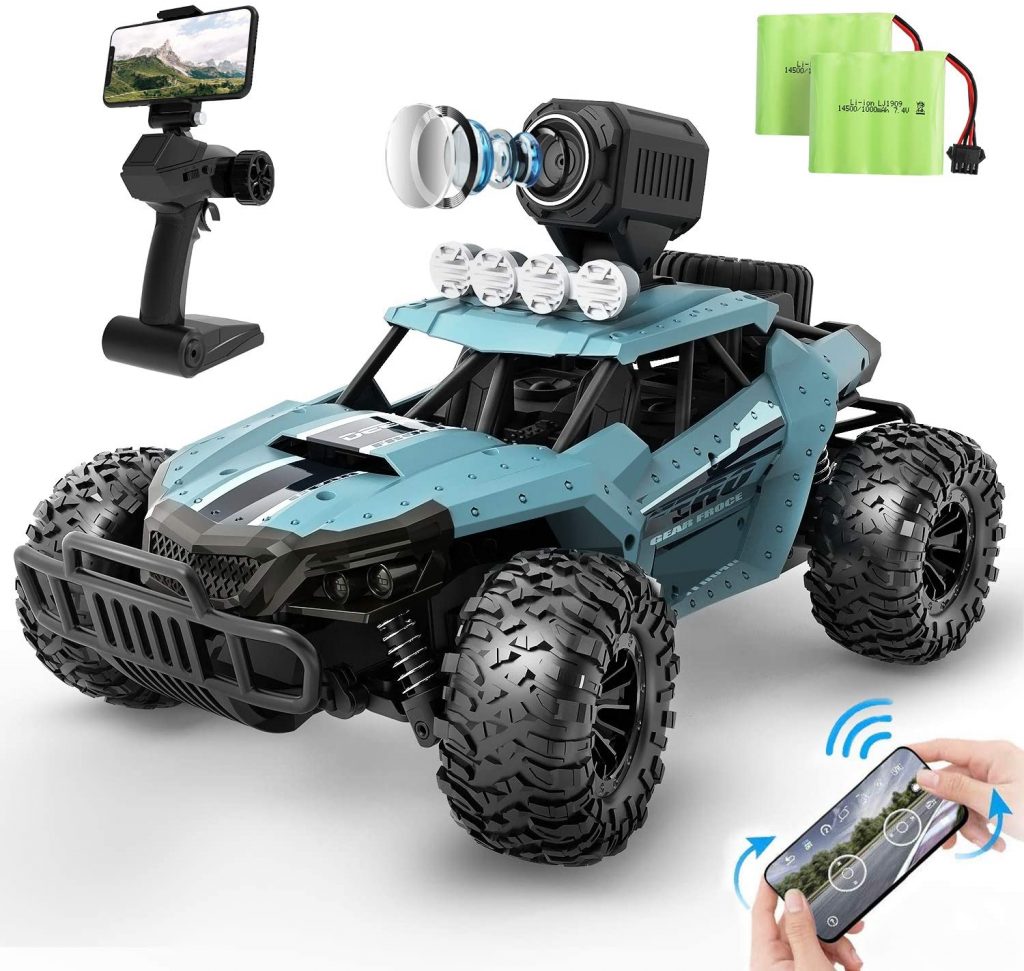 These RC cars are equipped with a 720 WiFi Camera which allows you to see real-time images as far as 100 ft.
It has a durable body and four big anti-skid tires to ensure smooth driving even on uneven surfaces.
It also has a gravity sensor to let you get full control of the angles so you can take high-quality photos and videos.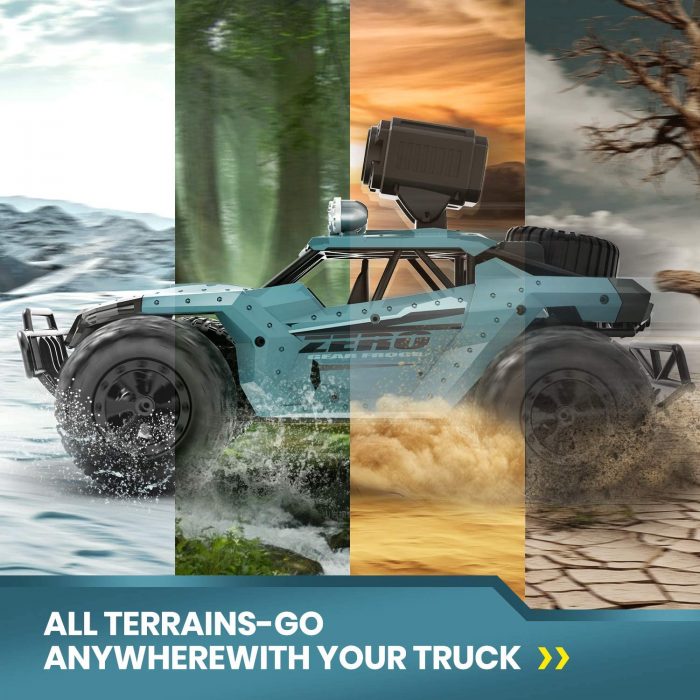 The HisHerToy Longer Playing Time Remote Control Truck for Adult Boys
It is the perfect option for RC cars enthusiasts as it comes with superior features and powerful motor for unbeatable speed.
It is waterproof, has a 4 wheel drive system and heavy duty rubber tires.
It is ideal for off-road driving since is hassle-free to maneuver on all rough terrain.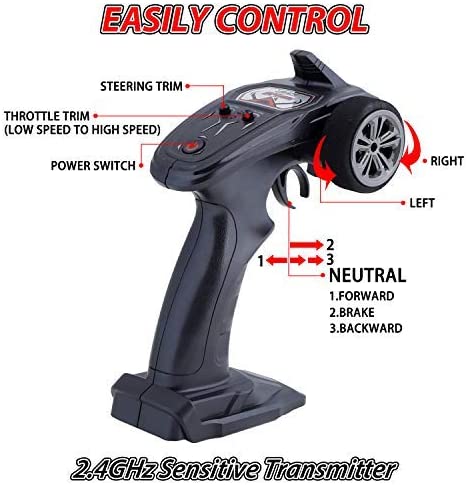 The BEZGAR 1 Hobbyist Grade 1:12 Scale Remote Control Truck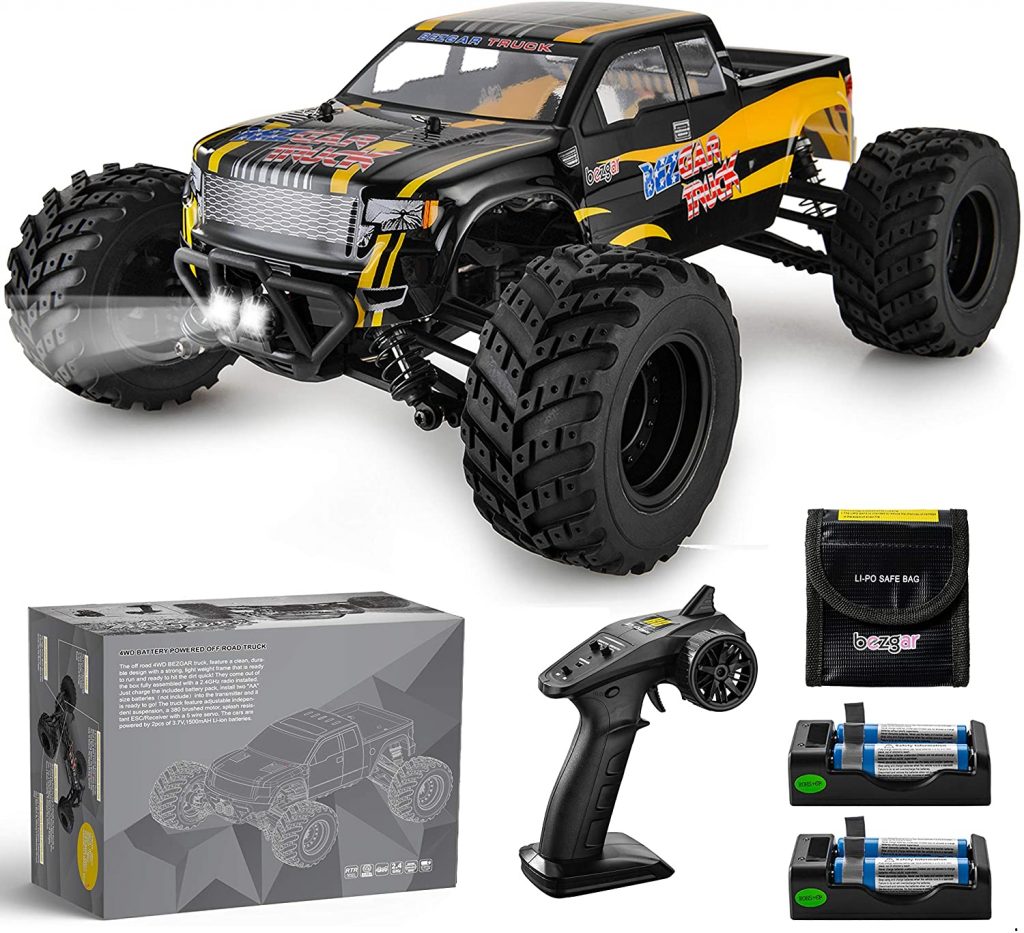 The hobbyist level RC cars are fairly priced and it has a bulky appearance that adds appeal to it.
It features oil-filled metal shocks to ensure a smooth ride and it can speed up to 25-28 mph on most terrain.
It is 4WD and comes with 2 rechargeable 1500 mAH Li-Ion batteries.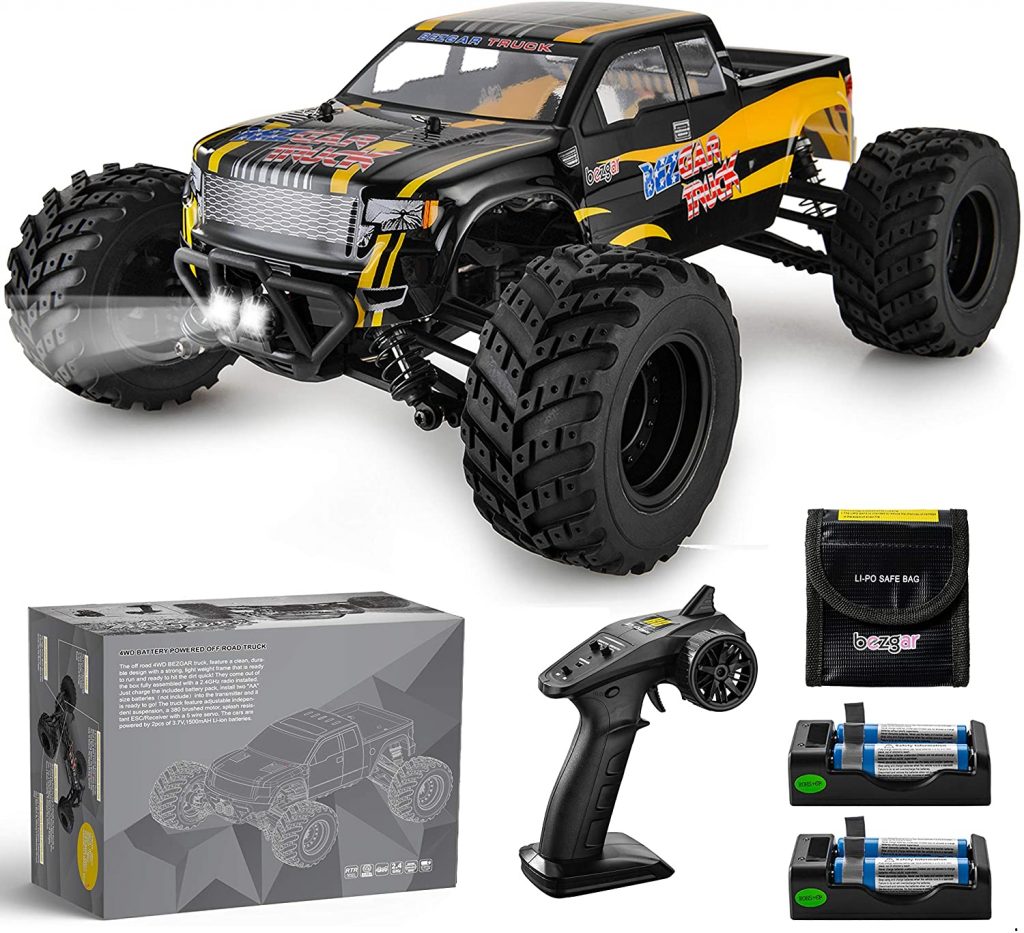 The DEERC RC 9310 High Speed Remote Control Truck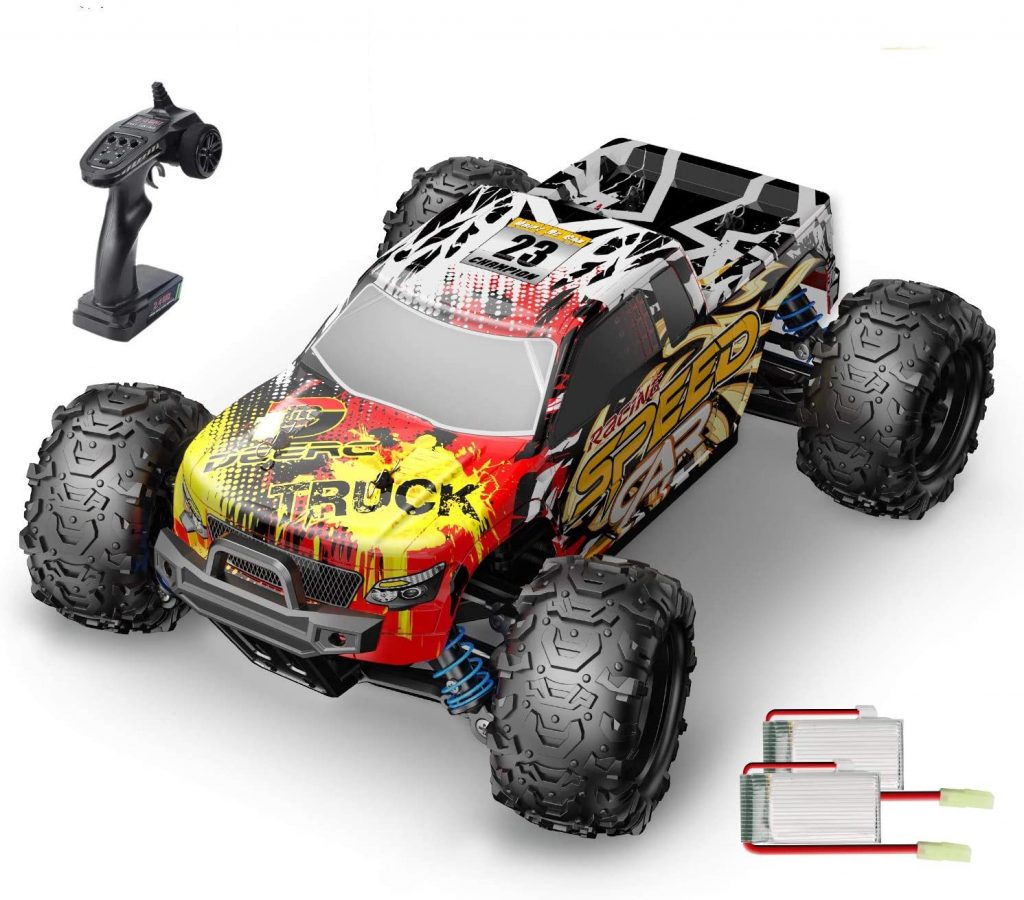 The RC Cars are super fast and can be played both indoors and outdoors. It makes a perfect gift for kids who show interest in RC car racing, especially when choosing the best remote control cars for kids. It is recommended for kids 8 years and up.
Battery life is also an important spec to check on. If the battery life is short, then you won't be able to use it for very long. The longer the battery life, the longer you will be able to use it. So if you want to extend your fun, the battery life is a feature you should take seriously. The best RC car has longer battery life. 
Make Sure to Know Where You're Driving
Some high-speed vehicles are designed to drive better on a smooth surface while others are designed for grass or sand. You want a high-speed car that's going to actually drive easily on any surface that you choose to drive on so check the specs on the tires to make sure it's going to work. If you change your mind you can always swap out the tires, but it's easier to get something that works for you from the start. 
What Is The Best RC For Under 100? What Are Its Features?
If you're looking for an inexpensive RC car that has high quality and high speed you should take a look at the Tozo C1142 RC Cars Sommon Swift. It's a high-speed, high tech car that definitely looks great and won't cost you a fortune. The Double E Monster Truck 4WD is another great option for those who want a high-speed monster truck style versus a traditional car. 
It features rubber tires, a great battery life, and an independent suspension system with a 4-wheel drive. These are RC cars for kids because they can play rough with them and you don't have to worry about a super expensive RC car being wasted.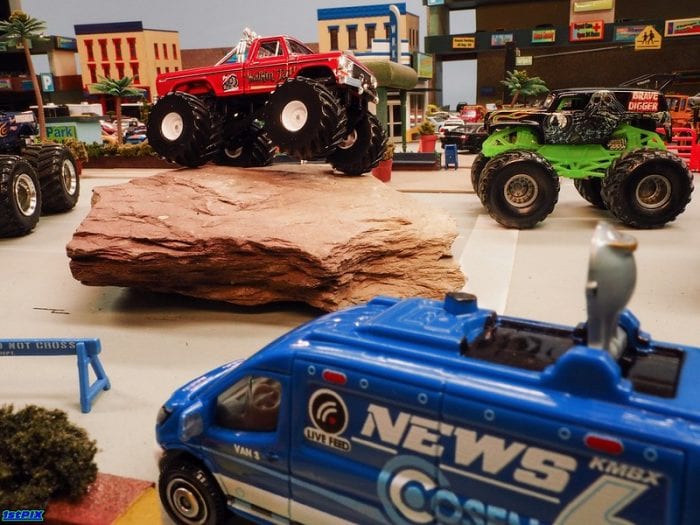 What Is The Fastest RC Car You Can Buy?
The fastest high-speed RC cars that's been built is called the Radio Controlled Bullet and gets up to the high speed of 202.02 MPH. But the fastest one you can buy is the Traxxas XO-1 Supercar, which can get you up to 100 MPH. That's definitely going to give you an awesome experience, but it's going to cost as well. 
How Much Does The Fastest RC Car Cost?
If you want to buy the high quality and the absolute fastest RC cars you possibly can you're looking at a price of over $800 in order to do it. In fact, the high-speed Traxxas XO-1 comes in closer to $900, which means you're going to have to spend a bit on your interest and the ability to speed off at over 100 MPH.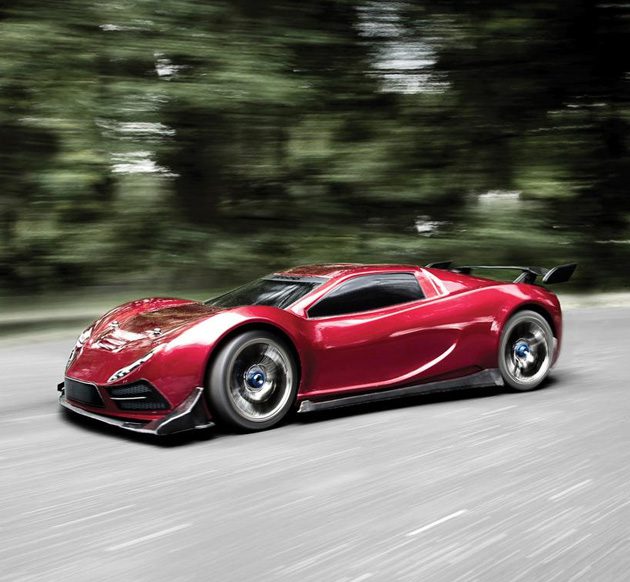 What Is The Cheapest Traxxas Remote Control Truck?
If you really want to go with a Traxxas car you actually have a whole lot of different options. They make RC cars that fit into just about every budget and every style preference. So, the cheapest one you can get is $160 (way above an RC car under $50), with prices going up from there and covering anything you might need. 
What is the best Traxxas Rock Crawler in the market?
The best RC cars from Traxxas is actually not RC cars at all. They are RC rock crawlers. These RC cars feature rubber tires, an independent suspension system, and an extended battery life. When looking for a rock crawler, Traxxas is the company to go with. The best rock crawler they offer is Traxxas TRX-4 Scale and Trail Crawler. This rock crawler can easily maneuver over rocks and other terrains that would be difficult for even the best RC cars. You will find that this rock crawler has a 4-wheel drive. All these features mean that while it is one of the best RC cars, it is not the cheapest. 
RC Car – Best Cheap RC Cars?
If you want to get a cheap remote control car you absolutely want to look at the Tozo C1142 RC Cars Sommon Swift. This is one of the best cars when it comes to the cheapest because it is four-wheel drive, can go off-road, and has anti-skid rubber tires. This 4wd RC cars has a long battery life and a heavy-duty suspension system that allows it to go on multiple terrains. 
You can also check out other options for the best RC cars like the Double E Monster Truck 4WD, the GPTOYS RC Cars, and the Toydaloo RC Off-Road Monster Crawler. Each of these road monster trucks offers high quality, a whole lot of fun, and plenty of speed without too much cost. These road trucks also feature a battery life that was built to last throughout the fun and an independent suspension system that can take on different terrains with ease.
These are the best RC car for kids because the speed is there to keep them entertained, but you won't have to worry if it gets damaged because they were relatively inexpensive. There are also the best race car track toys you can buy for your kids.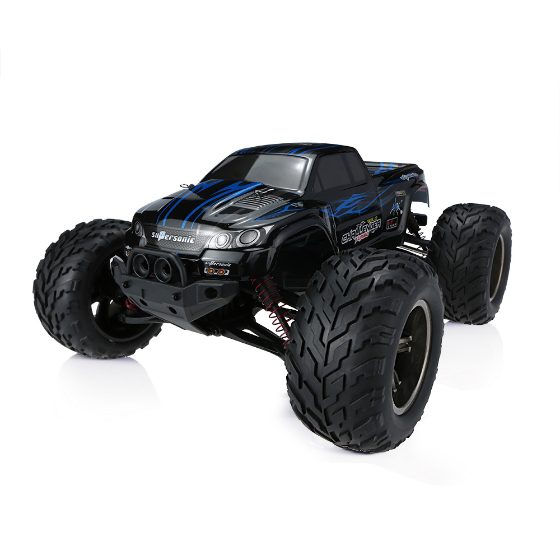 What Is The Fastest Remote Control Truck Ever?
The absolute fastest RC car is the Radio Controlled Bullet, which was created by an individual person and gets to the high-speed of 202.02 MPH. These radio control racing RC cars are definitely the fastest you're going to find anywhere and while watching it can be fun, it's absolutely going to be difficult to replicate. 
How fast is a 2.4 GHz Remote Control truck?
A racing car that is able to get 2.4 GHz is going to move at approximately 20 KPH or about 35 MPH. That means it's going to get around pretty good and has a decent battery life, but it's definitely not going to be one of the fastest vehicles available to you. 
RC Car – Speed of RC Cars?
The speed of a racing car is going to depend on the type of vehicle that you get, who makes it, and the battery life. But there are averages to the speed you're going to see. In most cases, a road RC cars are going to run at a maximum of 70 miles per hour, though the best RC car will get up to or even over 100 MPH. 
How can I make my Jada Remote Control truck run with a faster speed?
For those who don't quite feel content with the speed of their so-called high-speed electric RC car, there are some things that you can do. You can adjust the gear ratio, change out the rubber tires to get a better grip on the driving surface, or reduce the weight of the vehicle to make the best RC car that is also fast. You can also choose to upgrade your motor or use better batteries to ensure longer battery life. Not to mention just getting used to the controls will help you in a number of ways.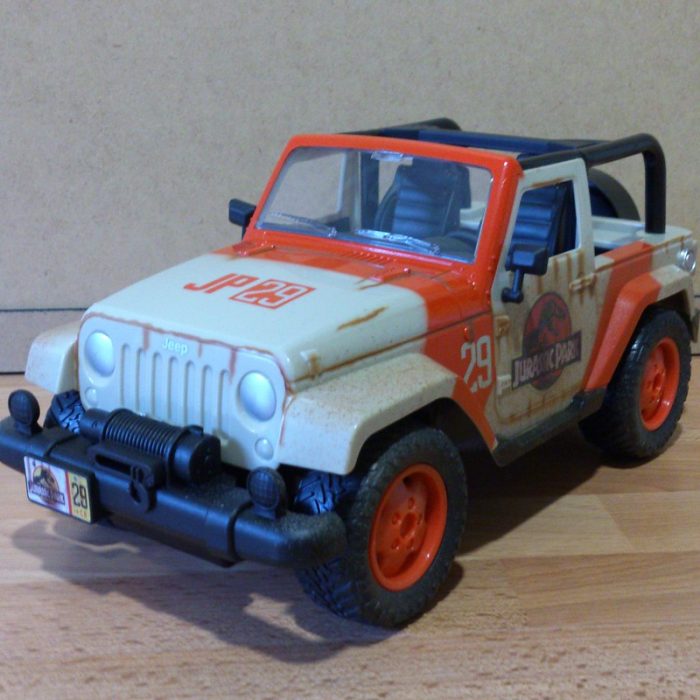 What Is a 2.4 g transmitter Remote Control Car?
2.4g or 2.4Ghz transmitter is going to give you a high-quality control experience driving your RC car without having to worry about any type of interference along the way. That's because the 2.4GHz transmitter is the frequency at which your remote interacts with the vehicle and it's designed to reduce other RC devices getting in the way. It also helps to extend the control distance of the RC. This is the best RC because it allows you to have continuous contact with your 4wd RC cars 
Last Updated on May 12, 2023 by
DISCLAIMER
(IMPORTANT)
: This information (including all text, images, audio, or other formats on FamilyHype.com) is not intended to be a substitute for informed professional advice, diagnosis, endorsement or treatment. You should not take any action or avoid taking action without consulting a qualified professional. Always seek the advice of your physician or other qualified health provider with any questions about medical conditions. Do not disregard professional medical advice or delay seeking advice or treatment because of something you have read here a FamilyHype.com.