When traveling with our family, observing safety measures must always be a top priority, especially if we have an infant on the ride home. Considering the presence of a child passenger, a secure installation of the safest infant seat for the latter is a logical choice. There have been many advancements when it comes to the safety of car seats and car seat accessories. From the side impact protection, the infant car seat base, the impact stabilizing steel frame, the lock-offs, to ease of installation, these are all integrated to keep a child passenger safe and secure.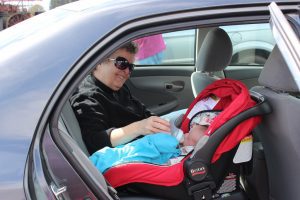 Safety infant car seats make the baby's first ride home as comfortable as possible. Moreover, the members riding alongside would also be free from stress, thanks to the infant car seat installed since they do not have to worry about carrying the baby by hand. Remember that choosing the best brand of infant car seat need not be so expensive. It just needs to be a perfect fit for both your car and the baby.
Exploring The Options: A Review of Top Contenders
Perusing the tightly contested marketplace of infant car seats, most parents discerned that it wasn't solely about selling one car seat; it was more than that. The product range started from Britax's convertible car seat variation to the top-tier booster seat – equipping these premium pieces with ergonomic features such as five point harness for maximum child safety.
Onward in their critique, they emphasized on forward facing orientation – not once but twice – underscoring its importance for optimum protection. A detailed comparison chart served as a resourceful tool enabling shoppers to narrow down options compatible with their specific vehicles and mobility needs.
If you have no idea yet of your options, you should check the list of the best-selling Britax car seats from Amazon that we made so you can see what your options are. We included the specific features of each Britax infant car seat so you can compare. Yet, most consumers recommended a harnessed seat from Britax; an embodiment of safety innovation accommodating diverse mobility requirements. Otherwise, you can continue reading to find out more about our Britax infant car seat picks and frequently asked questions.
B-Safe Gen2 Child Auto Safety, Cool Flow Grey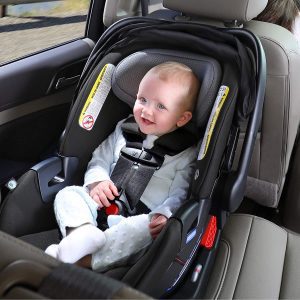 Source: Britax.ca
The Gen2 Flexfit From Britax offers a better, more spacious, and more comfortable car seat for your infant. The infant car seat is made of an extra protective shell and a high-quality steel base for your child's comfort and safe ride home.
Gearing Up For Trips: Travel System Preparedness
This Britax infant car seat is easy to install, recline and fit on your vehicle. It is also travel system ready and compatible with most Britax strollers.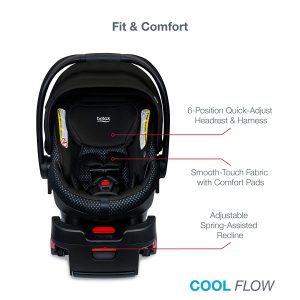 Source: Britax.ca
One4Life ClickTight All-In-One Infant Chair – 10 Years Of Use – Convertible, Booster – 5 to 120 Pound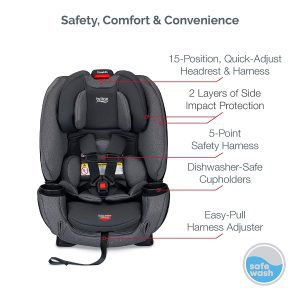 Source: Britax.ca
The Britax Child One4Life car seat is pretty straightforward, its name says everything. It can be converted in 4 ways and it is the only car seat your baby will need from infancy till they are 63 inches tall or 120 lbs.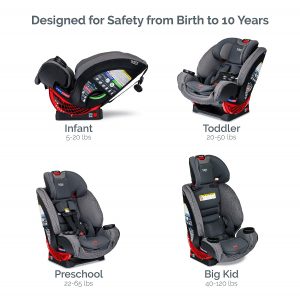 Source: Britax.ca
Allegiance 3 Stage Convertible Child Chair, Static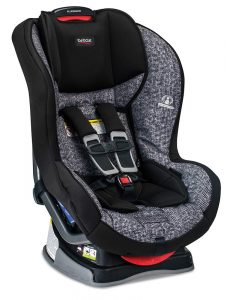 Source: Britax.ca
The Allegiance 2 infant car seat is affordable, has a fashionable design that is not hard to pair with any stroller and it is very easy to clean up.
Harness Adjustments For Growing Children
This Britax infant car seat offers uncomplicated car seat installation and a quick-adjust 10-position harness which you can take advantage of as your child gets older.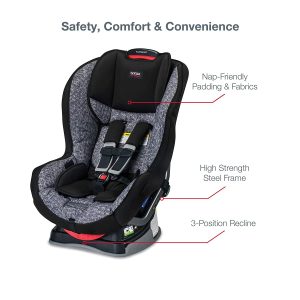 Source: Britax.ca
Boulevard ClickTight Convertible Child Chair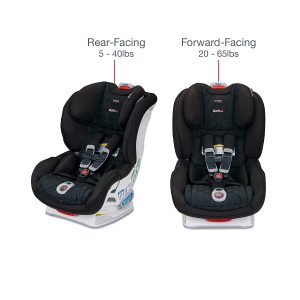 Source: Britax.ca
The Boulevard ClickTight has a 5-star rating on Amazon. It offers 14 position harness with click and safe, snug indicator, 2 layers of side impact protection, and SafeCell Technology for your child's safety and parent's peace of mind.
Featuring V-Shaped Tether And Robust Steel Structure
This Britax infant seat comes with a V-Shaped Tether and high strength steel frame.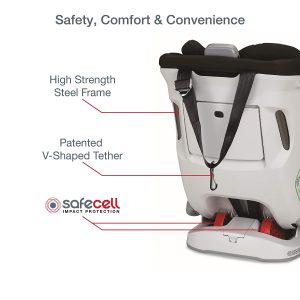 Source: Britax.ca
One of the best brands that most experts recommend is the Britax infant car seat, of which, the Britax B Safe 35 Infant Car Seat tops the list.
Why Choose It Over Any Other Leading Brands?
Britax offers innovative infant car seat safety features that provide modernized impact protection technology for family members. The Britax car seat comes in different kinds, including rear-facing convertible infant seats, front-facing harness-2 booster seats, and belt-positioning booster seats.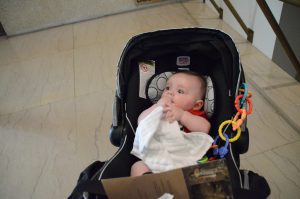 Optimized Accessories For Comfortable Travel
The best thing about Britax is it also offers a full set of detachable and suitable accessories that you can use to make your family's road travel smooth sailing. This brand designs all its safety seats with the utmost quality, which is appropriate for the baby's age, height, and shoulder size. This brand also takes into consideration the weight limit on infant car seats to ensure that everything goes well.
Exceptional Child Protection Mechanism
The B Safe 35 Infant Car Seat incorporates a ton of safety features. For starters, there is the impact-stabilizing steel frame. Should there be a collision while your baby is in the car, the BSafe 35 steel frame is strong enough to protect your child's head even in a high-speed car crash.
Absorb Collision Energy
There's also side impact protection that is comprised of a foam-filled shell for crash energy absorption. And, on top of all of that, you also have the impact-absorbing base that the car seat clicks into. Then the SafeCenter LATCH makes you tighten the straps with one easy pull. The Britax safety standards are some of the highest in the industry, especially with its B Safe 35 model.
Innovations In Safety
Britax with its B Safe 35 model is a leading brand in the industry that is continuously looking for ways to facilitate and give parents the guarantee to live their family life stress-free, especially in regards to safety and protection during a car ride home.
Unique Features Everyone Should Consider
Britax car seats have unique features that set aside its products from other brands. One of the standard elements is safe and secure. This feature is responsible for incorporating the side impact protection that protects the baby from crash forces, absorbing crash energy in addition to the crumple zone of your vehicle, which is particularly engineered to also help reduce impact among its passengers in a car accident.
Ingenious Design: Effortless Installation And Versatility
Another unique feature of this car seat is fit and comfort. It is responsible for embodying the weight capacity and skin protection attributes of the baby. Finally, the last unique feature of this car seat is smart and straightforward. This feature is responsible for covering the easy-to-install quality, stroller compatibility, built-in locks, and adjustable base and front harness.
Maximizing Benefits With LATCH System
If you decide to invest in an entire travel system with Britax, you'll get to benefit from the easy-click infant car seat base with its easy installation that doesn't require the use of a seat belt, or in the case where you don't have the LATCH system built into your car seat, you'll benefit from the built-in lock-offs that work with seat belt installs. The SafeCenter latch makes for a complementary part of the straightforward features of this Britax travel system.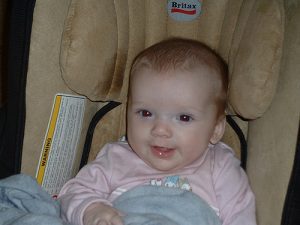 Benefits You Will Get From These Designs
The best thing about this is that all designs have guaranteed benefits not just for your precious baby, but also for the whole family. The benefits of the model include versatility, money-saving, and prolonged usage. These products were designed around safety and convenience. For safety, you get an impact-absorbing base, a steel frame, SafeCell impact protection, built-in lock-offs, dual level indicators, a SafeCenter LATCH, latch connectors, and lower anchors. For convenience, you get an extra-large canopy, a spring-assisted recline mechanism, and various seat accessories to choose from.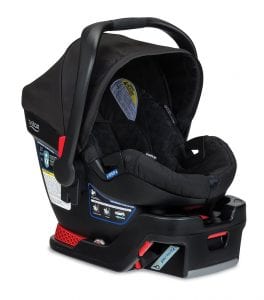 Adaptable Design With Versatile Functionality
It means that each design can adapt according to its designated function. Britax car seats are resourceful in terms of their uses and safety attributes they could give your baby.
Extended Utility: Longevity Use
Money-Saving. All car seat products of Britax are made for more extended use, so you do not have to think and worry about buying another one for your younger child because you can use it again and again.
Investing In Quality: 6-10 Years Of Durability
Prolonged Usage. The lifespan of the Britax car seat usually lasts 6 to 10 years. You can easily pass down the ownership to other users.
Conclusion (In A Nutshell)
Selecting a good brand for an infant car seat does not have to be a tough job for parents. If you want to purchase the best car seat to keep your baby safe, consider the written information above. Evaluate how a particular brand would benefit your family's safety and travel pleasure.
If you are not sure enough, you may the average rating of an infant car seat and read reviews from car seat users from Safer org company snapshot. It is an avenue for you to choose and see brands like this seat that would perfectly fit your expectations of safety car seats.
Frequently Asked Questions
(Common Questions Everybody Should Know About)
How Long Can You Use An Infant Seat?
The Britax infant car seat is safe to use for up to 6 years. But if you have the Frontier Harness-20 Booster type, it can typically last up to nine years. It's important to adhere to the safety guidelines specific to the car seat you choose. Rear-facing only seats shouldn't be used past about the first two years, depending on the size and weight of your child. The 6 year is typically when the seat expires. If your car seat cover is torn then it is advisable to change fabrics or reupholster. Change fabrics as long as there is a replacement available. If you're unsure when your car seat or impact-absorbing base expires, you should contact Britax for details to find out.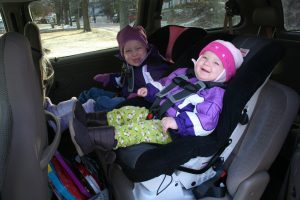 What Is The Weight Limit?
When rear-facing, you can use the Britax infant car seat with babies weighing five up to 40 pounds. But it can also hold up to 65 pounds depending on the type of infant car seat. An infant car seat is meant for an infant. It's dangerous to put toddlers and older children in rear-facing only car seats as they are not designed to protect a child that big.
How To Use Baby Auto Chairs?
In using a Britax car seat, make sure that the harness is adjusted correctly to fit your child. Depending on the size of the child, you can have a hip adjustment in a standard position, or you can fix it for extra room. If you are using your car seat with a base, you'll just want to make sure the level indicators are in the correct position for the safest, most comfortable ride for your little one.
What Is The Difference Between Other Models?
Britax car seats may have the same brand, but the models have features that are unique in them. For example, the Clicktight Boulevard car seat differs from the Advocate since the Advocate has a side impact plastic on the outer of the infant car seat. You'll find that the product dimensions vary between versions, too. Some of the infant car seats will have an extra-large canopy. You'll also find the more advanced versions of their infant car seats have a spring-assisted recline system for added convenience.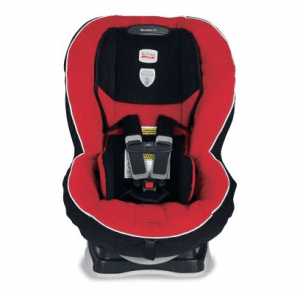 Is It Worth The Money?
Yes, Britax car seats are worth your money. You need to choose the best one that would fit your car and, most notably, that would keep your baby comfortable and safe. With features like a steel frame and full-body protection, the peace of mind you'll feel is worth the extra money to be spent. You also get the benefit of added comfort from little extras like the extra-large canopy that will help keep your child cool and calm.
Are Its Bases Universal?
The Britax infant car seat bases are not universal. You have to find a compatible model for each base so your child will fit in comfortably and, of course, safely.
How Long Are Its Bases Suitable For?
Britax infant car seat bases are suitable for six years. The convertible infant car seats do last for seven years. And the ClickTight Convertible car seats have a service life of 10 years. You have to know the manufacture date to be able to know exactly what the expiration date is for your Britax item. Should you not be able to find that, as a company customer you could contact Britax and a representative will certainly be able to help you.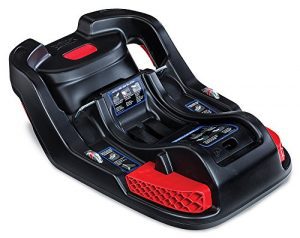 What Is The Spring Assisted Recline Feature?
Spring-assisted recline makes it easy for you to adjust the angle at which your car seat sits. Not all car seats have the same incline or decline to them. So, being able to easily adjust the level of the car seat makes installation easier and safer.
Where To Purchase?
You can purchase Britax products at many of the major retailers that sell baby items. You can also find most of the products on Amazon. If you're having trouble finding something, you can always just contact Britax directly to see how they can help you as their valuable company customer.
What Is The Safest Brand Of Baby Car Seat?
The top recommendation in terms of total performance is found with Graco's 4Ever DLX. For those more financially constricted individuals, Chicco's Keyfit 30 offers excellent value. Champions considering extended rear-facing options are steered towards Britax Boulevard Clicktight ARB. The most versatile convertible option leans towards EvenFlo's EveryStage model while anti-rebound preferences find themselves satisfied by Primo Viaggio Nido's products. Those valuing cleanliness should look no further than Safety 1st onBoard 35 Air+, whereas UPPAbaby Mesa takes premium marks for usability ease. Among all lightweight options available on the market remains undefined.
Regulatory bodies like National Highway Traffic Safety Administration demand irremovable conspicuous labels stating an affirmation of certification to Federal Motor Vehicle Safety Standards (often represented as FMVSS 213). Such items ought to come equipped with basic instating directives applied in the English language.
What Is The Best Britax Car Seat?
Britax Boulevard ClickTight convertible achieves top ratings primarily due to its user-friendly installation scores. Effortlessly positioning such gear facing the rear with seatbelts is greatly owed to an exclusive system employed by this company. It's important to note, these proficiently constructed products have a service age ranging from six to ten years, beginning from their creation and not point of sale. This detail accentuates the necessity of checking production specifics imprinted on every item beforehand.
This company has carved an impressive standing for itself by generating top-tier safety mechanisms for children that deliver optimum security for youngsters. While their product may not be expansive compared to other competitors, they nonetheless offer comprehensive solutions catering to all possible needs within this field.
What Country Is Britax Car Seat From?
Rooted deep in German and British traditions, this esteemed brand pledges its devotion to fabrication within European boundaries. In the year 2016, they transposed to an especially constructed hub stationed in Leipheim, Germany. This strategic move empowers them to manufacture a significant 90% of their every single seat in either Germany or Great Britain.
The vast majority of these impressive manufacturing solutions are crafted on USA lands, with a select handful originating from Chinese manufacturers. Pertaining to a notable competitor within the industry: where is their production base? The answer mirrors the distribution seen within our aforementioned brand – an extensive portion is domestically produced while some are created overseas in China. Assuredly so, each piece exhibits sophisticated styling accompanied by stringent testing standards – carried out primarily in Germany.
What Age Group Is Britax Car Seat For?
The product in discussion is crafted to accommodate newborns until they reach around 3 years of age. This comprehensive system encompasses a structure, a seat that can be adjusted both backward and forwards, a cradle, and fittings for portable carriers.
Subsequently, the protective harness system can be adjusted as per the growth of your little ones. It's fashioned in such a way that it fits those toddlers whose shoulders attain the middle shoulder height marker (this typically happens by around 4 years of age). However, this same device can be modified to serve as an enhanced safety seat until they reach around 8 years old which uses both lap and sash belts.
Is Britax A Good Brand?
Not only are their products cherished for exceptional security features, but they also emphasize comfort and ease of use. While the range may not be as vast as seen with other players in the market, rest assured there is something to cater specifically to most needs and preferences. This institution truly exemplifies commitment to quality and attention to detail in the sphere they operate within – providing peace of mind for parents that's priceless!
Should I Buy A Car Seat For My Baby?
Yes, it is important to purchase an appropriate travel safety device for your newborn, ideally a month prior to their expected arrival. These precautions aren't merely suggestions but are crucial in assuring the safety of newborns during vehicular journeys. The sole purpose of these devices is to ensure safety and deviating from this could have fatal consequences.
Vehicle accidents continue to be among the leading causes of fatalities in children between 1-13 years, amplifying the necessity for correctly choosing and consistently using an appropriate protective travel device. Upon selecting a protective travel device for your fresh arrival into the world, there are two common options: You can opt for an initial-phase holder typically used from roughly 0-1 year.
Last Updated on April 11, 2023 by Patrick Magtaan
DISCLAIMER
(IMPORTANT)
: This information (including all text, images, audio, or other formats on FamilyHype.com) is not intended to be a substitute for informed professional advice, diagnosis, endorsement or treatment. You should not take any action or avoid taking action without consulting a qualified professional. Always seek the advice of your physician or other qualified health provider with any questions about medical conditions. Do not disregard professional medical advice or delay seeking advice or treatment because of something you have read here a FamilyHype.com.