The need for the best laptop is increasing for the majority of the population. Whether it's because you need one for work, school, or play, the world pandemic has made it a bit more necessary to have a good laptop to use anywhere. The best 15-inch laptop has a good sized screen that can make work, school, or play more convenient and easier on the eyes. They're also often the best laptop for those looking for the best budget options because cutting this size of the screen is the most cost-effective for manufacturers.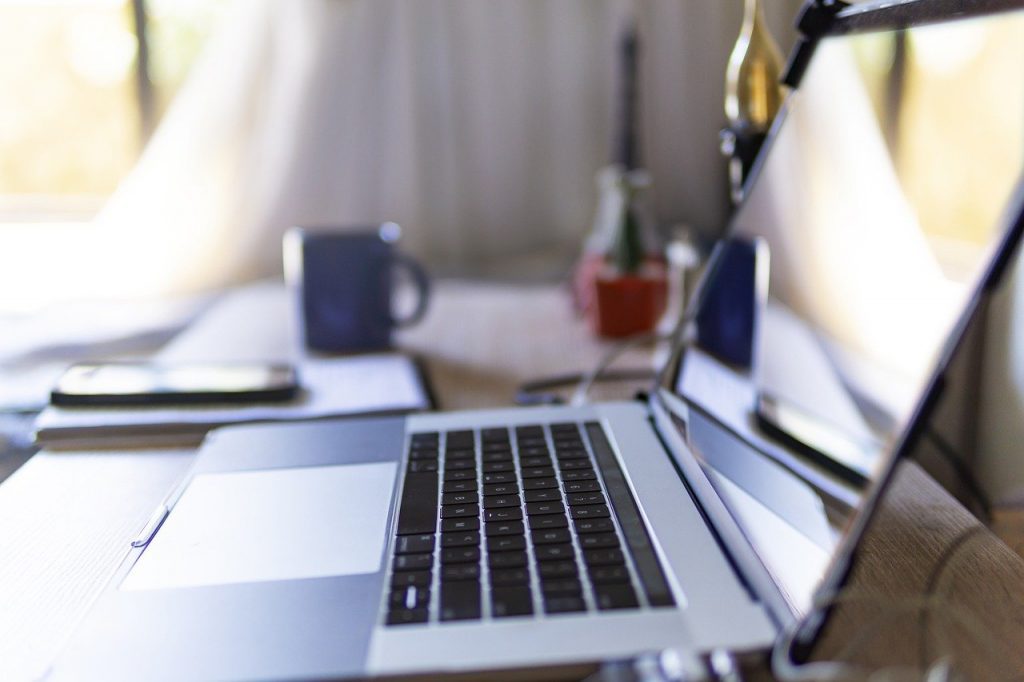 Source: pixabay.com
Best 15-inch laptop
But what is the best 15 inch laptop and how do you choose one? The Dell XPS 15 is touted as the best to buy. It has the features you want to look for. There is a powerful multi-core processor and a NVIDIA GeForce GTX graphics card. It starts with RAM of 8GB and can be upgraded to 64. The screen is FHD+ with high resolution, maximum viewing area, and anti-glare tech built in. It also has a lot of storage space that can be upgraded, too.
Make sure you start by considering how you will be using your laptop and who else will be. Usage and types of users will help you determine what features are the most important to be looking for. For instance, the best laptop for a younger user should have a touchscreen and a basic OS like Chrome. The best laptops for heavy gamers will be those categorized as gaming laptops. There are features built into some laptops that are meant to support a certain type of use. Let's look at the features we mentioned above a little more closely. After that, we will check out some computers that are selling right now.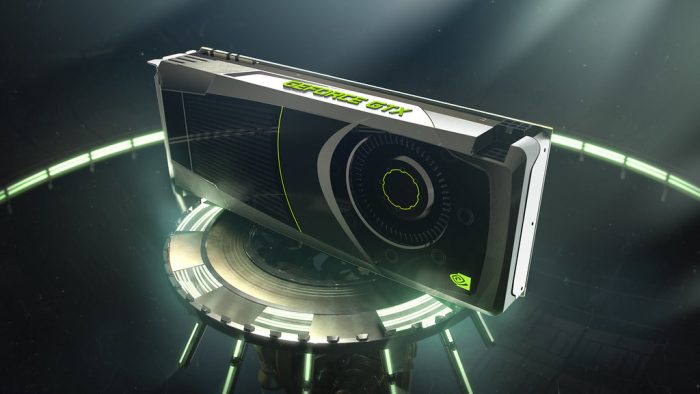 Features To Look For
Obviously, we're all very different people and we use our laptops for different things. That means you have to look for features with regards to what will be the most important to support you and your type of usage. We'll break down the different features so you can see what they will do for you. Then you'll know more of what to look for when you're shopping for the best laptop for your needs.
Screen – Since you've already decided on a screen size, the features you'll be looking at are resolution, display type, and build. The resolution can be indicated by the number of pixels or with terms like high definition, full high definition, and ultra-high definition. The recommended resolution for a 15-inch laptop is 1400 x 1050. This is the full high definition level. You'll also look for the display type you want, such as LCD, LED, or something else. Then the build has to do with the framing of it. If you want to optimize your viewing area, look for something with thin bezels.
Processor – The better processor you get, the more power you'll have. The best laptops have 4, 6, or even 8 core processors. The processor is the brain that pushes everything on the laptop. You want to get the most brain power you can so all of your tasks can be done faster and without hiccups.
Graphics – Gamers most certainly want to look for gaming laptops with powerful graphics cards. These are meant to take some of the work off the main processor by providing specialized power specifically for boosting graphics. Graphics cards push images and animations so the CPU doesn't have to. You'll get more detail in your images without losing speed and power for other tasks.
Memory (RAM) – The onboard memory is the super-highway of the laptop. RAM is the space available for data to travel through to get back and forth from one point to another. 8GB is pretty average. High-quality gaming laptops have a lot of RAM so there's no issue with latency and getting bogged down.
Storage – Writers, photographers, videographers, students, business workers, and many others will want to have a lot of storage space. Look for how much SSD space there is and if you have the ability to add storage space with an SD card reader or by upgrading.
There are other features you can look at, too, however these are some of the most important factors for most users. Finding the best laptops isn't going to have a one-size-fits-all solution. You have to look for the best laptop to match your specific needs.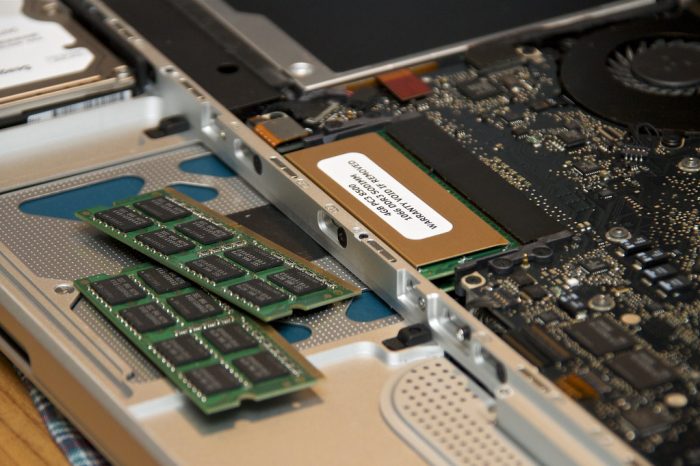 Is A 15.6 Inch Laptop Good?
The 15.6 inch laptop is a good option for most types of users. This is a fairly large screen size. The largest laptop screens are only about 2 inches more than this. This screen size is also the most common so it's easier to find from all of the manufacturers.
The housing for these computers has to be a bit larger to accommodate the larger screen. That makes for more room for other components. You can easily fit more processor cores, more memory, more storage, and more connection ports. You'll also get long battery life with many of these.
Is A 15.6 Laptop Too Big?
It can be too big. The 15.6 inch laptop is on the larger end of the range of sizes you can choose from for laptops. For the majority of users, 15.6 inches won't be too big. That being said, students who traipse across campuses with their backpacks full of so many things may find this size to be too big. It also could be a bit cumbersome for someone who uses their laptop a lot to travel for work.
It's time to take a look at some of the options you'll have when you're looking for the best laptops. These are currently on the market. You can compare them and see if any of them are a good fit for your needs.
15-Inch Best Laptop Options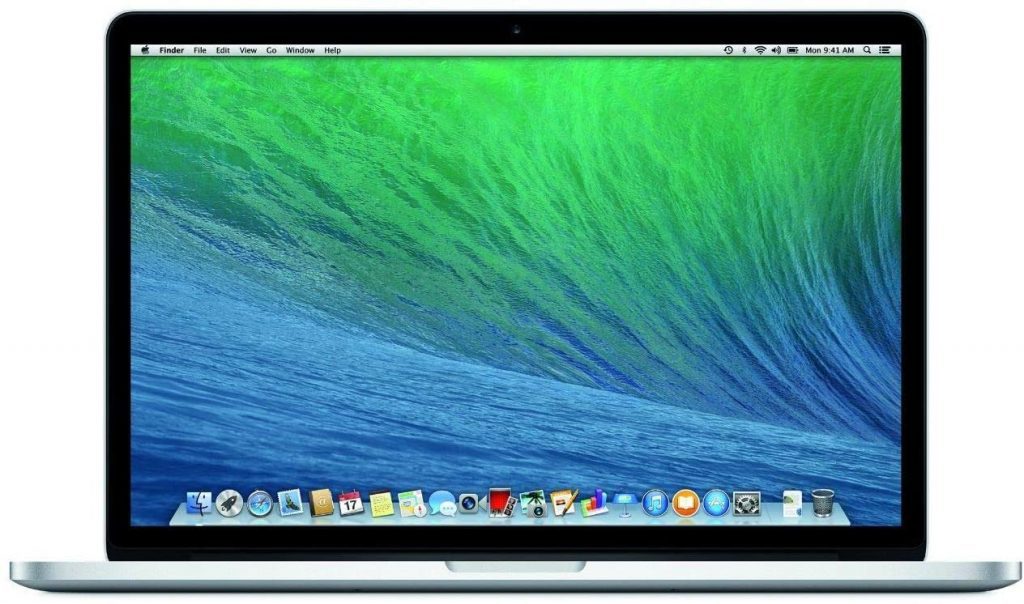 This Apple MacBook Pro comes equipped with an Intel Core i7 processor and 16GB of RAM. You'll also have 256GB of SSD storage space. The screen is very crisp and clear with 2880 x 1800 resolution. This has an LED display that's backlit. It weighs about 4.5 lbs. and is super thin. You'll have a full-sized keyboard and a large trackpad for navigating through your work. The laptop is fast and powerful with a refresh rate of 2.2GHz.
Pros:
Long battery life
Fast operation
Plenty of connection ports
Easy and fast setup
High-resolution screen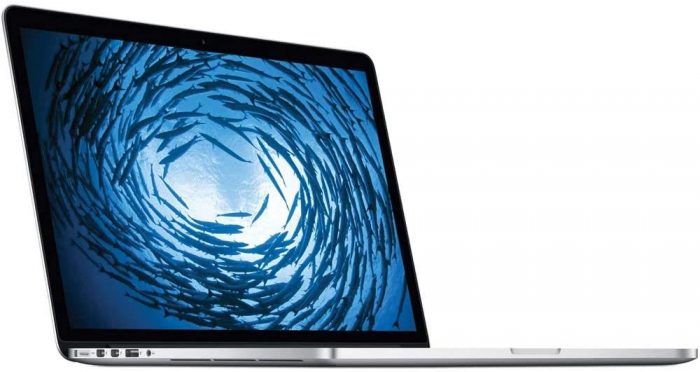 Cons:
Older model
May take time to update everything with renewed laptop
No touchscreen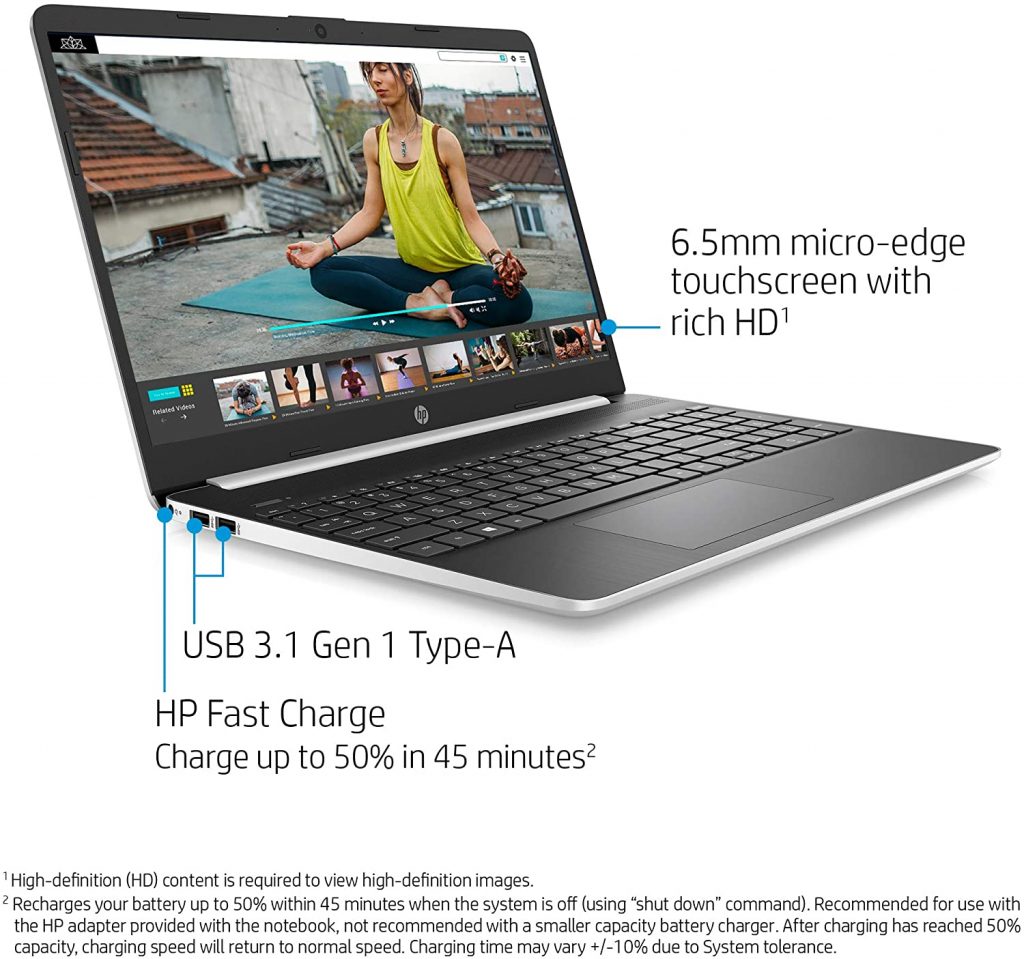 This HP has a very affordable price tag. It has the 10th Gen Intel Core i5 processor. You'll have 8GB of RAM to work with. Most users will find there is plenty of storage capacity at 512GB of SSD space. This is one of the best laptops for those who like Windows. It runs on the Windows 10 Home OS. The screen has very thin bezels on two sides and is WLED-backlit so it's bright and vibrant. This laptop boots up in just seconds so you can get on with whatever you have to do quickly. The touchscreen gives you a little more flexibility in terms of navigation, too.
Pros:
Plenty of storage space
Optimized viewing area
Highly affordable
Very lightweight
Fast quad-core processor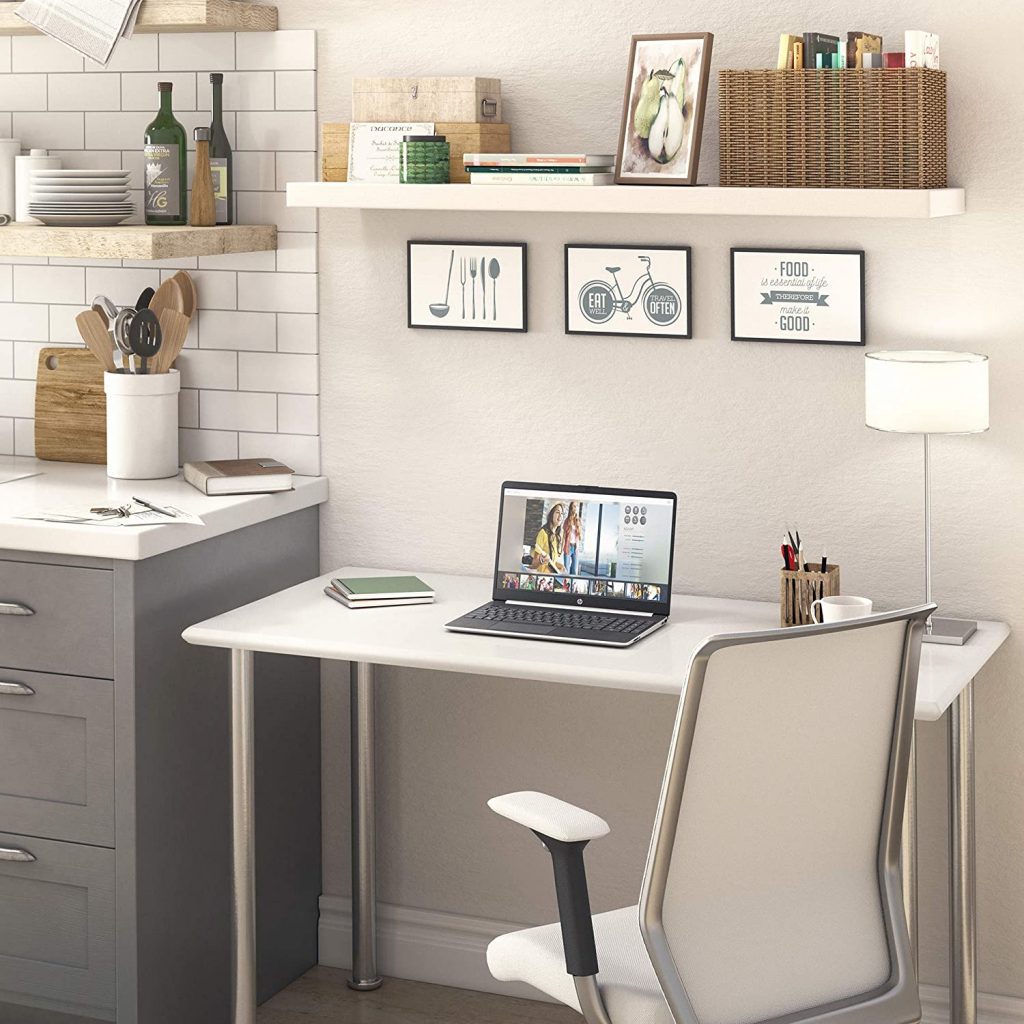 Cons:
No ethernet port
Lots of bloatware
No backlight for keyboard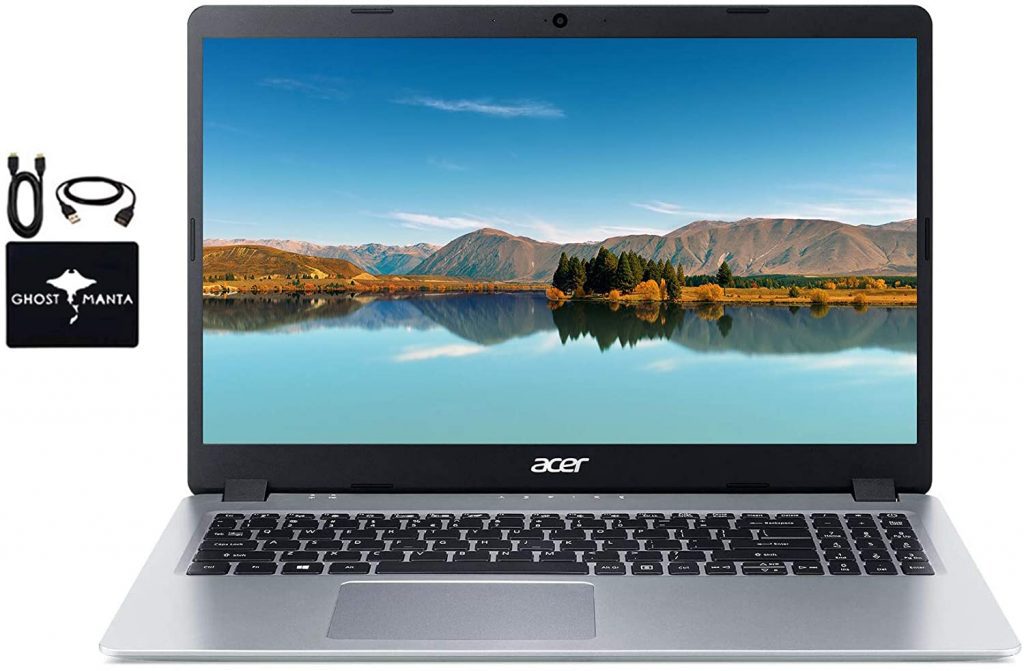 The Aspire 5 Slim is a great value for the money. It has an AMD Ryzen 3 3200u processor that can get you a refresh rate of up to 3.5GHz. It has 8GB of RAM and 256GB of SSD storage. The screen has a beautiful display supported by a Vega 3 Graphics card. It runs on Windows 10. The keyboard is backlit and has a dedicated numeric keypad to the right. This particular laptop comes with a small bundle of Ghost Manta Accessories, as well.
Pros:
Very inexpensive
3 USB ports and an HDMI connection
Weighs just under 4 lbs.
High resolution screen with IPS
Upgradeable for memory and storage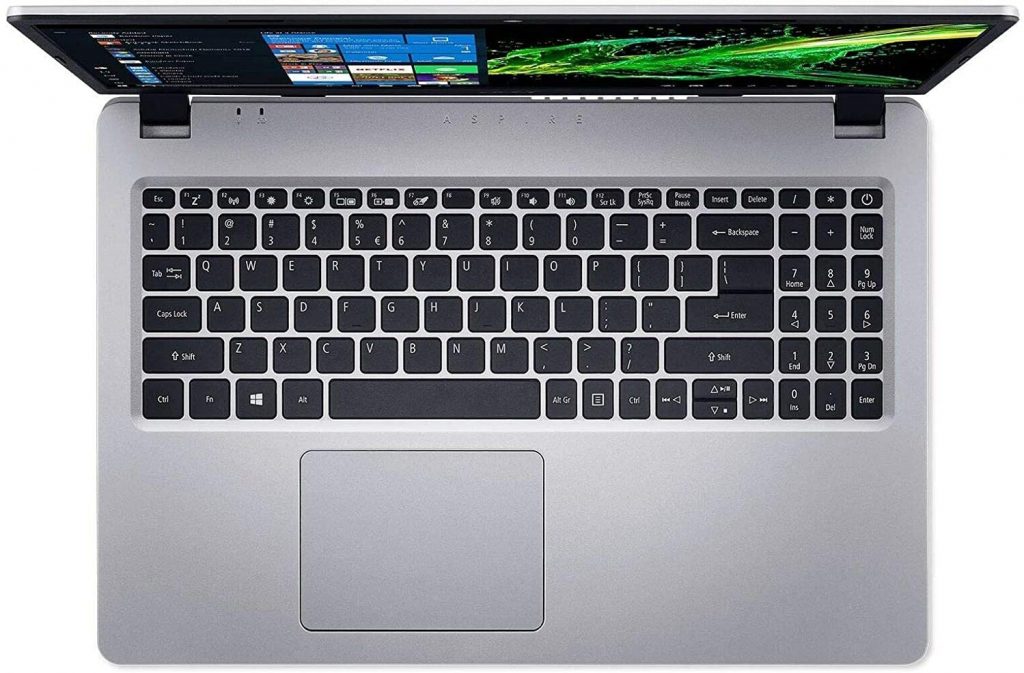 Cons:
Comes in Windows S Mode
Poor sound quality and volume
No touchscreen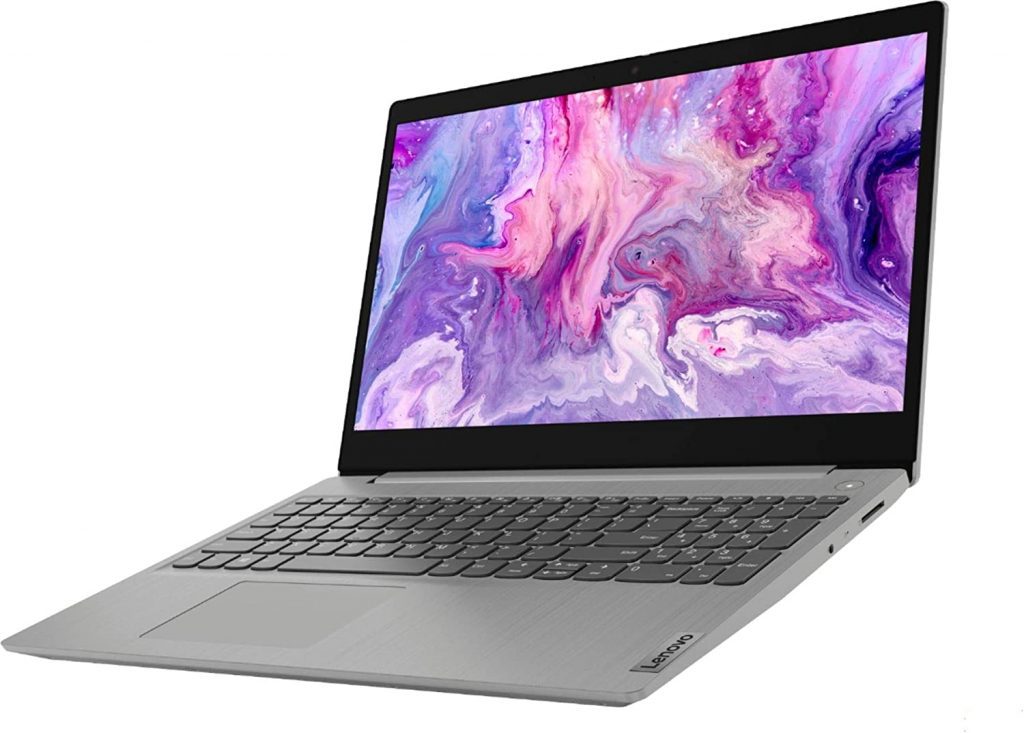 This Lenovo is the best 15-inch laptop for speed. It has a quad-core Intel 10th Gen i5 processor and 12GB of RAM. It has a webcam and runs on Windows 10 in S Mode but it can be switched out of, if preferred. There are 256GB of storage space available on the SSD. This would be an ideal choice for those looking for gaming laptops. It has the speed and memory to accommodate the needs of gamers. It's a little heavier than the other laptops on our list, though, at a little more than 5 lbs.
Pros:
Touchscreen is convenient and gives more flexibility
Plenty of memory for multi-tasking and gaming
Long battery life
Bright LED screen
A lot of value for the money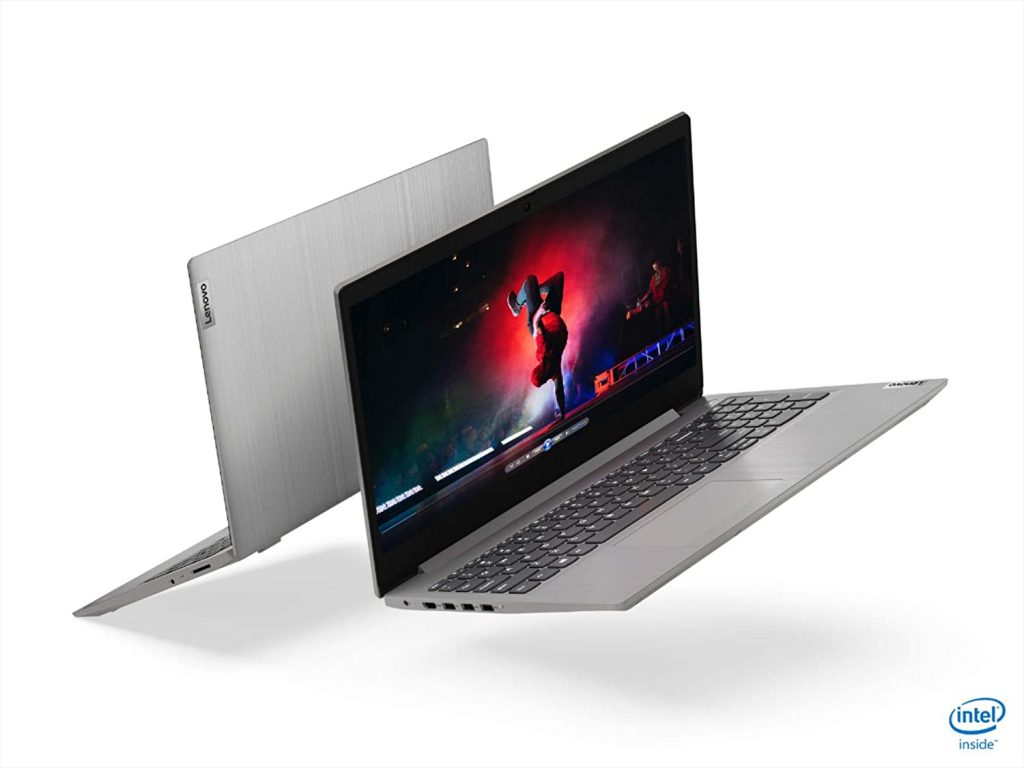 Cons:
Heavy
Comes with Windows in S Mode
Conclusion
The key to finding the best laptops with 15-inch screens is to look for the features that will support your usage type. If you need a good gaming laptop, then look for one with a powerful processor, plenty of RAM, and a dedicated graphics card. If you want the best laptops for business, look for the RAM needed to multi-task, lots of storage space, and pre-installed software like MS Office. The best laptops will meet your needs by supporting your tasks the most effectively and for a price that fits within your budget.
FAQs:
What is the best 15-inch laptop to buy?
The best all-around 15 inch laptop to buy is the Dell XPS 15. It would please the broadest audience.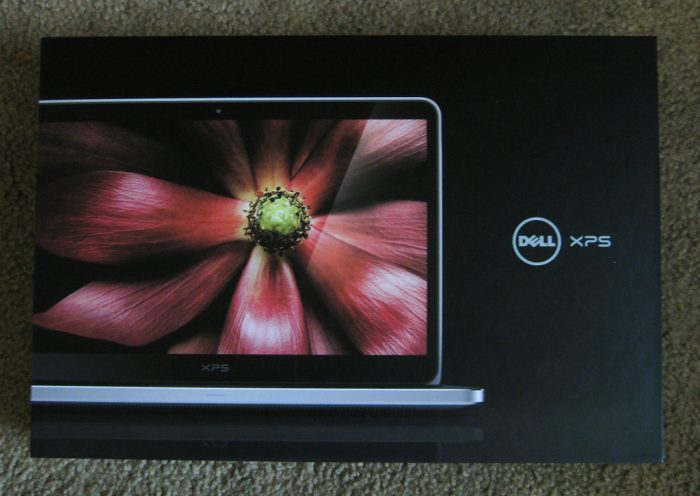 What are the best laptops for 2020?
The Apple MacBook Air tops the list. Next would be the Dell XPS 15. The best gaming laptop is the Asus ROG Zephyrus G14.
What's the best 15-inch laptop for a 10-year-old?
The Google Pixelbook Go is a Chromebook that has everything a 10-year-old will need for school work and more.
Which is better, 15 inch or 17 inch laptop?
This depends on the use it will get. If you're going to be toting it around all the time, then the 15 inch makes more sense because it's smaller and easier to carry. If you're wanting the top-of-the-line gaming laptops, you may want the larger 17 inch so you have the biggest screen.
Should I get a 13 or 15 inch laptop?
This, again, comes down to portability and use. When people are shopping for gaming laptops, they tend to want the largest screen they can find. However, if you're looking for a laptop to take with you everywhere you go, it will be easier to carry a smaller 13 inch computer around.
Which size laptop is best?
The size you get should be based on how you're going to use it. College students and business users will do just fine with a 13 inch laptop. That is unless there is need to view large spreadsheets with many data entries a lot of the time. Someone who is going to use the laptop at home or who is looking for a gaming laptop will probably prefer a larger screen.
Should I get a 14 or 15.6 laptop?
You may find that 15.6 inch laptops are a little cheaper than 14 inch. This is because the 15.6 inch screens are the most cost effective for the manufacturer. You can base what size to get off the prices or by the type of laptop you're looking for. Gaming laptops are better with larger screens.
What brand of laptop is most reliable?
Consumer Reports gives the title of most reliable laptop brand to Apple.
What are the best gaming laptops?
The best gaming laptops are fast, powerful, have tons of memory, and a dedicated graphics processor. The Razer Blade 15 is at the top of the list for best gaming laptops. If you want the best budget gaming laptop, go with the Dell G3 15.
Disclaimer: FamilyHype.com (Family Hype & FamilyHype) is a participant in the Amazon Services LLC Associates Program, an affiliate advertising program designed to provide a means for sites to earn advertising fees by advertising and linking to Amazon.com.
Last Updated on September 28, 2021 by Anna Amad
DISCLAIMER
(IMPORTANT)
: This information (including all text, images, audio, or other formats on FamilyHype.com) is not intended to be a substitute for informed professional advice, diagnosis, endorsement or treatment. You should not take any action or avoid taking action without consulting a qualified professional. Always seek the advice of your physician or other qualified health provider with any questions about medical conditions. Do not disregard professional medical advice or delay seeking advice or treatment because of something you have read here a FamilyHype.com.